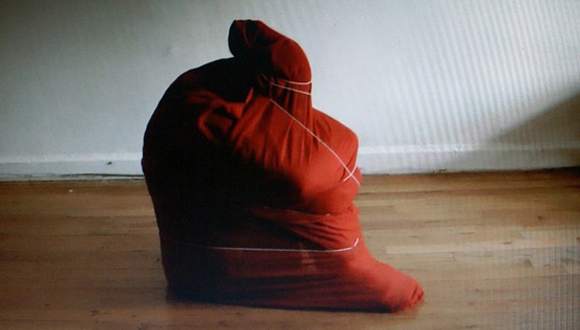 Mary Valverde / Bound
Bound (with Clifford Owens) is part of a series of performances responding to the artist's interest in ideas of relationships, community, reciprocity and the denial of it. Valverde creates performance scores or instructions for actions between herself and another person in direct response to the politics of their relationship (be it lover, friend, colleague, mentor). Each performance is a critique, affirmation and/or contradiction illustrating social roles. For AiOP the video will be projected or screened everyday, at different times of the day, for the duration of the festival.
Saturday, October 1 and Saturday, October 8 from 7-8pm
Outside projection at 238 14th Street.
artist info
Mary A. Valverde is an MFA 2012 candidate at the University of Pennsylvania and received her BFA from the School of Visual Arts, NY in 1999. Most recently her work has been included in exhibitions; Variations on Notes, Abrons Gallery, NY, Digression, Hendershot Gallery, NY; Hairtactics, Jersey City Museum, NJ; among others.