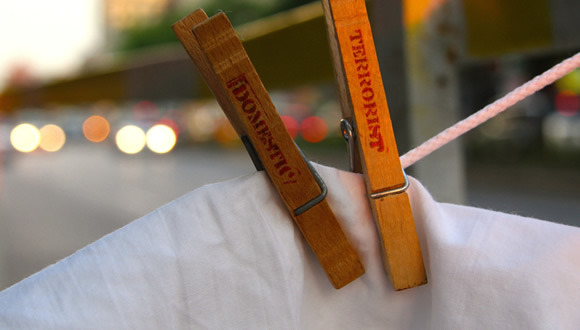 Lois Weaver & Lori E. Seid / Commit an Act of Domestic Terrorism
Hanging laundry in unusual and inappropriate places is a ritual gesture shared by people around the world – particularly women – and has become a way to generate conversation on the nature of what is private and what is public. Monday through Friday mornings, a lady in red carrying a basket full of white laundry will walk down 14th Street looking for places to hang her laundry while talking to people about their lives, their laundry, their everyday. On the weekend, she will revisit the laundry and re-tell the stories she has heard.
Monday-Friday, October 2-7 and Saturday-Sunday, October 8-9 from 1-3pm to 5-7 pm
Monday-Friday, moving east to west from Avenue C to Tenth Avenue along 14th Street 2 to 3 blocks a day. Saturday and Sunday, performance covers the entire length of 14th Street revisiting whatever laundry remains.
artist info
Lois Weaver is an independent performance artist, director, activist, and Professor of Contemporary Performance at Queen Mary, University of London. Lori E. Seid is an independent producer for Theatre (off Broadway-Tom Murrin's Talking Show, Split Britches' Lost Lounge), Film (documentary- For the Love of Dolly) and TV (Live by Request for PBS).