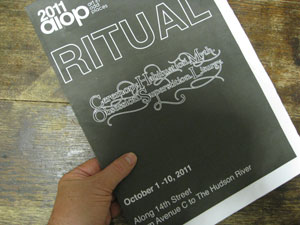 Maps are available: Parsons New School for Design's Shelia Johnson Design Center lobby, 2 W13th Street and 66 Fifth Avenue; 14th Street Y, 344 E 14th Street; Pratt Manhattan Gallery, 144 W 14th Street; Rags A GoGo, 218 W 14th Street and at many businesses along 14th Street & vicinity.
Click here to download a pdf of the program guide.

Scan/click QR code for a self guided audio tour of the Art in Odd Places 2011 festival via Broadcastr.