By Matthew Morowitz
Communitas advert.  Image provided by Frank J Miles.
On Tuesday, June 30th 2015, artist Frank J Miles will be hosting an event titled Communitas at 7:30 in the lounge at Dixon Place. This is not the first Communitas event, as he already has done a few in NYC and elsewhere, but the theme this time is ">>>(Interactive/Ephemeral) Art Intervention<<<" which is of great interest to us at Art in Odd Places. According to the description on the website, Communitas happenings in general are:
"…A symposium of the occurrent arts and social sculpture, captures the times we are in and moving toward – continuing the tradition of a Downtown Manhattan participatory social practice where the ephemeral ideas of society, culture, and New York City converge. This salon and creative think tank brings artists and audiences from many worlds of New York City and beyond to showcase what is the next frontline for the city –welcoming a diverse spectrum of creative voices engaging in dialogical aesthetics and art intervention. Bringing people together to open more worlds, make beauty and magic, create peace and freedom, be more futurist than nostalgic, Communitas uses art and its power to build a united tomorrow not equal but egalitarian."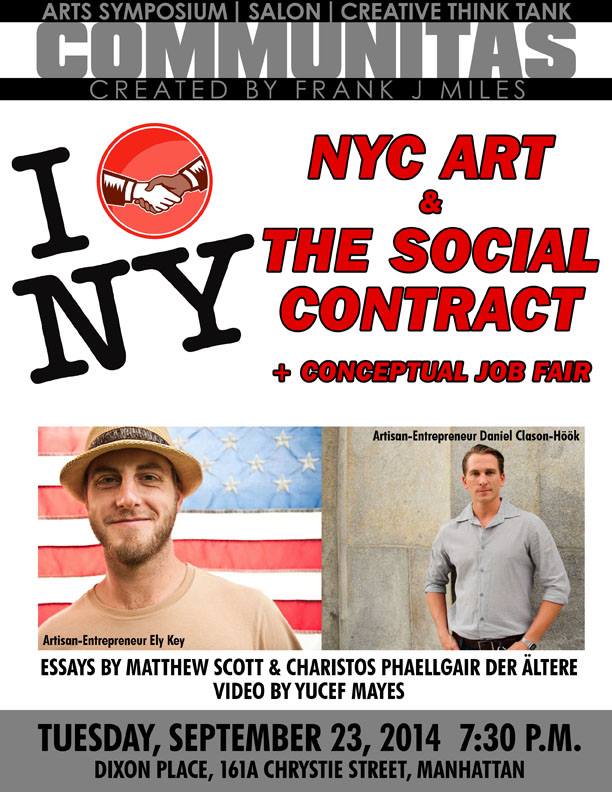 Communitas advert.  Image provided by Frank J Miles.
It's an intriguing and heady concept and, in need of some clarification, I was able to talk with Miles who gave me more insight into how Communitas came about.
The project evolved out of Miles's own trajectory of life, how he had moved fluidly through different social and cultural circles within NYC, encountering people from different walks of life and different views regarding art and culture. He saw insight and discourse in the observations he made between these different groups, and wanted to bring them together to create dialogue, but on grounds that were comfortable and not intimidating but welcoming.
Communitas advert.  Image provided by Frank J Miles.
"One of the reasons that I am doing it is because I want it to be informal, I want it to be, first and foremost, a salon where people from various walks of life [are] coming together. Art from various disciplines, people from various backgrounds, ages, nationalities, professions, we're really trying to bring all those people together in one place and do it informally. I don't want it to just be something where the audience is not interactive or where it's some sort of stuffy academic thing. I want it to be like a dinner party, I want it to be a conversation in intimate surroundings, in a bar, or something like that. That's a large part of it too."
"This is Johnny – The Ghosts of Nothing" a Communitas performance by Frank J Miles. Video courtesy of the artist.
Another large part of the project is NYC itself; having grown up and lived all of his life in the Metropolitan area, Miles sees NYC as the major melting pot and cultural hub for different peoples and the perfect setting to stage a project like Communitas. However, as cities are becoming unaffordable and artists are moving away from the urban areas, both in the U.S. and abroad, Miles is looking to eventually find a way to bring the project to them, make it accessible to those outside, in suburban and rural communities, and build a "network" of artists.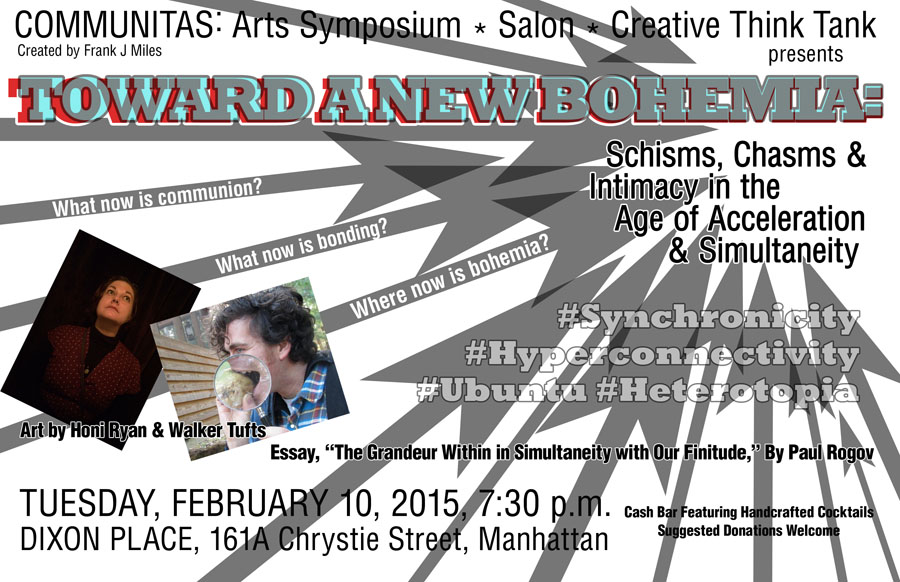 Communitas advert.  Image provided by Frank J Miles.
"New York is where I am doing it and I would like to, as I keep doing it, bring it to other cities. Creating some sort of way in which artists can communicate with one another throughout all of these, as not everyone can be here, that's physically impossible. I really do like knowing artists in different parts of the country, and they interact, and that's one of the great things about the internet, and Skype and just through travel. How Communitas has grown is how I realized how globally interconnected the art world was across the world, and to me it was a thing of trying to build cooperation between artists, to build more collaboration."
When asked if there was an end goal to these Communitas happenings, Miles informed me that he hopes that these get-togethers will help to build more art projects and encourage artists to get together and work on the same team in a sense, to help each other in pursuit of making more art.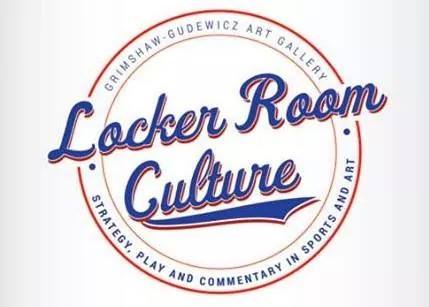 "Sports and Art," the Communitas inspired show, advert  Image provided by Frank J Miles.
"I would like it to be more sustainable, I would like it to be more involved with different people, I would like it to grow into more of an arts collective that is generating ideas about art and ideas about aesthetics and politics, and things like that. I am also trying to go twofold with this, not just national but international. For instance I got into two programs overseas last year – Thailand and Berlin – but they didn't have funding. Additionally, the sports and art show incubated at Communitas, which debuted in Massachusetts in winter and travels to Connecticut in September, we're looking for a NYC gallery."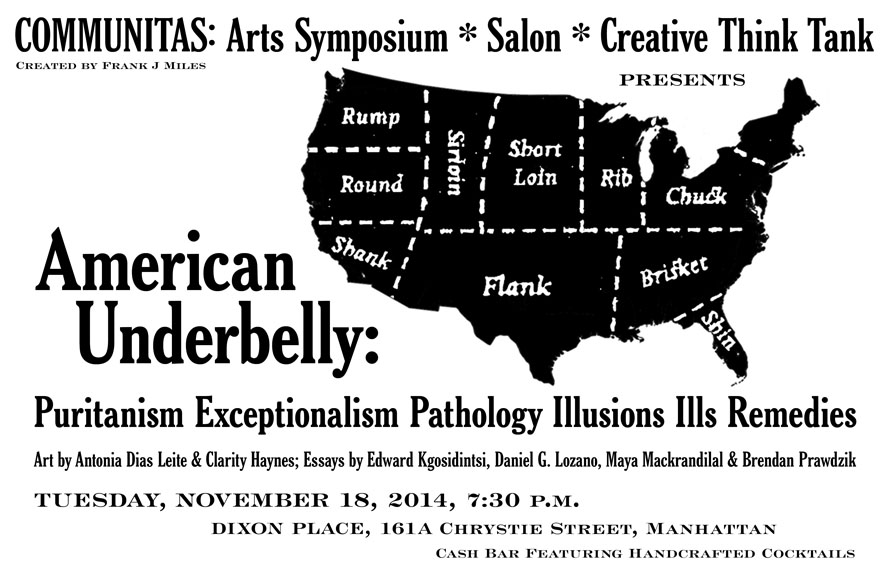 Communitas advert.  Image provided by Frank J Miles.
Be sure to check out and get involved with creating these kind of conversations at the end of this month, and in the meantime be sure to like Communitas on Facebook.