By Curtis Carman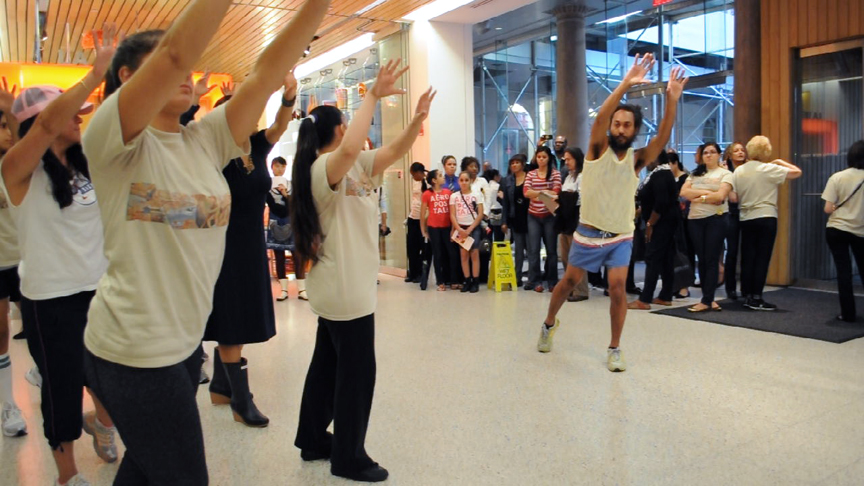 Requiem Warm Up in the lobby of El Museo del Barrio (Photo by Asuka Goto)
AiOP: Hello Zachary, I understand you will be participating in the Art in Odd Places event AiOP 2012/MODEL in October. It's shaping up to be an exciting event. I love when art gives voice to people, helps to build community, and encompasses the breadth
of the city.
Fabri: Yeah, I'm really excited about it. A lot of the participating artists are friends and a lot of artists I don't know, too. But, it's like a big family. Hold on to your puggles! It's going to be great.
AiOP: You recently did a performance for El Museo del Barrio in conjunction with this year's Museum Mile Festival for the opening of the exhibition, Carribean: Crossroads of the World. I was very intrigued by the performance, which took place not only in the public space of El Museo del Barrio, but also on the street and in several other participating institutions. So, I would like to begin by asking about your thoughts on public art. What is public art?

Fabri: I don't know, exactly.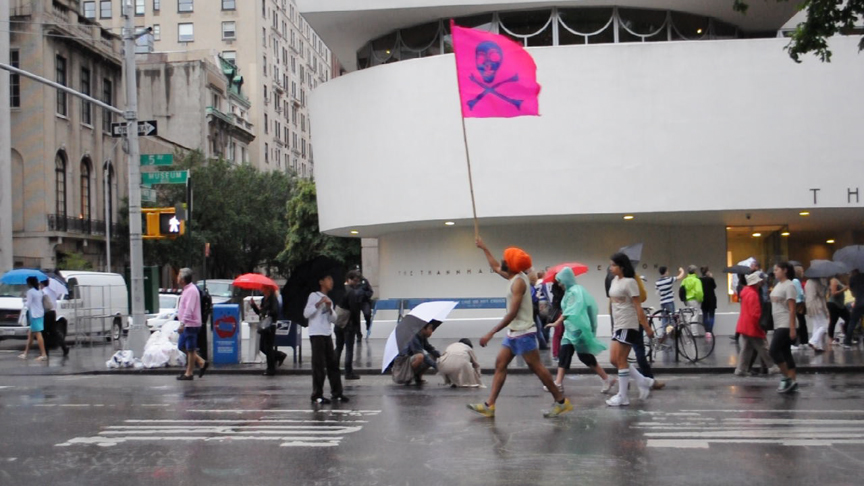 Braving the elements on Museum Mile (Photo by Asuka Goto)
AiOP: What was that performance called?
Fabri: That work is called "Fortunes Bones." An existing story about the bones of a supposed pirate, named Fortune, that are kept in a museum in Connecticut was my inspiration for creating this work in which I was metaphorically collecting bones from
some of the museums along Fifth Avenue, I began at the El Museo del Barrio, then went to The Museum of the City of New York, The Jewish Museum, and also The Metropolitan Museum to "collect" or reclaim some of their cultural "acquisitions."
AiOP: I had a number of thoughts about that work. I was wondering, where is the public in that? Are there different facets to the public in that? For instance, is the story you mined part of the public? There were people that you interacted with, but there were
also people passing by who just watched for a bit and kept on going. Are you concerned with these different aspects of the public when you perform?
Fabri: Yeah, this work was a many sided performance. I liked the idea that it shifted, that it kept changing in space and in place. The people would change. The audience would change. Some of the viewers walked with me along Fifth Avenue and also followed me into the different institutions, also. So, they were experiencing the piece in a kind of whole way, but their experience was changing from space to space. The people who had no idea what the piece was about, people on the street who maybe waved because I was carrying a colorful banner or people in the institutions that were looking at art looked at me and tried to figure out what it was I was doing. Either they liked it or didn't like it. Maybe they were confused, or intrigued, or entranced.
I was interested in all those complexities; like that it's not just one place, one space, one audience, one performance at one time because that's what normally happens at performances a lot. So when someone curates a show, they often say, "Can you do a performance at this place, in this space, in a very specific context?" I'm fine with doing that, but I wanted to change it up a little bit because lately I create my work to be site responsive within a specific context or physical space. I'm more interested in that very specific context and you can call that context a space. So, within the very ideas surrounding that space I try to extract the work or build the work. That space of ideas surrounding the Museum Mile event is a large space and within that it breaks down into the various cultural institutions along there. There is also the road, the public strip on which these spaces live. So I thought that presented a challenging and kind of daunting problem to work with in terms of placing myself inside the space and activating it.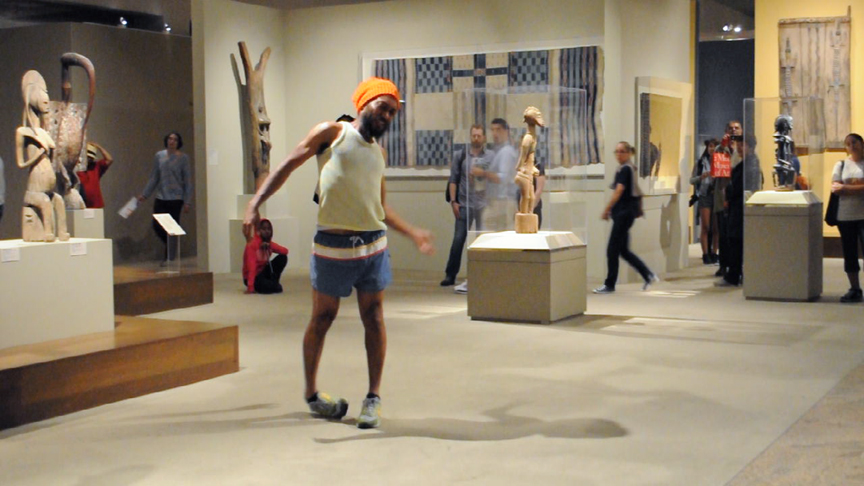 Bone Collecting performance in the African wing at the Metropolitan Museum of Art (Photo by Asuka Goto)
AiOP: When you are being responsive to a space does that include the people?

Fabri: Yes, I'm responding to the people, the audience, and the place and that changes during the course of a performance. With this piece it started in the lobby of El Museo del Barrio with a warm-up. I actually got people involved, people I hadn't anticipated,
strangers I didn't know, and friends I did know. Then that space changed to being on the street and people maybe stopping us or asking questions. And that's part of the deal; that's why I had flyers to give out to encourage others to join us and come along.
AiOP: I noticed people seemed intrigued by the element of surprise.

Fabri: Well, It changed though. I was responding differently to the various institutions we went in and the people inside, viewers and employees of the institutions, were responding differently to the performance. It was like; up to this moment my whole life has been training to deal with these kinds of things. I guess it's about dealing with people on some level.
It's kind of funny, when I went in the Jewish Museum I asked a security guard where the Kehinde Wiley exhibit was located?" He responded, "Oh, it's on the second floor. I love that artwork.  You're going to love it." So, I answered "Well, I'll take a look, I think it's strong work, but I have my own ideas about what his work means to me." And he was like, "No, no, you're going to love it. It'll blow you away." It was nice how we ended up in this friendly conversation. Then, upstairs in the room where the paintings were there was an actual fireplace and you could look up inside it. I went up to one of the security guards and pointed to the fireplace and whispered, "Are there any bones in there?" He was silent at first and looked confused which seemed to turn into anger. He said, "No, there aren't any bones in there. Please step away. There aren't any bones anywhere in the museum. Please, if you have any questions, go downstairs and ask at the front desk." And I was like, "Okay I'm going to look at the exhibition in the other room." And he's saying like, "Please, don't look for any bones in there." So, my exchange with him was very different than my exchange with the guy downstairs. The interactions with people are always different.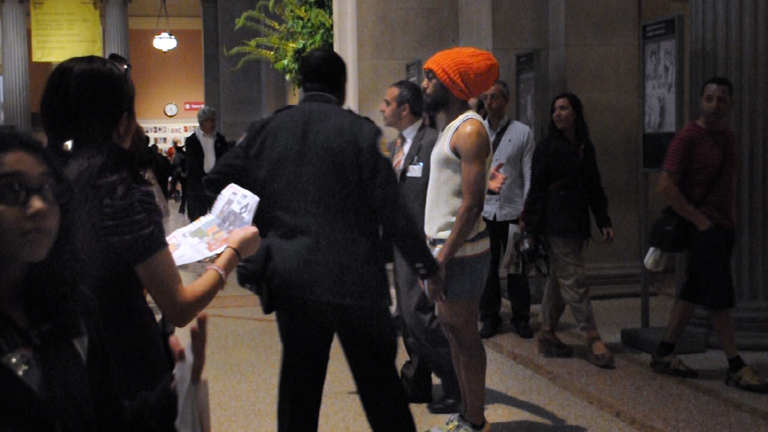 Resistance from Metropolitan Museum of Art security in the lobby (Photo by Asuka Goto)
AiOP: Do you let the public respond anyway they like?
Fabri: Yeah, I don't set any rules or parameters. The public can do what they want. They can laugh, dance, or join in. No one usually joins in. I only create this rigid structure when I build the piece and the inside of that structure is totally open to improvisation.
AiOP: I was curious about the "warm up" in the beginning of the performance when you had a group, a cadre of friends around you. Did that situation protect you; did it give you more power? How did it affect your performance? Was it a positive experience?
Fabri: Yeah. It was totally positive. It was shocking. I am always surprised at the number of people who show up for anything I do much less follow me in the rain. I was beside myself with warmth, so it did provide power and positive energy. It kind of balanced me out because it was a tricky performance, going into those sites and doing those actions and going back out.
AiOP: What was tricky? Not knowing what was going to happen?
Fabri: It was tricky to be going in and out of those spaces and to be pushing the On and Off buttons so many times. I would be performing or doing something, a gesture, and then I go back onto the street and talk to people, my team, as it were. I had to turn myself off until the next space. At each site I make up some move or gesture and I'm in a certain mood or headspace. I'm affected, of course, by the psychological and emotional back and forth along with the actions I'm doing.

AiOP: So, those experiences changed from one site to the next?

Fabri: Yeah, that was one of the most dramatic things I learned from the piece. The character of the space is a living thing. It changes from venue to venue, space to space, exhibition to exhibition. So, in many ways you can't prepare for that. You kind of just have to go there and respond to it. The second space was the lobby area of The Museum for the City of New York. That felt kind of neutral and classy in some ways because of the grand architecture. It was open and bright with a lot of windows. Then, at The Jewish Museum there were some prayer rugs and these large Kehinde Wiley canvases that worked together to create a kind of hushed space. It was a darker space. The lights were dimmer. So, it was kind of like a sanctuary. As soon as you entered that space you felt that.
AiOP: It sounds like you had a very strong response to that space. Where do you think that feeling was coming from, the art or the institution?
Fabri: Well, from that room. It was that room and how people were responding to the works, the prayer rugs and the paintings. That whole collective kind of mind was present in that room. You walk into that and it becomes apparent, you know? Like, it impacts on your brain. I'm like, "Wow!" and I responded to that. The gesture that I made was a different thing than what I just did in the Museum of the City of New York. It was a softer, more elegant gesture.
AiOP: I know it's been a few of weeks since you performed this piece, so a little bit of time has passed. I was curious if your sense of the metaphor of "the bones" has changed since you originally conceived of the work? Like, now that you have collected "the
bones." Did you come away with something?
Fabri: Yeah, yeah (laughter)…I did. I guess it's to think about "these bones" as literal things, as objects. Everything else around the work was symbolic and ephemeral. So, "the bones" rooted the work in some kind of object. That aspect hasn't changed. I tried not to focus so much on that because I didn't want the piece to go too much into a dark place. That's why I totally pushed the work into a more festive, fun, kind of direction, like with the vibrant colors of the banner. You know, like pirates, flags, a cartoony kind of place. But, there is also a darker place, the reality of the fact that "the bones" came from an actual slave that The Mattatuck Museum had on exhibit up until the 1970's. That was my understanding of using the bones motif. That history is important to the piece, the performance of the work. It informs the work, but I didn't want it to totally take over the work. I felt I had to make a piece of art, too.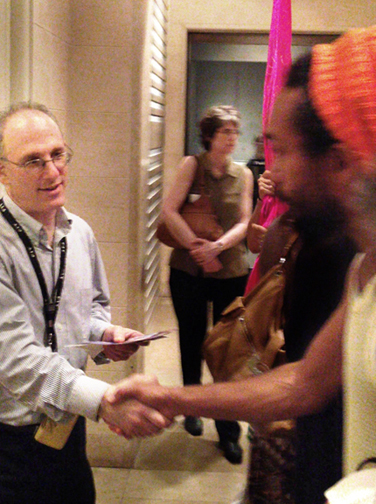 A nice conversation at the Jewish Museum (Photo by Pierre Obando)
AiOP: So, what was your "take away?"

Fabri: Nothing physical. I just learned a lot. In some way, I took away the weight of how institutions acquire or collect artwork.
AiOP: Do you have any sense of sympathy towards these institutions and has that changed?

Fabri: Yeah, I do. I'm totally sympathetic in that they are educational. They share and display things so people can learn about their history. That's really important for people of African descent. To know where they came from, to see where they came from through objects. But, I believe that process should be beneficial for all parties, not only for the museum, but also for the people whose history is tied to those objects. That hasn't changed. I'm more interested in the larger institutions and how they acquire their artifacts. Who owned them before?