By Monica Hunasikatti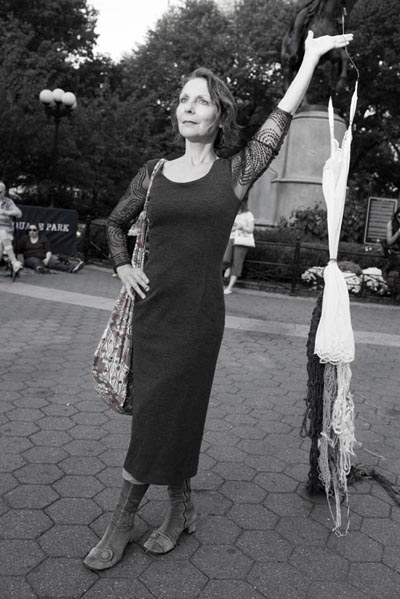 "Marie Christine Katz at AiOP 2012 MODEL" Photo by Ted Roeder.
"Art through interaction" is a relatively new concept to me.  Performance-based art is not something I was accustomed to seeing, except for the occasional dance or drama students that took to VCU's campus and performed spontaneously.  A lot of contemporary works that I have come across, I must admit I usually just do not understand.  For a very long time, "art" to me, was defined as just a painting in a museum, or a sculpture in an archaic university.  Seeing just a glimpse of Katz's work, I can see it is a world unlike anything I've really seen before; kind of like Lucy stumbling into Narnia in a way.
Katz uses everyday kind of items in a lot of her performance art and she aims to incorporate her body into her creations to showcase her personal messages.  I suggest checking out some of her videos on YouTube like Domesticity (2006/2007) and Eating My Heart Out (2005).  These videos are thought provoking, and maybe a little unsettling if performance art is not really your forte.  To be honest, I really do not know much about this kind of artistic expression, but I certainly felt something from watching Katz's art, which I feel is at least one of the goals for any kind of performer/artist.  I feel like Katz challenges not only her viewers, but also herself as she tackles each project with vigor and passion.  Performance art may not be for everyone, but I would say it would not hurt to dive into the world of "public demonstration" art.  If anything, it will definitely broaden your views of what "art" is or can be or should be.
I had the opportunity to ask Katz some questions which she has graciously answered below.
What was it like working in the festival?
I participated in the 2012 Art in Odd Places Model and had a wonderful experience in terms of developing and presenting my 3 parts project:  "Knitting… I need you," "Let's take a walk," and "Shlepping & Displaying."  The public was responsive when I was able to catch their attentions.
Do you associate any colors with your work?  Do they match up with certain emotions or do they clash?
Not particularly.
Does NYC inspire or discourage you?
I am inspired by this wondrous city and it's people.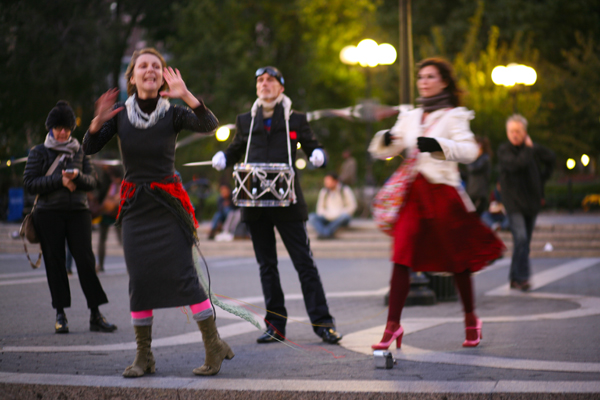 "Marie Christine Katz at AiOP 2012 MODEL" Photo by Susan Now.
Did participating in AiOP 2012: MODEL affect or change your practice?
My project developed further because of my participation to Model more specifically I added one element of the now 3 part elements of a performance Let's take a walk… I need you, the added element is Shlepping/Displaying
Do you think you would apply to be in another AiOP festival in the future?
Yes I am planning on applying to future AiOP call to artists when the theme is somehow connected to my practice.
Be sure to check out more of Marie Christine Katz's work at her website.