By Radhika Subramaniam
As artists are gearing up for the AiOP 2014: FREE festival, here are a few insights from last year's festival…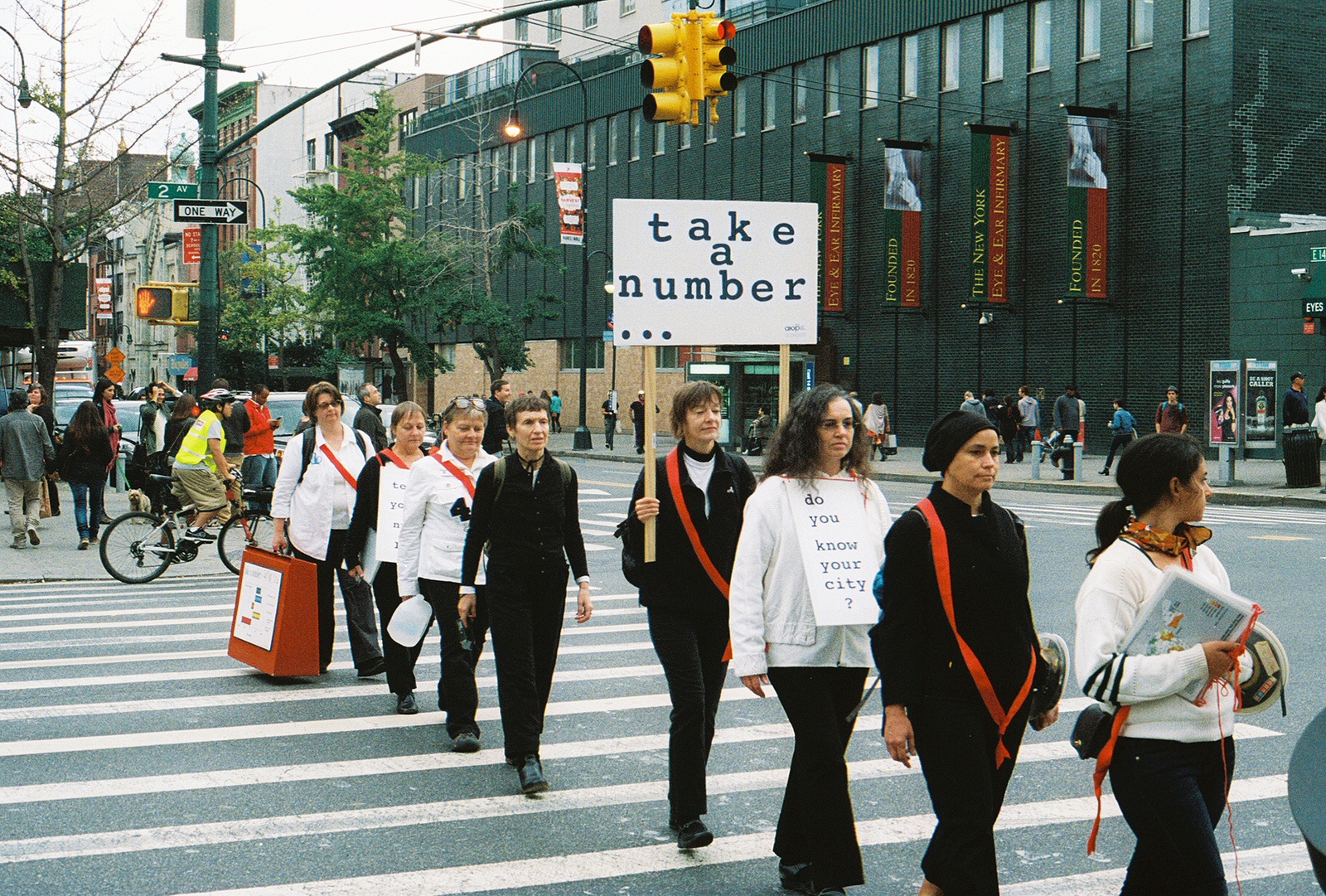 Photo courtesy of artist.
Had you performed in public before?
AiOP 2013 was my first foray into public art. Prior to this adventure I had spent ample time on all kinds of stages from proscenium to black box and done a fair amount of site specific work in everything from an empty public swimming pool to a vacant department store. Public art – working out in the open with no public permits – however, was a whole different ball game.
I used to think that performing on a stage was the ultimate in the act of being present in the moment. However, when all of the artifice and protection that a "stage" provides for you now stripped away – being present in the moment takes on a new meaning. It becomes clear quickly that being just present is not enough. You also have to be incredibly nimble and fleet of foot, able to react to anything that is thrown at you – the clueless tourist, a rambling homeless person, the people that are not interested, even annoyed and on and on. The stage and even site-specific work now seems tame in comparison. This project whet my appetite for the challenge of public art.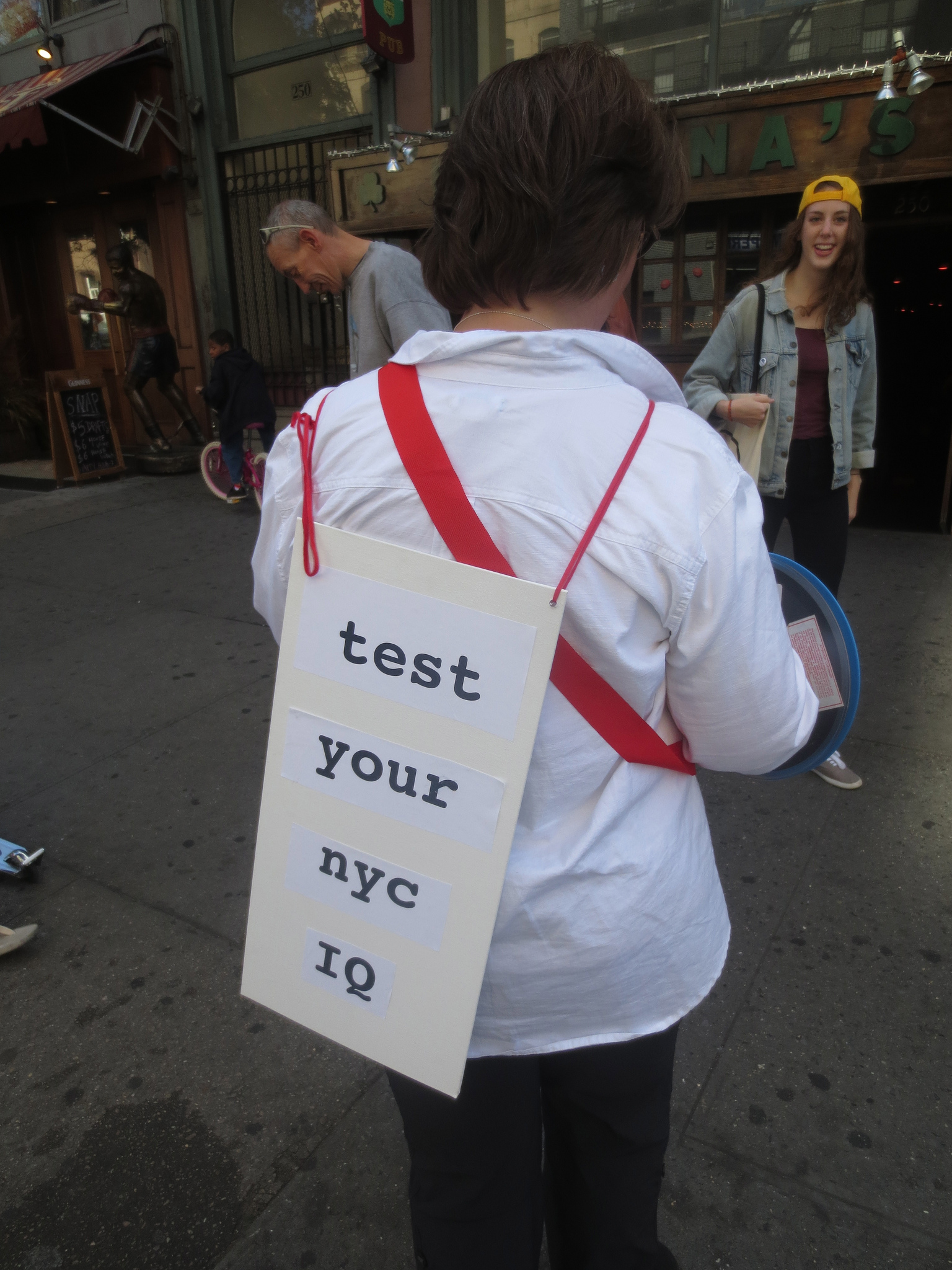 Photo courtesy of artist.
What about 14th Street? How did you respond to the site and create your project for it?
My piece was made for 14th Street and I will admit that this street has never been one of my favorites and often I walk around it rather than walk on it. But after many hours spent going back and forth my appreciation grew. Ubiquitous would be the word that comes to mind. In this one long block the diversity of the city is truly represented. From the housing projects on the far east side to the super über rich contingent near the High Line in the west, the ethnic diversity of the population shopping in the cheap stores in the middle and the ultimate community that congregates in Union Square. It is all there. A microcosm of the city writ large.
For my project I was interested in how to bring census data about the city of New York out of the formal research setting and into the world at large; to investigate how art and statistical literacy intersect in the public realm. And I found as I sat at that intersection that all formal distinctions fell away in the breath of a few seconds. The junction became a level playing field where outer skins were shed, vulnerability was shared, and trust and improvisation reigned. Although we were the provocateurs, ie performers, it was the pedestrians' responses that truly informed. A group of young black men in hoodies thought the NYC poverty rate was 90%, while a white hipster from Brooklyn just a few feet away thought it was 7%. And the range of NYC population estimates ranged from 8,000 to 1 billion.
Also at play were the choices the performers [who were part of Vicky's project]made in their interactions with the public. Race, age, gender, class, and education played conscious and unconscious roles in who they approached on the street. Preconceived notions surfaced, yielding soul-searching questions like, why was one performer inclined to speak to a homeless man while others shied away?
Your most memorable experience?
In that vein, I will say that the deepest and most profound experience I had was the interaction with the middle and lower class people and how open and honest they were in their interactions. They took the time and exposed themselves to the experience far more than the more well-do-to, plugged people did. The older disabled adult from the housing projects begged for more questions , and the black teenagers with hoodies, the icon of fear for many, if you were brave enough to cross over that barrier and ask them if they wanted to participate in an art project, their ear buds came out and they were game like no one else.
In the end, this piece confirmed my belief in the democratization of data and how information provides context, the invisible glue that sticks us together and makes us not any different from anyone else walking along 14th Street — or any other thoroughfare of life. And it made me want to carry around a bucket of wheat paste everywhere I go and leave a trail of poverty maps or statistics that shouted out how many children go to sleep each night in this city hungry and homeless in a shelter. But that is another project.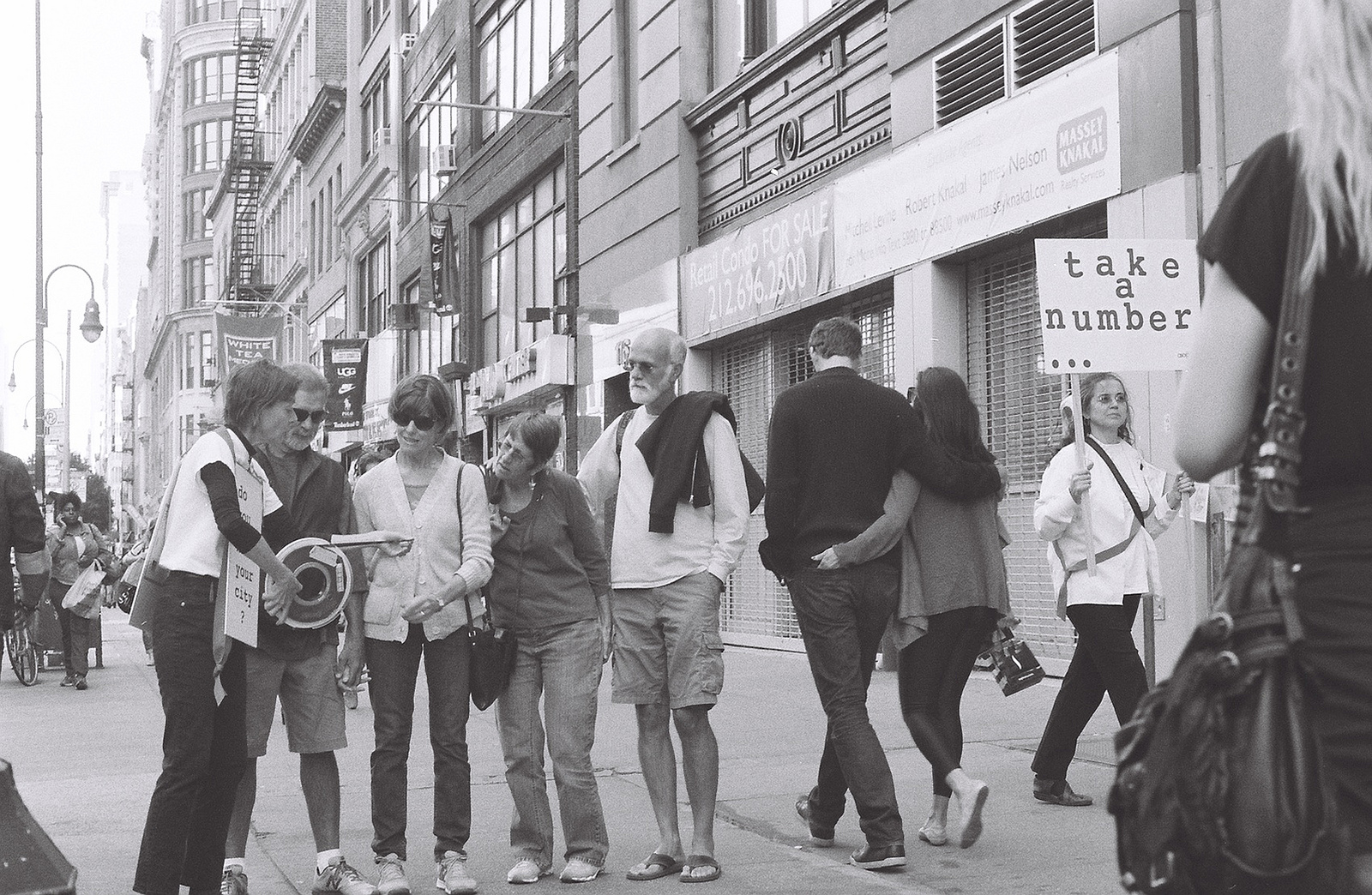 Photo courtesy of artist.