By Radhika Subramaniam
As artists are gearing up for the AiOP 2014: FREE festival, here are a few insights from last year's festival…
Had you worked in public space before?  How was this experience similar or different?
I have been working in public spaces for years. Rather than working by myself in a studio, I involve the public as participators in my projects. My aim is to provide platforms for people from all backgrounds to share their stories.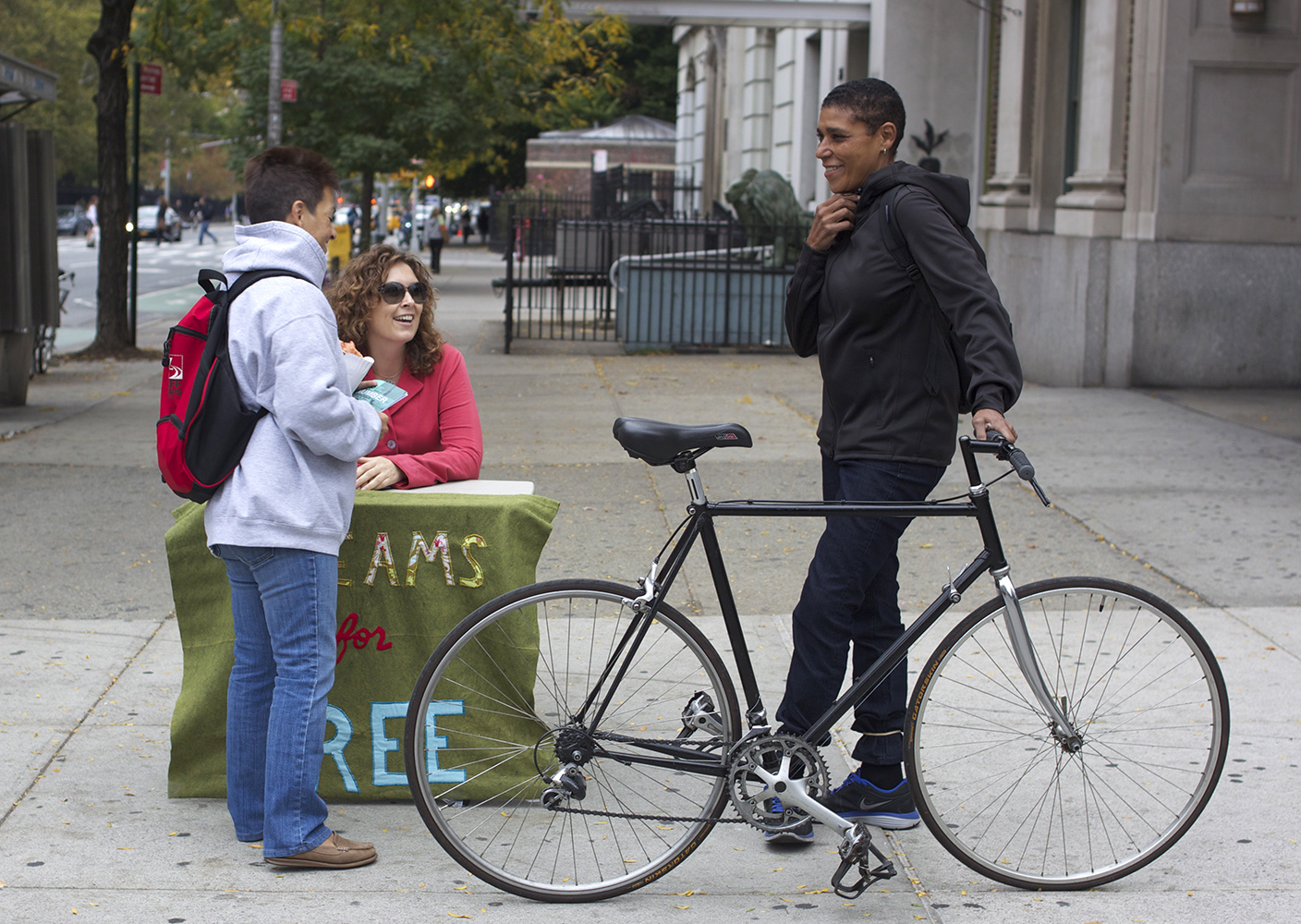 Photo courtesy of Janie Ledford.
14th Street is AiOP's biggest collaborator – both as an ally and as a competitor.  How did you adapt your work to the location? 
Initially I planned to walk along 14th Street and interact with people I encountered along the journey. I picked a time when I thought people might be agreeable to interacting with a stranger—Friday afternoon. I was anxious about the reception I would get on the 14th Street. I wasn't sure if people would want to share their dreams with me. The first few people I approached that afternoon confirmed my fear. They weren't into sharing anything with me—much less what they would do with millions.
Then, I spent a little time observing people and realized that people taking breaks or waiting for transportation might be more open to engaging with me. People standing on the sidewalks smoking were the first dreamers of the day. I especially loved watching the woman with a plastic cape, a hair full of dye, and a cigarette dangling from her lips as she scribbled her hopes for 37 million dollars. I also encountered a cluster of MTA workers who had just finished their shifts—these cheerful men and women enjoyed telling each other what they would do with the winning. I wondered how many of them kept dreaming on their commutes home that afternoon.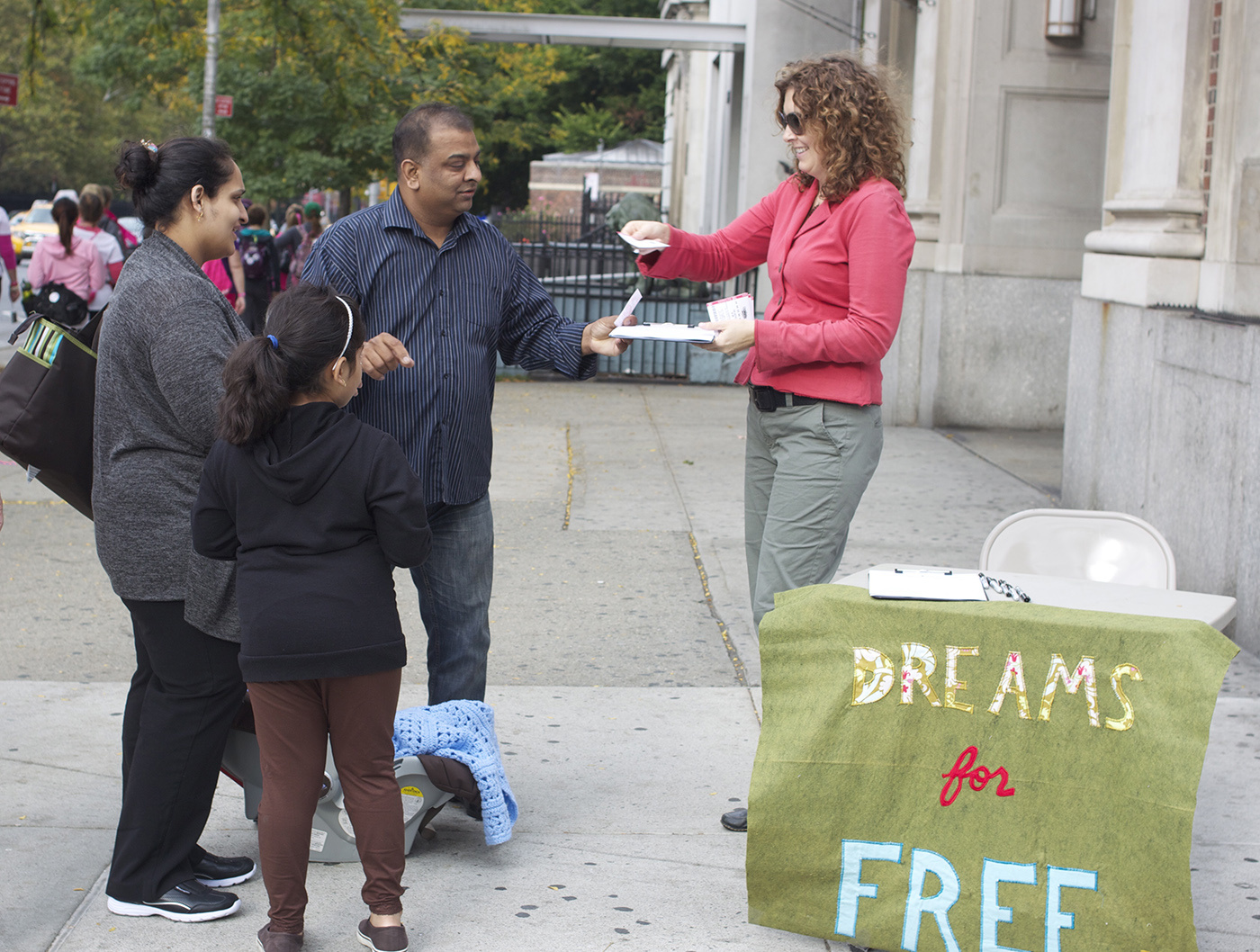 Photo courtesy of Janie Ledford.
The following afternoon I spent more time interacting with strangers on 14th Street. Instead of approaching people on foot like I had done the previous afternoon, my assistant, Janie and I set up a table with my Dreams for Free banner. We chose a location where there was good sunlight and lots of pedestrian traffic—the northwest corner of 2nd Ave and 14th Street. Shortly after settling into our location, we realized that we had camped out along the route of a Susan G. Komen Breast Cancer walk/run. Throughout the afternoon we were engulfed in sporadic pink swarms. These walkers were focused on their task and were not interested in dreaming. I pondered how many would give the money to cancer research if they enabled themselves to pause and take a chance on winning millions.
Was there one memorable moment?  
One hundred people wrote down their hopes and dreams for me while on 14th Street so it is difficult for me to highlight one memorable moment. I appreciated people's willingness to stop whatever they were doing and dream. I loved the woman who was scheming with her young son all that they would do with their windfall—their enthusiasm was infectious.
Do you have an association between number and place to add to our numerologies? 
I have given away lottery ticket in amounts ranging from $12,000,000 to $363,000,000 and I thought that as the amount increased the dreams would become more involved and maybe even outlandish. But the amounts didn't seem to matter much when people's most common dreams were to pay debts, buy a home and give to charities.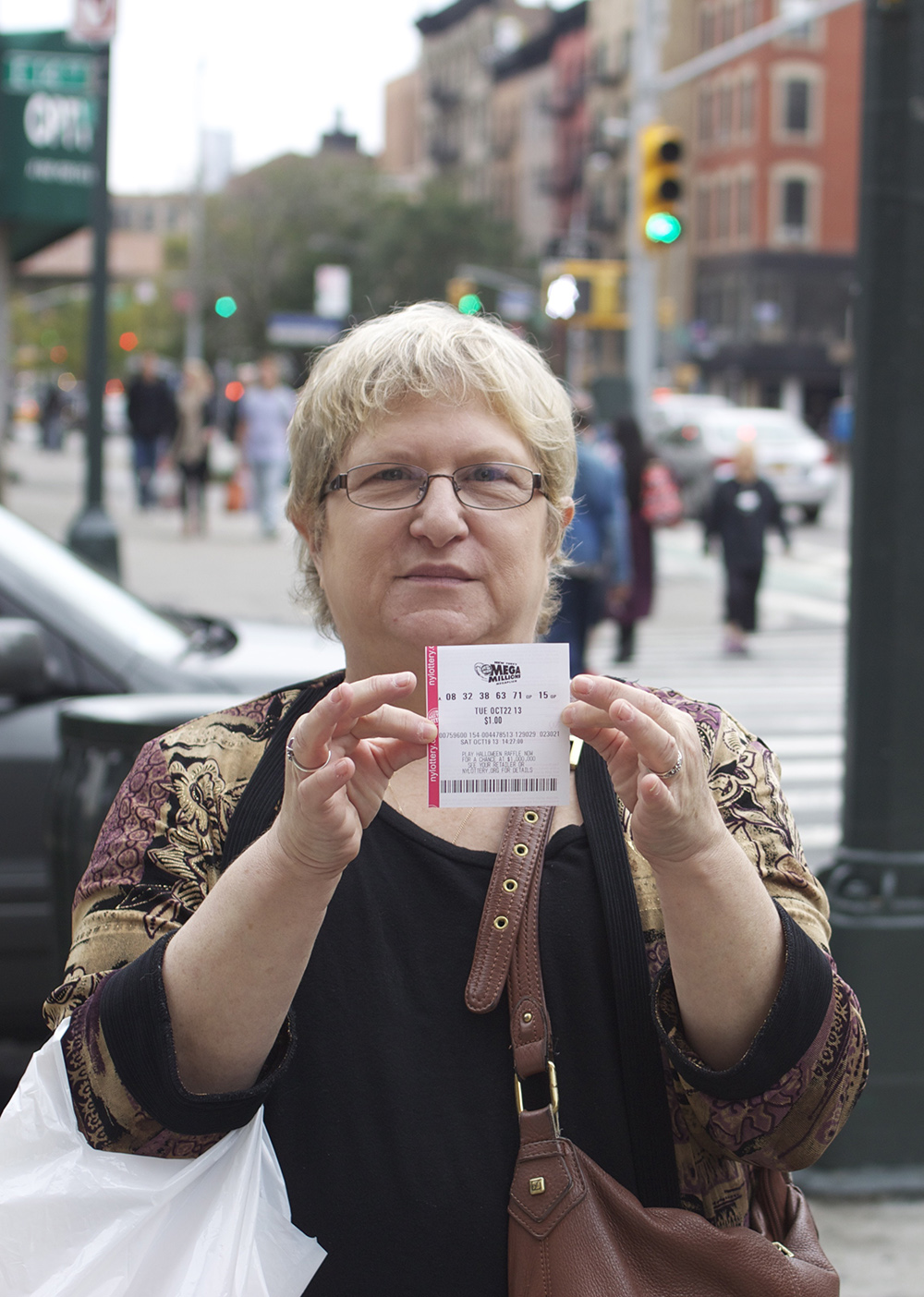 Photo courtesy of Janie Ledford.
What was the oddest experience or the greatest surprise?
The amount of people who, when contemplating what they would do with millions of dollars, wanted to pay off debts, have a home, a working car, and an education was truly surprising. After meeting over 600 people throughout the course of this project and learning their dreams, I am in awe of how many people are dreaming of survival and not having to worry about meeting their basic needs. I am an artist and an educator with two small children. I struggle to make ends meet. I thought I was aware of others' challenges. This project taught me that I am just one person with my view of the world, and how important it is to get to know more about the people who surround us.
Anything else you'd like to add?
Thank you so much for including my project in AiOP Number. I have a project website that includes dreams from people I met through AiOP. http://www.dreamsforfree.org/37.html
http://www.dreamsforfree.org/55.html
Also, be sure to check out her talk from TedX Greenville.