Under the theme of FREE, Art in Odd Places (AiOP) celebrated their 10th year engaging with works that celebrated ideas of openness, autonomy, and independence. As we prepare for AiOP 2015: RECALL and our exciting 11th year, we're taking time to look back at some of the works that embodied last year's theme and see what the artists learned by producing their pieces, and how working on 14th Street impacted their practices.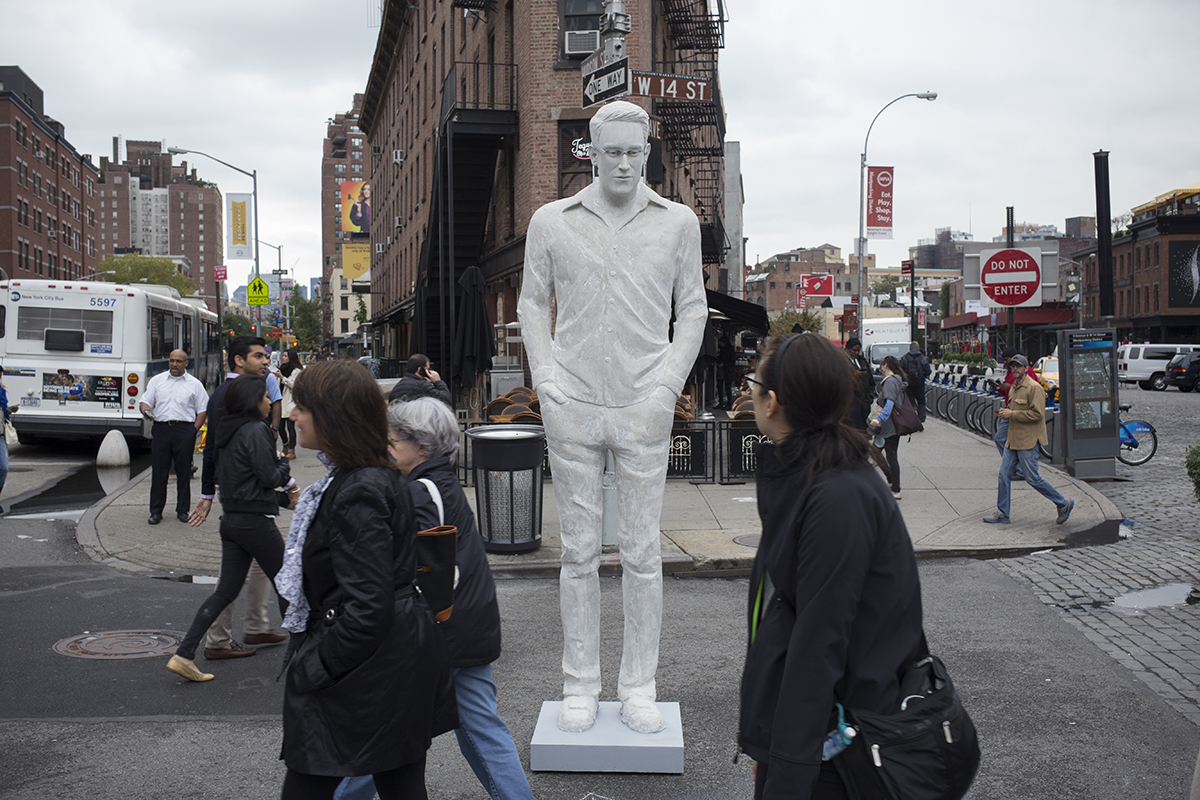 Can you describe your contribution to AiOP: FREE?
project title
The Edward Snowden Statue
Jim Dessicino, AiOP FREE 2014!
project description
I participated as an artist. My sculpture, The Edward Snowden Statue, was placed first in Union Sq. across from the statue of Abraham Lincoln, where it attracted a lot of attention. On Saturday, we placed the sculpture in a designated public space at the intersection of 14th St. and 9th Ave.
Working in public space, one is often forced to deal with the unexpected. What surprising turns did your work take during AiOP: FREE?
Everything about AiOP: FREE was unexpected for me. Driving in from Brooklyn over the Williamsburg Bridge we hit some very heavy traffic that caused me to be late to set up. In a moment of extremely fortunate serendipity, I parked the van in a loading zone on 16th St. that happened to be right next to the restaurant where Glenn Greenwald and Jeremy Scahill were eating breakfast. They immediately recognized the statue as Snowden. They took photos with it and then posted the photos to Twitter. Within a half hour, I was being interviewed by news media as varied as Business Insider to Buzzfeed. The sculpture attracted enough attention that the Parks Department asked me to remove the sculpture. They were really polite about it, granting me the time to move the van and conduct an interview with the New York Daily News before removing the statue. I was surprised by how positive the responses I received were, especially from the police and others in positions of authority. I learned that even if you think something may be as controversial as you deem it important, there may be lots of others who agree with you, even if you assume that those parties might be in opposition to your personal ideology. The benefits of these interactions definitely outweighed the risk.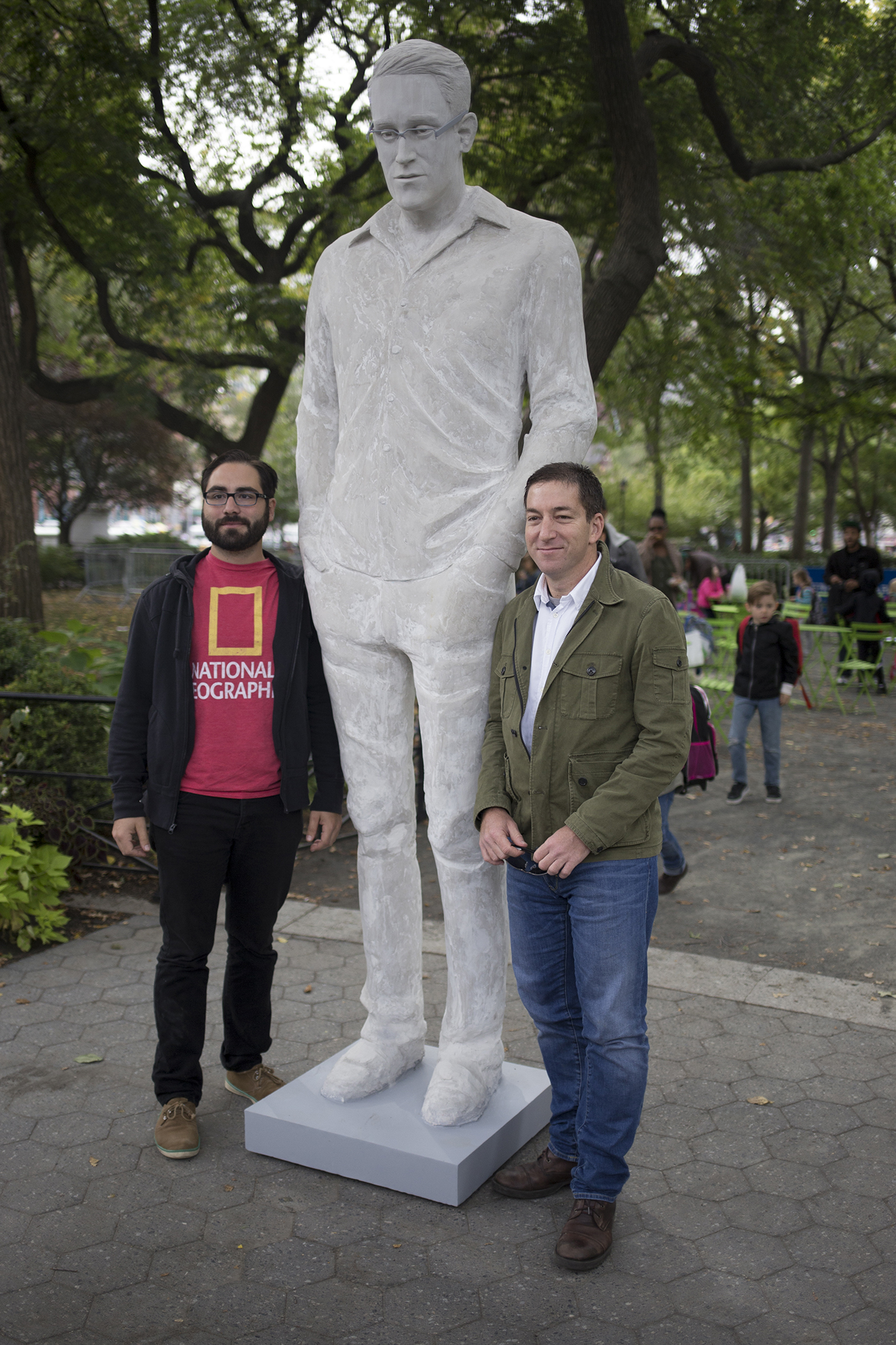 The Edward Snowden Statue, photo courtesy of Brian Wagner.
How has the experience of making work for AiOP changed or influenced your practice?  Has it added any elements or led to any changes in your method, technique, or medium?
I learned from the making of the Edward Snowden Statue that it is best to make sculptures that are lightweight and strong. Though I still work in heavy and slightly fragile materials, if I were to design something for public space again, I would consider the weight and material of my sculpture more thoroughly.
Fourteenth Street is comprised of many different "publics." There are the shoppers at Union Square, the commuters, the residents, the shop owners and merchants… How did your work interact with these publics, and what were the outcomes?
Many people on 14th street seem to have purpose when they walk, which means the are not phased by a 9ft sculpture that pops up out of nowhere, but when people stopped to ask questions, great conversations and debates occurred. Some people not knowing who Snowden was took selfies with the sculpture because it "seemed important." I thought it was important to get them involved in the conversation about surveillance and public memory especially.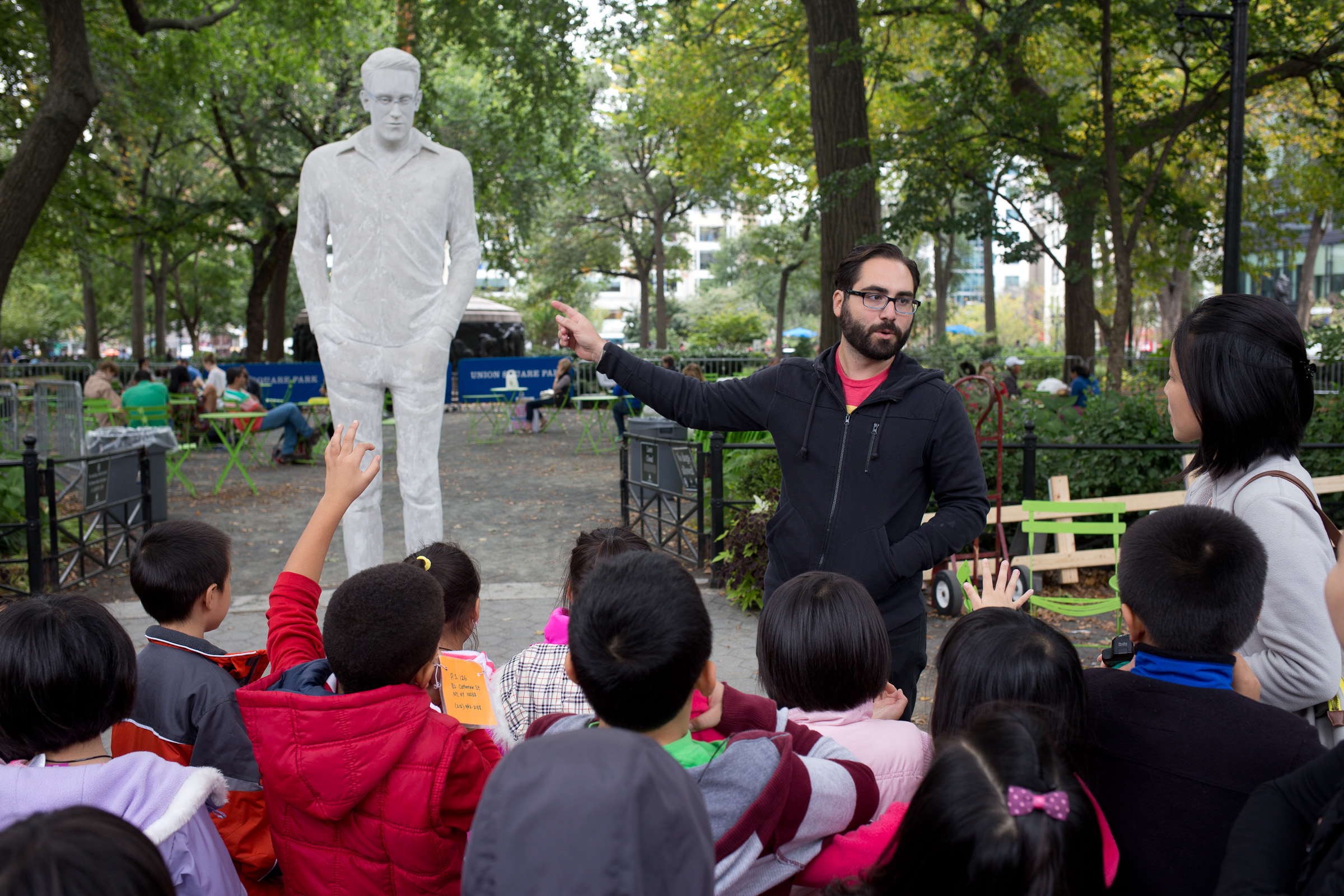 The Edward Snowden Statue, photo courtesy of Brian Wagner.
What advice do you have for artists who are making their first foray into working in the public realm?
Don't be afraid to get in trouble! Be open-minded, reactions to your work will be varied, but that is what makes public space interesting. Be nice to the authorities, and chances are they'll treat you in kind. Remember that you are being photographed and filmed even without knowing. Present yourself the way you want to be viewed.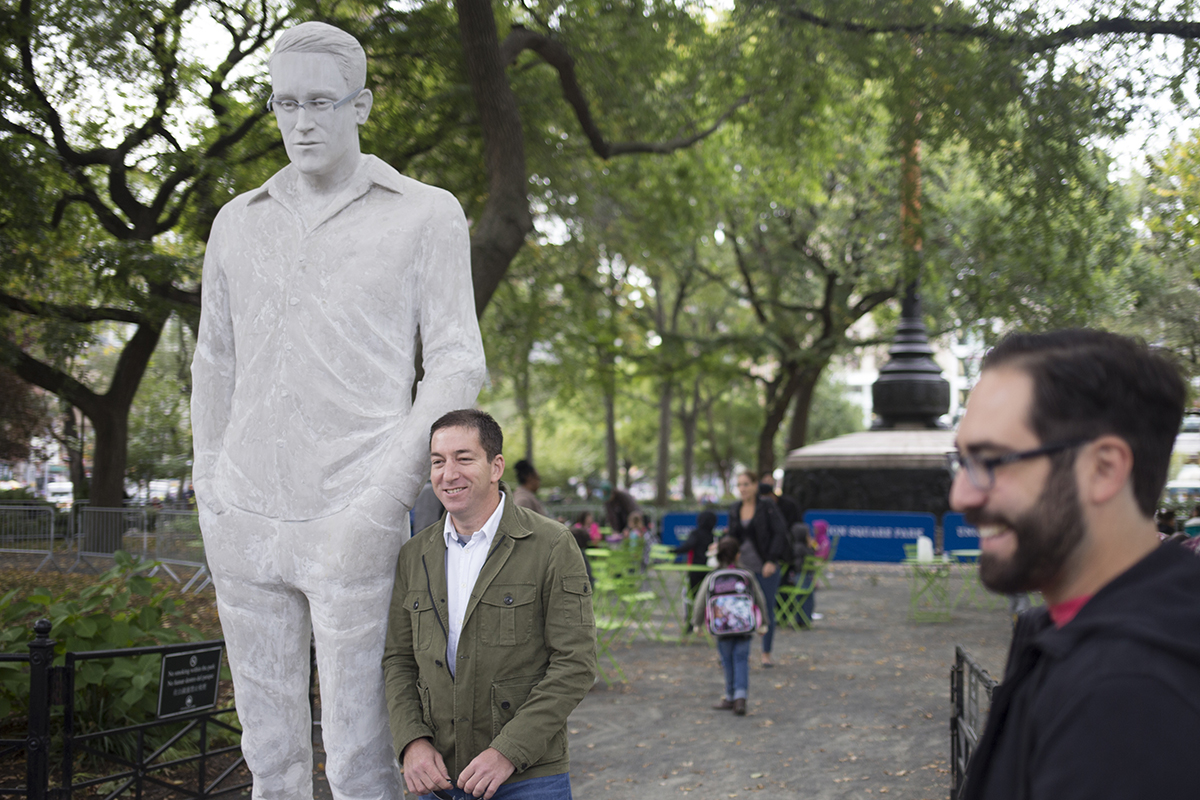 The Edward Snowden Statue, photo courtesy of Brian Wagner.