Under the theme of FREE, Art in Odd Places (AiOP) celebrated their 10th year engaging with works that celebrated ideas of openness, autonomy, and independence. As we prepare for AiOP 2015: RECALL and our exciting 11th year, we're taking time to look back at some of the works that embodied last year's theme and see what the artists learned by producing their piece and how working on 14th Street impacted their practice.
Can you describe your contribution to AiOP: FREE?
project title
Flux Flags
Johannes Rantapuska & Milja Havas, AiOP 2014 FREE!
project description
The old pilings between pier 54 and 57 hosted a temporary stage for several dozen flags inspired by nautical signal flags. Instead of ships, the flags waved for random passer-byers whose attention were lured with bright colors and graphic shapes. The sight offered a visual stimulus to imagine the old maritimes: striped shirts, crave for freedom, opportunities what lies beyond -the whole romance of departure and arrival. The work is called Flux Flags.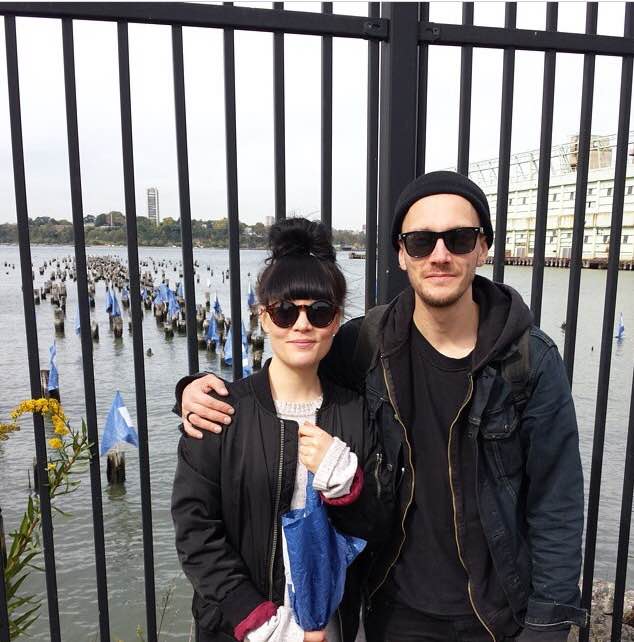 Johannes Rantapuska & Milja Havas, photo courtesy of Dylan Gauthier.
Working in public space, one is often forced to deal with the unexpected. What surprising turns did your work take during AiOP: FREE?
More or less the whole festival from start to end was one, intuition driven, surprise. We traveled across the atlantic only with a detailed plan in our pocket. When it came to the execution, it was totally relied on chance and sufficient amount of days. Luckily, pretty much all of the tasks ran according to a plan -thanks to co-curator Dylan Gauthier. Mr Can Do (Dylan) not only offered us a workspace and kayak for installation, but also co-piloted and installed the whole piece together with us. Gathering the necessary material for the flags was also relied on found material. Finding 30m2 tarpaulin from the trash bin pretty much dictated the common design for the flags. Among all of them, the most significant surprise happened during the installation day: What we installed during the morning high tide, looked drastically different during the afternoon low tide. Gladly this natural phenomenon only gave more depth to the piece.
How has the experience of making work for AiOP changed or influenced your practice?  Has it added any elements or led to any changes in your method, technique, or medium?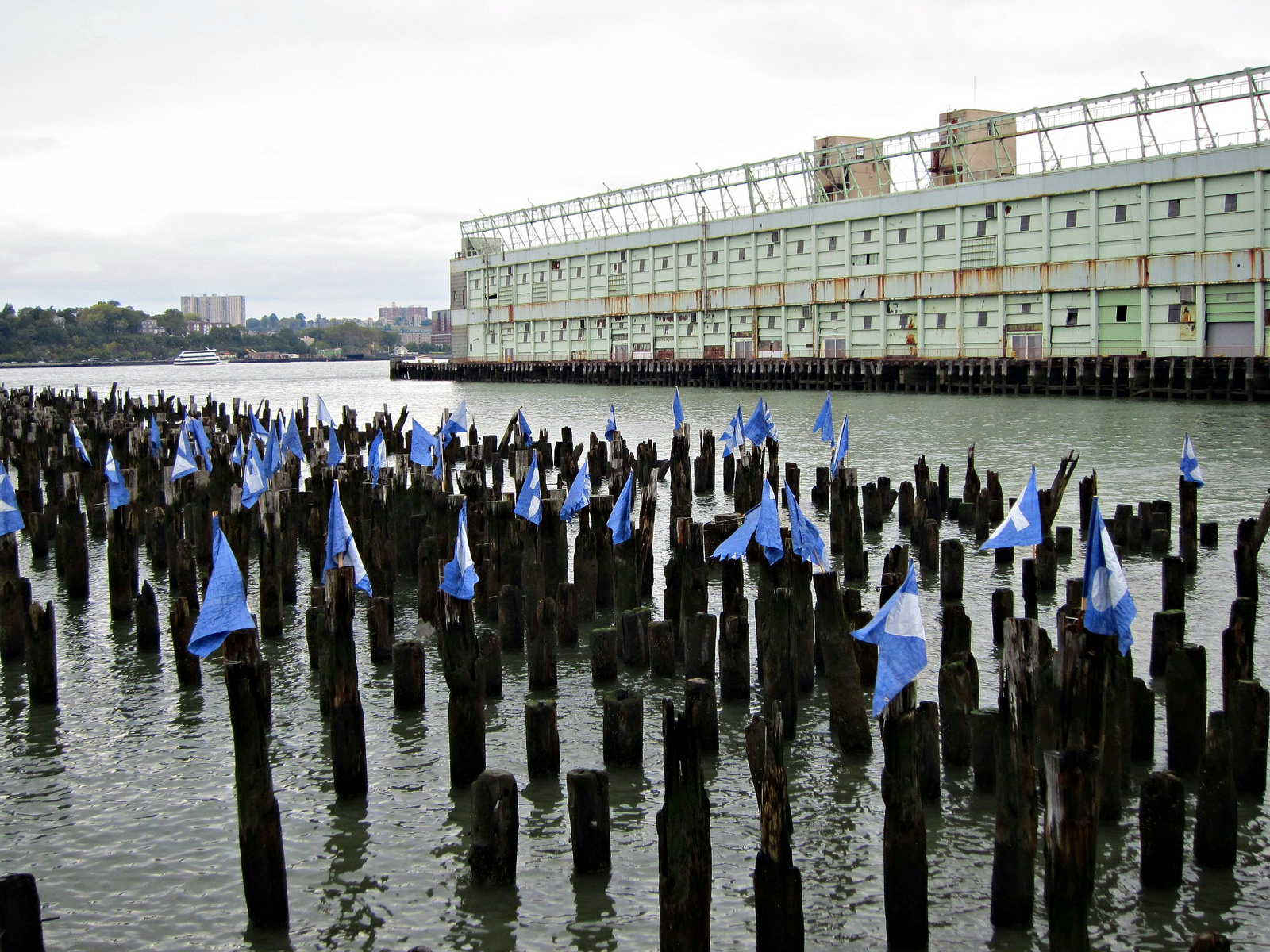 Flux Flags, photo courtesy of Milja Havas.
The whole entry for the festival was fuelled by the urge for collaboration. Milja, whose background with theatre and performing arts, and Johannes, a background with graphic design, found the common ground from mutual history and interests towards public interventions. Encouraged by the success in AiOP, we applied and got accepted for another public installation.  This time in Finland, an abandoned bear park in active zoo will play stage for our upcoming installation for the following summer.
Fourteenth street is comprised of many different "publics." There are the shoppers at Union Square, the commuters, the residents, the shop owners and merchants… How did your work interact with these publics, and what were the outcomes? 
As Flux Flags were surrounded by water, it was accessible for the public only by watching it. The piece was more like an odd attraction in an odd place. A friendly reminder of water presence in Manhattan.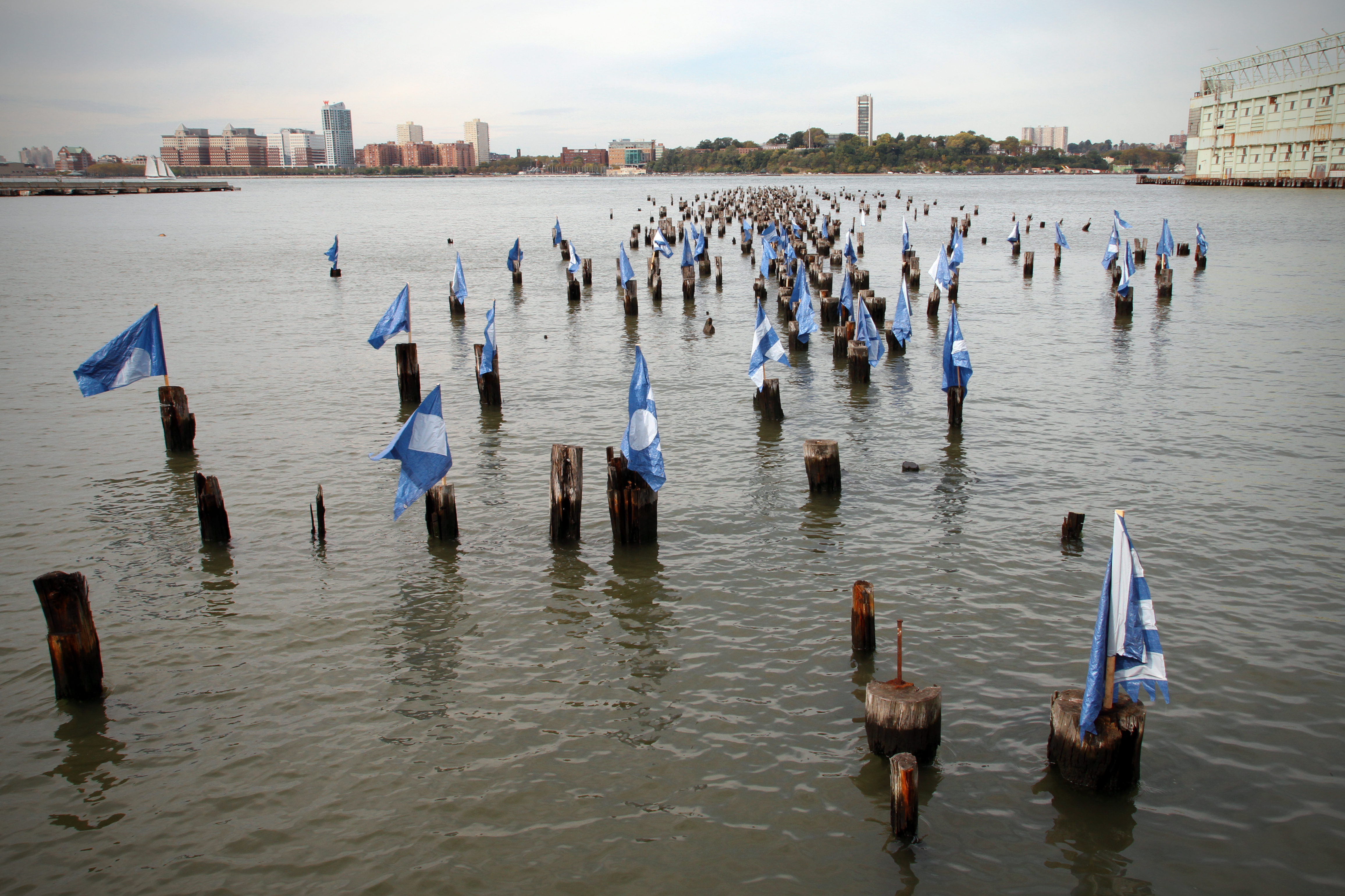 Flux Flags, photo courtesy of Timo Sulkamo.
What advice do you have for artists who are making their first foray into working in the public realm?
Site-specificness is the essential challenge. Bright idea with a flexible implementation gives you latitude for possible problems, and there will be some. If the rain or cops won't bother you, the one-second attention span will. Make something that triggers the passer-byer, no matter where he/she comes from or where he/she is going to. Level up the everyday view of cityscape with small alterations to break the pattern.