Under the theme of FREE, Art in Odd Places (AiOP) celebrated their 10th year engaging with works that celebrated ideas of openness, autonomy, and independence. As we prepare for AiOP 2015: RECALL and our exciting 11th year, we're taking time to look back at some of the works that embodied last year's theme and see what the artists learned by producing their pieces, and how working on 14th Street impacted their practices.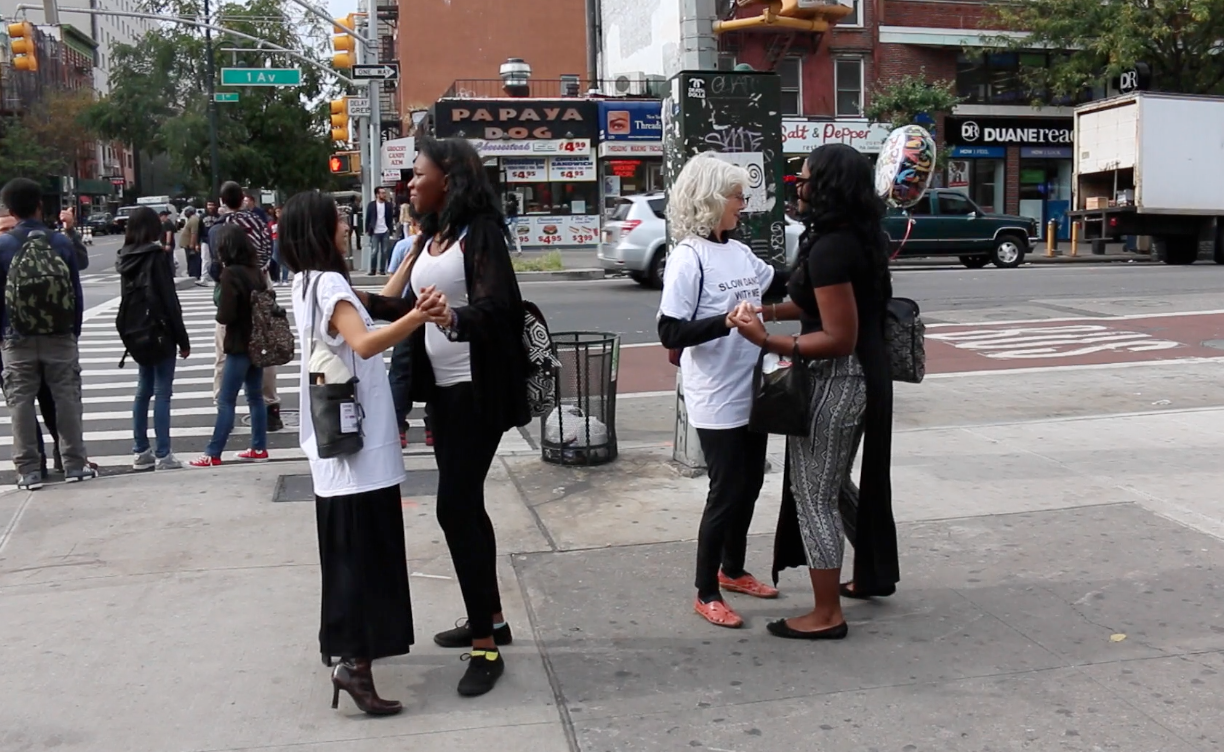 Katya Grokhovsky, Slow Dance, 2014, images Tuo Wang, courtesy the artist
Can you describe your contribution to AiOP: FREE?
 project title
Slow Dance
Katya Grokhovsky, AiOP FREE! 2014
project description
My contribution to AIOP: FREE involved a durational participatory performance, Slow Dance, which took place daily during the festival, in various locations along 14th street. In this performance I, along with several performers, asked passerby to slow dance, accompanied only by the conversation and street noise.
Working in public space, one is often forced to deal with the unexpected. What surprising turns did your work take during AiOP: FREE? 
I was particularly surprised by the somewhat enthusiastic response of the street audience and their willingness to engage with the work in some locations, as well as the obvious dis-interest in others. The geography of the work and the city itself came into play immediately and often became the topic of the slow dancing conversations.
Katya Grokhovsky, Slow Dance, 2014, images Tuo Wang, courtesy the artist
How has the experience of making work for AiOP changed or influenced your practice?  Has it added any elements or led to any changes in your method, technique, or medium?
I enlisted other performers to help me facilitate the work for the first time through an open call.  I enjoyed this process and have kept incorporating performers into some of my performance work ever since. Working with new facilitators, besides myself, has dramatically expanded my own view of the Slow Dance project and I have decided to interpret the collected oral histories post-performance into a new work.
Fourteenth Street is comprised of many different "publics." There are the shoppers at Union Square, the commuters, the residents, the shop owners and merchants… How did your work interact with these publics, and what were the outcomes?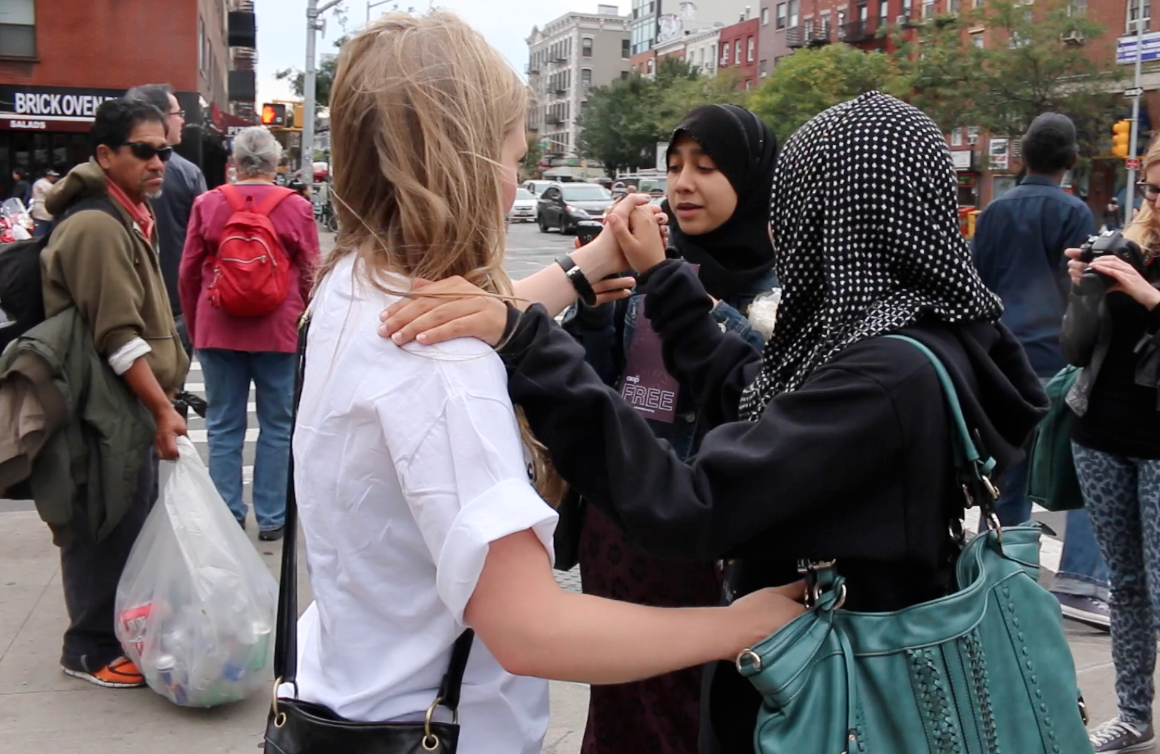 Katya Grokhovsky, Slow Dance, 2014, images Tuo Wang, courtesy the artist
I changed locations each day of the festival and this migration had an inevitable impact on the way the performance proceeded. For example, East Village passerby were highly interactive, entertaining and active participants, with various stories and narratives revealed, as opposed to unsurprisingly unresponsive speedy audiences of the Meatpacking District. The outcomes in general were also dependent on the time of day the performances took place, indicating the flow of the city's hectic everyday life cycle, economy of time and placement, as well as the weather conditions. Overall, we engaged with a vast sample of NYC's publics and collected several anecdotes. We danced with dogs, babies, were taught new moves and choreography, learned about personal tragedies and break ups, as well as histories of the neighborhoods.
What advice do you have for artists who are making their first foray into working in the public realm?
Be open minded, be alert and attentive, especially to the conditions around you, be flexible, change location, adapt to weather, basically think fast and have fun!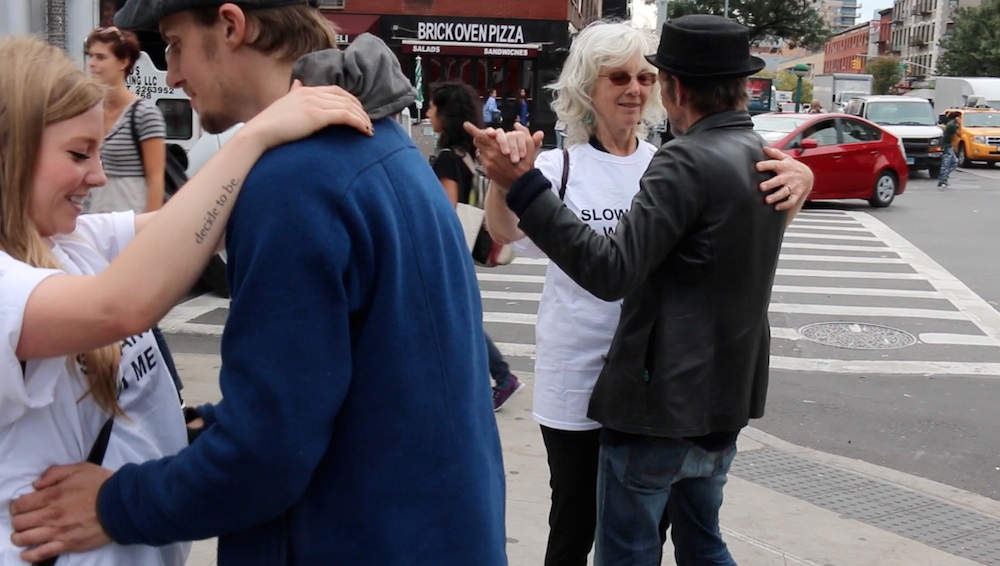 Katya Grokhovsky, Slow Dance, 2014, images Tuo Wang, courtesy the artist