Under the theme of FREE, Art in Odd Places (AiOP) celebrated their 10th year engaging with works that celebrated ideas of openness, autonomy, and independence. As we prepare for AiOP 2015: RECALL and our exciting 11th year, we're taking time to look back at some of the works that embodied last year's theme and see what the artists learned by producing their pieces, and how working on 14th Street impacted their practices.
Nicky Enright performing Globo Exchange.  Photo courtesy of the artist.
Can you describe your contribution to AiOP: FREE?
project title
Globo Exchange
Nicky Enright, AiOP 2014 FREE!
Project description
I did a performance called "Globo Exchange" where I exchanged my international currency for American dollars and other currency, offering a "buy one get one free" deal, so $1 = 2 Globos. I also was the DJ for the artist party, where I created the "Free Mix."
Working in public space, one is often forced to deal with the unexpected. What surprising turns did your work take during AiOP: FREE?
I have been exchanging Globos since 2008 so I pretty much knew what to expect. But I was still surprised at how some people couldn't wrap their brains around money as an art project – some folks had to assume that it was just a scam, that there could be no other value to it. It was also surprising that the Wall Street Journal got interested and did a piece on it.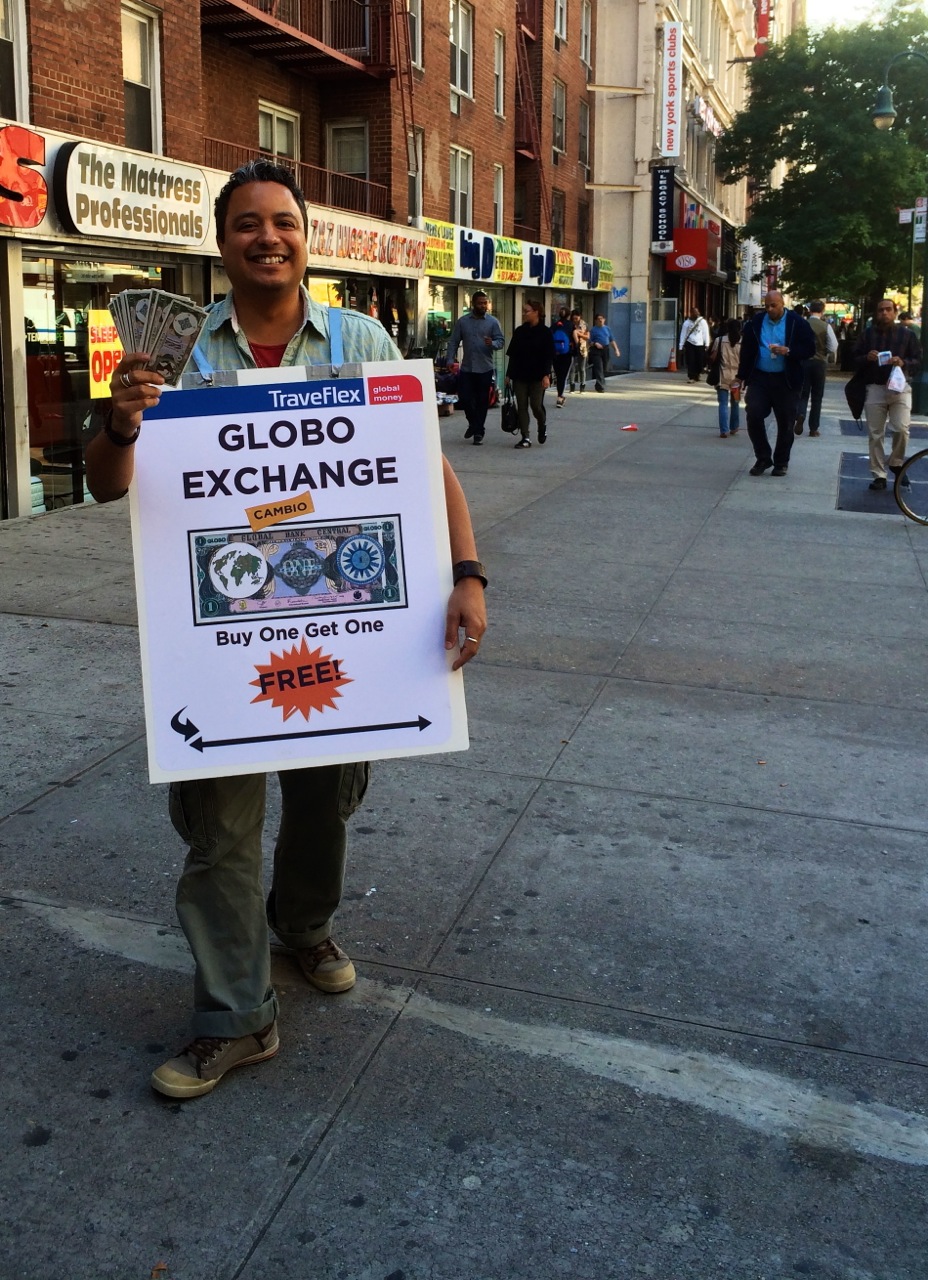 Nicky Enright performing Globo Exchange.  Photo courtesy of the artist.
How has the experience of making work for AiOP changed or influenced your practice?  Has it added any elements or led to any changes in your method, technique, or medium?
To brave the wilds of 14th Street with an interactive performance results in just that, increased bravery. This is the flip side of the vulnerability one feels when approaching complete strangers to engage with them on an art project. Vulnerability is bravery, and they are good modes to explore for an artist.
Fourteenth street is comprised of many different "publics." There are the shoppers at Union Square, the commuters, the residents, the shop owners and merchants… How did your work interact with these publics, and what were the outcomes?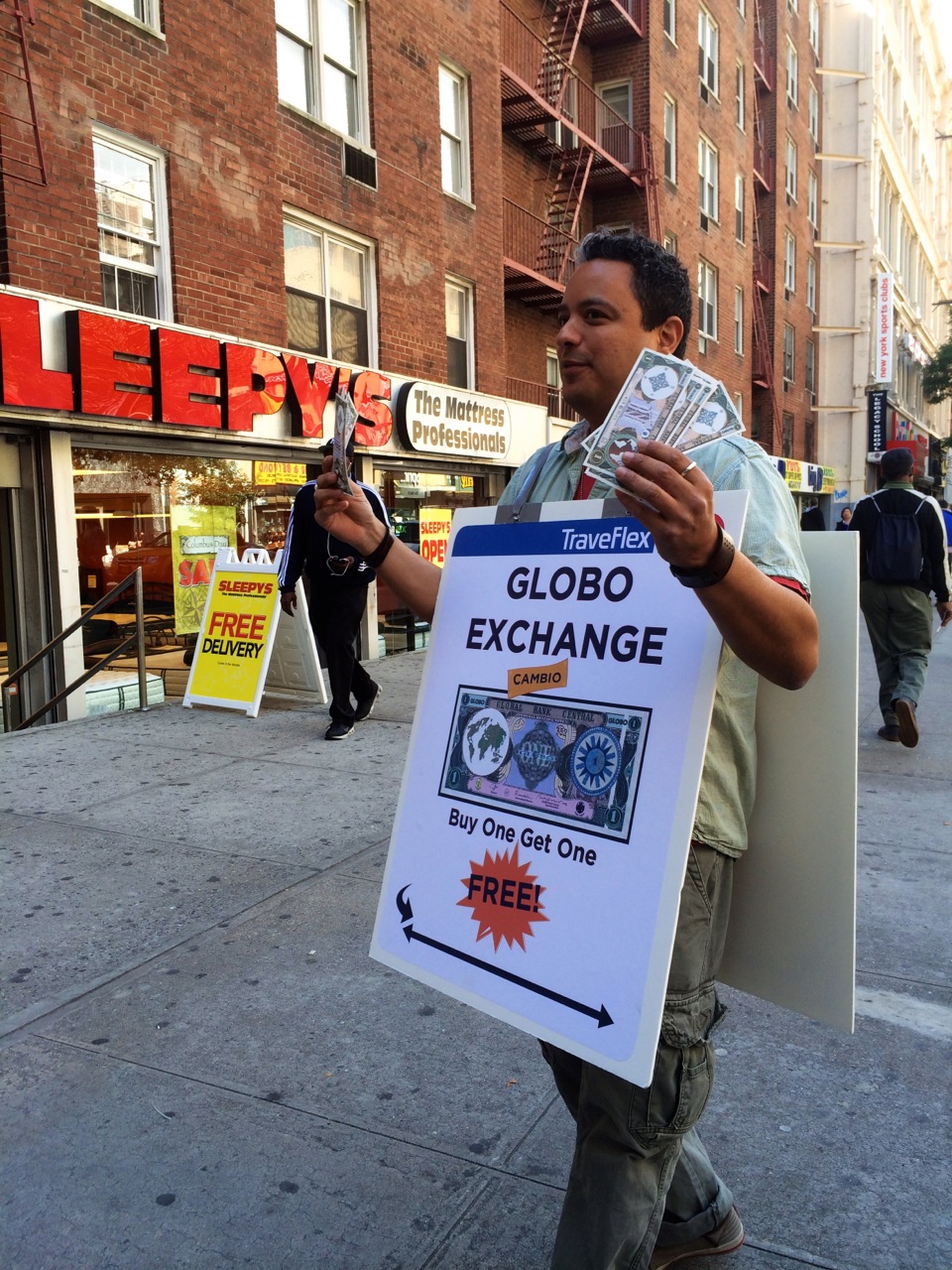 Nicky Enright performing Globo Exchange.  Photo courtesy of the artist.
Ironically, I found that local New Yorkers were the most engaged and engaging public I encountered. I thought tourists would enjoy exchanging their foreign currencies for Globos, but I found many tourists to be on edge on 14th Street – suspicious and guarded instead of fun and freewheeling. Too bad, because NY is a much friendlier place than they think, but the friendliness resides just below the surface.
What advice do you have for artists who are making their first foray into working in the public realm?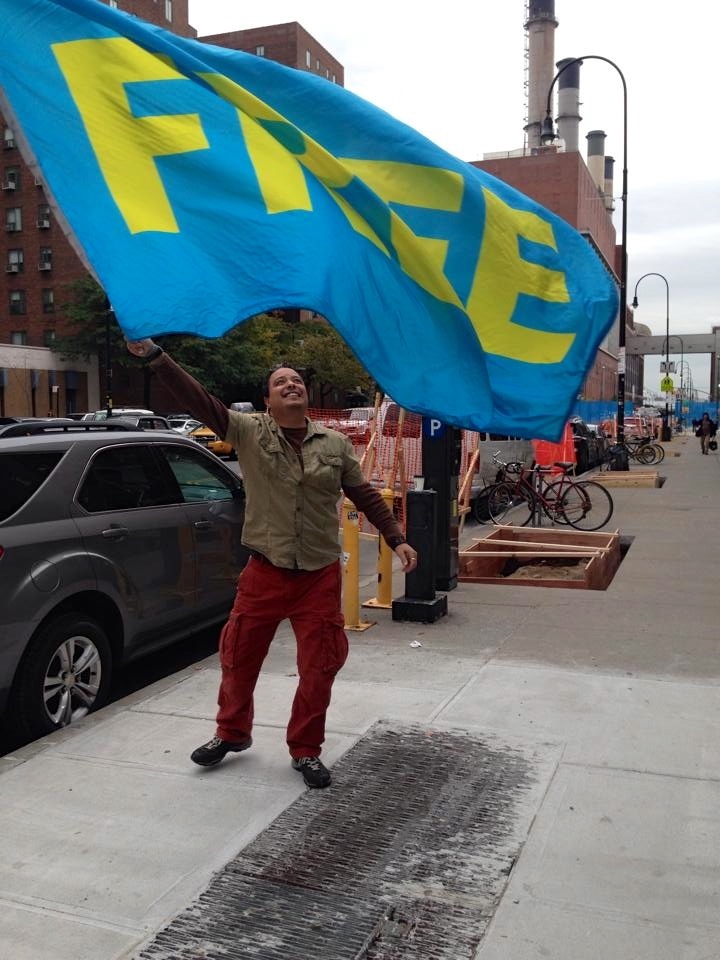 Nicky Enright.  Photo courtesy of the artist.
My advice is to look people in the eye and truly engage with them on a human level. It shouldn't be about artist-to-public as much as person-to-person. It's always beautiful to commune with fellow human beings, especially in an extraordinary way informed by creativity. Be brave, because you must, and be vulnerable, because it's the same exact thing.