By Dillon de Give
Going somewhere to do something for the first time is different from going back to do it a second time. The third time is different too, but after that the feelings are probably pretty well formed. Going to the doctor might be an example. Going to a new school, or to buy coffee. It could be the case that during those first few occasions of moving towards an action we set aside time to develop an attitude about it.
I'm now heading back to the Art in Odd Places Festival for the third time, wearing a raincoat, feeling prepared. I'm looking forward to being on 14th street because I understand it as an environment a bit better. There will be a lot of ordinary space, and within it some small pockets of artistic activity. It's possible that there is little affective difference between the projects in the festival and other creative, therapeutic, antagonistic, or exchange-based social forms existing on 14th. However, there is a real-enough frame of AiOP that will allow me to make a delineation and position myself accordingly.
I am thinking of myself here as a kind of professional– or let's say informed– participant of art projects. I am like the Greg Packer, the frequently quoted "man on the street" of art projects. As this character I have some choices. Sometimes I reveal that I am a "thinker in residence" sometimes I don't. Sometimes I play dumb about the whole festival. I try to spot art projects before they spot me, and observe from a safe distance before I approach.
Near the subway I step into a video taped conversation with choreographer Jody Oberfeld who is working with an assistant inconspicuously near the escalator Street Greet is a vox pop style interview (she is asking lots of people the same question). I believe it will be used later as content to generate choreography. She asks, "Are you a free thinker?" In retrospect there were so many ways I could have answered that question. I try to paraphrase (botch?) a pragmatic philosopher: Each thought is completely informed– almost determined– by the previous thought. But there is a sort of moment in-between thoughts where something else can come into play, some element of will.
Part of experiencing art is to be in an unpracticed state– in other words not being able to form (or access) a well-established attitude about what you are witnessing, because you just experience it once. Even though its possible, we often don't read books twice. Same goes for movies, museum shows, etc. Obviously there are a lot of exceptions. There are academics, critics and "cult" followings, but the normal state of affairs for an onlooker is the one re-enforced by the ticket system: a singular experience, a first and only impression. I am beginning to wonder about strategies to get around that.
I participate in two (separate) projects that take the basic model of psychodynamic therapy as their form. One of my therapists has more experience than the other. Cupid Ojala is sitting quietly at table in the median on 9th Ave wearing 19th century attire. He appears like this in public once a month to analyze and issue Love Prescriptions by Cupid. Despite the costume trappings that accompany the piece, Cupid (his given name) portrays his character straightforward and unaffected. The character becomes an embodiment of an attitude towards love.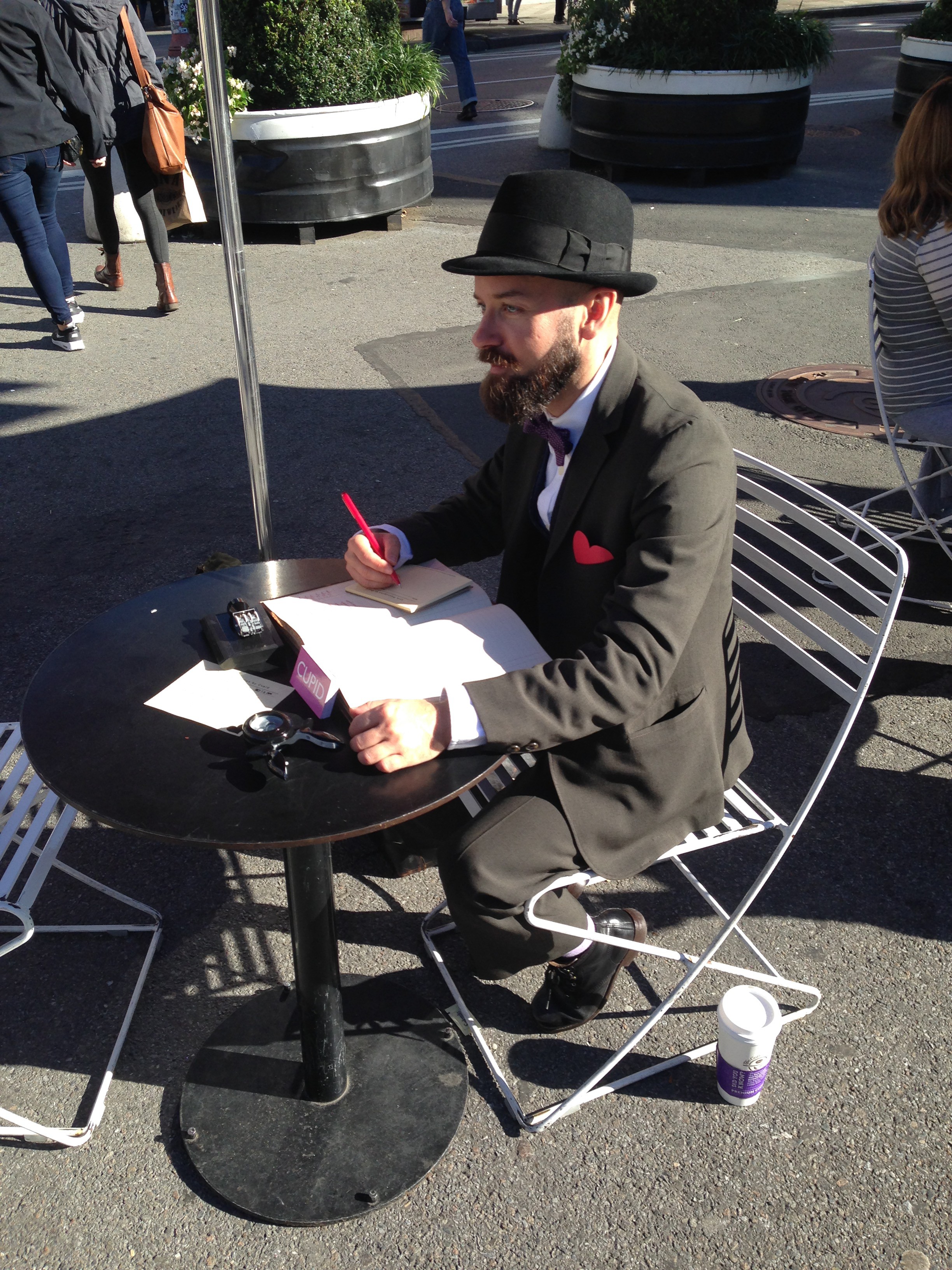 Cupid Ojala.  Photo courtesy of Matthew Morowitz.
I am especially interested in getting an explanation of the art projects from people not associated with the festival. Artists or their confederates usually explain what's going on and hand me a program. I am happy to spot Rory Golden by himself as the Duty Free Ranger silently begging for a donut outside of a donut shop. I go in to buy a donut. Employees seem a little exasperated. One older customer is actually trying to shoo Rory like a fly, through the window. Just to see what they say, I ask if Rory works for them. The woman behind the counter says, "No! But don't worry. He's not crazy, he's just stupid." Rory impressively does not break character, does not speak. After he and I share a chocolate donut, he seems relieved of his obligation and continues down 14th using a silver spoon as a rear view mirror, walking backwards. It's very funny, a kind of Don Quixote-meets-Xanadu impression.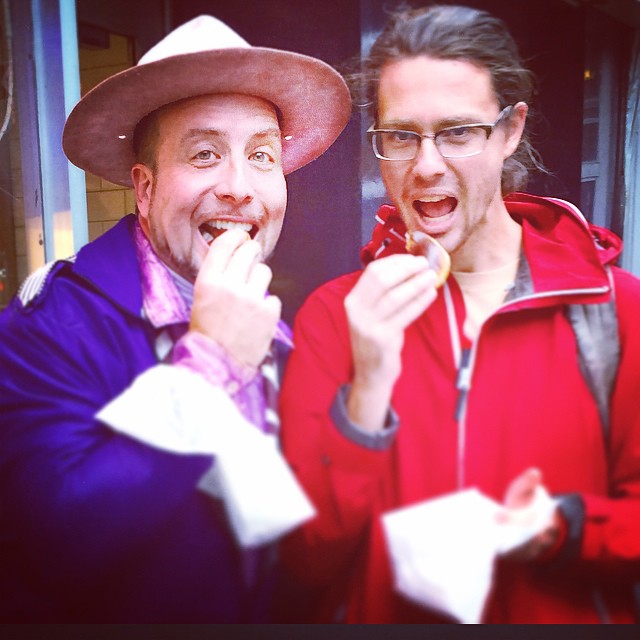 Rory and Dillon.  Photo courtesy of David Van Buskirk.
I need to leave and return a library book. On the way to the library I find myself looking at people on the subway. I want to find out about their projects. What has been made FREE (the theme of the festival) at AiOP is a kind of access to the artist's working attitude via the character they play on the street. What is exciting about this notion is that we all play a character on the street…