Your name/collaborative or group name:
0H10M1KE & TJ
Title of your project:
Drive-By Portraiture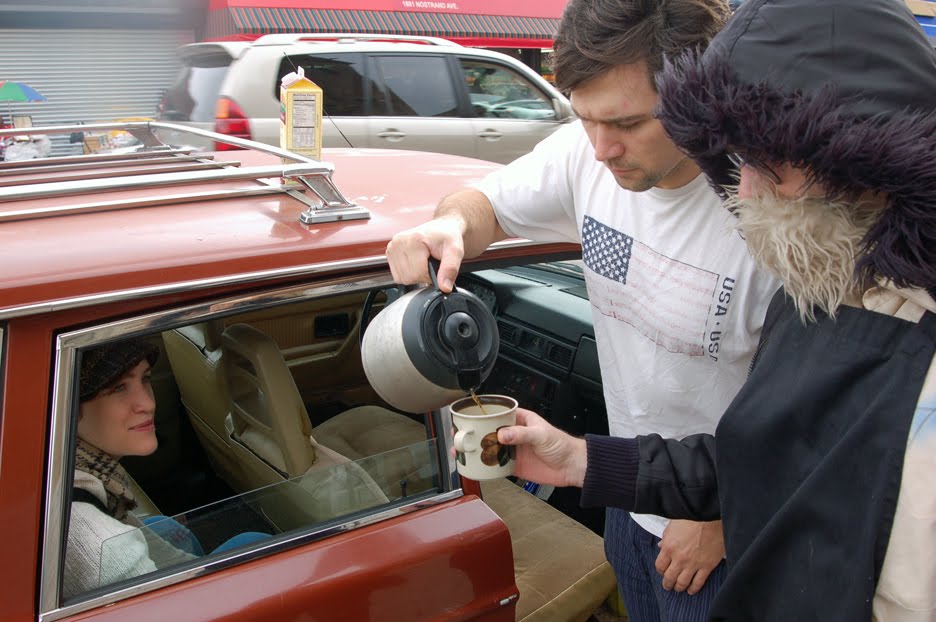 0H10M1KE (right) & TJ providing roadside coffee during dinner theatre performance Mobile Picnic (2009).  Photo credit: Naomi Miller
What does "FREE" mean to you?
There's no free lunch; everything requires time and effort.
DIY Terms like 'Free' and 'Self-produced' are often misleading when the event or project has secured sponsorship/ investors, is a collaboration by many others through their time effort and money and/or is backed by a Kickstarter.
Why is 14th Street a compelling site for creative response?
14th St used to act as an invisible border between Brooklyn/Lower Manhattan and the rest of this New York City, as in "I don't go above 14th St". Many 0h10M1ke portrait blitzes have occurred aboard L trains across 14th St from 8th Ave to Bedford/Lorimer, where upon 0H10M1ke has completed an entire train car of portraits. M1ke is excited to explore the above-ground 14th St-goers and note differences from an almost entirely Brooklyn-bound subterranean crowd. TJ, an expert driver, will be deskilling as part of this project. He is in his prime when navigating long commutes with complex traffic problems. 14th St as a straight shot should offer some TJ a chance to create some compelling strategies for navigating from point A to B only.
What reactions are you hoping to draw from the public?
Surprised Delight. By breaking the cardinal rule of "Don't talk to strangers", passengers will have already one-upped their own rule-breaking by accepting a ride from a stranger. Their demeanor will shift while in transit from potentially guarded, to open, to engaged, to interacting as a newly formed group through critical exposure to that which they may distrust, that which is 'free'. They will exit safely at their destination thanks to TJ, having made 2 new friends and with a takeaway memento that will act as a receipt for their experience in a 1-minute portrait by 0H10M1ke.