Your name/collaborative or group name
Clover Archer
The title of your project
Ordinary Magazine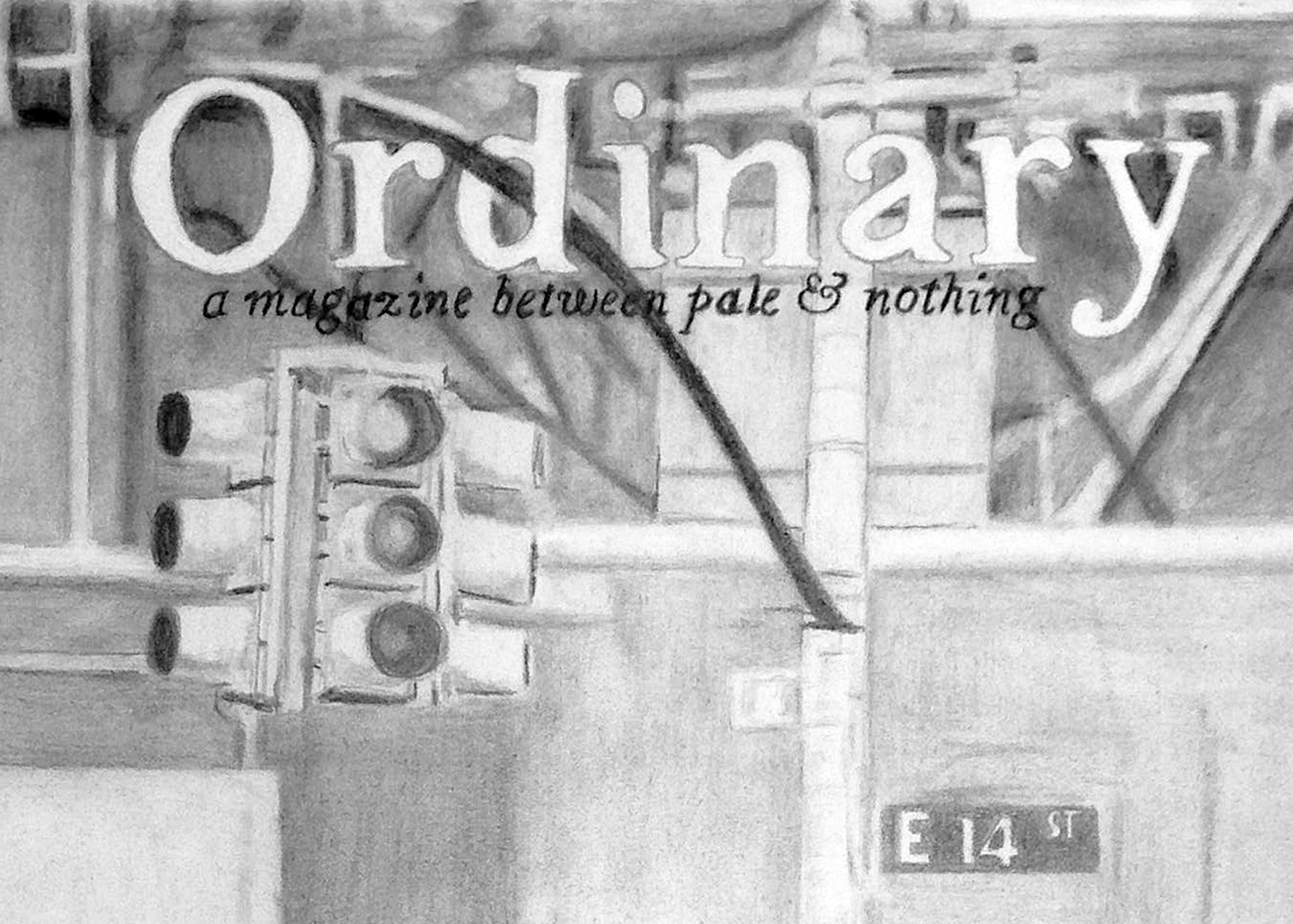 Detail Ordinary Magazine (Special Issue: FREEdom on 14th Street) 2014 graphite 9.75 x 6.75 in.  Image courtesy of artist.
What does "FREE" mean to you?
FREEdom is the privilege of being stymied when asked to articulate its meaning. As a middle- class, American, white lady (who grew up in New Hampshire with the state motto "Live FREE or Die") I unwittingly lead an existence of such advantage that I can reflect upon the concept of FREEdom as an intellectual exercise, not an urgent imperative. To absurdly circumnavigate the powerful political implications inherent in the aforementioned facts, I set forth the proposition that in order to define FREEdom, one needs a context by which to consider it relative to its opposite (which, incidentally, is equally as elusive as to be known by various terms such as enslaved, imprisoned, costly, limited, hindered, etc.).
Let the conditions be:
a. the Art in Odd Places festival
b. artistic production
c. 14th Street, NYC
d. middle-class, American, white lady artist
With the above set of circumstances, I fancy that FREEdom is in the imagination that turns a mysteriously round yet seemingly ineffectual divot in the sidewalk into the "down" button on an elevator that takes one directly to the center of the earth. Further, FREEdom is the opportunity to share this creative interpretation of reality with others.
Why is 14th Street a compelling site for creative response?
Because 14th Street is a major Manhattan artery and therefore a cross-section of humanity. Because over 100,000 people pass through Union Square subway station every day. Because 14th Street divides the orderly grid street system to the north from the imperfect angles of Greenwich Village. Because 14th Street as an ecosystem contains the city and the country, La Perla (high-end lingerie) and Kennedy's (not Kentucky) Fried Chicken, terra firma and drowning piers.
What reactions are you hoping to draw from the public?
Ordinary magazine covers the mundane, overlooked, marginal, and forgettable with the view that the amount of time, space, and energy occupied by the peripheral is too vast not to be meaningful. I hope the special issue of Ordinary dedicated to FREEdom on 14th Street will encourage the public (Ordinary readers) to consider what is necessary and poignant about this strikingly large classification.