Name:
Jessica Houston
Title:
Color Walks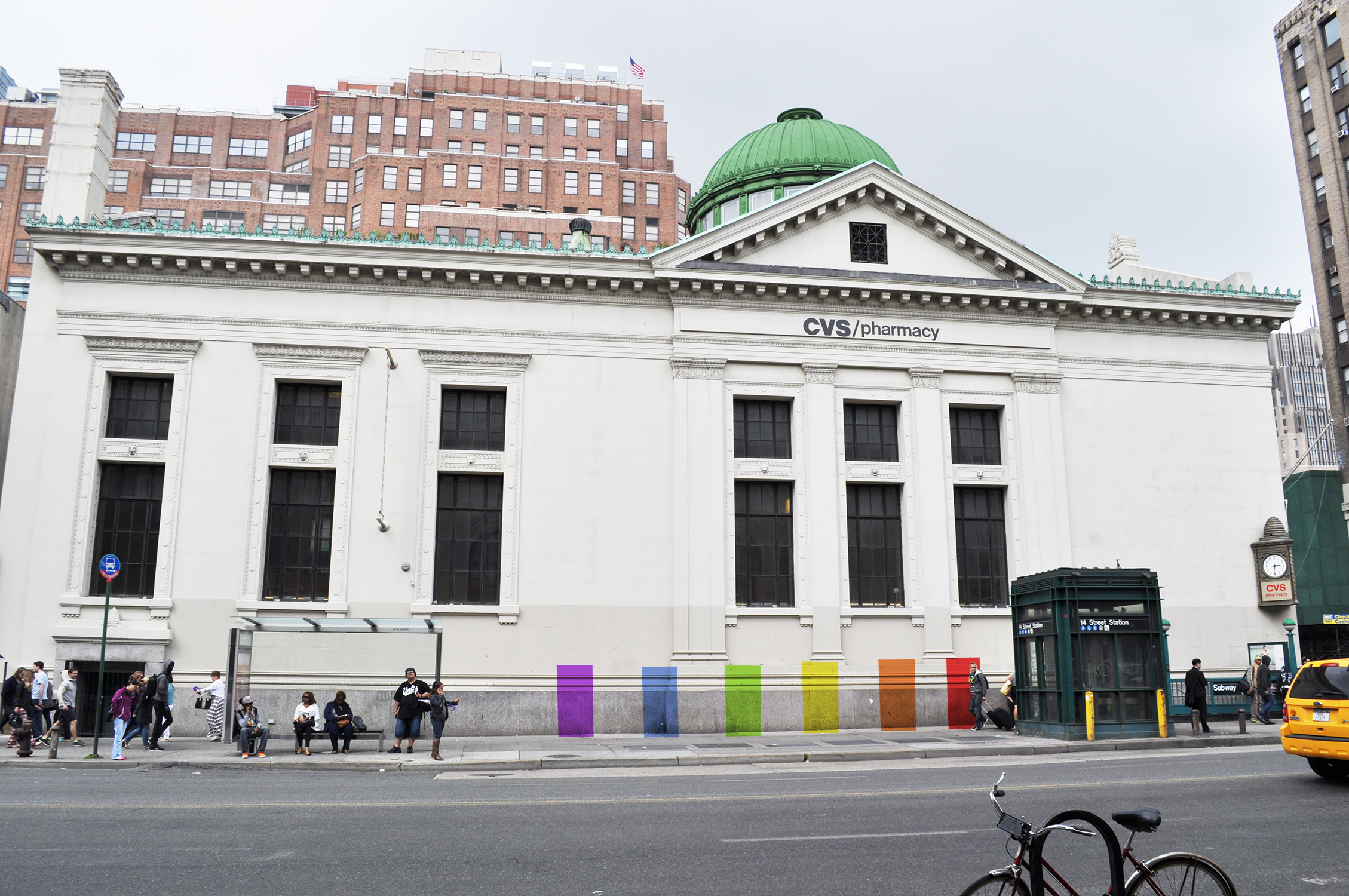 Color Walks. Photo courtesy of Jessica Houston.
What does FREE mean to you?
To me, free is a state unfettered by capitalist goals. It is a mode of being where a value system of art, community and creativity generates awareness, and develops consciousness. It is also a condition for deep creative participation in life itself, free from one's own stereotypes, family structures, cultural conditioning. Free to explore unknown territory, and as Fluxust Robert Filliou states, "to lose oneself without getting lost."
Why 14th Street?
Inserting color into the street is a potential interruption of the urban throng of New Yorkers hustling here and there, on their way to another point. In the context of 14th street, the colored plexiglass panels serve as a gesture without a 'purposeful aim'.  They resist arrival at a predetermined goal, and by doing so, offer passerbys a proposition of pure awareness. A moment free of future or past, free of expectation, free of ambition, free of getting somewhere, free of production, and in this way truly free. Color serves as a catalyst for this state. In this case, it is the finger pointing to the moon.
In contrast to the buildings, these color forms leaning against the old bank building are not owned or sold, but move through the street in a free exchange. They serve to generate an experience for viewers, and they stand for art that challenges or surprises viewers within an everyday context. It is art that is not a commodity, but is an invitation of awareness. In this situation, the 'art' becomes a combination of the viewer, as she or he is altered by the color they hold, and the street, as the color composition is changed by the viewers' participation.
I am hoping to create an element of surprise within the routine of everyday life.
Perception is free.
Perspective is free.
Consciousness is free.
Color is free.
A rectangle is free.
A sidewalk is free.
Looking through is free.
You are free to notice. Or not.