Art in Odd Places (AiOP) 2015: RECALL is our 11th year and all about looking back at the artists and projects that made these festivals possible over the years. For RECALL, AiOP has invited back over forty artists to either present their original work or produce a completely new one that explore artworks in all disciplines outside the confines of traditional public space regulations. As we gear up for the festival next month, here is a preview of some of the works people can expect to see along 14th Street in October.
Name
BAMteam (Ben Asaf Retig & Marianna de Nadal)
Project Title
Incoming Call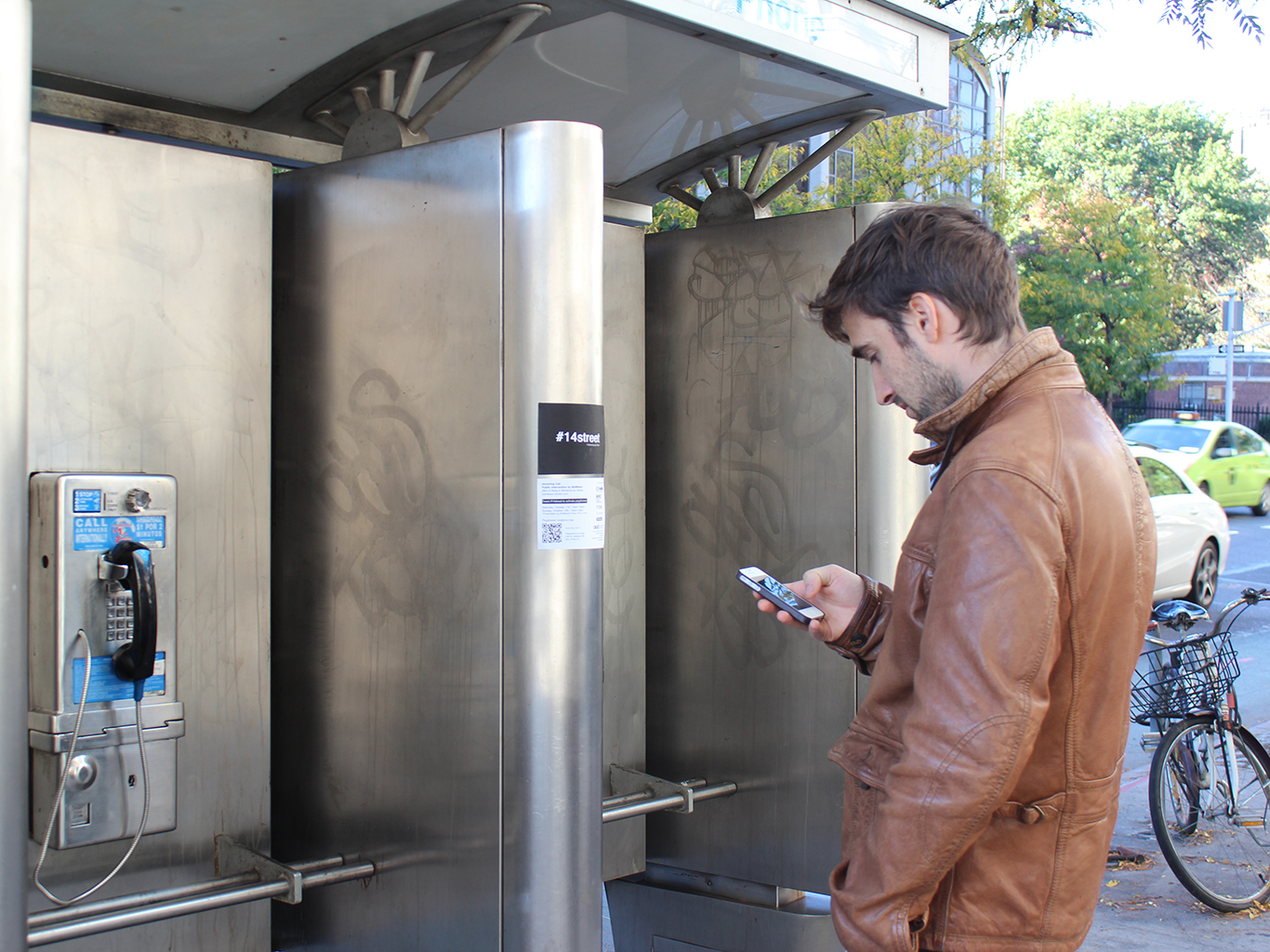 Pedestrian interacting with a payphone at 14th St.  Photo courtesy of BAMteam, 2014
Links to past AiOP blog features on your works
http://www.artinoddplaces.org/aiop-2014-free-sneak-peek-bamteam-incoming-call/
http://free.artinoddplaces.org/artists/retig-ben-marianna-de-nadal/
What was the first AiOP festival that you participated in?
It was last year's AiOP: FREE, 2014.
How do you feel about returning to AiOP to participate in this anniversary festival?
We feel very honored to have been selected to participate in this new edition of AiOP and we are very excited to celebrate your anniversary along with the other artists!
Why is 14th Street a compelling site for creative response?
Being artists who work with technology, we wanted to create a project that utilizes existing communication technology on the street, specifically public payphones. For Incoming call we proposed to make a payphone ring every time someone tweets about 14th street. Since payphones in the area didn't accept incoming calls anymore, we had to ask for the collaboration of New York's Information Technology and Communications department, Telebeam, Titan and Van Wagner to turn on incoming calls for payphones at 14th St. We thank them very much for their collaboration.
Incoming calls for public phones in NYC were banned in the 90's because the system was used for bad purposes among drug dealers and bandits. Since then, the ringing of the phone in the street, so common in movies and stories, can no longer be heard. Also, new technologies have developed and the use of payphones declined. Nevertheless, there still are around 11.000 payphones in Manhattan, from which 33 are in 14th St., and the government is thinking in turning them into Wi-Fi spots.
With the Incoming call project, we aim to explore how communication is being transformed through new information technologies, the change of paradigm in the ownership of telecommunication companies, and its direct consequences on the public landscape.
Are you presenting the same project as last time? If so, how has it changed or evolved? How does your prior experience with AiOP influence your approach to this year's festival?
We will be doing a reduced version of what we presented last year. Instead of activating several payphones in 14th St. to be able to receive incoming calls, we will activate one sole terminal. Namely, we have selected the payphone at 14th St. and 7th Avenue (SW corner) because it is very visible and it still has an analog buzzer, which sounds louder than the digital ones. From our first participation, we learned that some payphones at 14th St. don't even have the buzzer anymore, others don't ring loud enough for people to hear. We also decided to add a clear sign with the name of the project on the selected phone so that pedestrians have a visual clue of which one is the phone that works. We hope that with these changes, people will enjoy better our piece with which we aim to raise thought on how communication is being transformed through new information technologies and its direct consequences on the public landscape.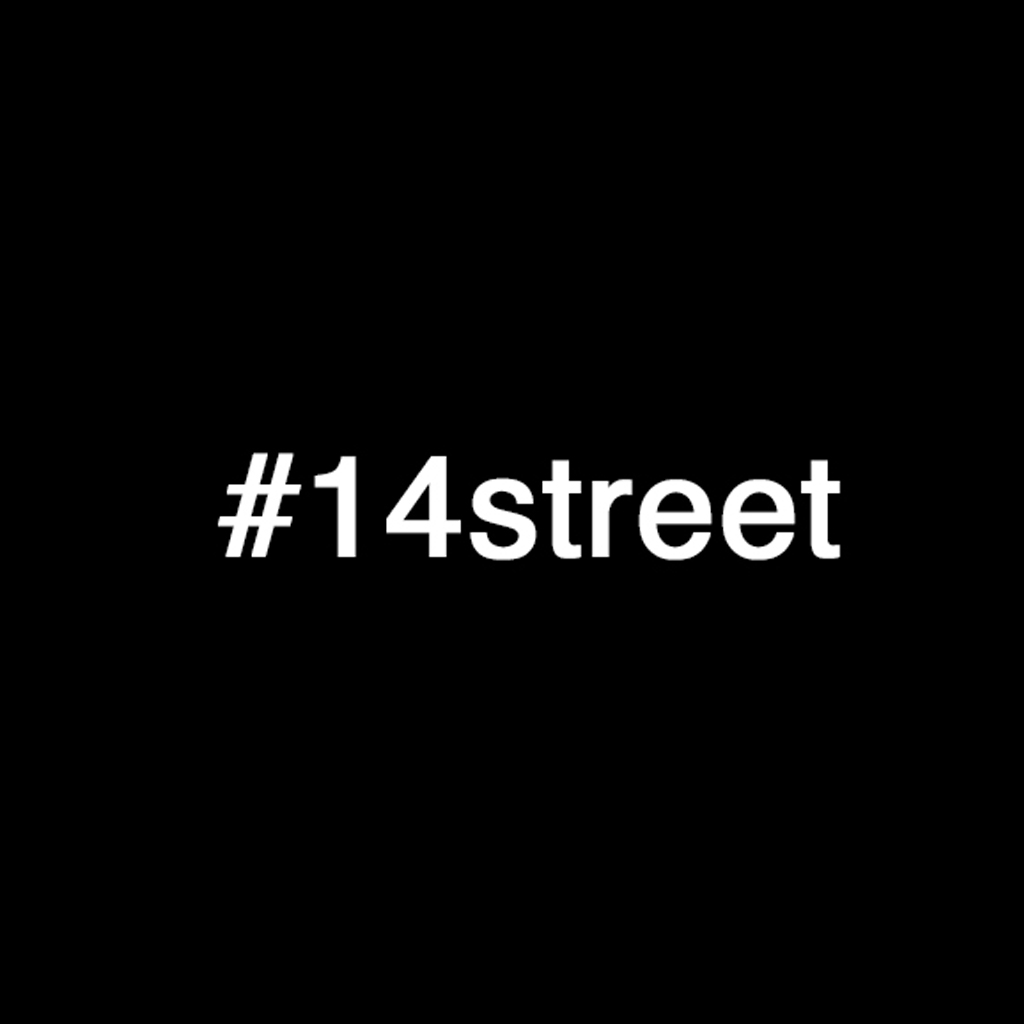 14th Street hashtag.  Photo courtesy of BAMteam, 2014
What reactions did you get the last time you staged your work on 14th Street? What reactions are you hoping to draw from the public this time?
We look forward to seeing surprise and curiosity among 14th St. passers-by when they hear the ringing of the pay-phone. Moreover, for those who know the relation between the sound and the #14Street hashtag, we expect direct interaction. Last year, we saw many intentionally tweeting to activate the ringing of the pay-phones, contributing to connecting the individual, the public, the street, the technology, the virtual, and the physical. Last but not least, we would love (and will try) to make the hashtag #14street very trendy for the duration of the festival, raising interest within the online community in the topic, the location, and the event.