Art in Odd Places (AiOP) 2015: RECALL is our 11th year and all about looking back at the artists and projects that made these festivals possible over the years. For RECALL, AiOP has invited back over forty artists to either present their original work or produce a completely new one that explore artworks in all disciplines outside the confines of traditional public space regulations. As we gear up for the festival next month, here is a preview of some of the works people can expect to see along 14th Street in October.
Name
Embassy of Goodwill
Project Title
One hour of free help 'The Monument' , Installation Union Square 
One hour of free help 'The act of Hanging', Performance Union Square
One hour of free help 'Free Help Competition" 

October 11

, open for all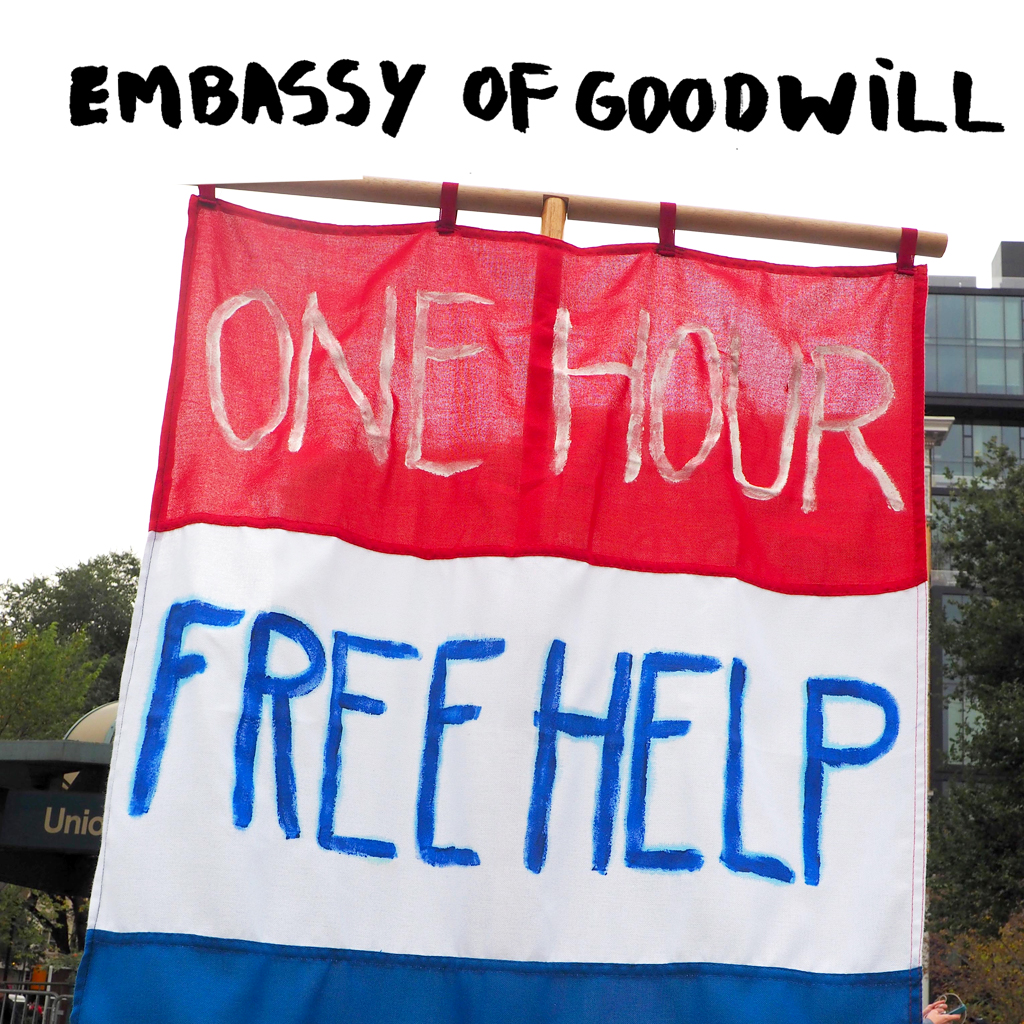 Photo courtesy of artist.
Linksto past AiOP blog features on your works
What was the first AiOP festival that you participated in?
Our first AIOP festival was 2014 AiOP FREE.
How do you feel about returning to AiOP to participate in this anniversary festival?
We are of course very honored and grateful to return, to re-connect with the people we've met and to be part of this performance festival in public space on such a large scale. 
Last year we gave a lot of help for free, and there is an unlimited amount of help needed, still. The social reputation of The Netherlands is still not totally saved. The possibility of re-staging our performance is very welcome, as a way to spread our statement!
With One Hour of Free Help we aim to raise the social reputation of the Netherlands. The Netherlands used to be known as a safe haven for individuals who think differently. However, the past years the country has been dominated by a growing fear of dissidents, which has resulted in a fertile ground for negativity. We want to discuss and reflect on this current fear based political realm and instead, encourage people to act with curiosity and openness to the other. We take on the role of an embassy, the Embassy of Goodwill. As servant of 'the people', in spite of race, nationality and origin, we symbolically reclaim and re-use populism in a fertile and social way. 
Our ultimate goal is to start an Embassy of Goodwill in a number of large cities that we value in the world. From every big city, we consider New York as one of the best starting points to do so. Not only because the ties between New York and Amsterdam go far back, but also because of the nature of the city. New York is an inspiring melting pot of different cultures, a vibrant city full of energy and creativity, and the perfect space to develop, share and experiment new and daring ideas.
This year by making a monument for the help performance, we try to make make the project more visible and the idea sustainable. So we pass over the idea, and maybe others pick up on it, which would be great. It is the idea of sharing, giving and connecting which is the most important. 
Oh yes anyone who visits us can propose a plan for free help and the best plan will win a day of free help!
Why is 14th Street a compelling site for creative response?
14th street and especially Union square where we are is a true melting pot of different cultures, a vibrant place full of energy, shared with many people, and therefor the perfect space to develop, share and experiment new and daring ideas.
Are you presenting the same project as last time? If so, how has it changed or evolved? How does your prior experience with AiOP influence your approach to this year's festival? If presenting a new piece, why did you decide on something new?
By making a monument for the help performance, we try to make make the project more visible and the idea sustainable. 
The help performance is a non material performance. We try to materialize the idea of the performance as a monument for a historical event. It is the second attempt to save the social reputation of the Netherlands.
What reactions did you get the last time you staged your work on 14th Street? What reactions are you hoping to draw from the public this time? 
Last time we helped a lot of people on Union Square, most of these people asked of advice. For example we helped people with sleeping problems, looking for jobs, making organic banana pie, re-arranging a room. People were also curious and we connected with a lot of very pure hearted people. Our most unforgettable experience was with a homeless man who lost his only property, his guitar, it was stolen. Therefor he had no way to make money on the streets. After talking to him we found out he was an amazing poet, and encouraged him to sell his 'name-poems'. We hope he is still selling them and making good money now of course! We also visited people all around New York. The reactions were really positive and thankful. It was a great way for us to get to know struggles of daily life and how it reflects on society. Also it was important we collaborated, so together we would find solutions.
We hope that this years performative monument will make the project more visible and that this action will get at least the same amount optimistic reactions and interaction.