Art in Odd Places (AiOP) 2015: RECALL is our 11th year and all about looking back at the artists and projects that made these festivals possible over the years. For RECALL, AiOP has invited back over forty artists to either present their original work or produce a completely new one that explore artworks in all disciplines outside the confines of traditional public space regulations. As we gear up for the festival next month, here is a preview of some of the works people can expect to see along 14th Street in October
Name
John Craig Freeman
Project Title
Project Description
There are particular locations around the world where network activity has become so intense that the virtual world has begun to penetrate into the real. 14th & AR in New York City is one of the most active of these sites. Artist John Craig Freeman has developed a software application for mobile devices that allows the general public to detect and view this phenomenon. Objects appear to replicate and float off into the sky. Entire buildings lose their mooring and drift away. Reality itself becomes unstable and fleeting at the intersection of 14th & AR.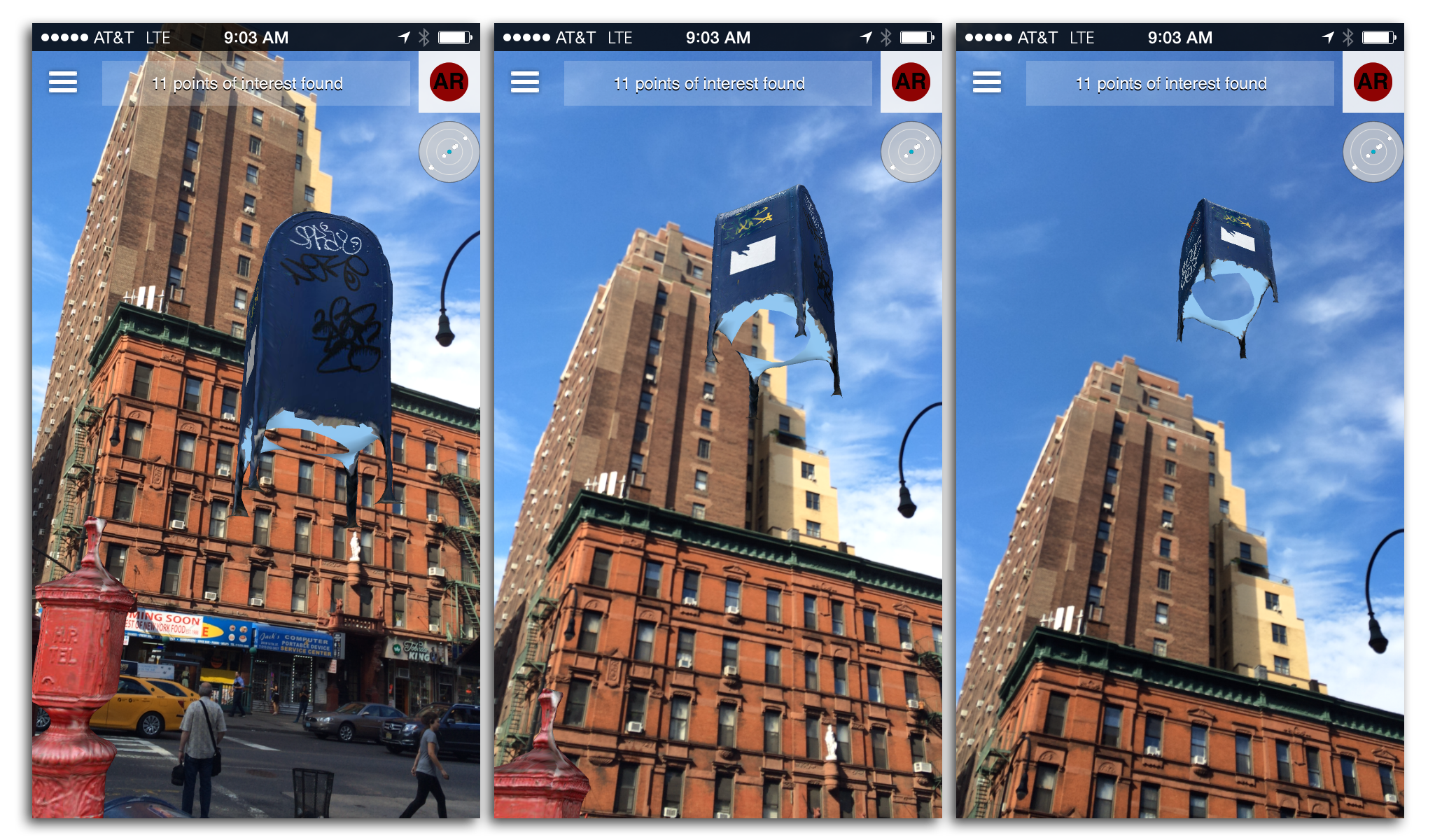 Screenshot sequence, 14th & AR in New York City, FREE AiOP 2014, augmented reality public art, W14th Street and 7th Ave., New York City, October 2014. Image courtesy of the artist.
 Links to past AiOP blog features on your works
http://free.artinoddplaces.org/artists/freeman-john-craig/
What was the first AiOP festival that you had participated?
2014.
 What are your thoughts on participating in an AiOP festival again?
I am very excited to participate in AiOP again. I really believe in the mission of the organization and respect the quality of artists and audience that the event attracts.
 Why is 14th Street a compelling site for creative response?
Union Square is one of New York's most historically significant town squares. It is an important crossroads, not only for the city, but for the nation. I am interested in the intersection of the virtual and the physical. I hope to make the boundary between the two porous. This location makes a great metaphor for this work.
 Are you presenting the same project as last time? Are you incorporating anything you learned from the last staging into this year's festival? What, if anything have you changed? If presenting a new piece, why did you decide on something new?
Yes, Although I will be making significant upgrades and additions to the project, including increasing the quality of the virtual assets and adding virtual people, or avatars. (please see the City Tours photo stream links from my recent work at LACMA's Art + Technology program).
 What reactions did you see the last time you staged your work on 14th Street? What reactions are you hoping to draw from the public this time?
I had a very positive response, particularly given the rainy weather last year. Although, I would like to increase awareness of the project and how to experience it, with better pre-event publicity and physical work in the gallery if AiOP does a gallery exhibition this year.
[cid:4E0F1B00-AFD6-4234-899F-A117B1176CD8]
John Craig Freeman
Professor of New Media