Art in Odd Places (AiOP) 2015: RECALL is our 11th year and all about looking back at the artists and projects that made these festivals possible over the years. For RECALL, AiOP has invited back over forty artists to either present their original work or produce a completely new one that explore artworks in all disciplines outside the confines of traditional public space regulations. As we gear up for the festival next month, here is a preview of some of the works people can expect to see along 14th Street in October.
BRIEF DESCRIPTION AiOP 2015
Free Slurpee, 7-Eleven Intervention focuses on the monopoly of chain stores in NYC and the demise of mom and pop shops. Video performance and street conversations investigate the corporate-makeover-culture that we live in and that we export to other countries.
Name
Sasha Sumner and Nick Porcaro
Project Title
Free Slurpee, 7-Eleven Intervention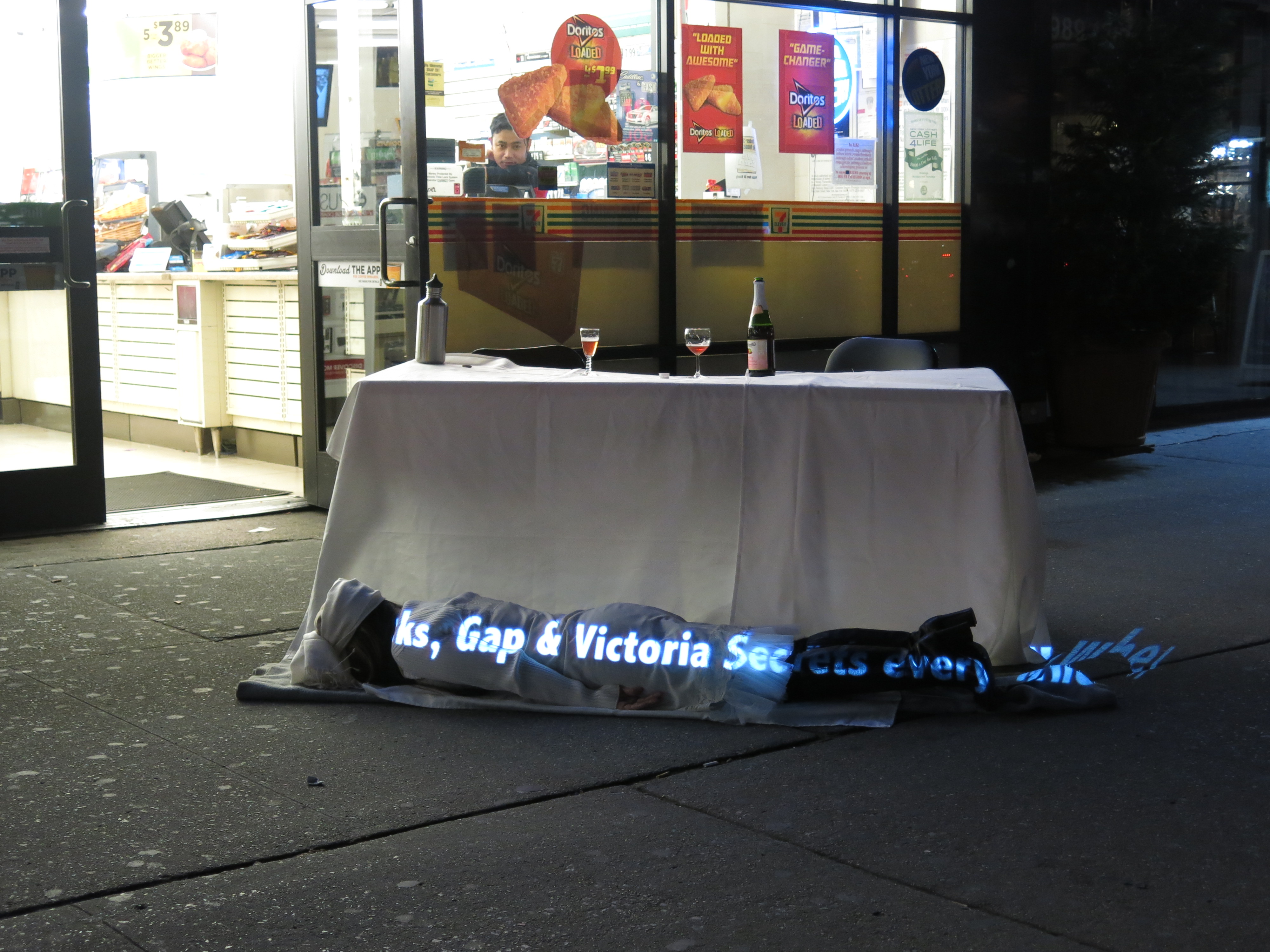 Exporting America: 7 – Eleven and the death of culture.  Photo courtesy of Dan Wiley.
Links to past AiOP blog features on your works (if applicable)
Scroll down to Energy Shrine, a street performance from AiOP 2011.
What was the first AiOP festival that you participated in?
The first AiOP festival I participated in was in 2011, and have participated every year since.
How do you feel about returning to AiOP to participate in this anniversary festival?
The anniversary festival represents a wide cross section of thought-provoking art, and hard work by the artists and the organizers.
Why is 14th Street a compelling site for creative response?
14th St. has changed immensely over the years, yet still retains a gritty quality between the cracks of corporate property. It's refreshing that Art in Odd Places is still able to exist in the accidental armpit of Manhattan.
Are you presenting the same project as last time? If so, how has it changed or evolved? How does your prior experience with AiOP influence your approach to this year's festival? If presenting a new piece, why did you decide on something new?
A similar piece to last year will be presented. Because of the temporariness of the performance-installation and street conversations with a new and mostly random public, a revisit is fresh every time.
What reactions did you get the last time you staged your work on 14th Street?
Reactions to the piece ranged from positive, curious, questioning, talking, and chanting teenagers, to being photographed, ignored, and confronted by the store manager who didn't like telling people that there were in fact no free slurpees.
What reactions are you hoping to draw from the public this time?
Though we had some poignant reminiscences previously, this time we're hoping to engage more people to swap stories about the old haunts and shops of yesteryear that illuminate a vibrant past culture- neighborhoods and memories that have been swallowed up by franchises, logos and corporate developments.