For five days, Art in Odd Places activates unexpected public spaces with a myriad of performance and visual art works for the public to participate with, both knowingly and unknowingly. The 2015 AIOP Recall festival took place from October 7 to 11 along 14th Street, spanning from Avenue C to the Hudson River. Over the course of the festival, I had the exceptional opportunity to meet with some of the artists and learn more about their work.
I opted to not be guided by the map listing the artists' locations but rather as a regular passerby in an attempt to experience the use of art in public spaces as such, but also with indication that there was art to seek along the way. During my walk, I found myself becoming more aware of my surroundings, observant to all that was happening in the most unassuming of places. The city began to give me little hints including text on doorknobs, disposable manmade materials and ambient sounds found throughout the streets of Manhattan.
Chance Meeting Door Knob Hangers by Linda Hesh
Scattered along the street and hanging in doorways on West 14th, doorknob hangers articulate what one might say to another upon meeting by chance. The text is polite, conventional and humorous in its superficiality. Hesh invites the public to interact with her work, asking them to photograph the doorknob hangers where they find them and then upload them to social media using the provided hashtag listed on the back. This work was playful and engaging; I found myself keeping an eye out so that I could spot all eight of the doorknob hangers along the way.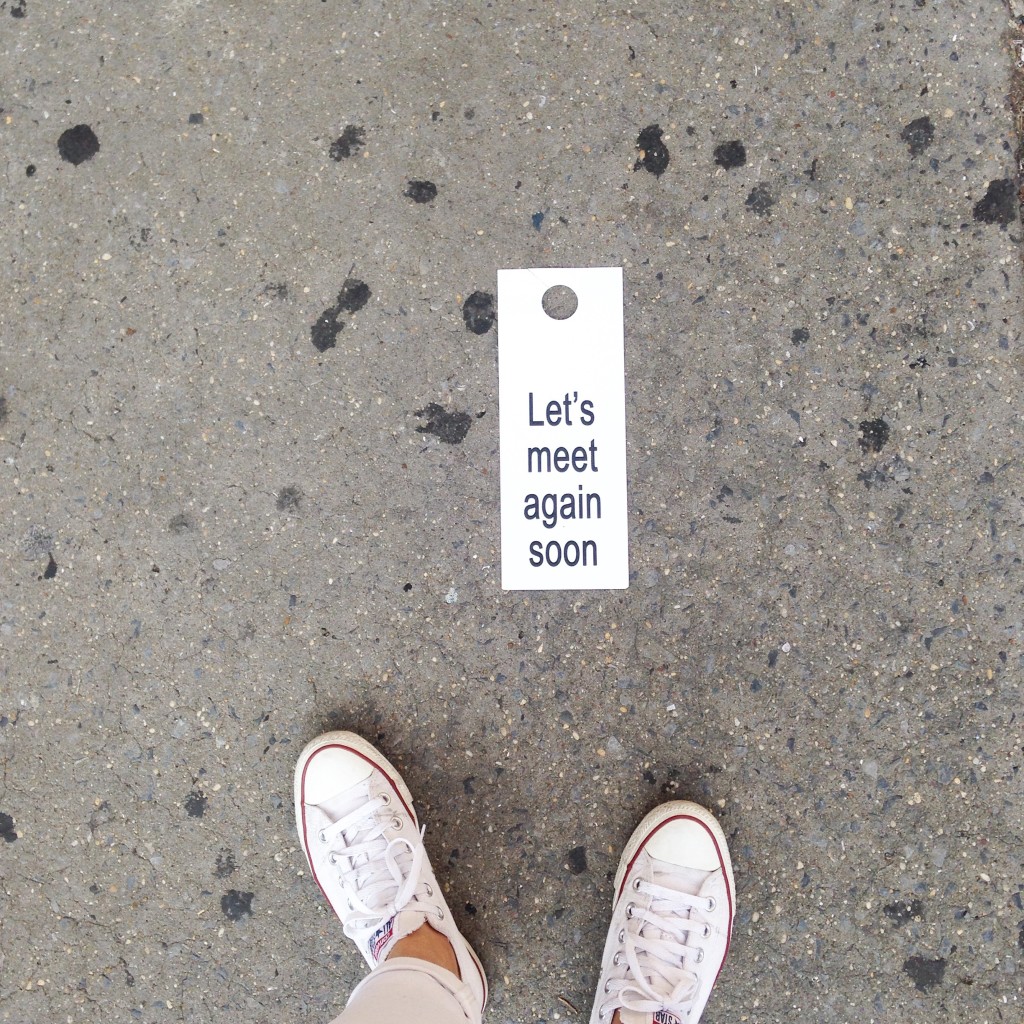 Road Kill Stuffed Animals: Endangered Species by L. Mylott Manning
A couple of blocks later, in the Meatpacking District, I met up with L. Mylott Manning and learned more about her work, Road Kill Stuffed Animals: Endangered Species. Manning raises awareness of environmental issues and concerns of endangered animals threatened by the affects of overconsumption in a consumer driven world. Stuffed animals created by junk mail, plastic bags and other man-made materials, harmful to the environment, are installed throughout an area of New York known for its shopping and dining experiences. Manning's work brings attention to the need of environmental awareness and sustainability.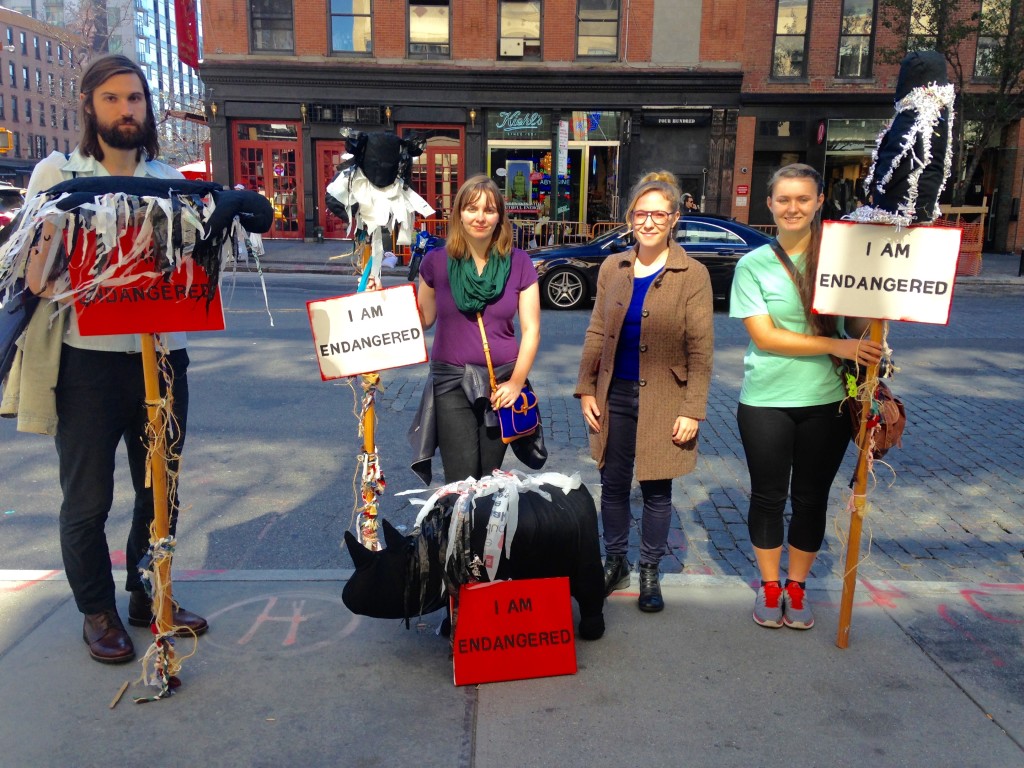 Collapse by Edith Raw
Performance artist Edith Raw also utilizes man-made materials such as plastic bags and packaging to explore the struggle of consumer culture, dehumanization and dysfunction. Under a quilt made of plastic, an unrecognizable form approaches unsuspecting people and elicits a variety of responses, ranging from being intrigued to indifferent. Raw provides the viewer the opportunity to interact and respond to her work as much or as little as they want to.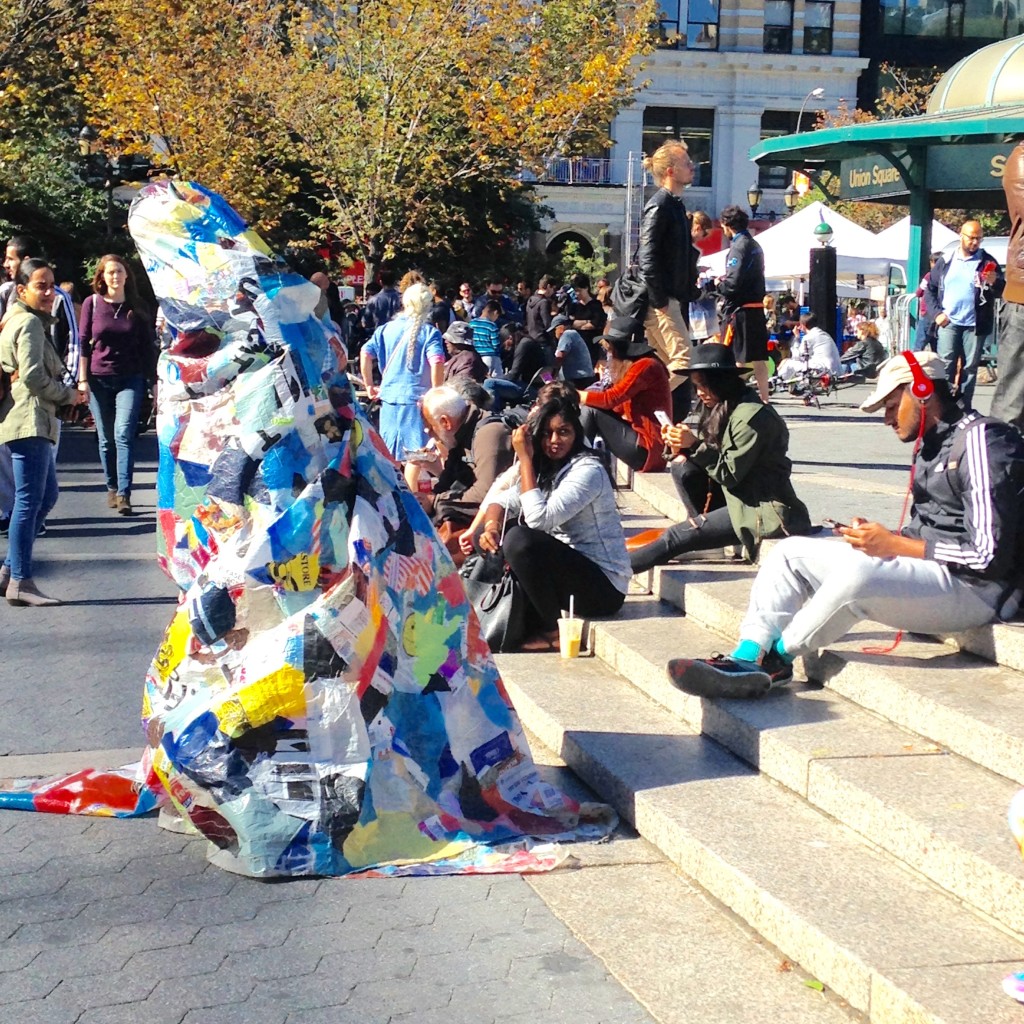 Joan of Arc of 14th Street: Where Are The Women? By LuLu LoLo
At Union Square, Joan of Arc of 14th Street cries out, "Where are the Women?" to highlight the inequality between the number of monuments honoring men and women. In New York City alone, there are over 150 monuments of men compared to the staggering number of only five for women. LuLu LoLo invites the viewer to shed light on a woman who they feel deserves being recognized on a permanent monument by writing that name on a place card. The public's choices and images are later posted on social media where we can see the range of women, all deserving of recognition.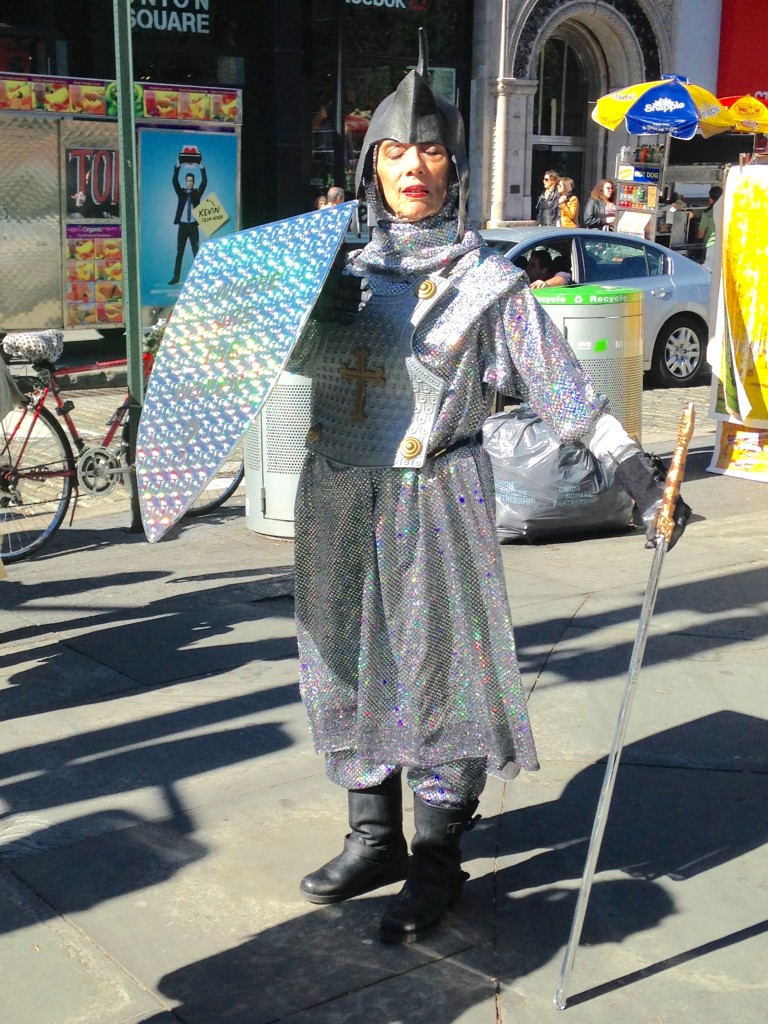 Eight Places of Empty by Jantar
Further down East 14th, an ambient soundscape of electronic music captures my attention as I walk towards a loud construction site, full of sounds of its own. The music is unrecognizable; but provides me with both solace and nostalgia in a busy intersection that I may have otherwise kept walking though. I'm curious to know where the music is coming from, find myself delving into every possible nook and cranny and looking in every direction, in an attempt to locate the origin of the sounds. Eight Pieces of Empty asks the viewer to explore themes of place, space and sound and the relationship between all three in the everyday urban experience.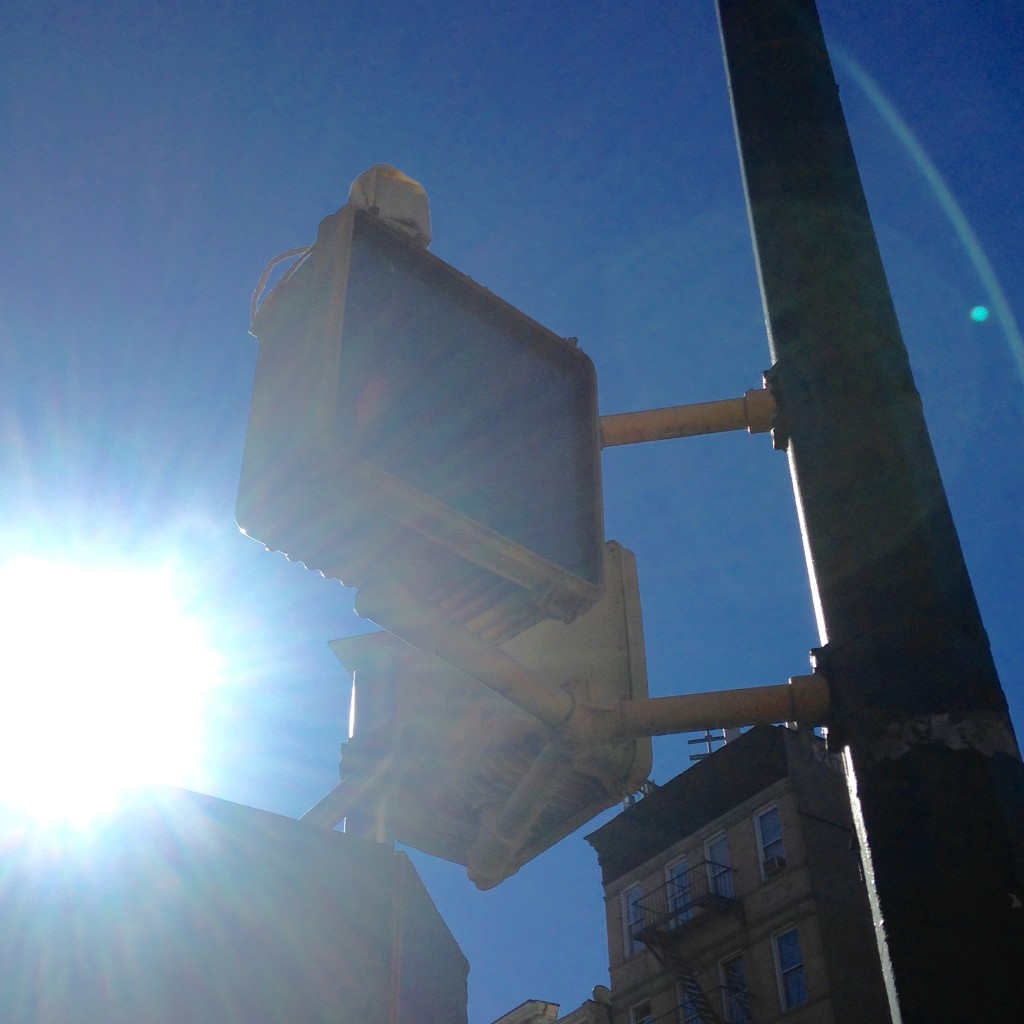 Lengua, Libertad! By Jenny Polak
Finally, in the Lower East Side, I speak with Jenny Polak about her performance, Lengua, Libertad! In a neighborhood with a prevalent Puerto Rican presence, Polak asks passersby to teach her how to speak Spanish in an attempt to break cultural barriers and explore themes of immigration, community and identity. To celebrate the bilingualism of her volunteer instructors, Polak then presents them with a Certificate of Appreciation, hoping to remove the stigma many Spanish-speaking people in the US are often faced with. By breaking these barriers, a mutual understanding is cultivated between the artist, participant and the viewer.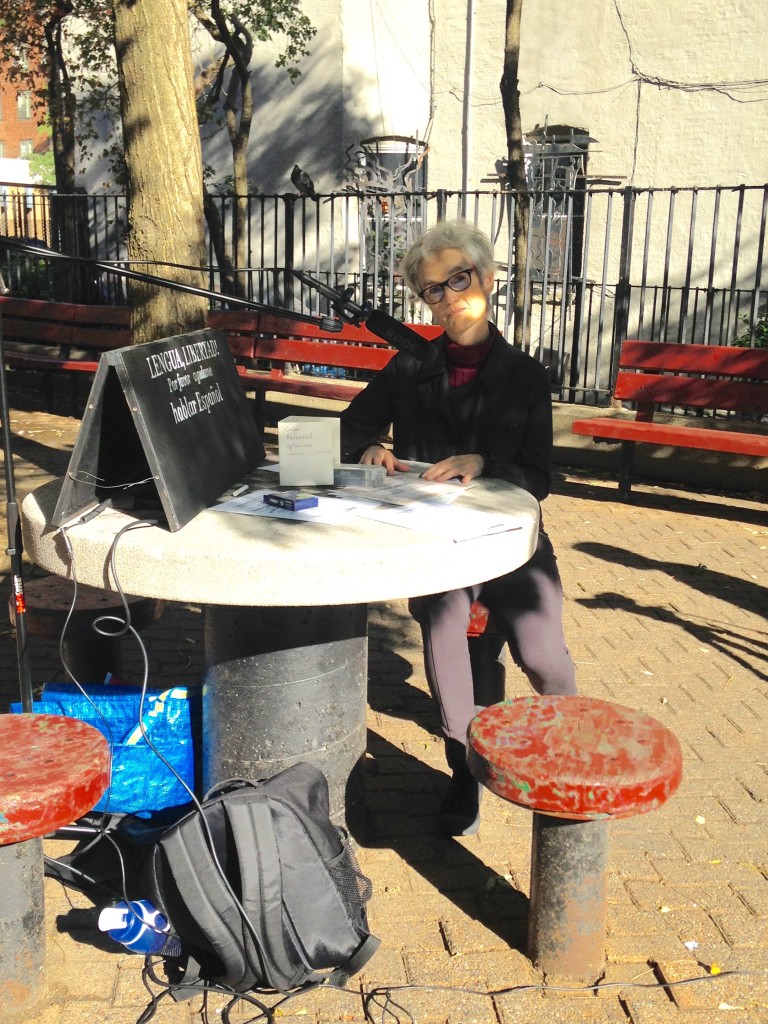 Art in Odd Places allows people to experience a variety of art, both visual and performance, in unconventional and unregulated, urban spaces. My interaction with the work was different each day as many of the variables that contributed to the way I viewed the work, often changed. If the artist relocated or other participants engaged with the work differently, my experience was altered slightly as was the context of the work and my interpretation of it. By doing this, new ways of seeing, interacting and understanding were made possible for me. With that said, I look forward to next year's festival. Thanks, AIOP!