Living in the East Village since 1980, I have walked down 14th Street nearly every day for 30 plus years. But this Saturday, October 10th, 2015 is different. I am on a mission to reflect on the Art in Odd Places 2015: RECALL festival of more than forty artworks dispersed in the two-mile blur of 14 Street. I start off from the Charles Sheeler-esque Con Edison plant on Avenue C. The postcard-perfect blue sky and autumn coolness add to my excitement. This art treasure hunt is a glorious reason to be outside away from the deadline drumbeat of my computer.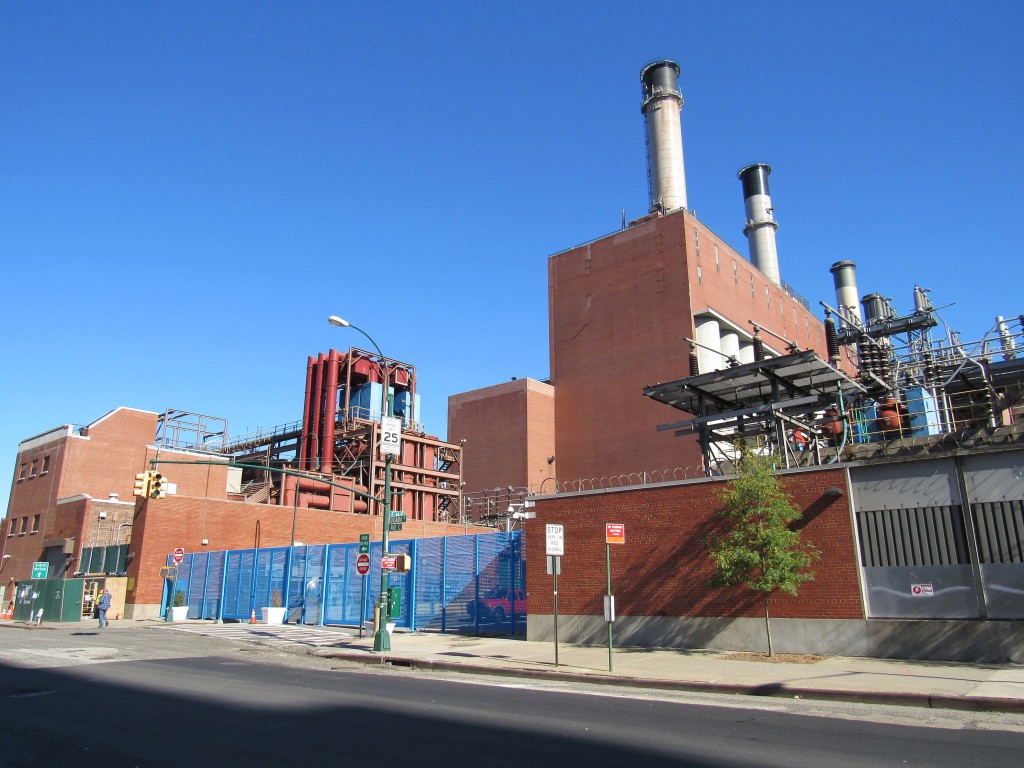 Con Edison Plant, 14th Street and Avenue C.
The 14th Street stretch from East to West is a pulsating microcosm of the city with its fluctuating residential and commercial spaces. People and products from every range of social, economic and cultural backgrounds converge and compete for space. The rhythm of the stores, street vendors, locals, shoppers and tourists varies with each avenue intersection. In the last few years, the long-time small shop owners from Avenue B to First Avenue have lost their leases, leaving a gaping hole and much trepidation of what's to come.
It is at the construction site near Avenue A that music both subtle and familiar emanates. I am lured towards the site to listen and ponder its existence. It seems to be coming from the non-working traffic light, calling us back to a former time.  This is the work of Jantar, Eight Spaces of Empty Place, a series of variations of the film score for Taxi Driver. His interest is in the history and memory of spaces.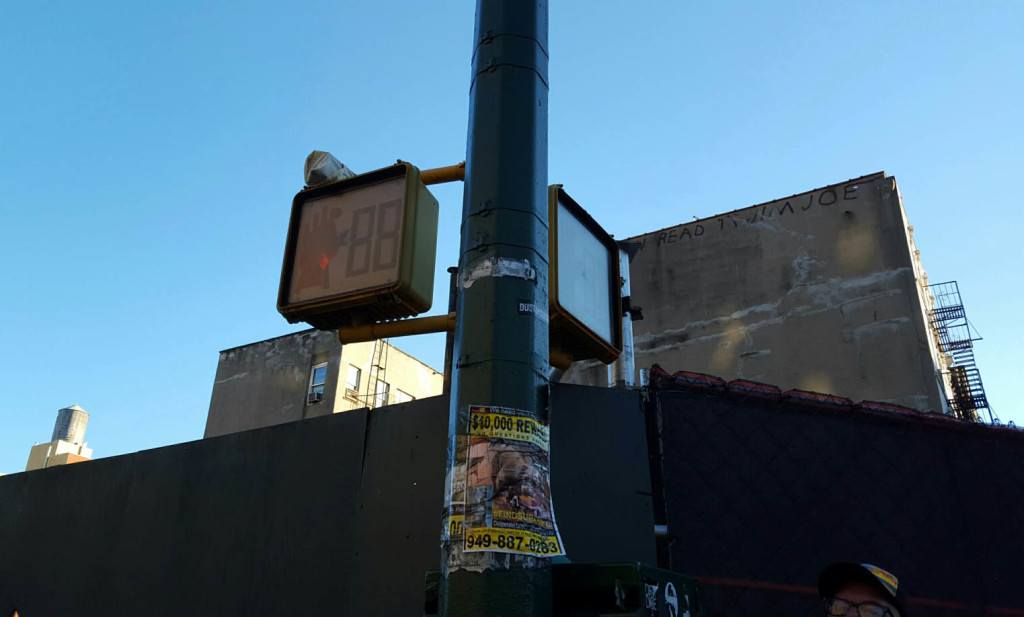 Eight Spaces of Empty Place, Jantar
Across the street I spot one of Ghana Think Tank's White Guilt is Complacency signs placed below the official Speed Limit 20 and Neighborhood Slow Zone traffic signs. The juxtaposition and mimicry are striking, providing fodder for serious contemplation for those who look and dare to think. This is the first time I ever noticed the slow zone signs and I wonder were these always here?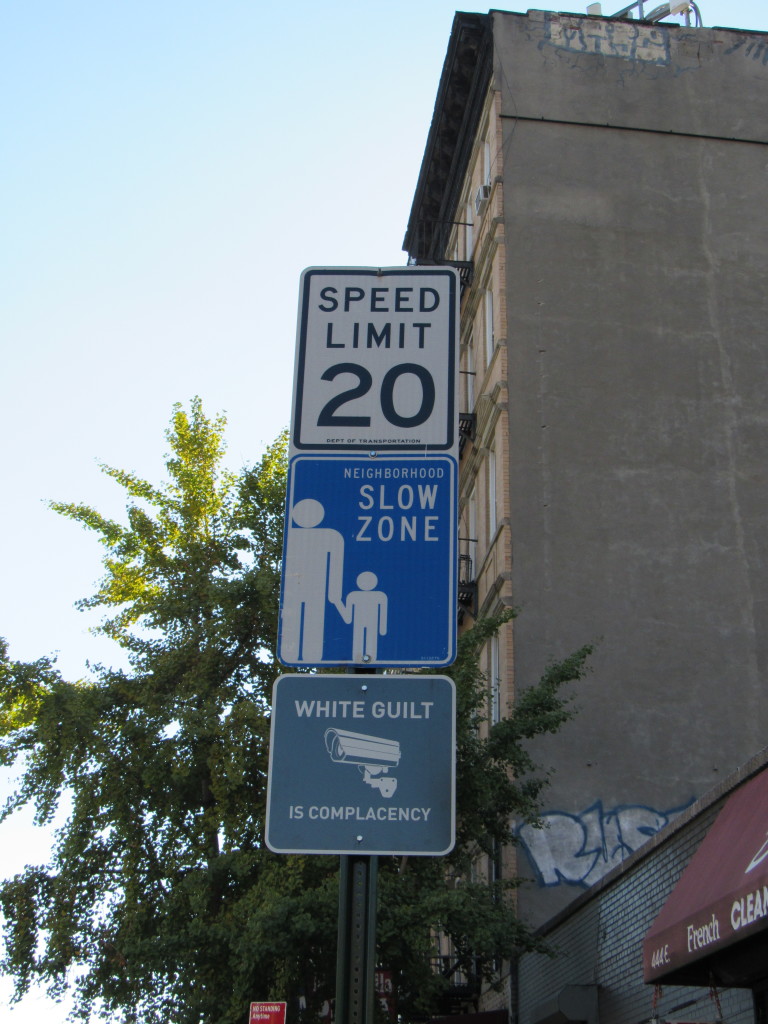 White Guilt is Complacency, Black Lives Matter Street Signs, Ghana Think Tank
Stationed in front of the old Tompkins Square post office is Alicia Grullón dipping strips of newspaper into a bowl of paste and adding them to the paper mache mask she wears.  With the wet paper on, Alicia is unable to answer questions and can only stare back through the holes. In Reveal New York: The Disappearance of Other the audience is forced into the disconcerting position of seeing what is typically invisible, the disenfranchised other in the toil of her task.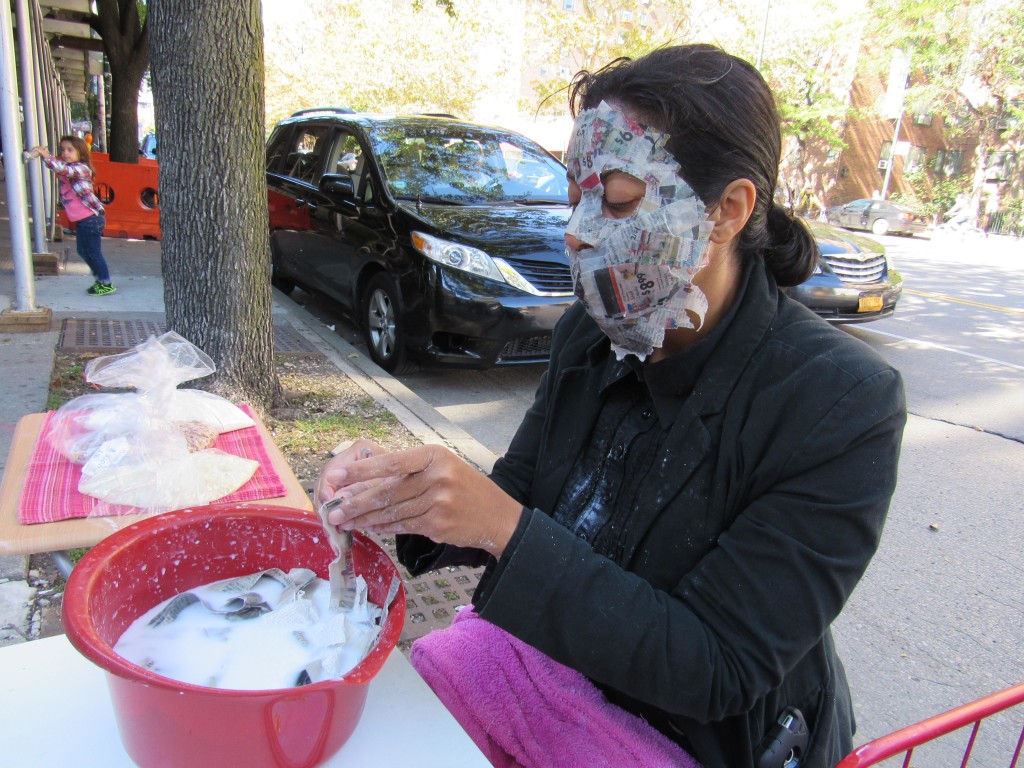 Revealing New York: The Disappearance of Other, Alicia Grullón,
There are so many visually compelling forces on 14th Street that everything looks like art. It is a game of Where's Waldo on this hypo photogenic street. I keep snapping pictures of the artfully broken skateboard, the John Chamberlain fender-like stacks of bent cardboard and the collision of ads, which jostle in a fight to see which fonts shout louder. I am impressed again and again by the creativity and tenacity of the vendors peddling wares from . It is here that $1 dollar wares butt against the luxury living. I am mindful that anything can be art if one has the perspective to proclaim it as such. I pause at what is potentially an Art in Odd Places project – a lone shopping cart strapped to a scaffolding pole. Mounted on the cart is an ad that reads: the wedding & gift registry, Bed Bath & Beyond, fun to register, easy to shop. I peer in and wish this cart were an art piece, a sarcastic play on commerce and homelessness.   But it is the real thing. Inside the shopping cart is a neatly placed styrofoam cooler, a water bottle and a blue towel shielding the items below.  These are the few belongings of someone whose life is a solar system away from a gift registry.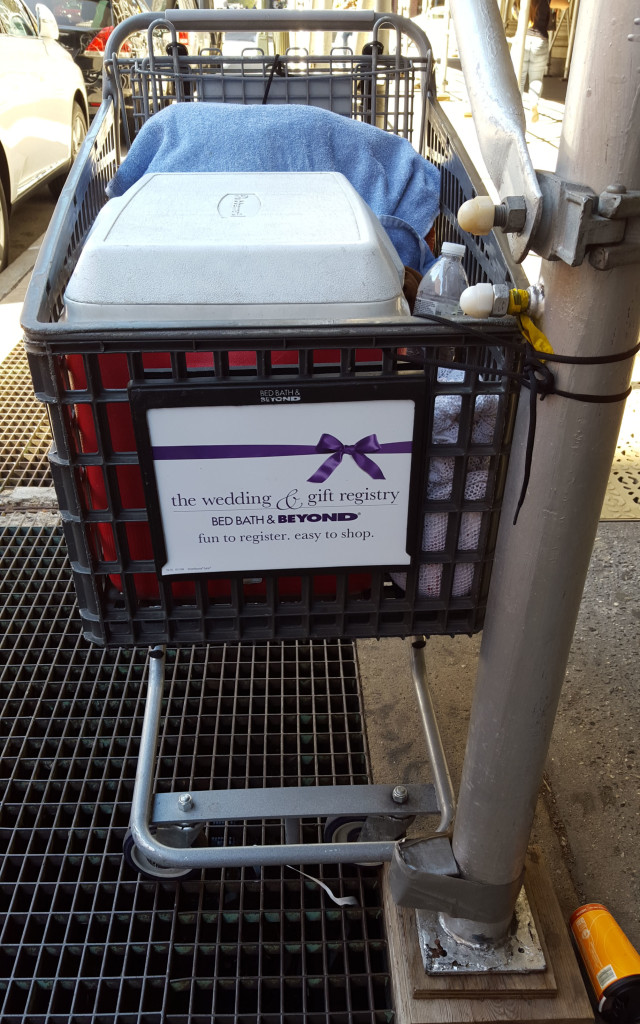 Shopping cart Bed Bath & Beyond
At Union Square, I come upon the Carrie Dashow the Yesiree Public Notary, and sit down to participate in her oath of growth transaction, "Keeper of the Smallest Plant I Do."  I follow her instructions: make a silent wish, recite out loud the chant, water the seed, and sign the document.  Carrie stamps her official notary seal and sends me on my way towards growth realization.  I wrap the moist calendula seed cup up in a napkin and place it in my knapsack inner pocket for safekeeping.  I am surprised by my spontaneous personal aspiration and taken with the tender, witty sincerity of Carrie's work.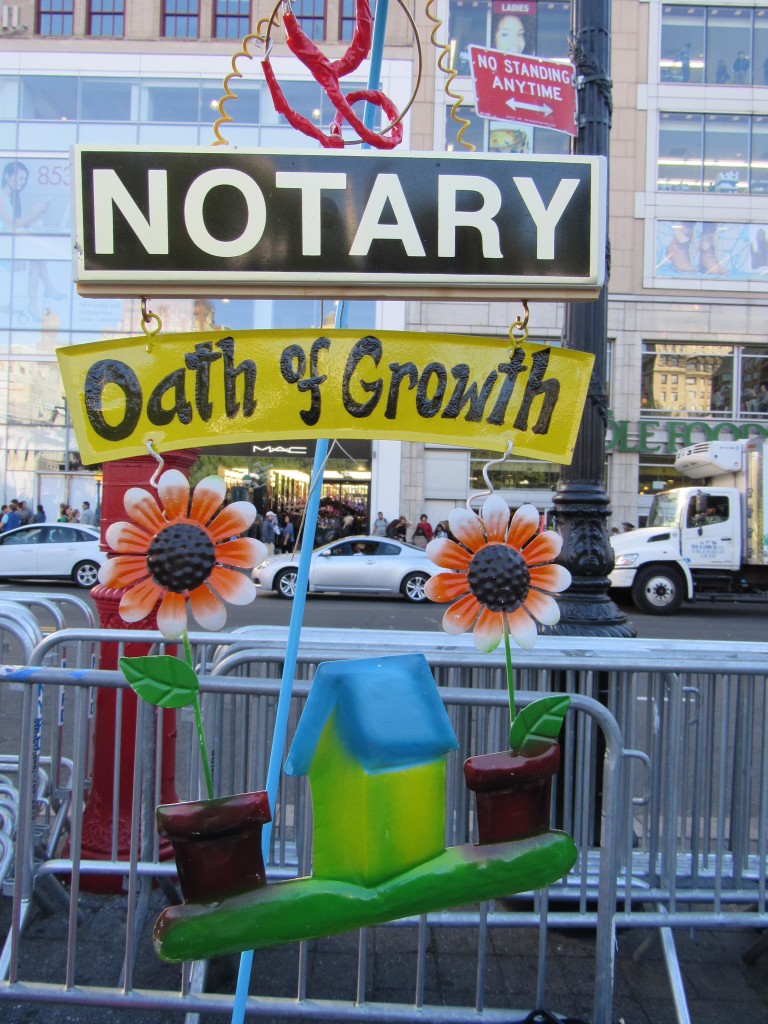 Notary Oath of Growth, "Keeper of the Smallest Plant, I Do" Carrie Dashow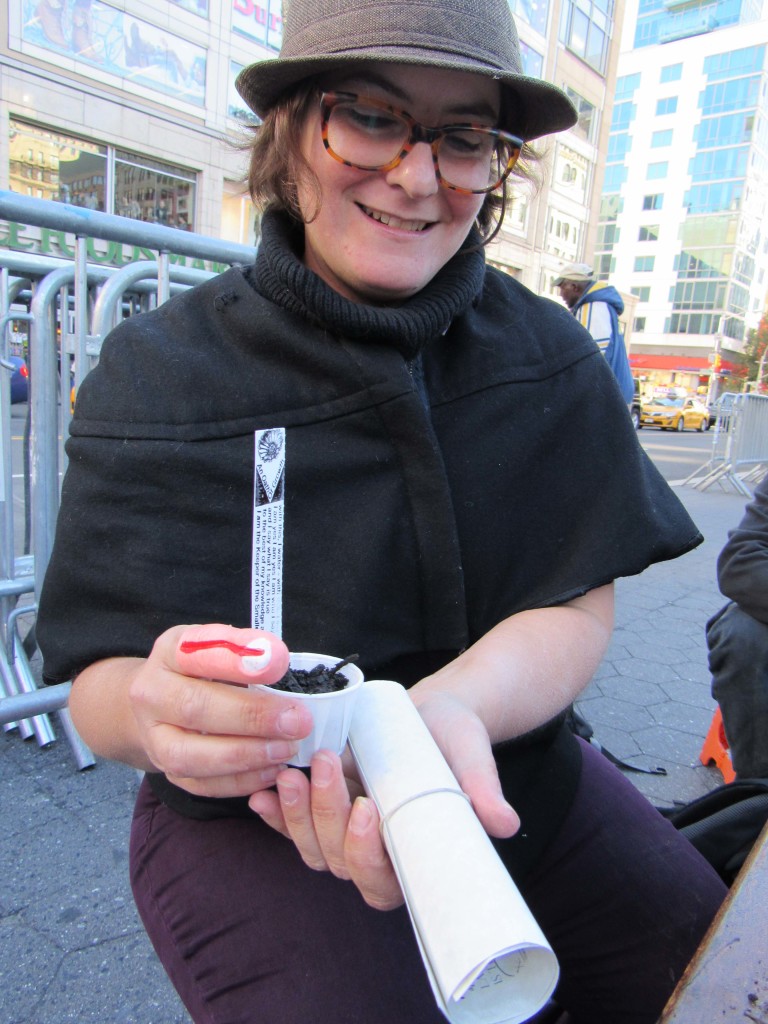 Carrie Dashow
Content with my new charge the calendula seed, I veer further inside Union Square Park. Near the Hare Krishnas is a hand-painted sign, New York Nature Scene with a gathering of soft sculpture rats, pigeons, and sparrows. Another sign reads, DO NOT FEED THE PIGEONS, THEY ARE ALREADY STUFFED. I ask the artist, Tina Pina Trachtenburg if she is part of Art in Odd Places. She blurts out, "No, I am Mother Pigeon! That is too establishment for me!"
Back onto 14th Street proper, the crowd ranges from the fashionistas strutting down the boulevard to the painstaking navigations of the elderly eager to get from point A to B.  Few see the man in the brightly patterned outfit furiously zigzagging his wheelchair through the traffic of Sixth Avenue.  A young guy with an air of triumph straddles the water hydrant pipes surveying the turf.  Farther down the block an elderly man with a four-prong cane also rests on water pipes, waiting for the bus to appear.  The need for more benches on this street is evident.
All along, I am noting the many Chance Meeting Doorknob Hangers by Linda Hesh and how their placement renders different responses for me. A "Give Me a Call" tag hanging on shuttered gates evokes the despair and loneliness in this well-populated city. While the "Let's Meet Again" and "I was just thinking of you" tags feel appropriate on the doors of Citibank, UPS, and 7-Eleven's corporate facade.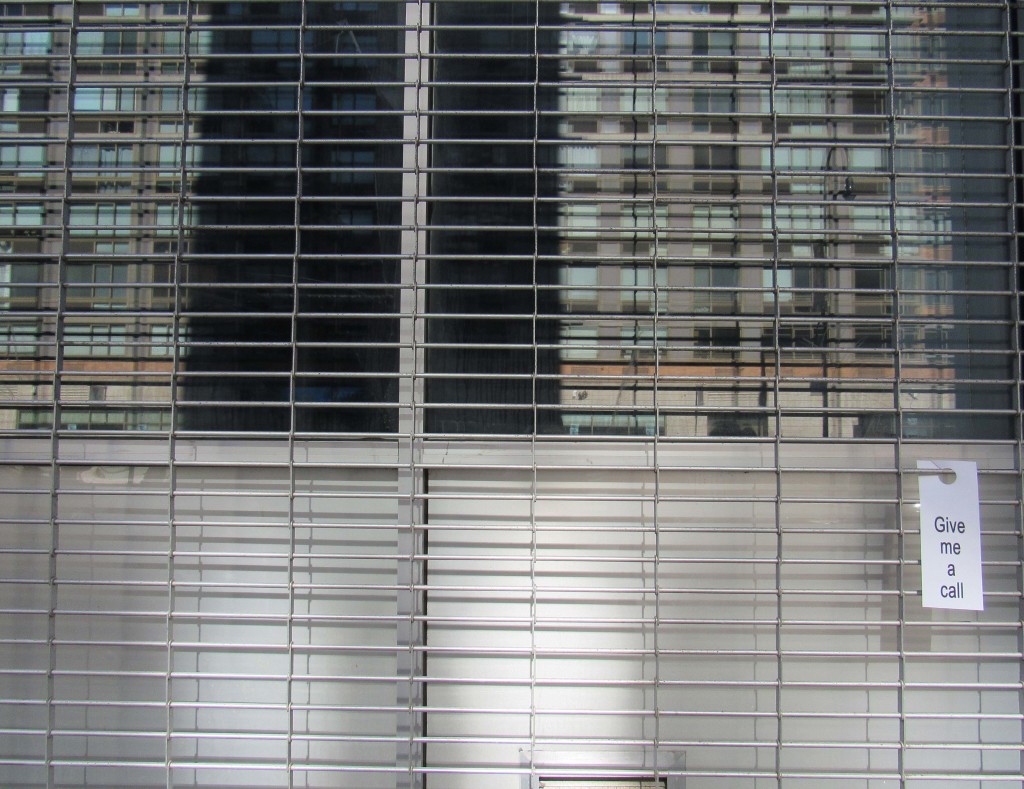 "Give Me a Call", Chance Meeting Doorknob Hangers, Linda Hesh
By the subway on 7th Avenue entrance sits the Umbrella Tumbleweed, the beautiful and ravaged sculpture of broken umbrellas as urban nature created by Tim Thyzel. How I would love to see it swept up by the wind rolling down the avenue! Across the street, I am greeted by L. Mylott Manning's black cloth animal sculptures with their "I am Endangered" signs.  I am glad to see that the environmental crisis and the endangered animals; the rhino, penguin, and koala also have voices in this festival.
The artist Lulu Lolo appears as Joan of Arc dressed in full armor. Striking a defiant pose she asks, "Where are the Women? " and announces the numbing statistic that there are 150 monuments honoring men in New York City, and only five honoring women. Joan of Arc dares and beguiles the passerbyers to name a female deserving of a monument. Margaret Meade and Margaret Sanger are enlisted. I add my nomination of Jane Goodall.
A short distance away in a frame shop glass window, a woman in a white uniform is painting large portraits of three women who died after physical encounters with the police. Untitled (CMYMe) (ALESIA, ALBERTA, TANISHA, AND ME) is the work of Tomashi Jackson. The artist reminds us that the piece starts with the audience entranced the act of her painting and ends with their disinterest and her invisibility when she cleans the window of her artwork.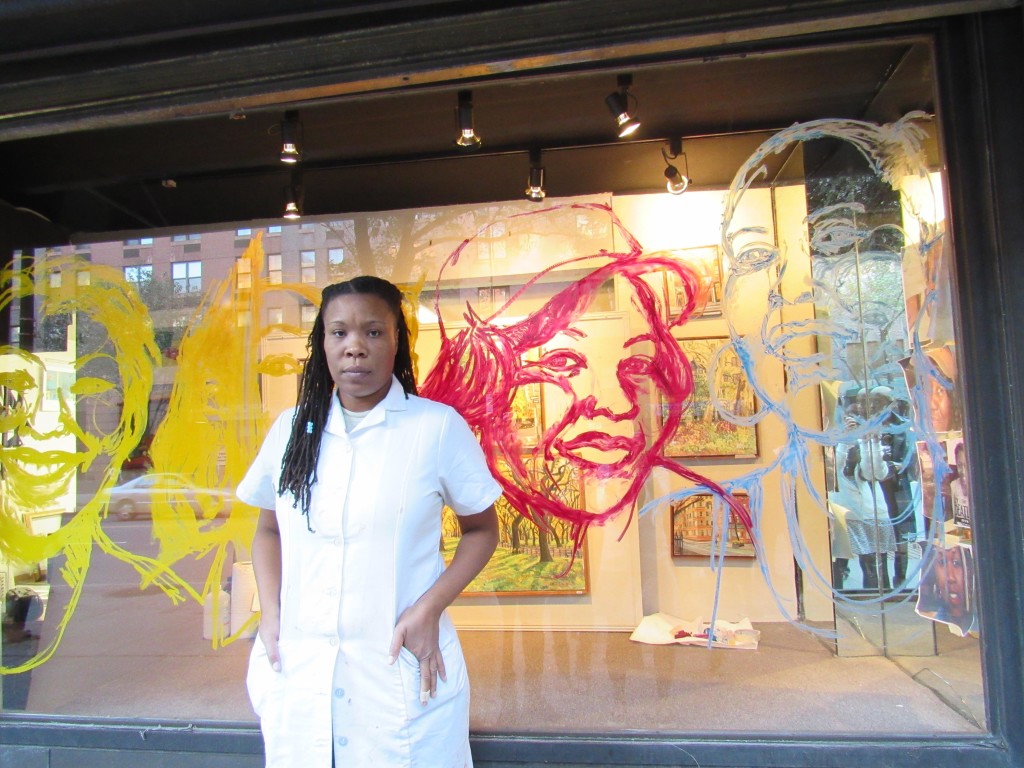 Untitled (CYMMe) (Alesia, Alberta, Tanisha, and Me), Tomashi Jackson
The Corcoran Group Marketing's The Art of Better Living sign looms above the tattered remains of Draft, Nicholas Fraser's cut-out texts on movement, fragility and wind. Just yards away a man is stranded in the middle of the sidewalk, his body drooping over his wheelchair.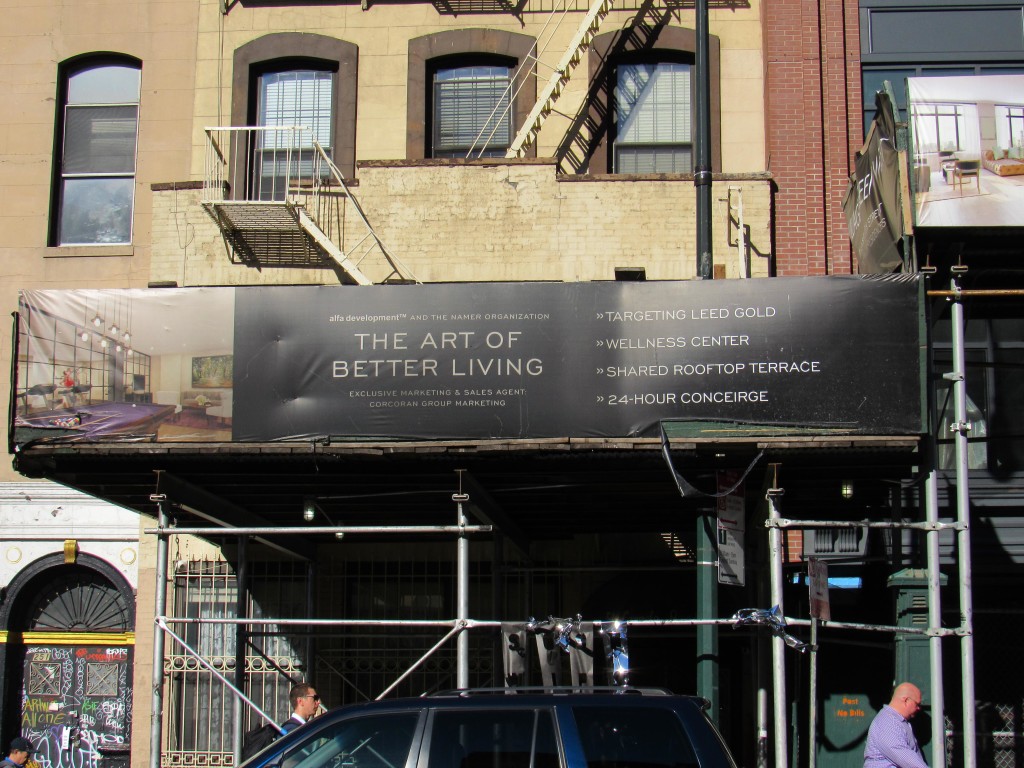 Draft, Nicolas Fraser on the scaffolding of the Art of Better Living
Next to the Highline entry point, Matej Vakula is busy giving directions; his florescent yellow vest transforms him into a MTA worker.   Manuals for Public Space is sited at the foot of the High Line entrance where Matej asks us to imagine alternative models of public space, questioning the lauded and successful.
Having reached Ninth Avenue I head back east. At a time when Citibank, Chase, Duane Reade, and Flagship Retail Opportunities have taken root at every intersection, the presence of Art in Odd Places is even more urgent and appreciated.  In their assortment of apparitions and creative manipulations, the artists of Art in Odd Places urge us to look hard between the spaces – to seek with the openness of children, up and down, for the wonder and sorrows of our time.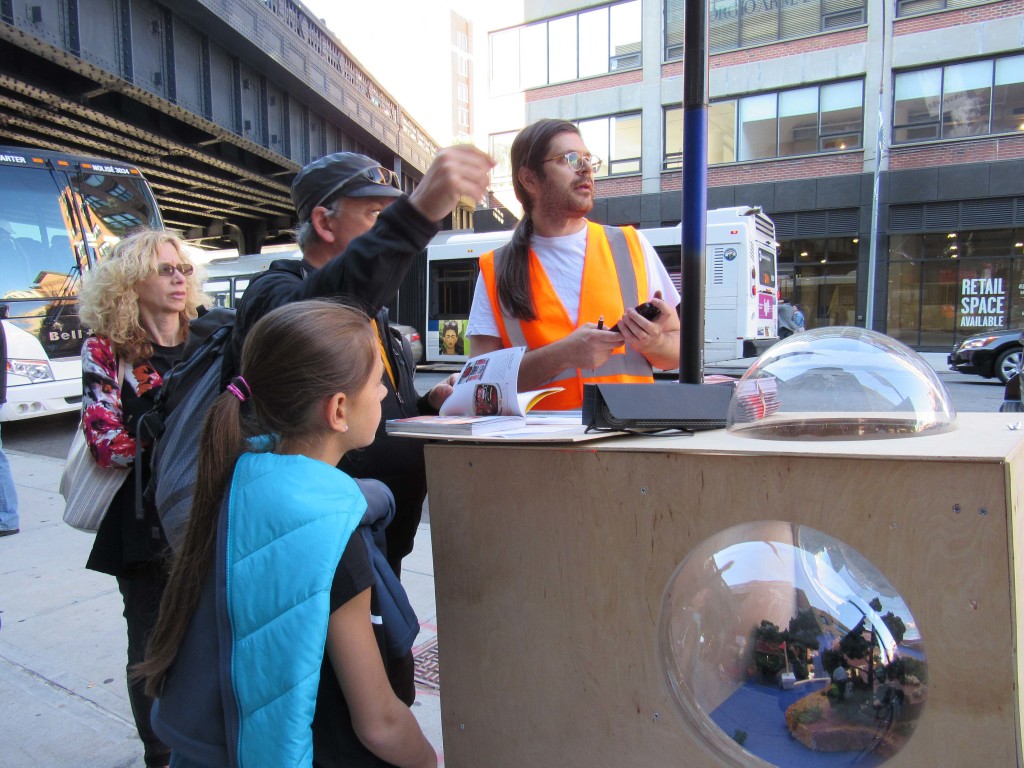 Manuals for Public Space, Matej Vakula