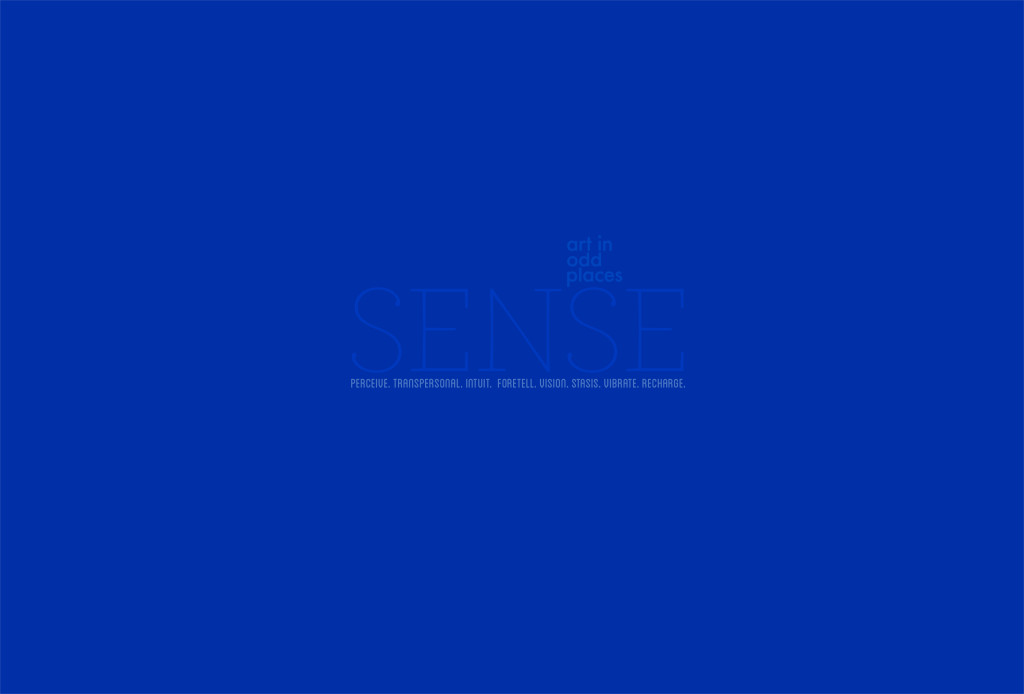 Art in Odd Places (AiOP) 2017: SENSE is fast approaching! As with every year, SENSE wouldn't be possible without the help of a dedicated team of volunteer staff. Staff members bring their own skills, experiences, and insights that help add to the success and uniqueness of each festival. Below is a list of almost all the staff involved in this year's festival, each with a short bio and many recounting their own connections with 14th Street, the yearly stage for the public performances and installations. Though everyone on the AiOP 2017 team might not be presently represented in this piece, we are all working very hard to make sure SENSE is an engaging and unforgettable experience, and are very excited to bring it to the public on 14th Street this October!
Christina Daniels- Curatorial Manager
Bio:
Christina is currently the Marketing and Development Associate at Pioneer Works in Red Hook, Brooklyn. She also teaches figure skating and roller skating at Prospect Park's LeFrak Center. Beyond work, she loves to play the ukulele, go to concerts, and ride her bike to the beach.
14th Street Connection:
Before Christina permanently moved to New York, she was interning in the LES and living on 14th Street in a Parsons dorm. While wondering around 14th that summer, she decided she should probably move to New York after school. Upon graduation, she moved to the City and has lived there for the past 5 years.
Claire Gohorel- Curatorial Assistant
Bio:
I am an anthropologist. My passion for the study of ritual, performance and traditional art compelled me to move to New York City eight years ago, when I spent a summer guiding visitors through the historic Eldridge Street Synagogue. I now work in the opera field.
14th Street Connection:
This is a story of 14th Street as a boundary line. I go to Ray's Candy Store one cold November night. Ray Alverez squirts vanilla syrup into a paper cup, adds seltzer and milk, and stirs it with a long handled spoon. Egg creams are one of his specialties. He tells me stories of his life and the kindness of his neighbors. For forty years, Ray has paced the well-worn floors of his deli, rarely venturing above 14th Street. If you walk along Tompkins Square Park on Avenue A, you might see him illuminated in his shop's florescent light.
Emilie Ahern- Catalogue Designer
Bio:
My name is Emilie Ahern. I am a native southerner who loves nature and soaking up the sun's rays. I am an artist by trade and currently work in an arts non-profit in the Education, Outreach, and Marketing departments. (I wear many hats.)
14th Street Connection:
I had seen snow before, but it had been a long time, 19 years in fact. A cold day in November, a friend of mine invited my husband and me to check out the Rockefeller Tree. We all felt it was one of those tourist things that was worth doing once. Of course, it was insanely crowded and very cold, so we decided to go get some hot chocolate. My brother had told me about a place near Union Square, so down to the subway we went. When we emerged from the underground into the Square, we met the Christmas Market. Quickly we got our hot chocolates and returned to the market to explore. As the afternoon turned to evening, it began to snow. I hadn't seen snow in 19 years, and my husband had never before seen snow. My friend laughed at our surprise and delight, and snapped a photo of us as we tried to catch snowflakes on our tongue.
Emilia Shaffer-Del Valle- Curatorial Assistant
Bio:
Emilia Shaffer-Del Valle is an independent curator and artist who approaches the arts as a critical tool for education and change. She co-founded Casa Experimental, an after-school arts program at the Ridgewood Bushwick Youth Center, and has recently worked with the New Museum, No Longer Empty, and Red Bull Studios. She lives and works in Brooklyn.
14th Street Connection:
When I think of 14th street, I think of Union Square as a site of gathering and resistance. On my breaks from work on Saturday, I would walk to the Union Square Farmers Market, sit on a bench and watch folks choose flowers and apples, as others gathered in small groups with homemade signs of protest. Many protests and marches begin with a rally at Union Square. I have gone to many of these, met friends at the subway station and joined the crowds chanting, fighting the good fight. Despite all its tourist-driven madness, Union Square is – at its best – a place where communities convene and assert their voices; this essence extends all along the lively thoroughfare that is 14th street.
Cynthia Cui- Curatorial Assistant
Bio:
Jing Cui graduated from Pratt Institute with a master degree in Arts and Cultural Management. She has been working with art galleries, film festivals and art institutions both in the U.S. and China. During her time at school, Jing Cui worked on socially responsible projects that promoted social justice, civic engagement, and equality. She enjoys collaborating with creative communities to bring positive change to society.
14th Street Connection:
14th street is my first connection to New York City. My program was located in a building on 14th street between 6th and 7th Avenue. It was the first place I visited once I arrived New York. I took classes, worked and hung out with friends on 14th street, and there were many stores and restaurants I visited often. It was where my story in NYC began and where my story in NYC developed.
Katrina De Wees- Curatorial Assistant
Bio:
Katrina De Wees is an interdisciplinary culturalist, specializing in performance and visual arts. She enjoys making short films, dances and living installations, which she has presented in New York, Toronto, São Paulo and Paris. Born and raised in Brooklyn, Katrina is a Hampshire College Alum and is completing her Masters in Curating Performance at Wesleyan University. She has served at institutions such as The Studio Museum in Harlem, The American Museum of Natural History and Danspace Project, while working as a freelance dance dramaturge, curator and scholar, and with companies such as Hi-Arts, Pratt Institute and Frieze New York. She enjoys serving the public and the cultural arena, wearing many hats and fashion-forward ensembles wherever she roams. She is currently based in New York City and New Orleans, LA.
14th Street Connection:
As a native Brooklynite who traversed to Manhattan island by-day to attend School of the Future in Gramercy Park, Union Square was the natural after-class destination. My classmates would make out with the sign-holders claiming to be reincarnations of Jesus, while I took interest in the political gatherings, street art and dance performers. I began training capoeira, and visited the legendary Mestre João Grande's Angola studio, then on 14th street and 6th Avenue. This inspired me to contribute an original performance called Forsenga to the 2012 Art in Odd Places: MODEL, curated by my former colleague Edwin Ramoran. Forsenga references Senga Nengudi's R.S.V.P. hosiery series, creating a moving installation of representational femininity inside the tight confines of stretched nylon with sand, spatially resembling a game in a capoeira roda.
Susan Joy Rippberger- Curatorial Assistant
Bio:
I am an artist and ethnographer, exploring concepts of migration and home, collectivity and solitude, through performance and textiles. I have danced with light and shadow in experimental spaces in the San Francisco Bay Area, Mazatlán, New York, and Berlin. In my practice, I work between tensions of negative space, community, and gendered art forms.
Susan Joy Rippberger
14th Street Connection:
As an immigrant from California, I'm still exploring New York City, so I am just now getting acquainted with 14th street, it's potential for art and community, and the artists and curators who will make the 14th Street Art Festival come alive. Before moving to NYC, I visited my daughter often, and in one of my first experiences with 14th street, I purchased a pair of shoes for her wedding at a store that no longer exists. I walked through 14th Street's parks and commercial zones without fully grasping how it was unique and different from other parts of the city. I'm only now seeing how it is remarkably distinct.
Katelyn Ahladas- Curatorial Assistant
Bio:
I am a recent graduate with a passion for public art and accessibility. I believe art to be an incredible societal tool. A tool for communication, an educational tool, a therapeutic tool; a vital component of a healthy and happy community. In addition to my position as an Art in Odd Places curatorial assistant, I volunteer at Artist Alliance Inc.'s Cuchifritos Gallery in Essex Street Market, and assist Lower East Side based artist Laura Nova, as well as art collective Feed Me a Story.
14th Street Connection:
A few summers past, I worked for a grocery delivery app and spent much time waiting for orders in Union Square Park. As anyone who has ever visited this park might imagine, I saw some pretty strange things on a regular basis. One afternoon, a group of English cricket players strolled through the park, dressed all in white, many still wearing or carrying gear. They seemed unable to resist stopping to chant and dance with the Hari Krishna's (a park staple)! This unusual pairing was a delight to watch and went on for at least 15 minutes. A lovely example of the beautiful ways different cultures and peoples mesh in Lower Manhattan.
Kara Nandin- Curatorial Assistant
Bio:
Kara Nandin is an aspiring non-profit professional with specialized interest in Native American and First Nations art. She has co-curated several exhibitions at the Binghamton University Art Museum as part of the undergraduate curatorial apprenticeship, and hopes to continue developing her curatorial practice in non-profit spaces. After graduating from (SUNY) Binghamton in both English Literature and Art History, she has gained meaningful experiences working for non-profit organizations like Artists Alliance Inc. and MoMA PS1.
14th Street Connection:
Last summer I was lucky enough to see the infamous statue of a completely naked Donald Trump that was briefly erected in Union Sq by the anarchist collective INDECLINE, before it was swiftly removed by the Parks Department. In the crowd of onlookers stood a debilitated man dressed in an elaborate costume made entirely from newspaper. Standing face-to-face with the statue, he laughed relentlessly and joyously in the face of Trump. Watching this role reversal is one of my favorite moments of irony and joy.
Paulina Kowalczyk- Curatorial Assistant
Bio:
Paulina Kowalczyk is an independent art producer and curator. She received her MSc Film, Exhibition and Curation from University of Edinburgh. She has been involved in many film festivals, including programming exhibitions for Glasgow Film Festival, and East London Film Festival, among others. In 2013, she had a great chance to work on the various exhibitions at the curatorial department of the Museum of Modern Art in New York. Kowalczyk works mainly in the area of immersive and interactive installations based on the works of contemporary and independent artists.
Jenny McCabe- Social Media Strategist
Bio:
Jenny McCabe was born, raised and still lives in the East Village of NYC.  She works in Film & TV, frequently in the casting department and is drawn to broadening her idea of beauty, authenticity, and discovering the humanity in others.  She participated in Ghana Think Tank's workshop, "Black Lives Matter Street Signs (2015)" at SUNY Purchase College School of Art and Design, part of an exhibit curated by Sara Reisman at the Dolly Maass Gallery.  The piece was also installed at Art In Odd Places 2015: RECALL.  She received a BFA in filmmaking at SUNY Purchase and continues to write and direct her own work.
14th Street Connection:
"When I was a child, there used to be a fish market on Avenue B and 14th street. I have a very early memory of my father and I walking east on 14th street and suddenly, in front of me, we saw this enormous crab coming towards us at a very high speed. I stopped and looked down at it- as it whizzed past my toes- then watched it continue west, darting in between other pedestrians. When I turned and started walking again, I saw this huge, flustered Asian man from the fish market hauling ass as fast as he could, charging along, trying in vain to catch up to it."
Sofia Reeser del Rio- Curatorial Assistant
Bio:
Sofía Reeser del Rio is El Museo del Barrio's Curatorial Programs Coordinator and has been part of the curatorial team for the past four years, working on all of their exhibitions in multiple capacities. Pedagogy, Art and Culture are at the core of her practice and interest. In 2016 Sofía was invited to work in Mexico City on the exhibition YOKO ONO: LAND OF HOPE and as guest curator for the Puerto Rican region of Entre Islas, an international video festival originated in Spain. She is enrolled in the Innovative Cultural Advocacy Fellowship (ICA) offered by Caribbean Cultural Center African Diaspora Institute (CCCADI). Sofía has a degree from Pratt Institute in Fine Art and Art History and before moving to New York City in 2009, studied Philosophy and Humanities at the University of Puerto Rico. Her recent curatorial works have been organized at Lincoln Square Neighborhood Center and Spring/Break Art Fair, both in New York; at Antiguo Arsenal de San Juan, Puerto Rico and upcoming at MECA Art Fair in Puerto Rico. Sofía's writing has been published for exhibition catalogues, brochures and conferences.
14th Street Connection:
I am native of Puerto Rico but have been coming to New York ever since I was in middle school. Mostly tagging along my mothers work-related travels to the city. We would spend a lot of time walking from one place to another, but 14th Street Union Square was always a meeting point- a place to get fresh produce at the market, to sit and listen to musicians playing on the edge of the park, have our lunch or just rest. It formed a memory of what New York means to me, what it makes me feel and why I always find myself searching for those moments now. Moments where things converge, interact and happen with ease, and there's a sense of coexisting that feels genuine, something I crave for more and more as I grow older and become aware of how politics and greed feed fear into our communities, something, when I was younger, in the city I never felt. It was a place I could sit for hours and observe the diversity of New York play itself in front of me, a safe place.
Matthew Morowitz- Blog Editor & Head Writer
Bio:
Matthew Morowitz has been involved with Art in Odd Places (AiOP) since the 2012 festival, MODEL. A native of New Jersey, Matthew holds a dual BA in Archaeology and Art History from Dickinson College in Pennsylvania, as well as an Advanced Diploma in Cities and Urban Development from NYU. He has professional experience in cultural resource management, historic preservation, and a random assemblage of skills from various temp jobs. He is interested in figuring out new ways to use cultural and historic identity, and creative endeavors, to assist grassroots advocacy when pushing for more equitable public spaces, and community and neighborhood preservation. In his spare time, Matt enjoys journaling and translating Algerian literature.
14th Street Connection:
In its own way, 14th Street has become my upper boundary for New York City. Socially and Professionally, I find myself more entrenched in both the Village (where I work) and Brooklyn (where I live). AiOP really became the first social outlet I had in the city, and 14th Street my comfort zone. On almost every block I can recall stories of heartfelt encounters, drunken nights, unexpected situations, painful incidents, places that are almost like old friends, places that have changed, and ones that are no longer around. In a way, 14th Street is my microcosm to the macrocosm of the city, where I can observe all its changes and see reflections of the elements that have come to define the different NYC identities: old and new, rich and poor, eastside and westside.
ART IN ODD PLACES 2017
SENSE
Art in Odd Places Founder/Director:
Ed Woodham
Curators:
Nicolás Dumit Estévez Raful, with Rocío Aranda (El Museo), and Jodi Waynberg (Artists Alliance Inc.)
Curatorial Manager:
Christina Daniels
Curatorial Assistants:
Katelyn Ahladas, Cynthia (Jing Cui), Katrina De Wees, Zoé Fornara, Claire Gohorel, Paulina Kowalczyk, Kara Nandin, Sofía Reeser del Río, Susan Joy Rippberger, and Emilia Shaffer-Del Valle
ABOUT SENSE:
Conscious of the vast interpretations and many meanings behind the word SENSE in the public context of 14th Street in Manhattan, Art in Odd Places 2017 will present installations, performative actions, audios, choreographies, workshops, oracles, classes, salons, time-based/online-digital/and multimedia projects, as well as proposals in any uncategorized formats, all of which are to focus on intuiting the unseen at an intimate or collective level. Emphasis will be given to honest processes pointing to any of the hidden currents that flow through, below, or above the New York City thoroughfare in question; currents of which most busy passersby may remain unaware. Similarly, SENSE will welcome ideas that aim to awaken dormant perceptions within individual pedestrians, and arouse one-on-one or group synergies that promote sighting, feeling and self-healing.
Some key words: perceive, sight, intuit, reveal, foretell, restore, balance, regenerate, astral, align, etheric, harmonize, open, transpersonal, vision, vibrate, recharge, light, unconscious, numen, portal, energy, therapy, psychogeography, meridian, synchronicity, liminal, parity, vantage, and stasis.