By Ruthie Snoke
A friend once told me, "The best way to do theatre is to find someone who is charismatic, who has a vision, and to hang around them. Do what they're doing." As time goes by, I realize how much truth there is in those words. Often, in theatre and elsewhere, one passionate individual has the ability to inspire countless others.
This certainly seems to be the case with Actor's Theatre Workshop, located on West 28th Street. From the moment I stepped into the organization's Spring Benefit & Art Exhibit, I sensed that I was among a group of people united around a shared passion. A passion, it just so happens, that could use a lot of support.
Upon arriving, my eyes immediately went to the artwork dotting the walls, and as I stepped closer I saw that each drawing had been created by a child who had participated in the Builders of the New World program. This program works with homeless shelters around the city by bringing in school children for hot meals and weekly sessions with the staff at ATW.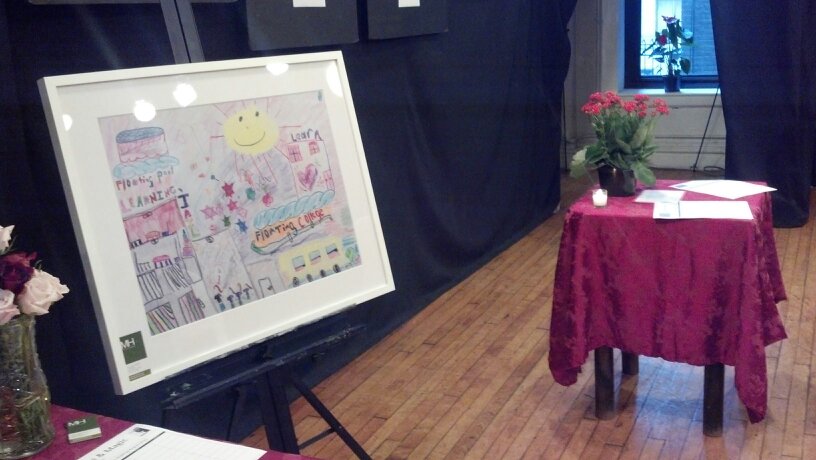 Photo Courtesy of Monica Hunasikatti.
As I browsed the drawings and read the corresponding statements written by the children, I couldn't help but recognize the unmistakable handprint of hope stamped on each one. Many of the writing samples began with an honesty that was hard to forget, speaking about the world as a place filled with turmoil and sadness. "Mothers abuse their children not just by hitting them, but also with their words," read one piece. But the writing samples did not end in this place of hopelessness. Every student spoke of dreams, and presented many of their plans and desires for change in the accompanying artwork. Hospitals that dispensed healthy candy, designs for futuristic cars, planets that were run environmentally consciously–this did not seem to be the artwork of children who were systematically being shuffled from place to place and living in the midst of difficulty.
This indelible sense of hope, I discovered, was due mostly to the fact that the staff, led by artistic director and founder Thurman E. Scott, shares a united purpose in cultivating the idea of hope and forward motion. According to Rebecca Easley Li, the Daily Manager, this is due in part to what the students are taught, and in part to what is asked of them.
What distinguishes the program from many others like it is that the students are not simply given handouts, but are asked to advocate for themselves. Through the use of theatre exercises and writing prompts, the students are paired with mentors who instruct them to make demands of themselves. They are taught that they must have an intention for their lives; they must envision where they want to be in ten years, and, according to Easley Li, "Their intentions will pull them toward their dreams." When the program ends with a graduation ceremony, during which the students share their piece of artwork and their written statement of goals and dreams, the result is a room full of children who have been inspired not only to dream, but to strategize realistically about how to make those dreams come true.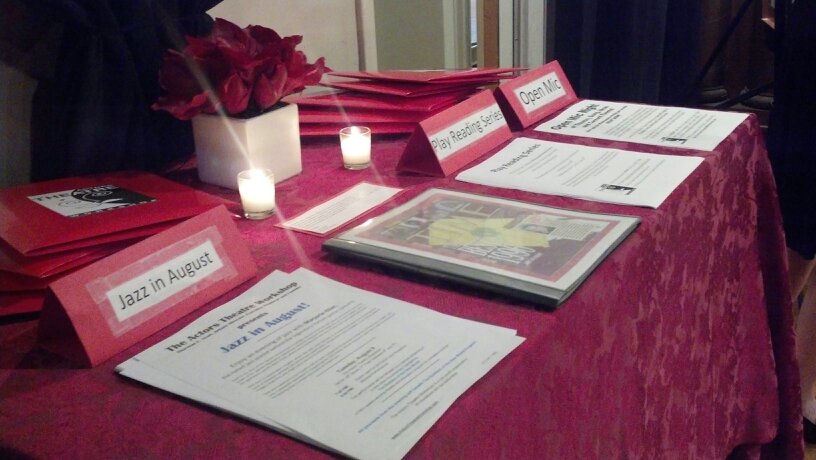 Photo Courtesy of Monica Hunasikatti.
A lofty goal, but one that artistic director Thurman Scott seems to take in stride. As stated above, oftentimes all it takes for a program like this to succeed is an individual with enough passion to inspire those around, and Scott seems to have that in spades. "Stop holding back," he said, reciting words that he tells his students, but touching the hearts of the adults standing in the room. "Reach for it, grab for it. Youhave to reach, because everyone else is reaching for life too." Scott's passion, and the passion of his staff, seem to be making a difference. Originally part of an initiative led by the city to fund programs in multiple theatres for homeless youth, ATW's program is the only one still running. The program is heavily volunteer based, and along with the request for donations, Scott made an eloquent plea for volunteers to lend a hand in mentoring the students and keeping the program running.
This plea was echoed by Treasurer Eileen Burke. "What we're trying to accomplish," she said, "is to bring more people in. We want to have a campaign of exposing this hidden gem to the world."
Which, according to past mentors, is well worth doing. Many of the donors present had volunteered or been associated with the organization previously, and had returned because they fully support Builders of the New World and the work ATW does in other areas. (There are many other fascinating programs, including The Life Stories Program for Veterans, and an initiative that works with people from both Israel and the West Bank.) As I circulated the room, I listened to donors gush that ATW is genuine, run efficiently, and that part of the reason the program has existed for 20 years is because the staff operates in a responsible and thorough fashion. The purposefulness of ATW's staff seemed to have rubbed off on the donors, who watched in appreciation as they were shown video of the students' graduation speeches.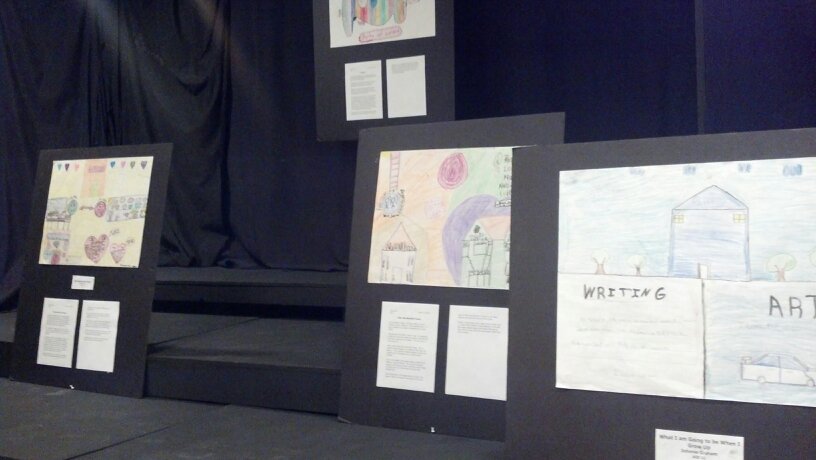 Photo Courtesy of Monica Hunasikatti.
"By using your imagination you can become more courageous," one of the students on the film said, and if the grins and triumphant tears of joy captured on video were any testament to this, I would have to agree. By using theatre, Scott and the staff of Builders of the New World are empowering students one by one to develop not only their courage, but their vision, hope and joy as well. With such a reward, it's no wonder that the people associated with ATW seem filled with purpose, and no wonder many of the former students return to inspire the current students with their tales of success. For many participants, this is the first time they have had a positive role model they can look up to, and someone who is telling them that yes, dreams can come true–with the right intentions and goals.
As ATW searches for more volunteers and mentors, the opportunity to be just such a role model is open wide. It is well worth considering, and the reward, it seems, will not just be for the students, but for those who work with them as well.