As October approaches, Art in Odd Places (AiOP) is gearing up for its 2013 festival.  From October 11-20, AiOP will be taking over 14th street, from Avenue C all the way to the Hudson River.  With the theme of NUMBER, artists are encouraged to create works that explore this idea in both the literal and abstract. Looking at things such as prices and dates, taxes to tolls, and anything else that counts, the artists this year will be showing their audiences how numbers crowd us, hurry us, bury us, and define us.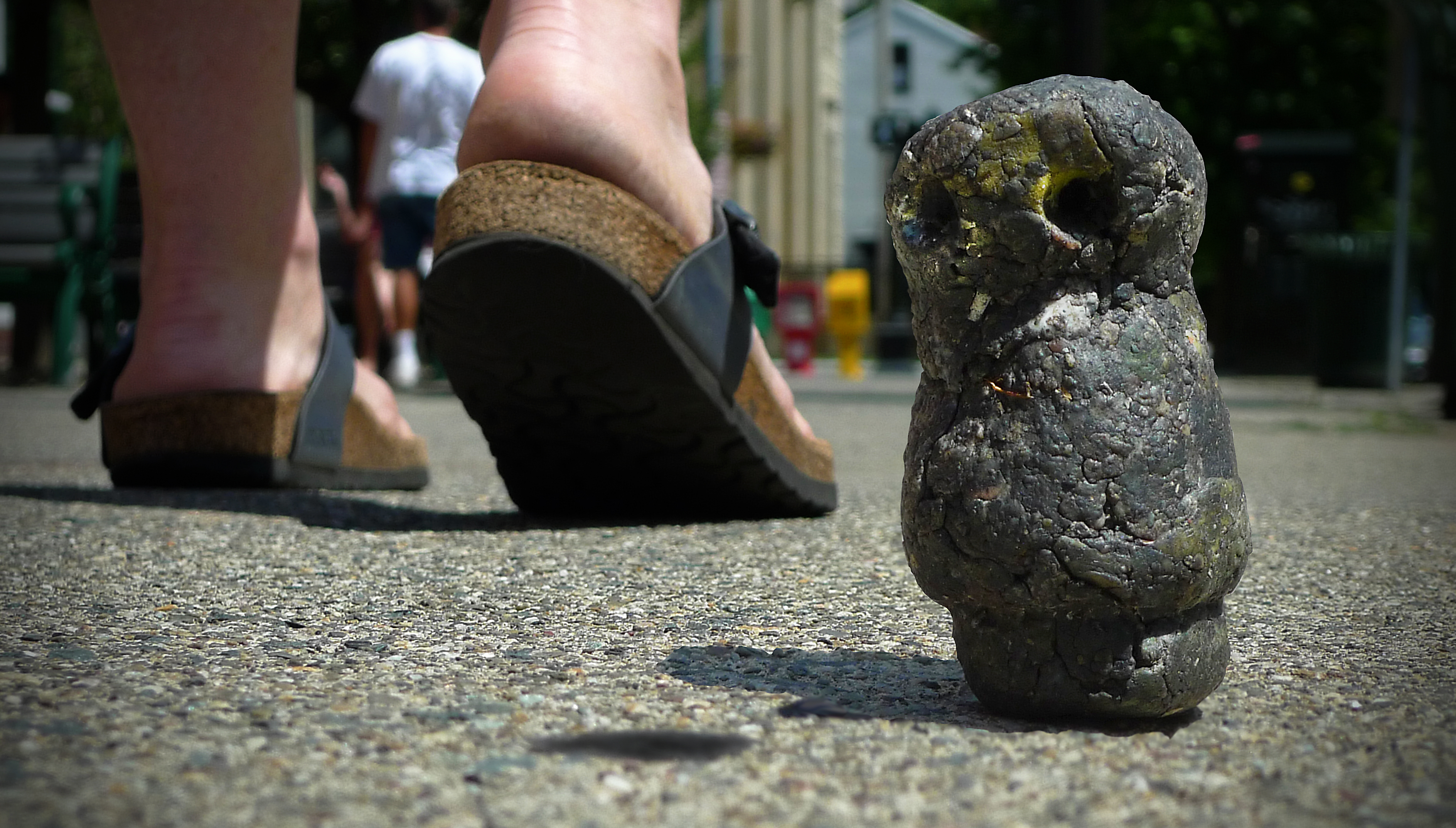 "KODAMAZOTHGOLEMNKISI." Photo courtesy of artist.
During this year's festival, Adam Frelin will be presenting his upcoming performance piece "KODAMAZOTHGOLEMNKISI."  Frelin, who is currently a professor in the art department at the University of Albany, works mostly in sculpture, video, and photography and is "endlessly interested in depicting moments in which our natural and constructed worlds intersect."  His project for the festival, "KODAMAZOTHGOLEMNKISI," will feature a performer crawling along 14th street, scraping up blackened pieces of gum from the sidewalk and leaving a trail of primitive figures made from them behind him.
AiOP was able to talk with Frelin and get a better understanding of his work and its relationship to the festival's theme:
What attracted you to this year's AiOP festival?
I liked the idea of a performance festival that takes place without really any approval. AIOP is very organized and professional, and yet few if any of the people or businesses on 14th street know that this is going to happen. That's interesting to me.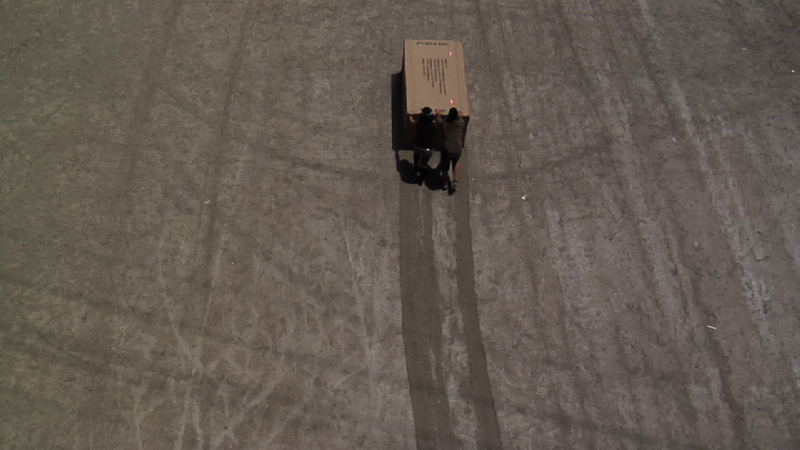 "Terranauts." Photo courtesy of artist.
How are you interpreting the theme number? 
For my project, "KODAMAZOTHGOLEMNKISI," a performer will be crawling along 14th street on his hands and knees, scraping up the blackened pieces of gum that are stuck everywhere to the sidewalk, forming them into primitive figurines that he leaves in a trail behind him. The title refers to a conglomeration of mythic characters from different cultures, all of who embody in some way the act of transformation. The piece relates to numbers by way of quantity: single blobs of gum shmeared on the street become consolidated into small sculptures.
What challenged did the theme present you when creating works for public space?
If there is performance in my work, it always exists on the other end of a camera, and for the most part is staged. I like that kind of work, and I like working that way. Nevertheless, for AIOP it's got to be a performance whether the camera is there or not, which is a pleasant challenge for me to have to overcome.
"Firefall." Video courtesy of artist.
What excites you about the prospect of presenting this work?
I often work with trained or untrained actors in my work, but there's a good chance that I will choose to be the performer in KODAMAZOTHGOLEMNKISI. That will be new to me.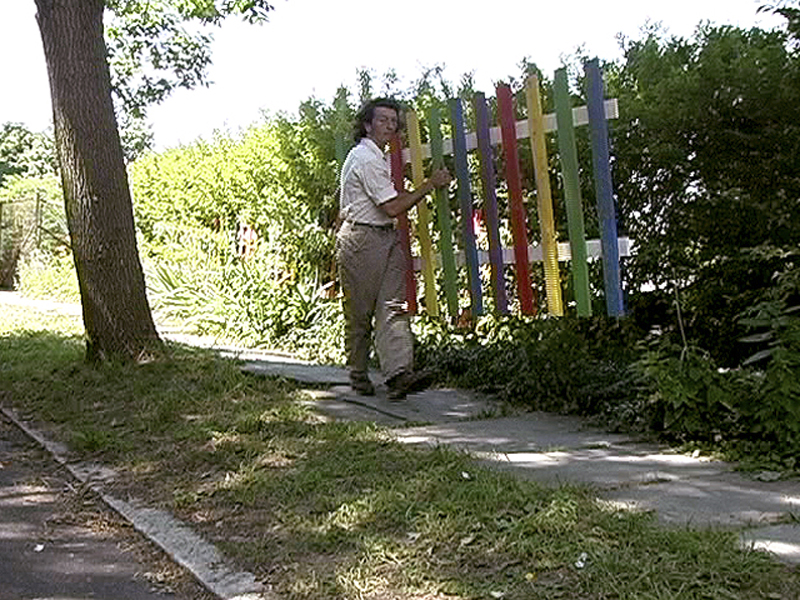 "The Fence Thief." Photo courtesy of artist.
How has adapting your work to 14th street affected your process?
Often my work takes place in natural or marginal settings, away from crowds of people. For AIOP, I'll be in the thick of it. On top of that, I will be crawling along the sidewalk scraping up gum, which I have to tell you is one of the most humiliating things to do. While testing out the project in front of my apartment, many people stopped to tell me how sorry they were for me.
Was there any specific number that spoke out to you when formulating your work? Why? 
Not really. I was just interested in the ideas of quantity and transformation: how something like gum can be made in a big batch, divided into a million separate pieces, disposed of in a very public way, and then reconstituted into new wholes. This cycle reminds me of the distribution, disposal, and reuse of goods happening all over the world.
Did you take anything from this experience that you plan on applying to future works?
I'll have to get back to you on this one after I've spent a few days crawling around the city. Stay tuned.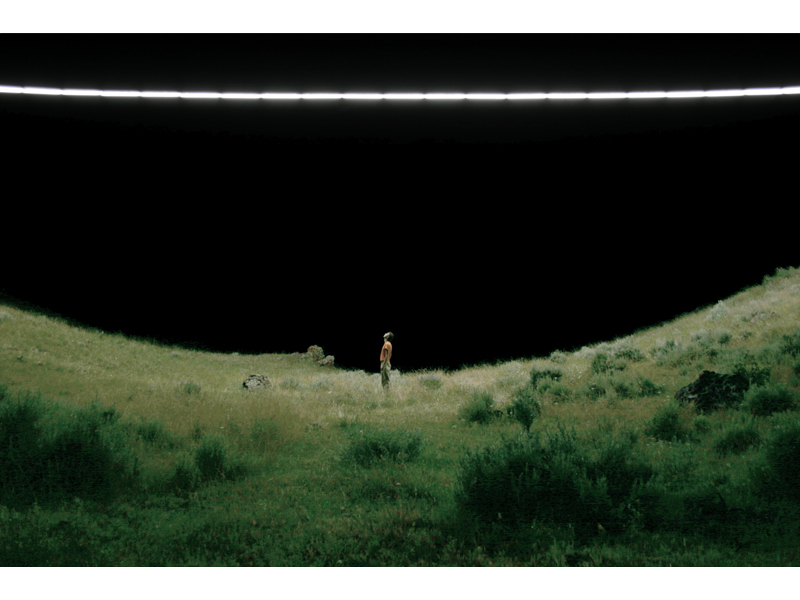 "White Line." Photo courtesy of artist.