This year's Art in Odd Places (AiOP) festival, NUMBER, will take over 14th Street from October 11 – 20; in going along with this year's theme, the artists will present works exploring numbers: how they define us, crowd us and challenge us.  In this year's festival, artist Ariela Kader will be making relationships out of refuse.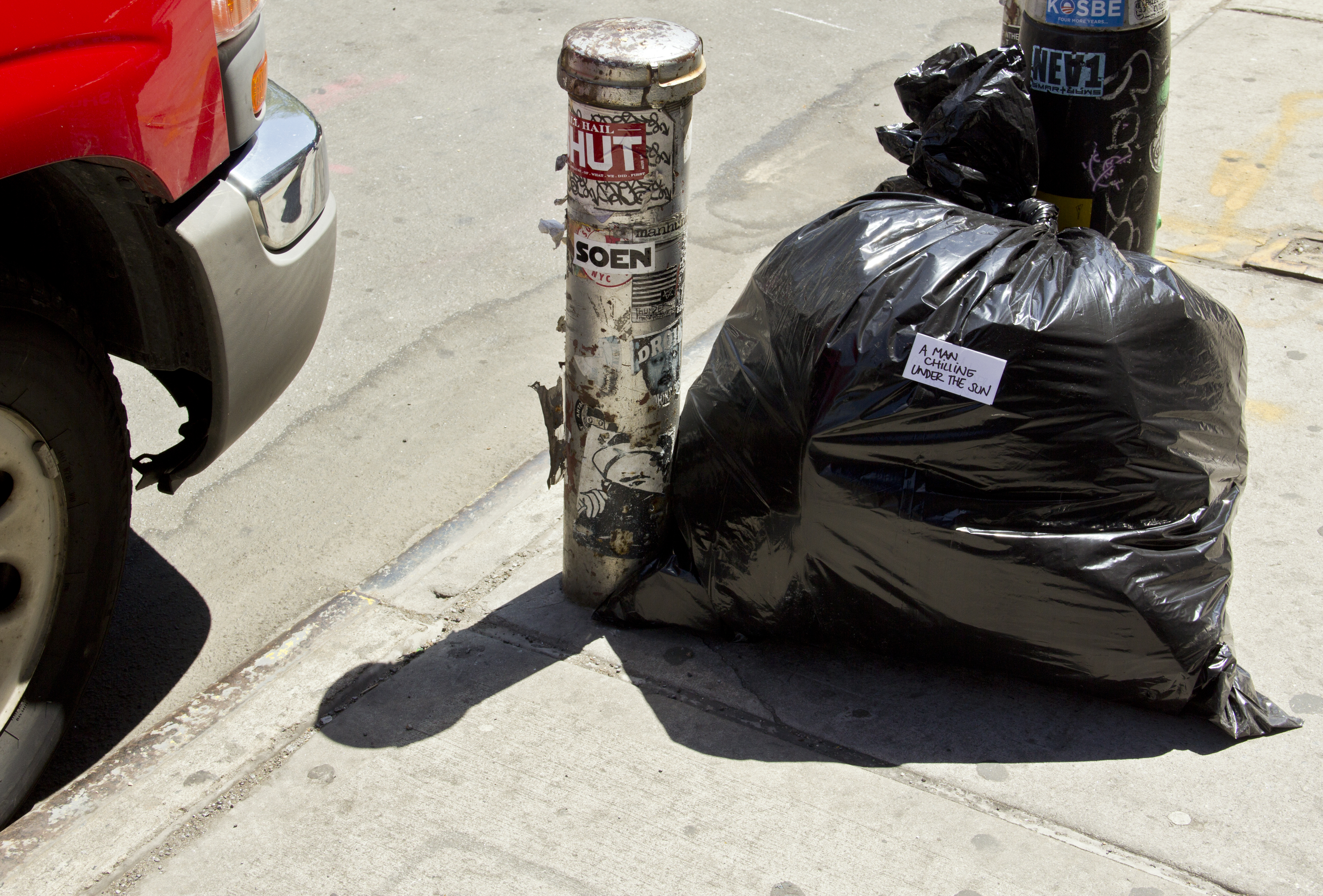 "A Man Chilling Under the Sun."
Kader, a graduate of Parsons, makes works that are focused around the idea of consumption.  She first learned of AiOP's festival when one of her classes required her to attend a previous one and write about a project she witnessed.
Her upcoming project for AiOP NUMBER, titled "Social Trash," is an exploration of human relationships, the relationships of people with products, and public space.  Working with trash she finds on the street, Kader attaches signs to them, signifying social identities to the trash and trash bags, and creating interactions between them based on the compositions in which they are arranged.  The types of interactions she creates are also influenced by the number of trash bags and objects she finds in a grouping, relating the theme of number back to perceptions of social relationships.
Kader was able to answer a few questions for us about her upcoming project.
Can you tell us a little bit about yourself and the kinds of work that you do? 
About four and a half years ago I made one of the best decisions of my life, I decided to change the green for the gray, I left my homeland, Costa Rica and moved to New York to get a BFA in Fine Arts at Parsons The New School for Design. The kind of work that I do has a lot to do with this shift that I just mentioned. Changing the green for the gray also meant changing the residential park for the dorms, and my parents' car rides for daily walks. In these walks, I started to notice and pay attention to the amounts of trash bags that accompanied me along the sidewalk and started documenting the ones that I thought were interesting. I printed them, analyzed them with the goal to find a reason to my interest in such an overlooked yet very much present topic. Through studying the composition of the trash bags, I saw similarities with the way we interact with one another in different situations. I started to intervening the trash bags on the street by making labels out of masking tape and writing on them with black permanent marker. This project called "Social Trash" has been very significant to the kind of work that I do mainly because it was the first time that I materialized relationships in the everyday, those with people and with products. In my work, I find inspiration in observing and analyzing my everyday surroundings and routines. I see every day as an opportunity to create a souvenir from that day and a starting point for the following day.
How are you interpreting the theme number?
As I mentioned in my answer to the first question, I interpret trash bags according to the composition in which I find them. After interpreting so many different compositions, I have been able to link the amount of trash bags to specific social actions. For example: one trash bag can be a loner, two trash bags a loving couple, three trash bags a "it's a boy" moment, four trash bags a double date…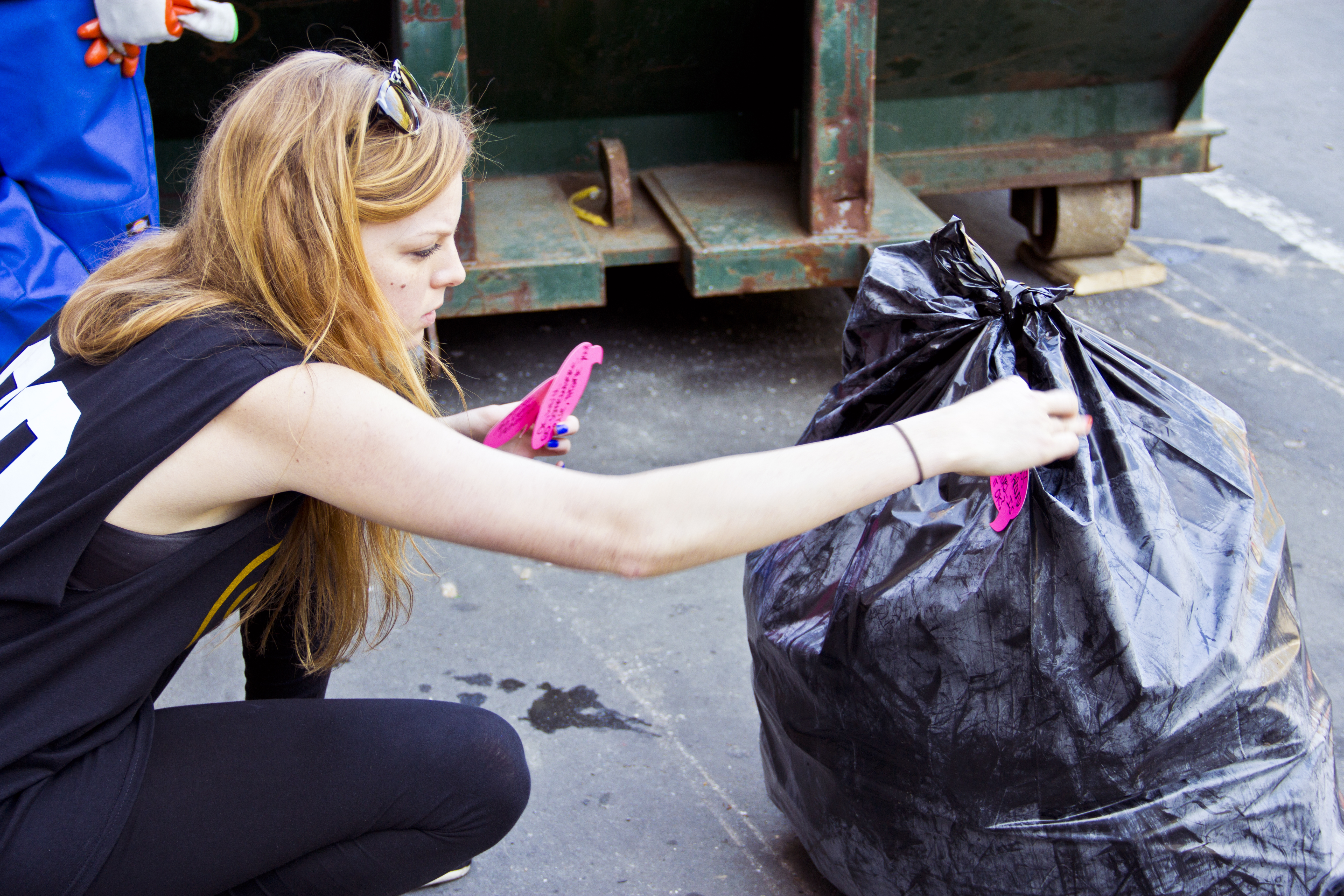 "Process Romantic Dinner 2."
What excites you about the prospect of presenting this work?
From previous experiences I can tell you that what I have been doing to the trash bags has become a language among those who have seen it and they understand it so well that here and then I receive pictures of trash bags from people followed by their own interpretation. I feel that these kind of moments really makes me realize that my message is really coming through and impacting people's everyday and making them more entertaining; although my artworks are not part of their everyday, my ideas have influenced their understanding and take on one's everyday.
Did you take anything from this experience that you plan on applying to future works?
Keep interpreting trash bags in all streets, at all times and in all places. I am thinking of having a blog where people can post their own "Social Trash" photographs and their interpretation. I want to invite the audience to share their everydays and have a conversation around them and whether or not they think that my work has changed the way they approach their everyday or not.