Numbers, they crowd us, define us, bury us, hurry us, and take on many more roles in our lives and society.  That is why Art in Odd Places (AiOP) has chosen to make NUMBER the theme of their 2013 festival.  From Avenue C all the way to the Hudson River, artist will be taking over 14th street from October 11-20, presenting works that relate to this theme in ways that are both literal and abstract.
"Wallart Takeover" is a "false promise."  Artist Jerry D. McGuire will be placing over 50 hand-painted unauthorized advertisements reading "Wallart, Save Money, Live Poorer, 99% of the entire store," on various walls and windows all along 14th street.  McGuire, who also works under the alias R.Mutt, is a suspected participant in many different subversive actions and activities aimed at questioning social control and the legitimacy of authority.  By combining a biting truth with a familiar advertisement, McGuire is hoping to "expose the reality and true cost behind standardization, cheap labor, and lower prices."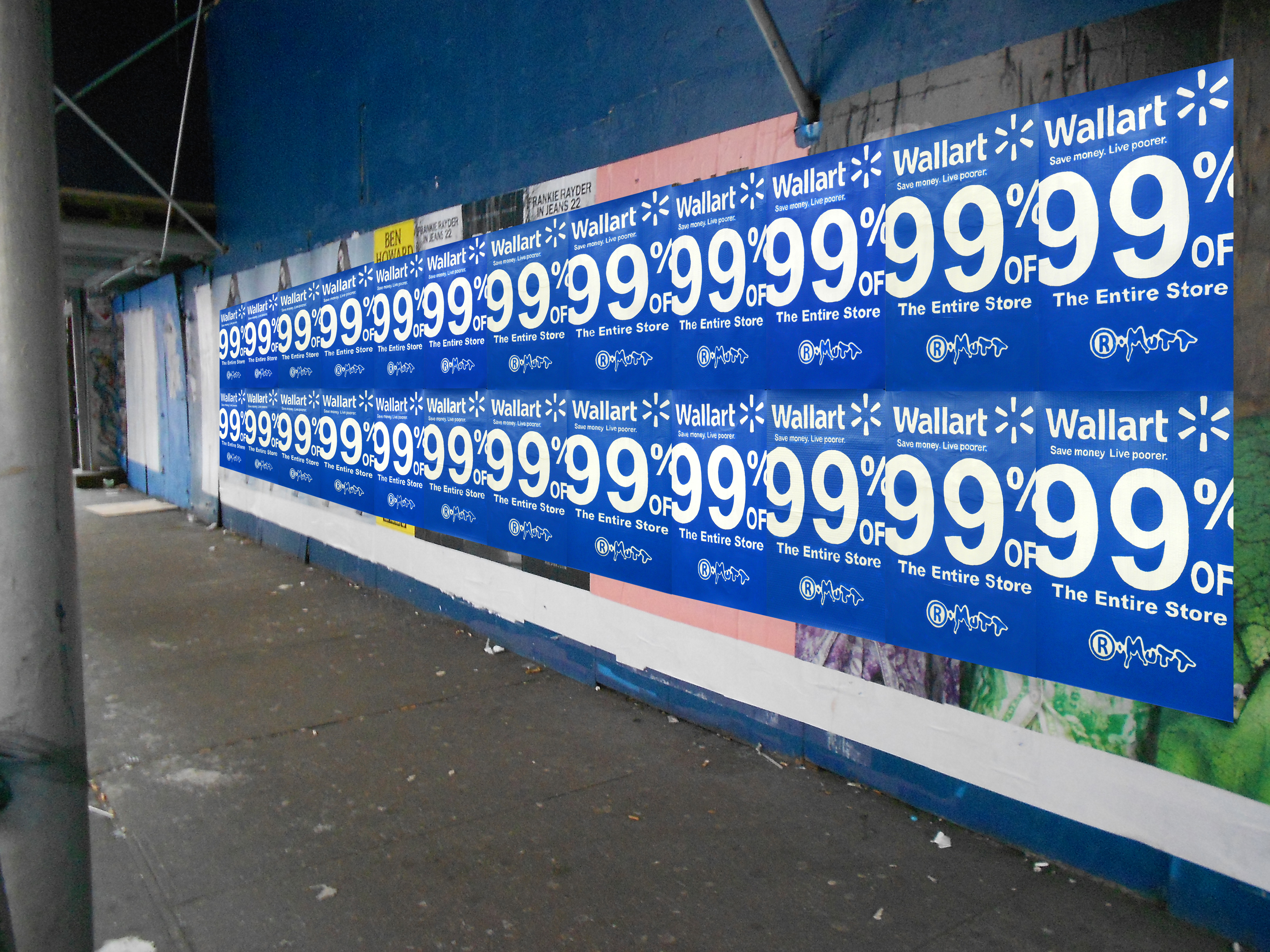 "Wallart." Photo courtesy of artist.
Recently, AiOP was able to talk with McGuire and get a sense of his upcoming "takeover:"
Can you tell us a little bit about yourself and the kinds of work that you do?
I live in the anonymity of the Jersey suburbs. I make unsolicited works that hover in that fine line between art and illegal. I have sent hand drawn stamps through the mail, bought my own art through retail store checkout counters, and abandoned art objects in museums, retail stores, and the street.
What attracted you to this year's AiOP festival?
I have been placing illegitimate sale sign paintings on retail store windows for the past year. When I heard about the theme for AiOP 2013, I figured this would be a good opportunity to display these sale sign paintings, in mass, in the city.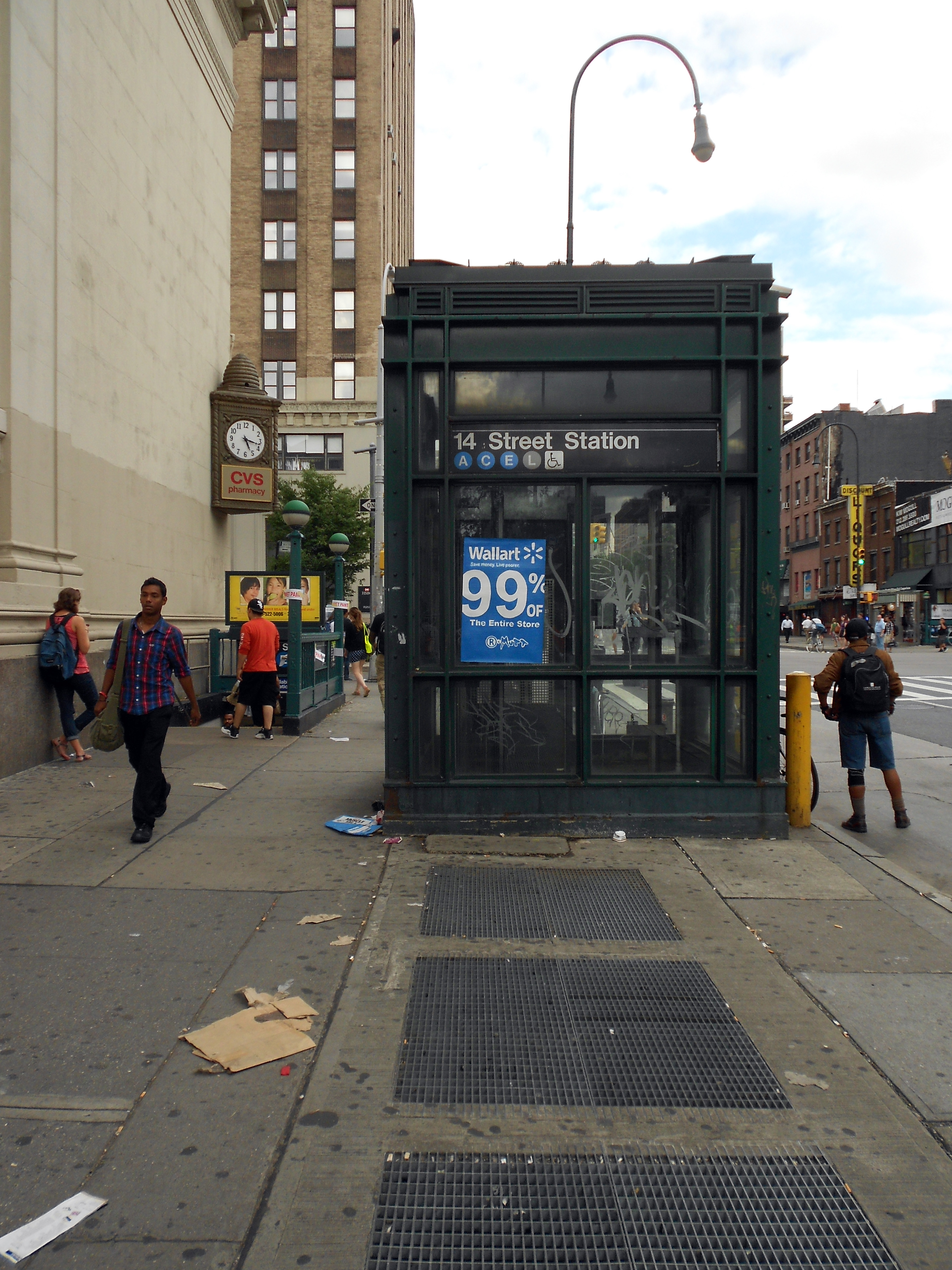 "Wallart." Photo courtesy of artist.
What excites you about the prospect of presenting this work?
What excites me is the numbers…The number of individual works I will present….and the number of individual people who will see them.
How has adapting your work to 14th street affected your process?
While adapting my work from retail store windows in the suburbs to  14th street, I had to adjust to the largeness and busyness of the street…refine my language and think saturation and simplicity in appearance. This is when I decided to concentrate on producing a large amount of a single image.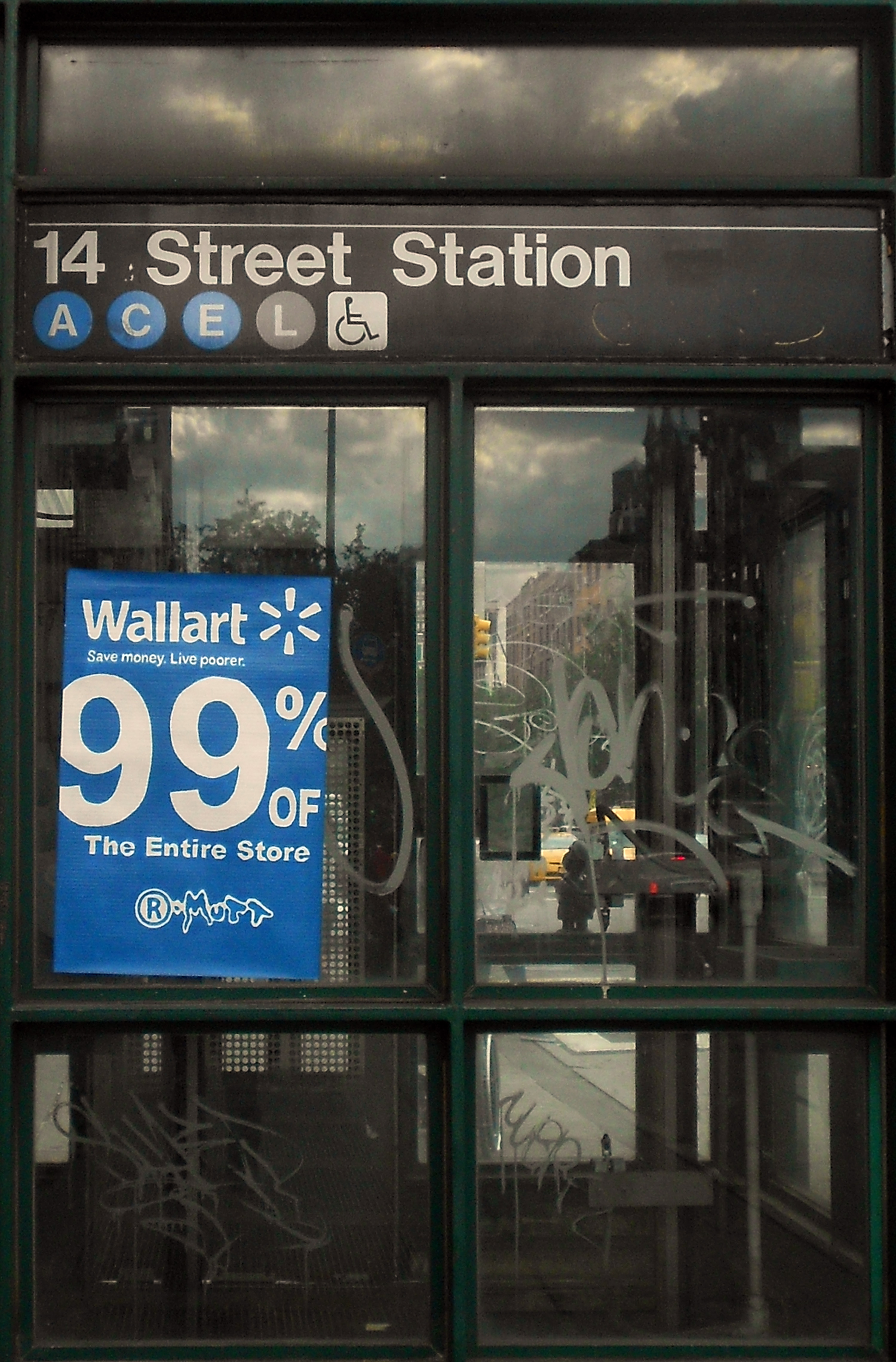 "Wallart." Photo courtesy of artist.
Was there any specific number that spoke out to you when formulating your work? Why?
While formulating this work I was thinking about the 99% movement…What happened? What was this about? What was its impact? Was this only a number?