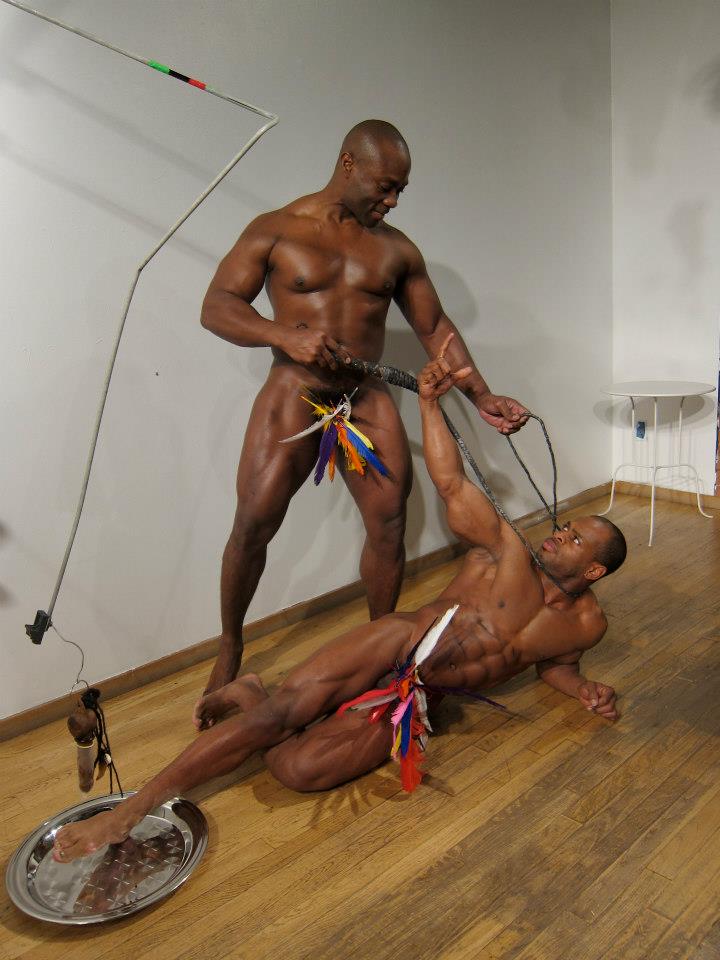 Today's guest: Lawrence Graham Brown (pictured above with assistant Leon Dozier)
We're wrapping up our coverage of other.explicit.bodies, which premiered last weekend at Dance New Amsterdam. Last week we spoke with the show's curator, Jaamil Olawale Kosoko about his performance, other.explicit.body. Today we're sitting down with Lawrence Graham Brown to discuss his performance Acute Case of Black Fever (a reaffirmation of Black love). Again we touch on the black male body and constructs of race and gender, but we also discuss the influence of culture in performance art.
For those of you who missed other.explicit.bodies, I highly encourage you to keep up with all the performers.
other.explicit.bodies was a two-night event. Program A, presented on the first night and featured work by Lawrence Graham-Brown, Kate Watson-Wallace, Jaamil Olawale Kosoko, Marjani Forte, Saul Ulerio, Erin Clark, Cori Olinghouse, and Rebecca Patek. Program B, which ran the following evening, featured Lawrence Graham-Brown,  Holly Bass, Megan Bridge, devynn emory, Jasmine Hearn, and Jen Rosenblit.
Today's musical segments feature the talents of Chilly Gonzales and Snappy & Floyd. You can download Snappy & Floyd's debut art-rap mixtape for free via their Bandcamp page.
Finally, be sure to check out Lawrence Graham Brown's upcoming show:
Edge Art: Black-Latino(a) Artists, an Inter-Caribbean Dialogue
The City College of New York, CUNY
160 Convent Avenue
NAC Building
New York, New York 10031
Exhibit Dates: February 4-28, 2013