By Minji Lee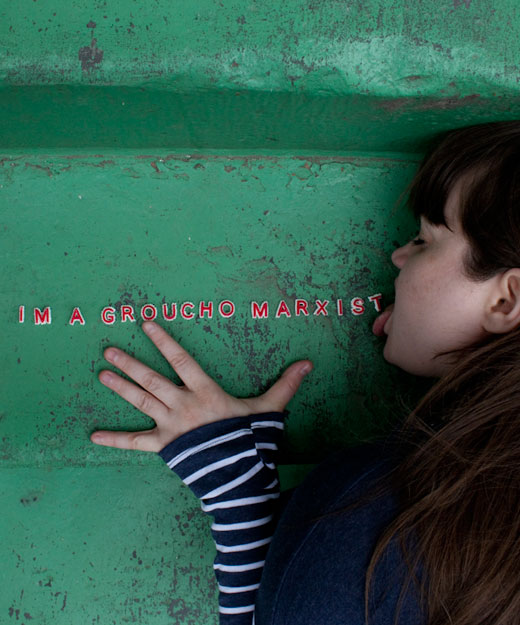 Many of us have vivid recollections of our far-fetched childhood dreams. They are bizarre yet brilliant, but never seem to manifest themselves in reality. However, performance artist Anya Liftig's childhood dreams of engaging in conversations with animals and dressing up as quirky characters have, indeed, become her reality.
She has danced with raw fish and concocted a chocolate baby (and proceeded to eat it in a cannibalistic fashion). On July 7th, she will attempt to cross a barricade made of reclaimed materials—blindfolded and with one hand behind her back—to make a powerful statement about the dangers of preventative barriers. Her performance entitled "I'm a Groucho Marxist" will present a challenge for her audience to overcome the barricades that restrict individuals and societies from pursuing their dreams, as radical as they may be.
How It All Began

Anya Liftig was born in Norwalk, Connecticut, in 1977. Before being introduced to performance art, Liftig pursued dance and photography. She says, "When I was in graduate school at Georgia State University, I had a professor, Nancy Floyd, who said that my photography was really performance art." It was only a matter of time before Liftig realized that she had a passion for this unique profession.
Liftig is a graduate from Yale University and Georgia State University. Her thesis entitled "Self-Evidence" was the first performance-based thesis to be created at GSU. Her work has been featured at the TATE Modern, MoMA, and Chez Bushwick, among many other prestigious venues. It has also been published in The New York Times Magazine, The Wall Street Journal, and Vogue Italia, among many other widespread magazines and newspapers. Anya Liftig's distinct style of combining unexpected items, such as a fish, a cactus, or a chocolate baby, with deeper questions that probe into a viewer's psyche, makes a powerful impact on her audience by challenging us to rethink the conventions of a given society.

I'm a Groucho Marxist
Anya Liftig's creative approach to performance art has made an impact on Atlanta's increasingly vibrant art scene. Liftig's next performance, "I'm a Groucho Marxist," which will be her most physically challenging performance to date, will debut on July 7th and will run from 8:30 to 11:30 p.m. This performance will be presented by Flux Projects and will be located on Airline Street (below the Edgewood Avenue overpass) in Atlanta to trace the city's racial segregation.
The title of Liftig's work is inspired from a slogan painted on the walls of the Sorbonne by members of the Situationist International during the May 1968 student uprisings in Paris. The Situationist International believed that individuals' lives were enhanced by the enriching of knowledge toward events that existed prior to them.
By building a barricade out of used bedframes, pieces of steel, and other forms of "trash" and proceeding to cover this barricade in peanut butter, Liftig will single-handedly (literally!) attempt to mount and climb this barricade over a period of three hours while blindfolded.
Her rationale for incorporating peanut butter into her performance is as follows: "Peanut butter represents strong symbolic ties to the history of Georgia and the South." Atlanta is a place here Africans Americans and Whites did not live in harmony, so peanut butter symbolizes the sticky, oftentimes messy situations that have existed and continue to exist in Atlanta today.
In offering a more personal interpretation of this performance, Liftig states, "[I'm a Groucho Marxist] also references the barricades that people have within themselves. There are things that keep you from doing what you want to do and be what you want to be." She expands, "I want my audience to experience the barricade by seeing me go through it." With this said, Liftig hopes that her audience not only sees her performance, but also smells it in order to understand the variety of angles toward deep tensions that lie within not only Atlanta, but also within ourselves.
When we asked her why she chooses to undergo a physical struggle in her performance, Anya Liftig responded, "I want to emphasize that this task is self-imposed and ridiculous…these barricades that we make, as well as the barricades that separate people from other races, are ridiculous." The things that keep us divided, externally and internally, are oftentimes very foolish yet difficult to overcome.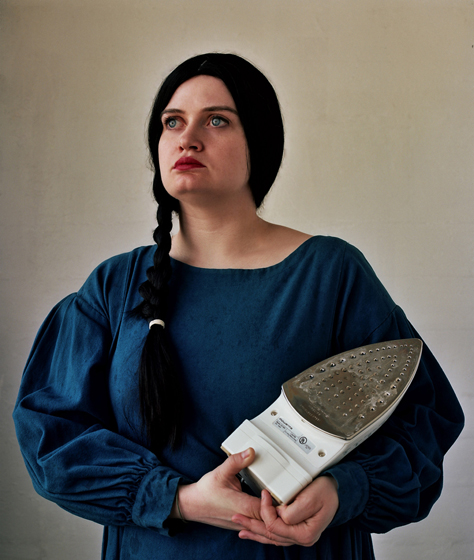 The Artist is Present and The Anxiety of Influence
Liftig emphasized that the "durational nature" of her performance, a phrase inspired from Marina Abramović's "The Artist is Present," is something she desires to emphasize to her audience.
"There is something transformational for both the viewer and the artist in putting forth durational work," Liftig says.
"I'm a Groucho Marxist" will be a durational performance that challenges the audience to rethink their perceptions of barricades and barriers, which is largely inspired by Abramović's work.
Anya Liftig would like to thank her wonderful technical team for their hard work and amazing support in preparation for "I'm a Groucho Marxist." She enthusiastically says, "We've been working on this project for two years now. The idea of barricades and barriers has come to the forefront of current events, so it's been amazing to see this project evolve in many ways. The symbol of this original idea has become even more significant with the times."
As Liftig reflects, "I get to think about something I'd like to do and I get to figure out a way to make it happen," we can all gain inspiration from her simple yet powerful method to fulfill her childhood dreams. As performance art becomes more prominent among institutions today, Anya Liftig paves an inspiring path for many aspiring artists with "I'm a Groucho Marxist." Its challenging message that encourages individuals to pursue their most idealistic wishes is made a possibility with Liftig's progressive performance art. As arduous as her performance may be, it is sure to turn mountains of garbage, globs of peanut butter, and perceptions of social justice and racial equality in Atlanta around on their heads—for good.