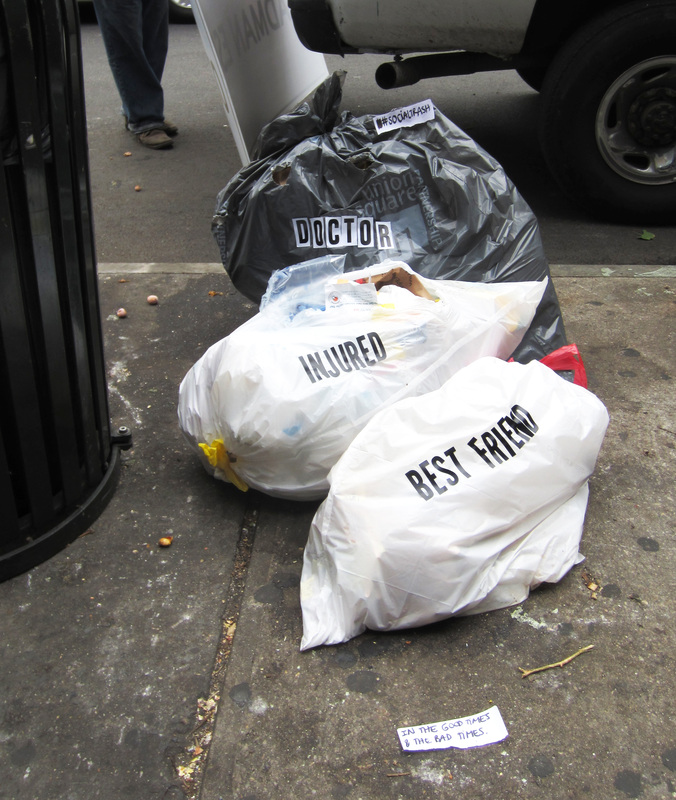 "Social Trash." Photo courtesy of the artist.
Had you worked in public space before?  How was this experience similar or different?
I have done some work on the streets but never really thought of myself as a performer, now I even like the title and this has made me think of many other performances that I would like to do in public space in a near future, hopefully again at AiOP.
I assume you were drawn to interacting with trashbags because on collection days, they are a sculptural or architectural intervention on our streets.  What made you want to cast them as characters?  
One of the main changes that has and still keeps influencing my artworks is that moment that happened five years ago when I switched the green for the gray. Moving from San Jose, Costa Rica to New York, among other things, made me change my perception of trash and trash bags in general. While living in a residential part in Costa Rica, trash bags were a taboo.  The only time you would encounter a trash bag was when you threw something in the trash can.
When I moved to New York, I always felt accompanied when walking on the sidewalk, by trash bags on one side and people on the other. When I got my first iPhone, I started documenting these compositions of trash bags.  Then I printed them to somewhat give them back their physicality. Once printed, I put them all up in my wall to have a better sense of why was I so interested and invested in them. After a few days of contemplation, I started making parallels between the compositions of trash and social actions and/or encounters and writing them in the white border of the photo. This immediately echoed a parallel with the trash bags and the passersby, as well as the fact that people are what they consume but they also are what they throw away.
Then, I realized that the trash bags deserved to have a life, to be activated and to perform in their "natural home", the sidewalk, so I started intervening them in person with labels that would make it easier for the passersby to identify themselves with the trash bags. Some examples of labels were "Mom", "Boyfriend", "Girl", "Baby", and others. I also wrote another label, which I placed on the sidewalk, with the title of the social action or situation to give the passersby a better sense as to what was happening between the characters.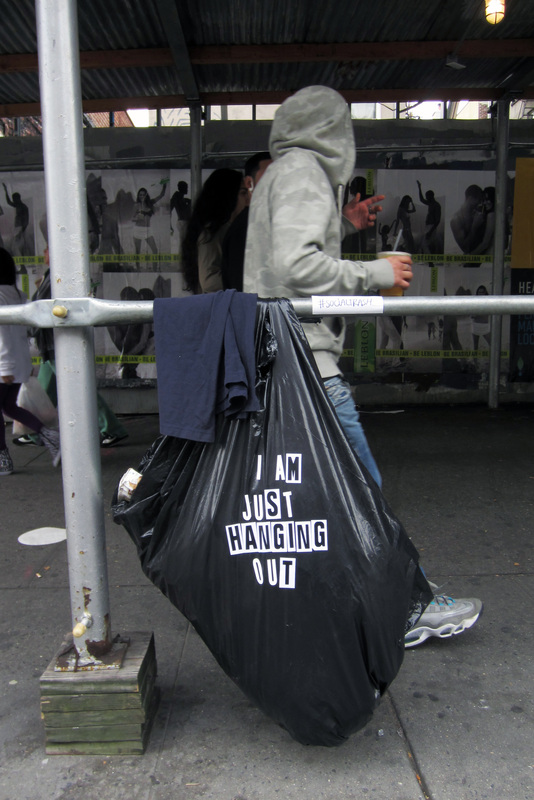 "Social Trash." Photo courtesy of the artist.
What is social about trash? 
I believe that what is social about trash, and the reason why I call these series "Social Trash" is because trash is produced by this consumerist society that we are part of, we buy things because we like them and then we throw them away because we no longer like them and/or because the product has already been consumed. This being said, we are all making portraits out of the things we no longer want or need, and these still represent us, standing next to us on the sidewalk as we pass by in front of them.
What was the opportunity that AiOP's format offered?
First of all, I would say that the first thing that you get from AiOP and its format is their constant support since day one, both artistically and conceptually. Then this support meets interest not only from the AiOP staff but from the other participating artists, creating a community that truly believes in the existence of art in odd places, in blending in the artistic space with the everyday space. It gave my "Social Trash" interventions the opportunity to be exhibited were they were born and were they already existed. It allowed me to be a performer in society and a performer in the art world at the same time. Although I am just starting my career as an artist, I know that I will never forget the amazing experience that I had performing at Art in Odd Places.  Hopefully this will be the first of many!
Was there one memorable moment?  
Yes, this one night, I had already interpreted and labeled the trash and as I was photographing it, an old man approached me, asked me what I was doing and then he told me that I was not taking the picture from the right angle, that it should be shifted to the side in order for the action to be more evident and make more sense. I asked him if he wanted to take the picture and he responded "sure". I saw the picture that he took and yes, he was right, I would have never gotten such a good picture if it was not for the free constructive criticism and talent that you get on the street these days. This experience was an amazing lesson and reminder that we are not alone in this world and that we do not know it all.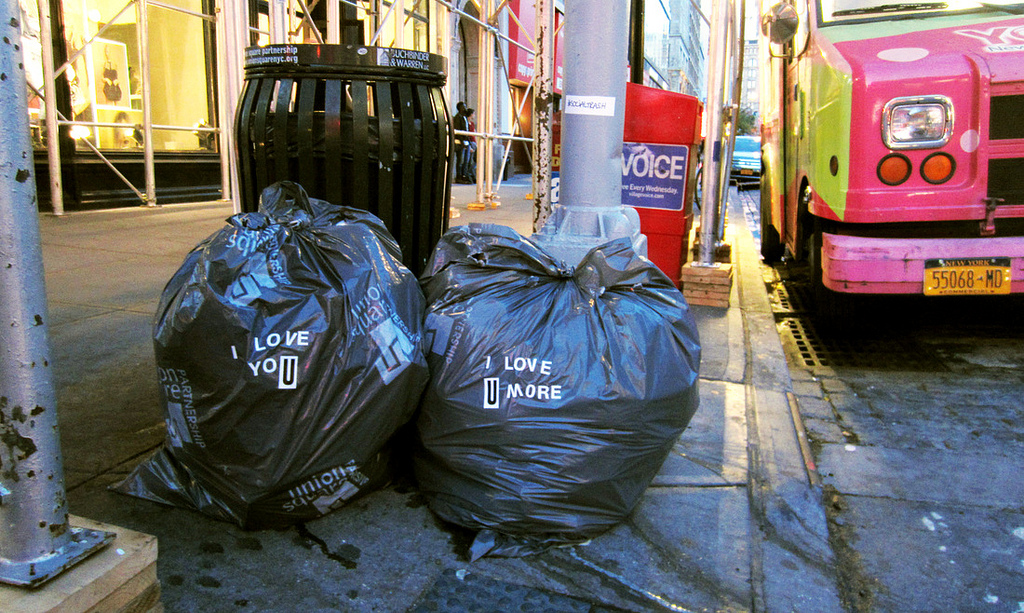 "Social Trash." Photo courtesy of the artist.
Anything else you'd like to add?
I would like to thank again Art in Odd Places for existing and for allowing me to be part of this year's festival, it was an awesome and unforgettable experience. Here I learned that even if you are an odd artist who makes odd art, there is still a place for you: Art in Odd Places, THANK YOU!