By Matthew Morowitz
On Saturday, September 13th, 2014 Governors Island became a new site in Art in Odd Places's (AiOP) New York City legacy. However, this location did not see the unveiling of a festival, but instead displayed 10 years of public art and intervention. Art in Odd Places: The Artifacts was a look back at AiOP through its ephemera, organizers, and contributing artists. The organization Spontaneous Interventions (SI) invited AiOP to take up residency and produce this event in building 403 of Governors Island's Colonels Row, a house that SI has occupied since the beginning of the summer. An exhibition of assorted objects from festivals past was curated by AiOP's Curatorial Manager Claire Demere, while on its porch AiOP director Ed Woodham and past curators and artists held panels and workshops explaining AiOP's history and impact.   These public programs were in part organized and spearheaded by current AiOP 2014: FREE artist Meredith Degyansky.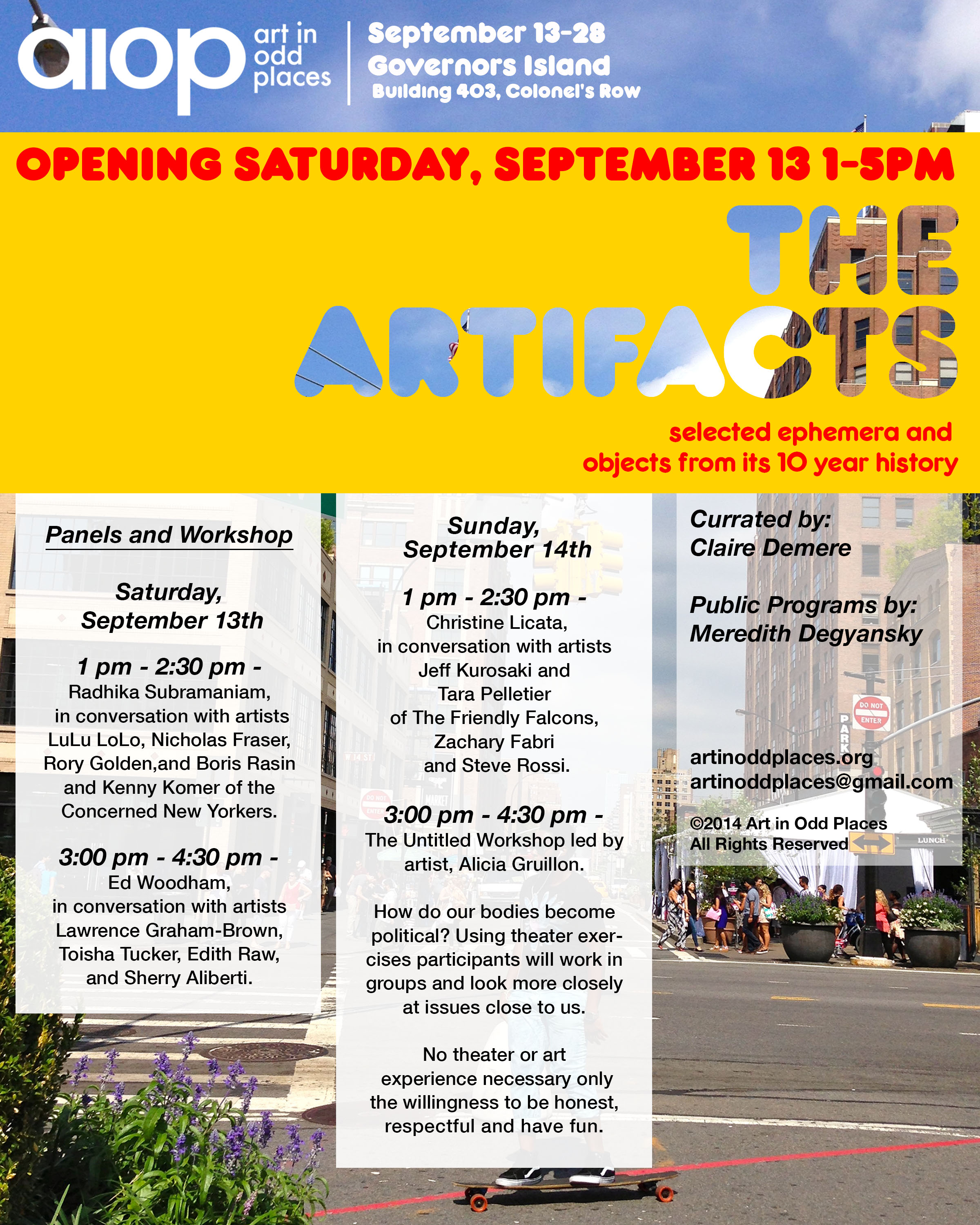 Art in Odd Places: The Artifacts flyer.  Image courtesy of Elaine Choi.
Below, Ed, Claire, and Meredith were able to answer some questions about organizing and participating in this event.  Art in Odd Places: The Artifacts will be on view through September 28th.
What was it like going back through the AiOP festival objects and projects from the last 10 years?
Ed: This is a small selection from the hundreds of AiOP projects over the last ten years and even so it's overwhelming. I'm astounded at how quickly ten years have flown by and how much has happened.
Claire: Overwhelming at first. We received so many submissions! Over 60 artists sent in prints, videos, and other artifacts. But the installation process soon revealed a subtle interconnectivity amongst these diverse pieces of AiOP history. Removed from the streets of New York, these works relied on each other for context and clarity. It was very exciting to see it all come together!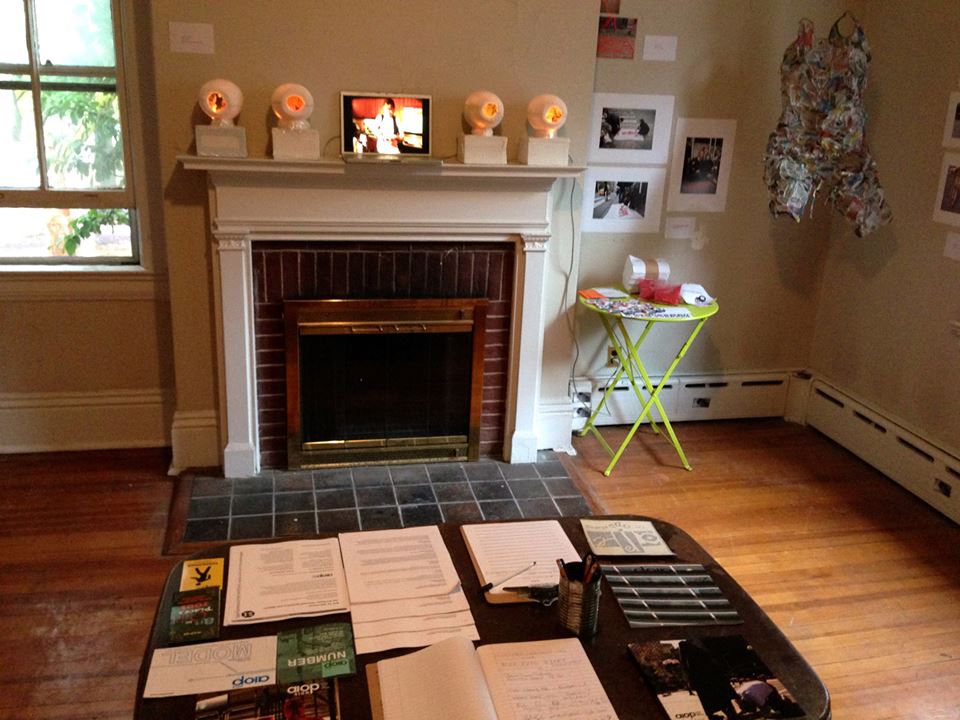 View of the exhibit.  Photo courtesy of Ed Woodham.
Meredith: As a person who has never actually been to the Art in Odd Places festival, I found it incredibly inspiring to see objects and ephemera from the past ten years. As artists and curators, we create a lot of work, and certainly over a ten-year span, but I think we were all taken aback to see it all together in a small space rather than scattered about 14th Street over ten years. It was actually a bit overwhelming but in a positive way – like how you feel when you ride your first auto-rickshaw down the bustling streets of Mumbai.
Did this event help change your outlook on AiOP as a whole?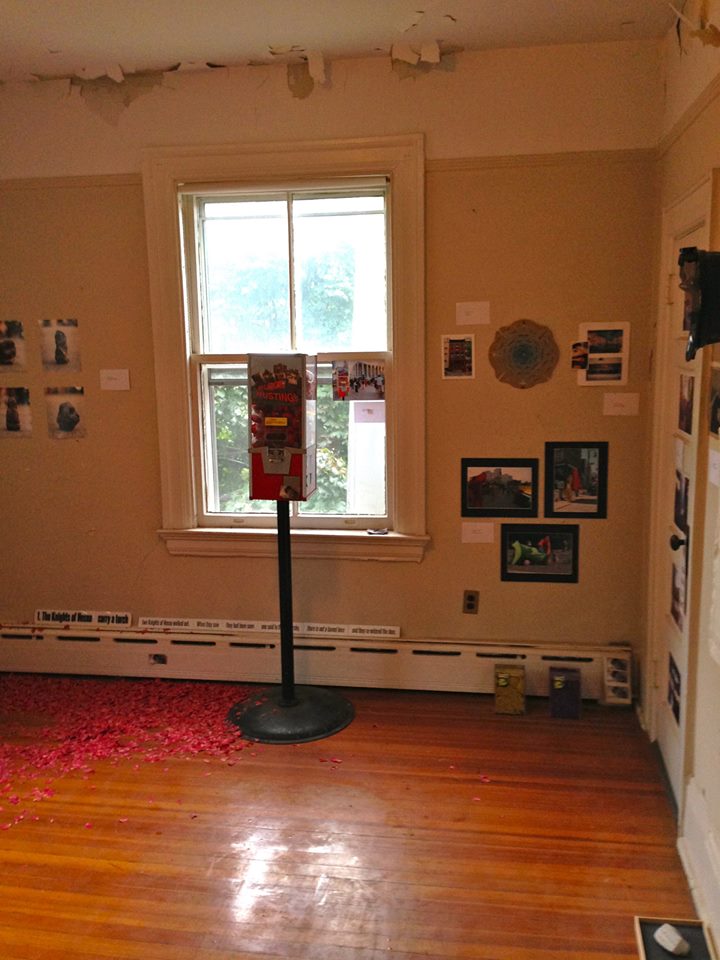 View of the exhibit.  Photo courtesy of Ed Woodham.
Ed: I look at this exhibit and I'm so appreciative of having the pleasure of collaborating with so many incredible curators, artists, and others to produce ten years of work. What an opportunity.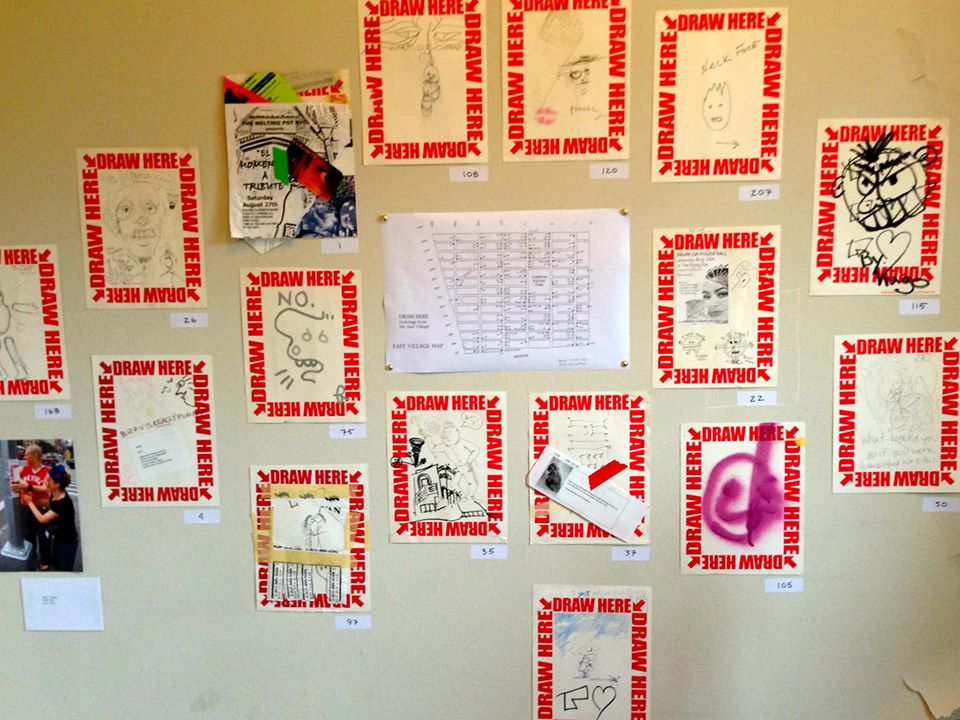 View of the exhibit.  Photo courtesy of Ed Woodham.
Claire: After three years working with Art in Odd Places, I thought I was fairly well-versed in its history. But it turns out that there was––and still is––so much left to learn. It was a privilege to have first-hand exposure to some of the most delicate ephemera from past festivals, and to really immerse myself in this organization's origins.
Meredith: Between viewing the exhibition and talking with the artists in the discussions held over the weekend, it definitely made me realize that AiOP has not only exhibited terrific artists in public space but it has truly established a community. New York is a city full of niches for specific artistic practices, where we get so wrapped up with being recognized in our own circles that we forget that other circles exist, AiOP is a space where all mediums and disciplines can merge together. It forces us off of our artistic islands to remember that New York is full of extremely talented artists of all backgrounds.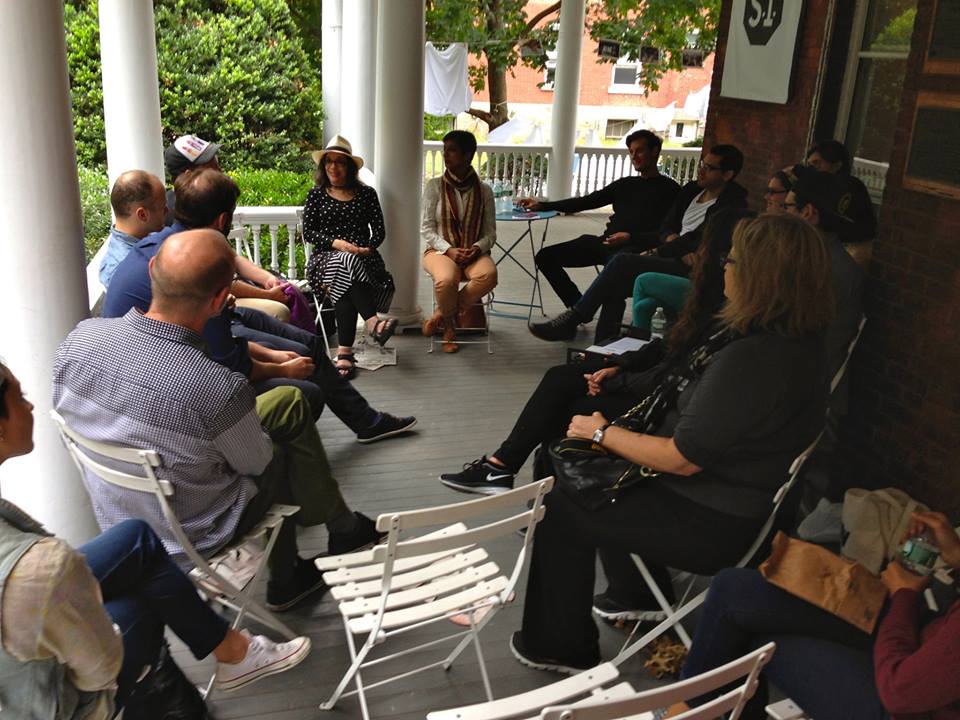 Panel discussion from Art in Odd Places: The Artifacts.  Photo courtesy of Ed Woodham.
What was it like for you to see the past AiOP artists and curators together on the panels?
Ed: It was interesting to hear them recount their experiences. The panels were reunions of sorts. It was gratifying to hear how Art in Odd Places is a benchmark for many of the artists and curators in the evolution of their work.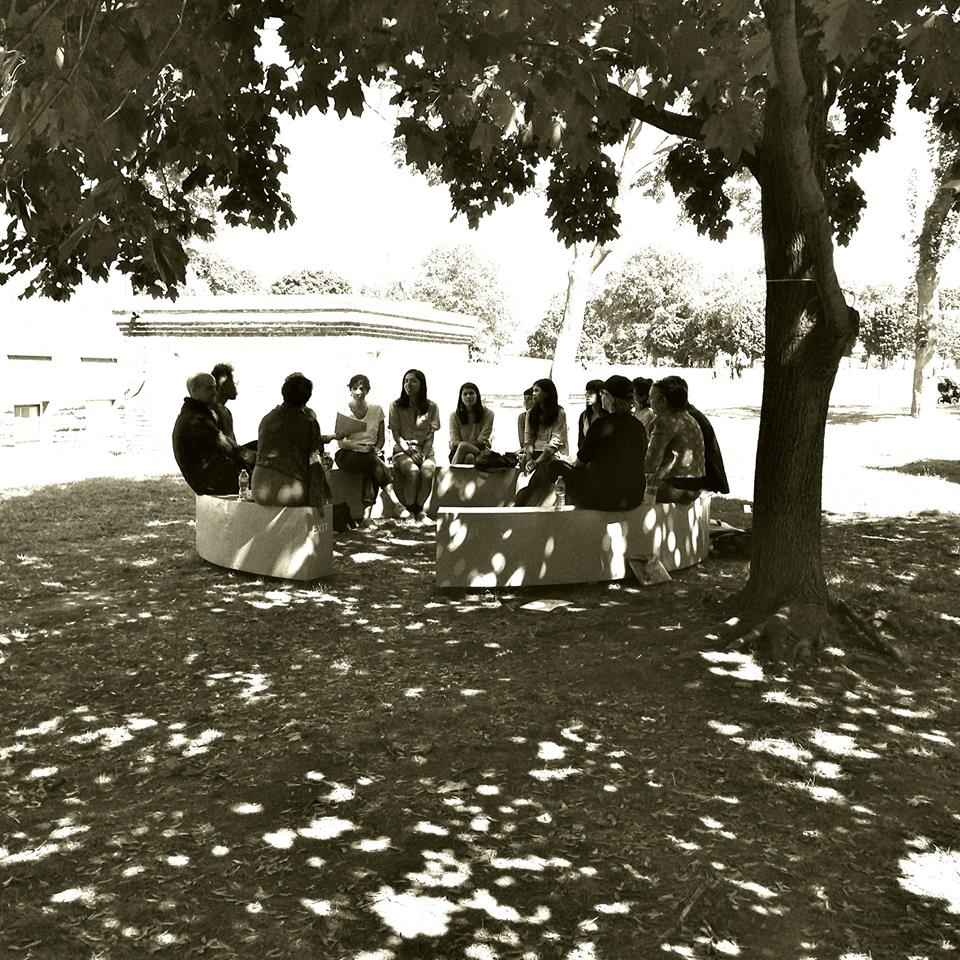 Panel discussion from Art in Odd Places: The Artifacts.  Photo courtesy of Ed Woodham.
Claire: The panels were a delight! They were expertly coordinated by Meredith. Each discussion was casual, yet simultaneously incisive and insightful. There is clearly a real synergy when AiOP alumnae are reunited.
Meredith: As an artist who has a project in the festival this year, a spark of excitement ran through me when I realized I was definitely going to be working with smart people. Everyone was so well spoken, thoughtful, and passionate. Moreover, the memories of the festival implanted in everyone who spoke made me anxious to create my own memories. Everyone also learned a lot about their own work by being a part of such a large festival in such a robust public space – I can't wait to hone more and more where I belong as an artist.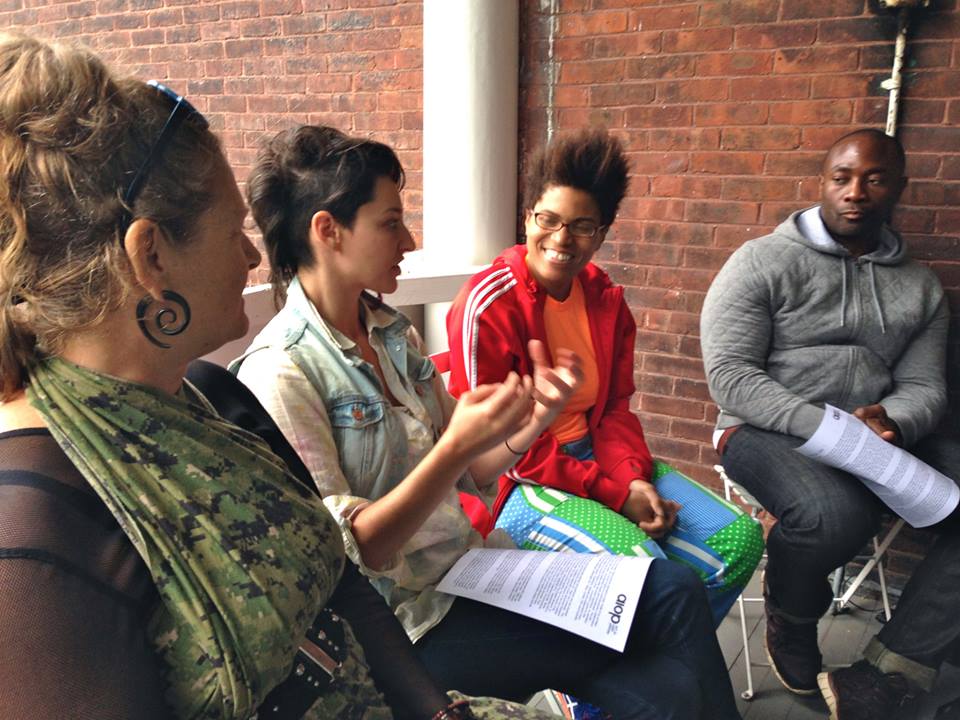 Panel discussion from Art in Odd Places: The Artifacts.  Photo courtesy of Ed Woodham.