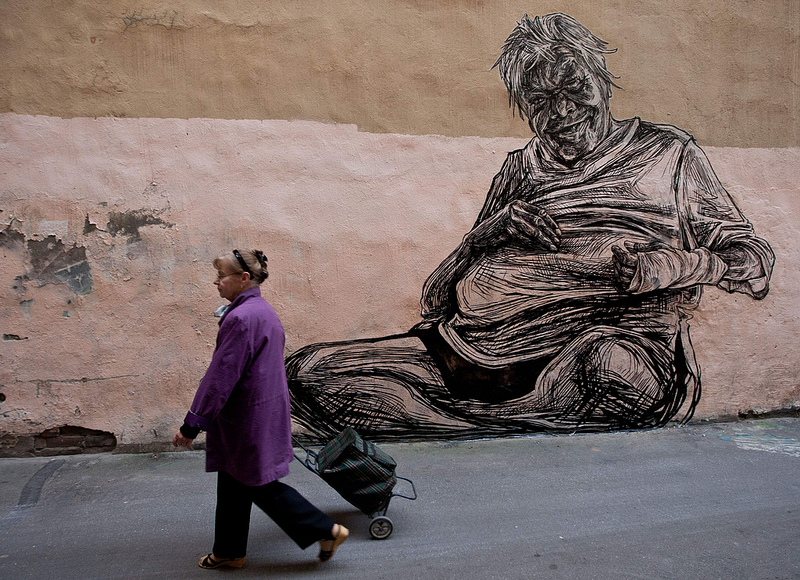 Ms. Bennett, Swoon. Photo by Evgeniy Luchinskiy.
By Matthew Morowitz
In September of 2012, a handful of American artists were invited to St. Petersburg, Russia to participate in the first ever large-scale festival for public art in the city, Art Prospect.  Although there have been other public art festivals in the city, Art Prospect differs from them in its size and location.  This four-day international festival was organized by CEC Artslink and co-curated by Ed Woodham, the director of Art in Odd Places (AiOP) and featured the works of seventeen American and Russian artists and art groups who "…share the desire to present art in unusual spaces, to cover a wider and more diverse audience…"
The projects, which included installations, video, performances, ephemeral objects, and other examples of contemporary art, were meant to attract the attention of the passersby, while at the same time relating to the spaces of Liteiny Prospect: the street, courtyards, cafes, storefronts, and facades of buildings.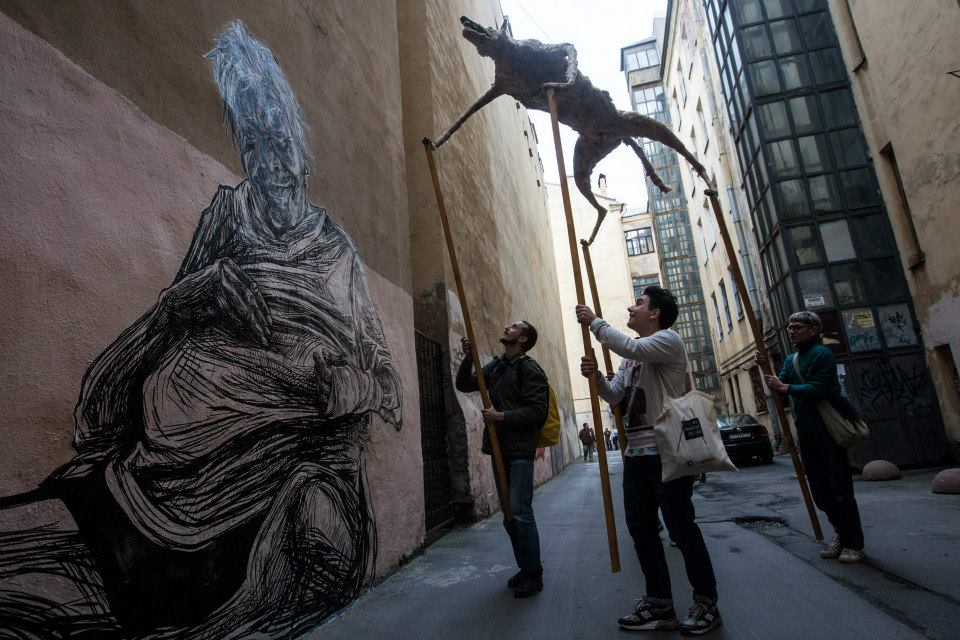 The Soap Group's "Dog" peeks into a window above Swoon's piece "Miss Bennet." Image courtesy of CEC ArtsLink.
Liteiny Prospect runs off of the main avenue of St. Petersburg, Nevsky Prospect, and the buildings of this avenue display an architectural feature that is particular to St. Petersburg: tunnel like passages that open into courtyards.  These courtyards are public spaces belonging to the city and function as community spaces for the residents and businesses of the people who live and work in the area.
Getting permission to do these types of works was one of the biggest challenges faced by the festival organizers; in Russia, putting together any kind of festival requires permits and approval from a number of departments from the city administration.  Since Art Prospect was the first ever large-scale public art festival attempted in the country, these governing bodies were wary about the kind of precedent an event like this would be setting.  Before the festival was even firmly set, CEC was in discussion with the city administration for almost a year, only receiving final permission and a list of courtyards that could be used one week before the festival's opening.
All of the artists involved in the festival were described by Susan Katz, the CEC organizer who was the driving force behind putting the festival together, as "generally wonderful to work with" and very flexible when it came to adapting their projects "given the difficulties of working in Russia and the need to make many last minute changes."  Over the last few months I corresponded with Susan, and talked with some of the participating American artists, including Ed Woodham, Nicholas Fraser, Terry S. Hardy, and Sheryl Oring, in order to gain insight into the overall experience of working in Russia and some of the public reactions to the pieces and performances that were presented.
Ed Woodham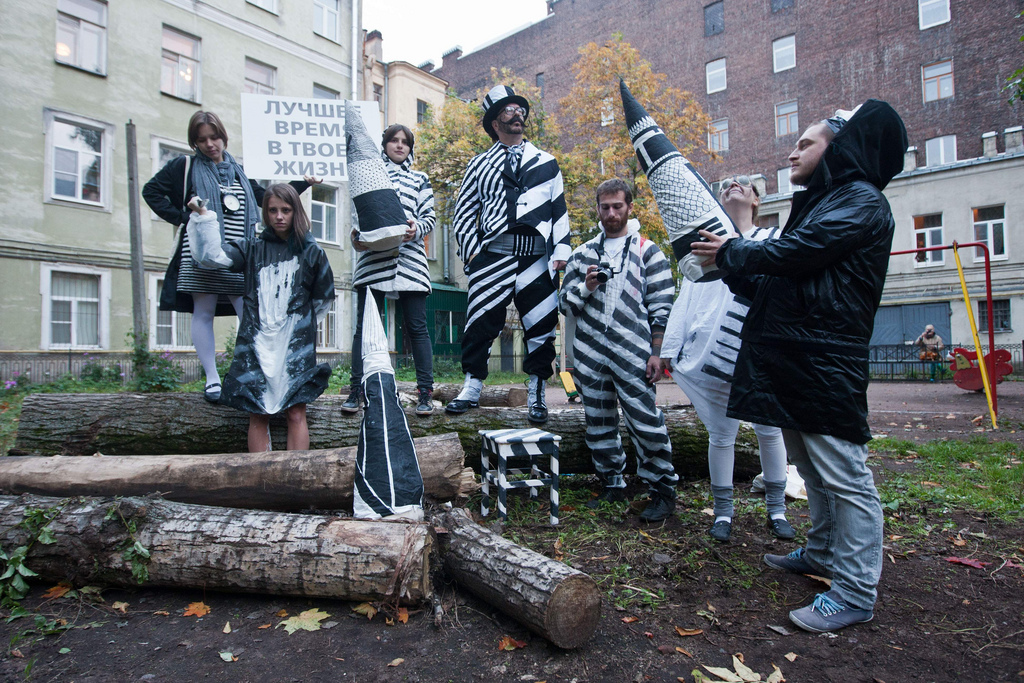 Strange Makings, Ed Woodham with Pro Arte students. Photo by Evgeniy Luchinskiy.

For Ed, coming to St. Petersburg was not only an opportunity to share AiOP's mission but also a chance "to create a subversive, gay expressionist performance as part of his Homopropoganda series."  Right before Ed came, Pussy Riot had just been imprisoned and the governor of the city declared being gay to be illegal.  Having heard this news, Ed knew he had to do something "for his own well-being."  So he took on the role of Fancy "a flaneur of sorts who was 'out' on the town," donning an outrageous costume, a wig, flamboyant jewelry and, with the help of Terry Hardy, crafted a photomontage of his character walking the streets of St. Petersburg and posing throughout the city.
On his excursion, Ed came across a plaza where artists were selling kitsch paintings and sketching tourists, so he bargained with one of the artists, the only one who spoke English, to sketch him.  The artist agreed, asking him, "are you a rockstar?" and "what's going on?" and as Ed was explaining he suddenly found himself swarmed by the other artists, who began to sketch him as well.  Ed became the epicenter of activity, as he was surrounded by all these artists who were sketching him, who were then followed by Terry photographing the scene and tons of Russian tourists gathering to see what was going on, creating "these concentric circles of modeling and observation."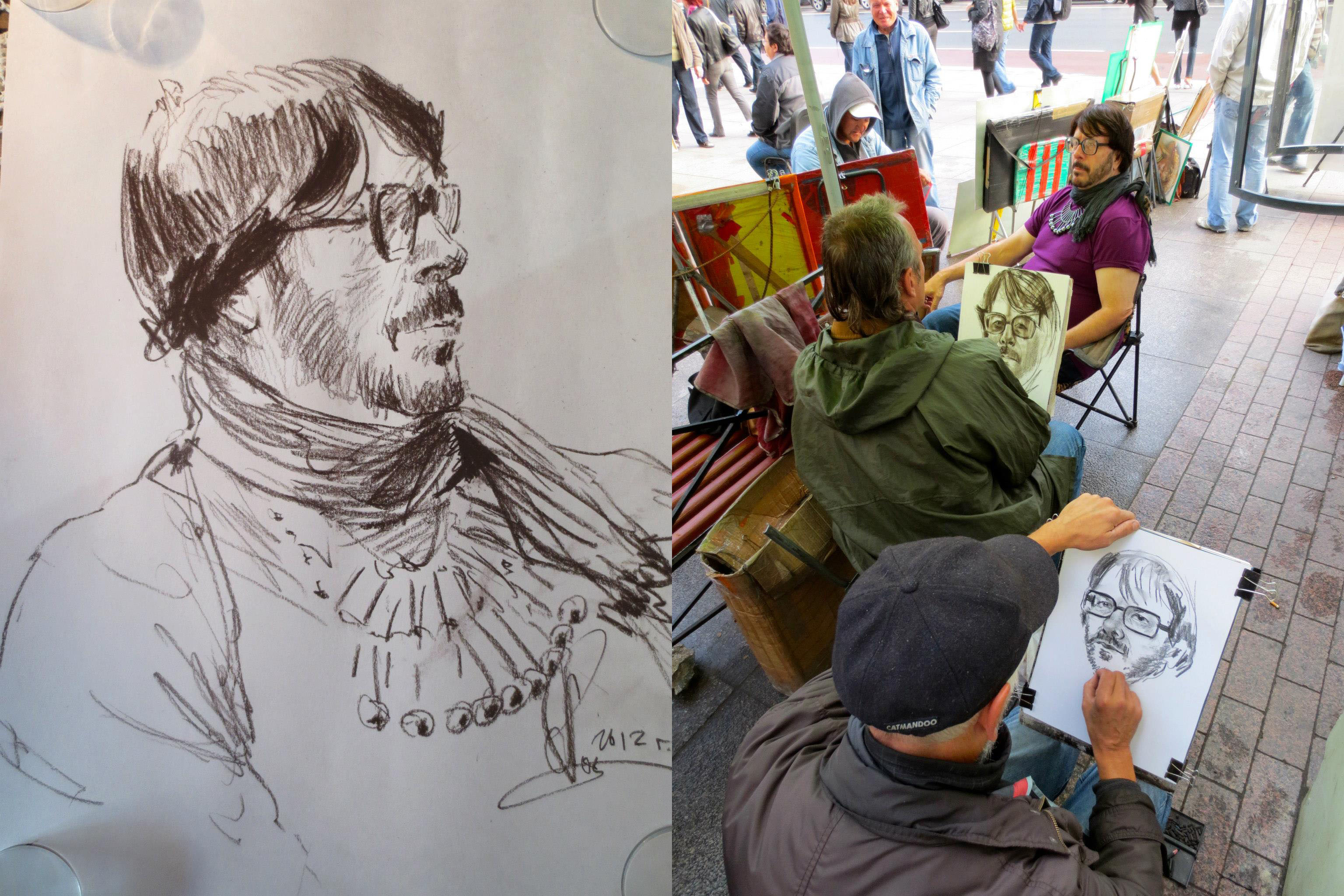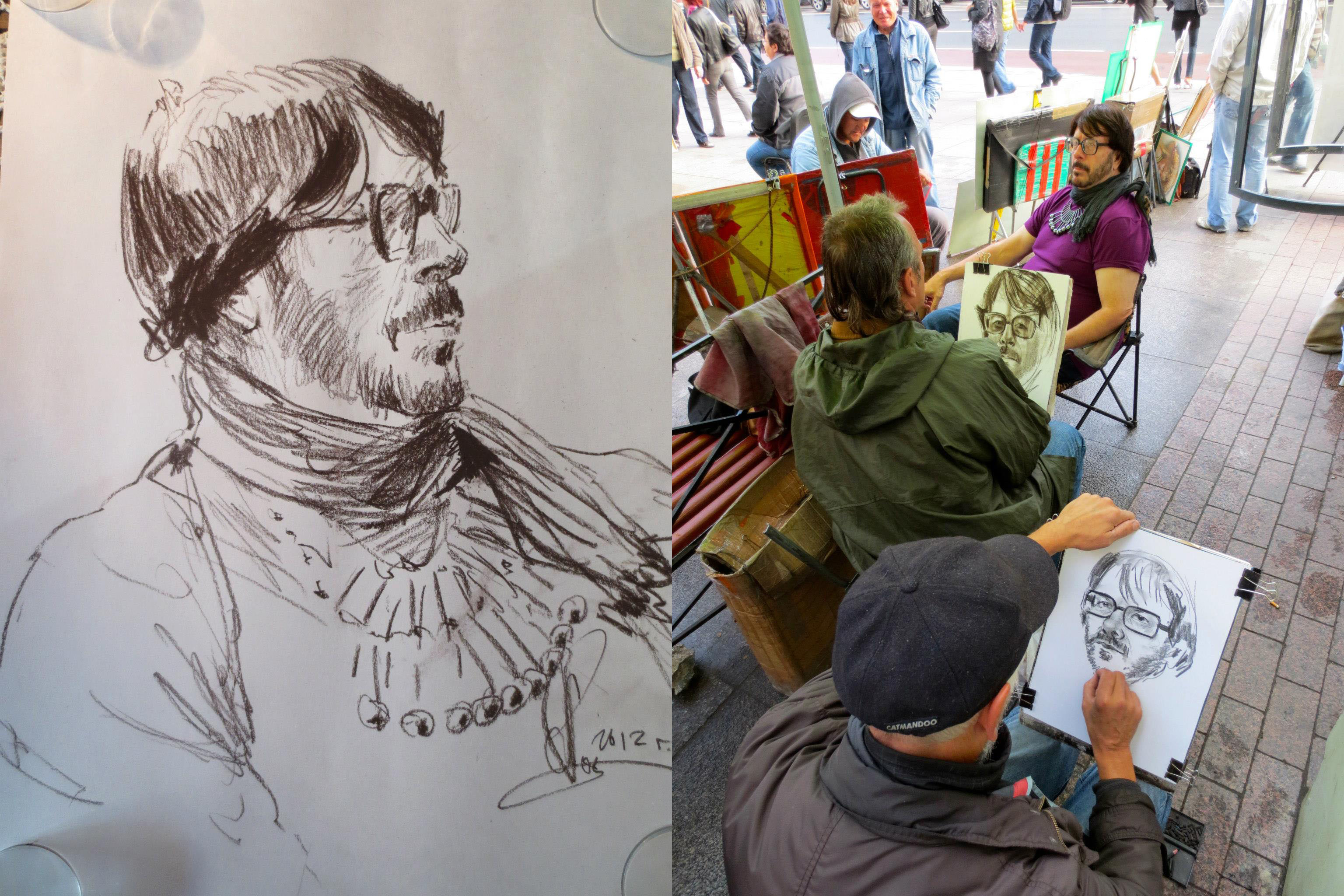 Sketch of Ed by Russian artist.  Ed being sketched. Photo by Terry Hardy.
Ed translated what he learned from his excursion through the city into his performance for the festival, which touched on ideas of modeling and observation in a storefront window on Liteiny Prospect and involved the participation of students from the Pro-Arte Foundation in St. Petersburg.  On the opening day, the courtyard near the storefront where Ed presented his piece became:
"…exactly what we wanted to create, people were surrounding us, photographers, videographers, because we were very visual and they were doing for us what we were going to do for them.  They were surrounding, documenting us, photographing us; we were modeling from the very onset.  We modeled and wherever we would stop people would surround and photograph us."
At this event everyone had a different way of working, drawing the attention of bystanders, photographers, and reporters from the national news, each of them taking pictures and video recording the actions.  In turn, these individuals were also being sketched and photographed by Ed and his students, "turning the play of who is looking at whom." While a black and white striped outfit was the required attire (Ed's garment was designed by veteran AiOP artist Gretchen Vitamvas), the students all took their own variations on the theme.  "One artist," Ed recalls, "had a black costume and balloons inside of her costume with paint and she had a knife and she would stab herself in certain points in the evening and the balloon would leak out white paint onto her black dress."
The next day was the performance in the storefront window.  The first impression Ed got from the observers was "a lot of stony, stoic faces" and as a result he made it his mission to "make them smile," something he managed to accomplish successfully as the performance went into full force.  The piece, which involved participants and observers viewing each other, became more slapstick and visually funny as people gathered outside of the window:
"It became comedic and it was great to see these stoic faces break down, everyone laughed, everyone smiled, and people gathered around us and we photographed, videoed, and sketched them looking at us.  Also two artists from Amsterdam, who are curating this festival this year took hundreds of photos of people looking at us revealing the passersby's expressions.  People were looking; from busses, on the street, [even] to people in cars honking, [they were] gawking at the spectacle in the window."
Nicholas Fraser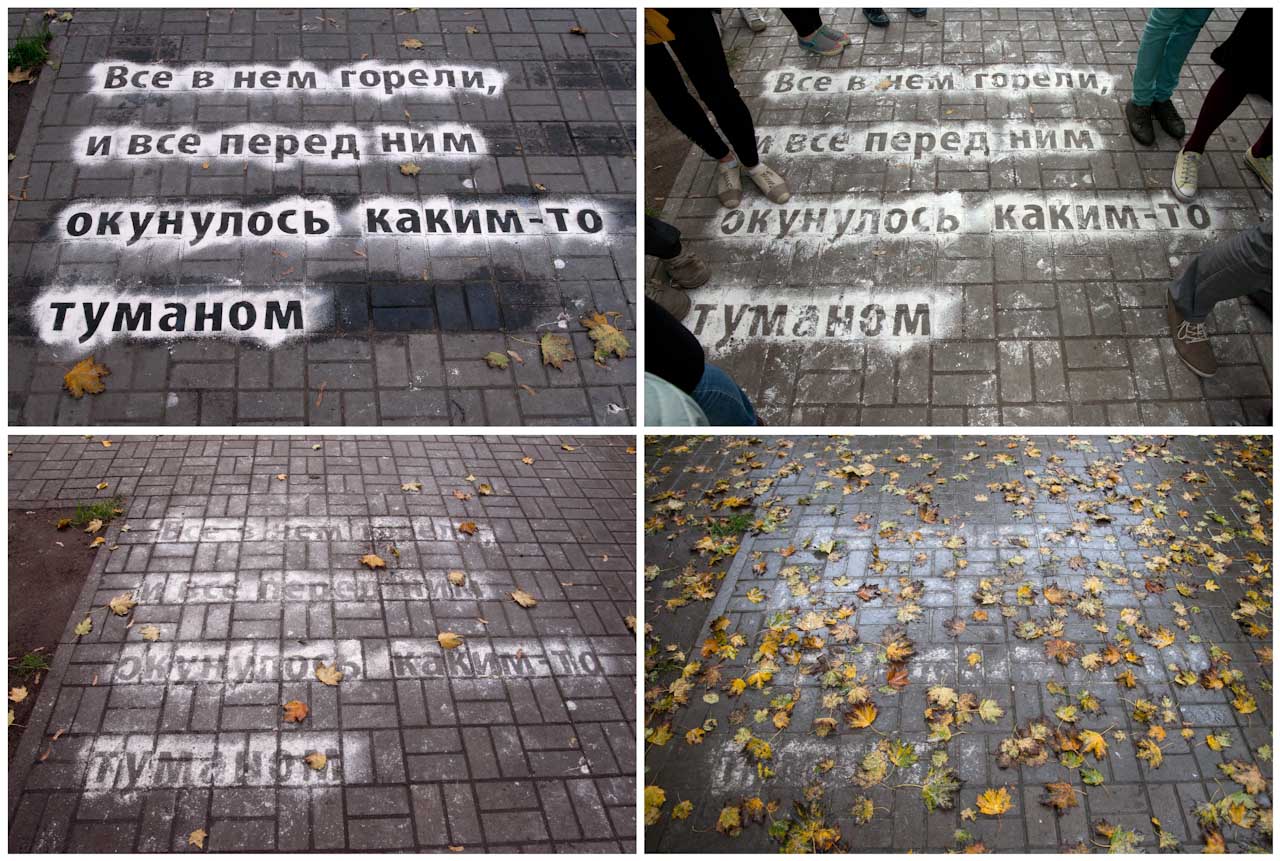 Photo courtesy of the artist.

Nicholas Fraser's project, titled "Nevsky Prospect," made use of text from a short story by Gogol, a classic Russian writer who is equivalent to Mark Twain for Americans.
As Liteiny Prospect runs off of Nevsky, Nicholas decided to use this story in a temporary chalk installation, breaking it down into 40 or 50 short separate bits of text that he and his assistants laid down on the streets and pathways of the thoroughfare and courtyards.  One of the biggest challenges Nicholas faced when putting this piece together was the logistics; not being familiar with where to obtain materials and even interactions with material manufacturers provided a challenge to him before his work was to be installed:
"If you're in a city that you're not familiar with and you don't speak the language you really become dependent upon the people who are assisting you and what they know.  There were a couple of days of just running around like crazy looking for the things that I needed, but we got it all just fine and it worked out.  Russia is a little different in terms of manufacturing services; I ordered these plastic letters for my piece and I had them cut in Russia, and I remember getting the order and I looked at the box and thought, 'this looks great, but it doesn't look like there is enough here.'  I did a count and I had exactly one of each character, and I had of course ordered multiples of them to make it easier and faster.  Over the course of the next four or five days with an installation looming, they trickled in from this vendor."
The reactions to his "Nevsky Prospect" piece were hard to gage as Nicholas doesn't speak any Russian and had to rely on his assistants to translate, but he was able to get a sense of what the observers thought based on looking at them:
"…it was everything from mystification, 'what are you doing and what is this and why is it here and this is art?' all those kind of questions, to people who knew the story and recalled the story and were very thankful of me doing this piece.  I had a lot of people thanking me wholeheartedly for this and for the larger project, because there were a lot of different works happening, a lot of different types of works, performances and things like that. "
Terry Hardy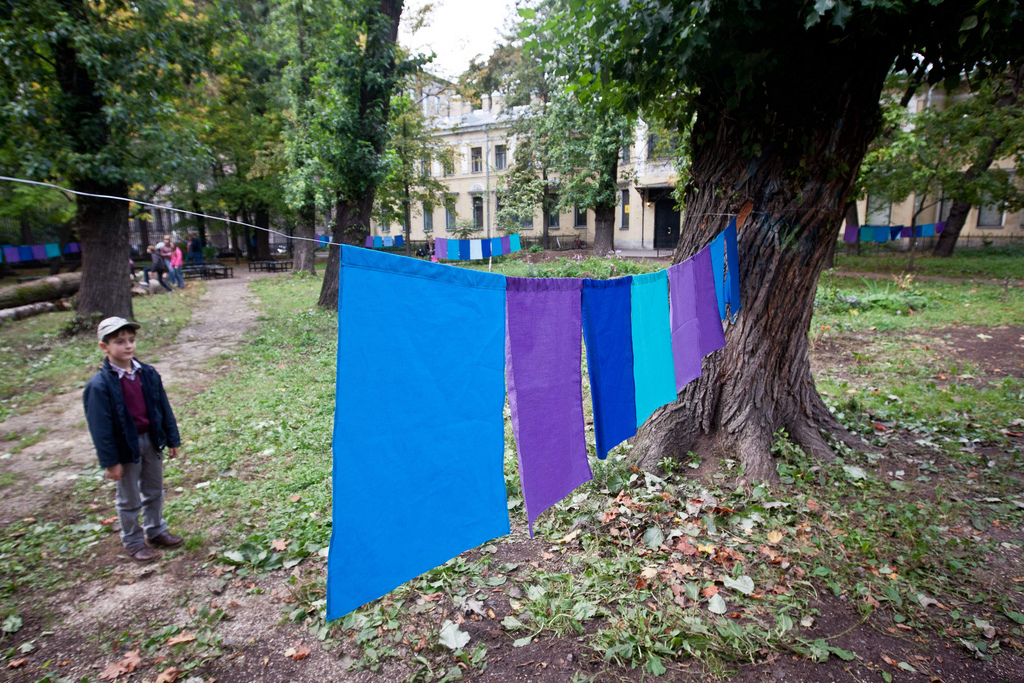 Blue, Terry Hardy. Photo by Evgeniy Luchinskiy.
Terry Hardy's installation, titled "Blue," took advantage of an old courtyard off of Liteiny Prospect.  The idea behind this installation was loss and it involved blue flags/banners that were set up fencing an area of the courtyard.  These flags were embroidered with about twenty words from an Alexander Pushkin poem that Terry had found the most striking.  Although not the first time he had produced a project of this kind, every time Terry does a fence/banner project he finds the whole experience to be very emotional, and his use of Pushkin's words in this particular case had a very directed effect on the emotional involvement of the public observers:
"The words were very somber, it was not a happy, uplifting wonderful piece; one of the older residents came down and asked my why did I pick such sad colors for such a beautiful time of the year, and once my assistant explained that to her and the words were very sad, and once she understood the Pushkin connection she was fine with it, as well that it was only temporary and wasn't going to be there forever.  Everybody else was very optimistic, some of the people have lived there their entire lives; it was very amazing."
By the end of the installation, Terry had found that the piece had an even more profound effect on the community than he had originally thought, even getting pleas from the woman responsible for managing the area and several residents to leave it up for a longer period of time.
Sheryl Oring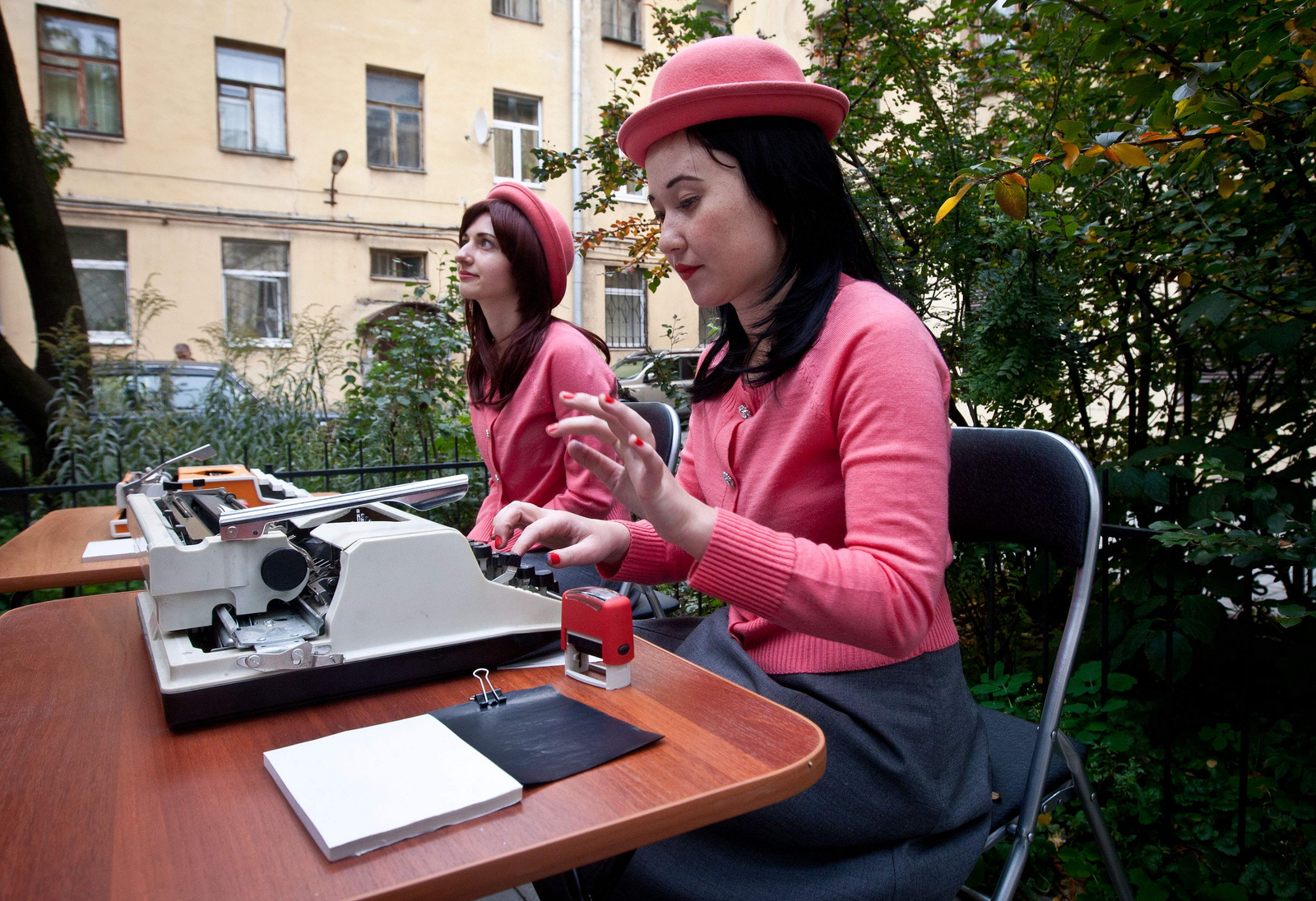 Role Model , Sheryl Oring. Photo by Evgeniy Luchinskiy.
"Role Model" was the title of Sheryl Oring's piece, which involved two Russian typists sitting at little tables along Liteiny Prospect and within the courtyards as they asked and recorded people's responses to the question, "what can Russia teach the world?"  Part public performance piece, part sociological survey, Sheryl "found a really willing audience and a very broad based audience" during the run of her work, encompassing participants from a variety of backgrounds, including "some art folks who knew about the festival, but also grandmas that lived in the apartment complex next door."
The most difficult part of this piece for Sheryl were the logistics, as she was unfamiliar with St. Petersburg and only met the typists she would be working with when she arrived in the city:
"I had never met the typists before I went to Russia, I'd never seen pictures of them and I had to try and figure out what they would wear ahead of time and I had no idea what size outfit I would bring to them.  When I got there it turned out I brought a couple things and nothing really worked, so on the spot I needed to figure out where to look for the things, I don't speak the language, how to get from here to there, all those really practical difficulties, but fun in a way as well.  One of the biggest challenges was not knowing the landscape and having to figure out quickly what the possibilities were and how to work."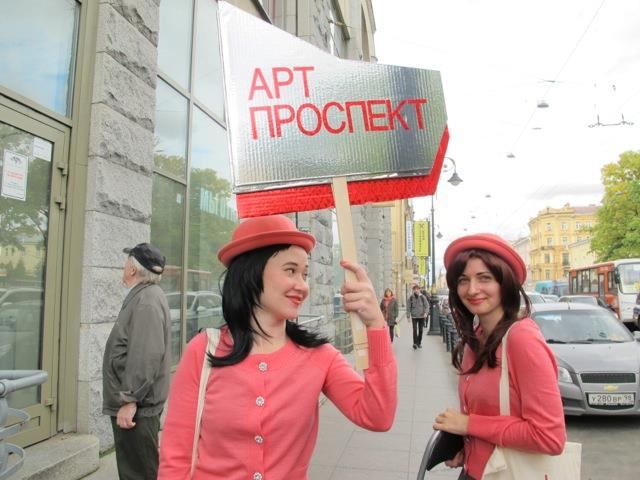 Photo courtesy of CEC ArtsLink.
Despite the logistical setbacks in the beginning, the project was executed successfully and the answers Sheryl received not only helped her get a sense of the socio-cultural atmosphere of Russia (at least from the perspective of the citizens of St. Petersburg), but also gained some unexpected insight into the resilience of the Russian people:
"The answer I will never forget from this question was 'Russia can teach the world how to be sad;' it was so deep and profound and in a way it was touching to see the dignity people lived with, through a lot of war and a lot of difficulty and violence in their own country and how people live today still with that history is quite amazing."
The success of Sheryl's project in Russia has influenced her to continue with this idea, examining the reactions to the same question in different cultural contexts:
"I just did the second performance of this in Brazil, in a very different context.  The work in Russia spawned a series of new performances that are taking place in different parts of the world."
Future Prospects
Overall, the festival was well received and the responses to it helped solidify the success of the experience.  "Most of the public reactions were positive," remarked Susan, "there were a few cranky residents who were not happy to have artists milling around their courtyards, but most people seemed to enjoy the objects and performances."  Ed and several artists also participated in a panel titled "Art in Urban Spaces: New forms of cooperation with society," held at the independent art space, Etazhi.  The panel focused on presenting art in the public sphere; during the panel, Ed discussed AiOP, its mission and its festival, while the other participating artists talked about their works and how they relate to the topic.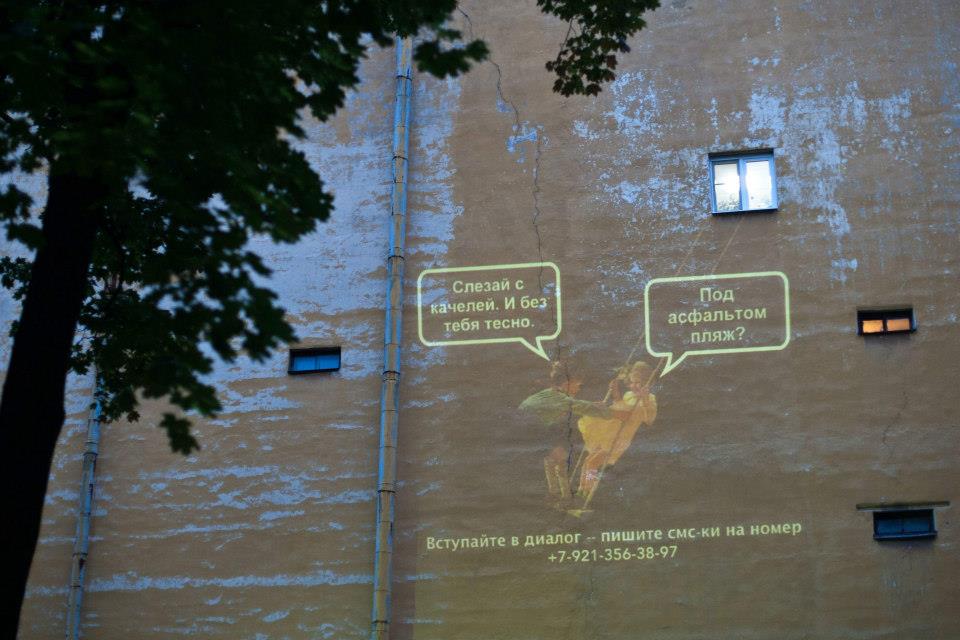 Paul Notzold's "TXTual Healing" allows viewers to text phrases to be inserted into the dialogue boxes projected on the building wall. Photo courtesy of CEC ArtsLink.
As for the future of the Art Prospect festival in Russia, everyone generally agrees that the success of this festival has helped to set a positive precedent that will help break down barriers and reduce restrictions that might arise when organizing the next one.  "In the future I know it will be so much easier for them," Terry remarked,  "and of all the Russian artists that were involved, we realized they were pretty important locally.  Now that it's all said and done and we've done our research, we realize there were some pretty amazing people there that put a really wonderful show together."
More images of the festival can be found on the CEC ArtsLink Facebook page and the AiOP Flickr.