By Matthew Morowitz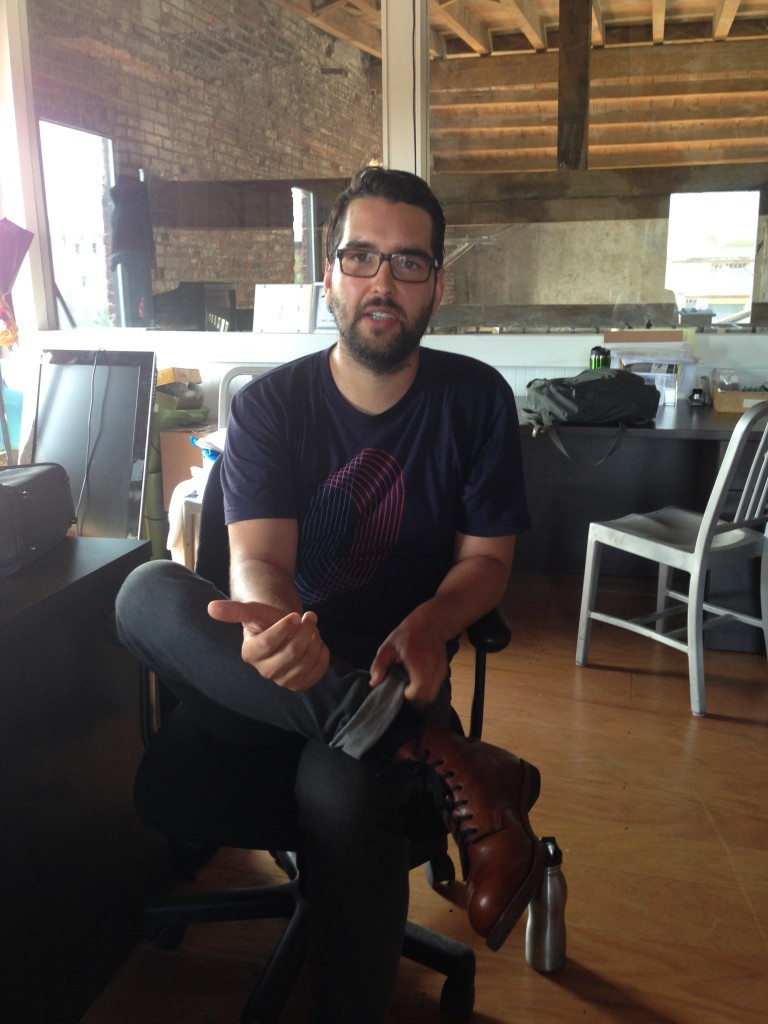 Cooper Holoweski.
In late July, I had the opportunity to see Cooper Holoweski's Cannibal Universe at Pioneer Works in Red Hook and speak with the artist about his works.  Art in Odd Places had come across Cooper, who was part of the arts nonprofit NURTUREart, about 4 years ago when we covered them as part of our "Guerilla Academia" series.  Pioneer Works gives this description for Cannibal Universe:
"Cooper Holoweski's Cannibal Universe, on view in Clocktower's third floor Cove exhibition space, borrows from scientific theory, religious mysticism, and various world mythologies. It explores self-reflexivity and recurrent patterns in astrophysics, biological evolution, spiritual reincarnation, and other realms. Each loop is a hybrid of digital video, stop-motion animation, and computer modeling; while there are moments when viewers may lose themselves in the imagery, the raw materials and means of construction are always apparent. Cannibal Universe is Holoweski's spiritual manifesto, reminiscent of Manly Hall's Secret Teachings of All Ages or Johannes Kepler's Harmonice Mundi, except made with cardboard, duct tape, and Photoshop."
Cooper was affable, albeit a little sweaty from biking to our meeting from his home in Bushwick.  We discussed his background, his inspirations, and how he came to make these works.  He explained to me how ideas relating to time and spirituality plays in these works, with the name derived from a belief in the cyclical nature of the universe.  All of this was translated through video work that focused on mundane objects in extreme close-up, green screen, and other effects that made them appear as though they were something else or very unlike their original forms.  Below is my interview with Cooper.  Cannibal Universe is still on view.
This project would not have been possible without the support of Clocktower Productions, who were the ones that originally reached out to AiOP about it.  Clocktower is "a non-profit art institution working in the visual arts, performance, music, and radio. Founded in 1972 in Lower Manhattan by MoMA PS1 Founder Alanna Heiss, Clocktower is the oldest alternative art project in New York…" The organization supports multidisciplinary art projects all over New York City and maintains creative collaborations with other arts organizations and exhibition spaces.  While their permanent administrative office is on East 41st St. in Manhattan, they also maintain a satellite studio at Pioneer Works in Red Hook, which is how Cooper's work came to be staged at that location, following a residency in their Manhattan offices.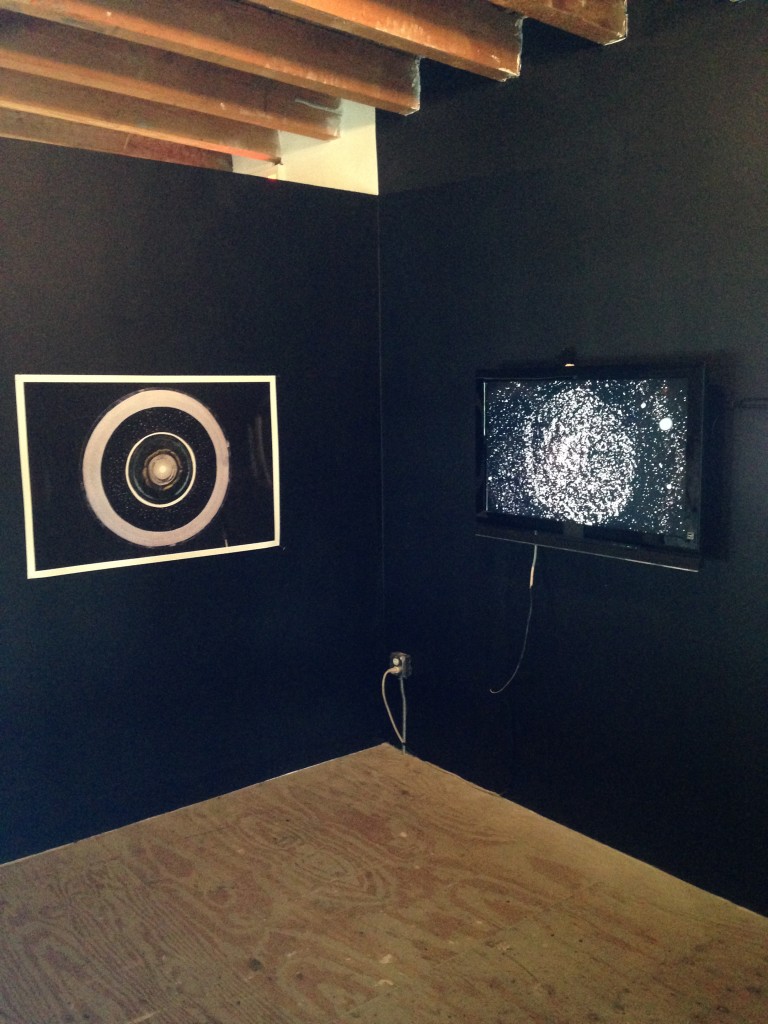 "Cannibal Universe."
Tell me about yourself? When did you get started? When did you come to NYC?
I grew up in metro Detroit and I lived in Michigan for a long time.  I think there was a definitive line in undergrad; I was studying political science and studying art.  I was interested in political science, but I just realized whenever I had free time I was just making art, I wasn't doing research for social sciences.  Something kind of clicked in my early twenties, I have a lot of different interests but, if I'm in a neutral zone, I'm always going to gravitate towards making art.
I traveled for a while after undergrad, worked a bunch, and went to grad school at RISD and did the Skowhegan residence after that and then I moved to NYC because I had a million friends in NYC at the time.  Half of the people in my class from Skowhegan were from NYC, it makes it really easy to come to a place like this when you have an instant kind of network of people.
Why did you choose to go to graduate school? How did it influence your practice?
When I went to grad school, I was really looking for a critical discussion about art and art history.  I got that; I got a lot really phenomenal critical feedback from some great teachers. It made me really think about every gesture that was going, every choice that was going into the work I was making, not just "is this a 2D object or a 3D object?" but everything from materials, to every sort of verb that can go into making a piece of art, which is also a very conscious way of making art, but at some point can also be really cumbersome.  After grad school, I did this residency in Skowhegan, and it was an environment that was really conducive to play and really conducive to a more intuitive way of working.  It was just what I needed; it was the perfect antidote to the indoctrination of a grad program.  Both had their merit and rounded me out.  Then I came to NYC in 2009.
How did you get involved with Clocktower?
I actually met Alana through my job, [I'm] the studio manager for Laurie Anderson.  Alana and Laurie have a very long history.  Through correspondences with Alana, we just became friends.  She's someone who really puts her money where her mouth is, someone who just doesn't give lip service to emerging artists.  Offhandedly, I would talk about my work and she would say "Oh I would love to give you a studio visit." People say that all the time, and it happens or it doesn't happen, but she was really sincere.  She gave me a really wonderful studio visit, was brutally honest about some work and really glowing about other work, and has been a real ally and champion for my work.  I did a residency with the Clocktower Gallery last summer when I was developing some of the work, and we talked about doing a residency here because they recently relocated to Pioneer Works.  The piece that I was making I really needed a view of the city, so I kind of mentioned that to Alana, half-knowing that they had this administrative office in Midtown at the time that had this really beautiful view, and I knew they had this empty office.  I was very gracious, and very flattered, that they were interested in providing me with a residency, but also asked "what if I do [in Midtown] instead?" and Alana was super cool with it so that's how it worked out.
Can you tell me a little about the work at Pioneer Works?
This show came about from that residency, as it was a great opportunity to showcase some of the work I made during that time.  It's a large body of work, and some of the work I shot during that residency is part of that work.  The title of the work is called Cannibal Universe, about these different kind of cyclical narratives that exist in the world, or in the universe, that I sort of believe to be true.  I say sort of because I do believe them to be true, but I also question my belief in them and where that comes from, and that's also embedded in the work.  In the piece that I made during the residency, there is this rock floating in space; it starts from the big bang, this matter forms, it turns into this rock.  Then it's revealed this rock is just sitting in an animation booth surrounded by green screen.  You pull back even farther, and the rock is just in this office overlooking the city.  It pans back from there and the rock turns into the earth, and it becomes this cyclical thing.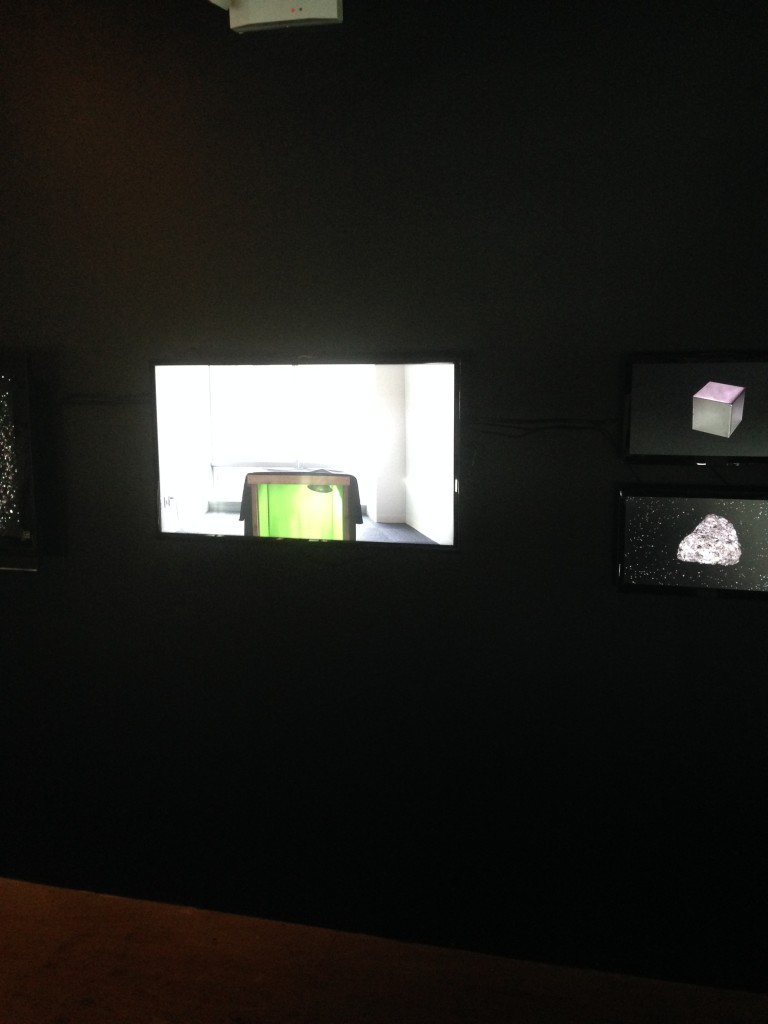 "Cannibal Universe."
Why video work?
Each piece has some kind of depiction of some progression through time; one of them is the beginning of the universe to the end of the universe.  There's a piece that depicts some kind of evolution, whether be it through material works or some kind of spiritual evolution. So there is this implied passage of time.  I think video and animation become the most appropriate way to depict something like that.  When I think of other ways of depicting that, they become very diagrammatic, and I think the best way of depicting it is through some sort of time-based media.
Tell me about the works in this residency.
This one on the far left is the one I was talking about, the beginning of the universe and the end of the universe.  There's the fact that the universe is expanding at a continuously slower rate; although I guess that's sort of debatable too, some people say it's speeding up, some people say it's slowing down.  There's this running theory based on the expansion slowing down that it's eventually going to slow down to a point where it's going to stop and it's going to start to contract and come back in on itself.  I kind of like that idea, that theory's called The Big Crunch. In this piece, there's like the crunching of aluminum foil.  The other thing you'll notice is all of this work takes on some of these really ambitious, big topics, but it's all very pedestrian materials.  Like what we're looking at right here is an ink drop in water shot from below in a mason jar.  Once you start really checking it out, you can see the 4-0 from the mason jar, the outlined rim of the mason jar.  There's points in these pieces where I think there's transcendence, where you get past the materials so you're able to get lost in them.  Then I think immediately the materiality of it rears itself again, and that's an important thing that happens in all these pieces.
Is it important for you to work with a physical material as opposed to digitally?
Yeah, there are a couple of reasons for that.  One is the pure joy: I have to sustain myself making art, I have to sustain my practice, I have to keep finding enjoyment in it.  I find if I am doing too much work on the computer, I get really burned out.  I find it unnerving and exhausting in a way that is not fully gratifying to me.  I know just for my own sanity and gratification, I need to work with objects and materials.  I don't want to just situate the work in a hypothetical space; what we're looking at now, this is kind of like a black hole, this is the beginning of the contraction of the universe.  It's just coffee grounds that are going through a sieve, it's literally a Chemex pot shot from above.  Then it gets digital, and there's this digital array that comes into these stars.  It's important that I think it's situated in reality, some kind of materiality in the works so it's not just a hypothetical thing.  The next step of that, it's important for me that they're very approachable materials; as sincere as all of this work is, it should be viewed with a level of skepticism too.  I'm not trying to make a didactic manifesto about how the world works, I kind of am but am also willing to look at that with a sense of humor or doubt. There's an embedded self-doubt in it, and I think it comes through when you have materials like aluminum foil or duct tape and cardboard and things like that that you're using.
Why time, why this large topic?
I think you can yank some sort of angle of spirituality out of any art that anybody makes, but I've tried to avoid that overtly in my work for a really long time. I think it was time for me, I just felt inspired to work in that capacity.  I got really inspired by this theologian Robert Fludd; he was a contemporary of Johannes Kepler and he becomes a footnote compared to Kepler because Kepler's theories were much more based in scientific fact, and Fludd was interested in Christian and other religion esoteric traditions.  In a very self-aware way, he let spiritual beliefs kind of cloud these books and these theories that he wrote about how the universe works.  Kepler's writing in a way that's like, "Copernicus discovered that the earth goes around the sun, so I'm going to depict this model of the universe where the earth and other planets revolve around the sun," science had proven that at that point.  Whereas Fludd is, in a pretty self-aware way, regressing in a Ptolemic model of the universe, where everything revolves around the earth and part of that is because we're on earth and the guy who's making it is on earth.
Both Fludd and Kepler were working on these naively ambitious volumes of books that are like "this is how everything in the universe works, this is how astronomy works, this is how physics works, this is how our bodies work, this is how politics work…" I don't know how self-aware Fludd was, but he must have known, at this point it was well-established, some of the physics and science behind how the universe worked, or at least how our solar system worked, and he willfully was going against that.  I think there's an acknowledgment of subjectivity in that.  I was inspired by both of these guys; it's a really sort of stupid idea to try and make a volume of books that contains all the knowledge in reality, it's a stupid idea, it's naively ambitious, but I also find it really endearing.  I think Kepler went at it full steam ahead and there's an earnestness to that that I really like, but I really find Fludd's approach a little more charming because he's willing to acknowledge his subjectivity in that.  I started researching both of these guys and the fissure between them, and I got really taken with the idea of trying to make some sort of spiritual manifesto that covers everything, there's something really endearing and stupid about that.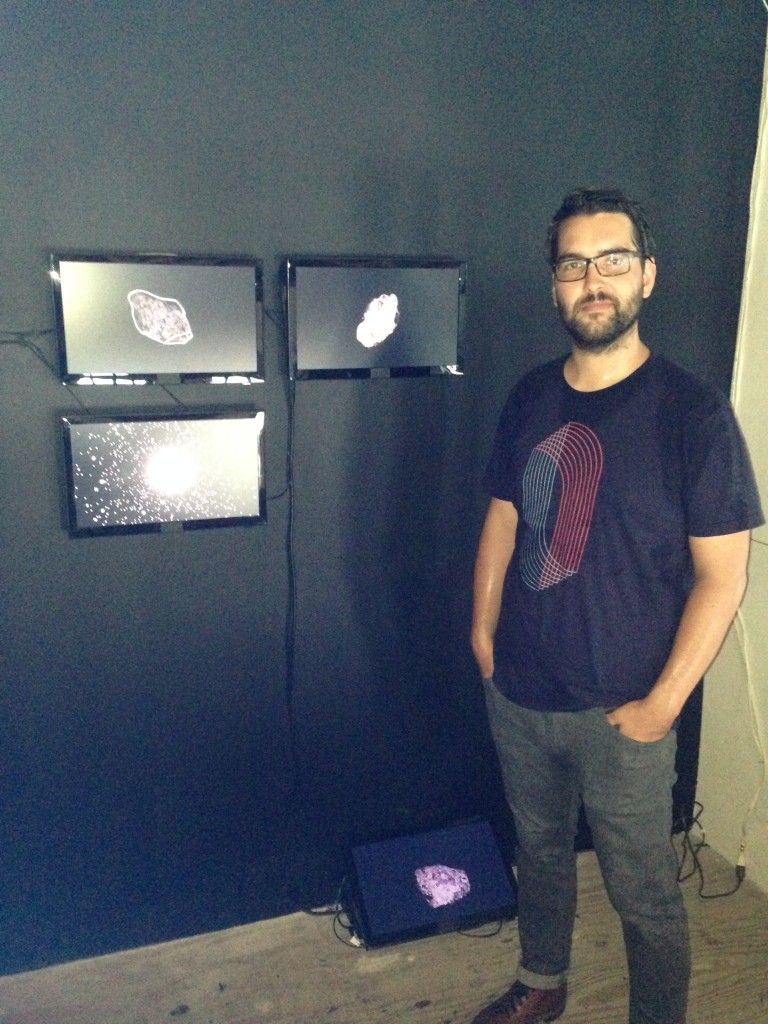 Cooper Holoweski in front of "Cannibal Universe."
Are these works here the first iteration in a spiritual manifesto you want to try and create?
I think this series of works is something that will continue.  I found my pattern is to take a body of work and work with it for about five years and transition a bit, but I can work on this body of work for the next 25 years.  Not to say there won't be breaks in it or other projects that happen, but this is the first public iteration.  I've shown fragments of it in studio visits, but I think this is the earliest chunk of it that I'm comfortable putting out into the world. In an ideal world, there's like hundreds of monitors and sculptures and books and prints, it's a big, massive sort of thing.  Given the subject matter, I'll never run out of stuff to make work about.
What does the future hold for you? Do you have any upcoming projects?
I'm continuing to work on this Cannibal Universe piece.  My family and I are getting ready to move to Detroit for a while; we're going to give it a year to be around family.  My wife and I are expecting our second child so we're excited to have the support of family around that.  I'll be teaching there, which is exciting.  I will be teaching at Wayne State University and the University of Michigan.