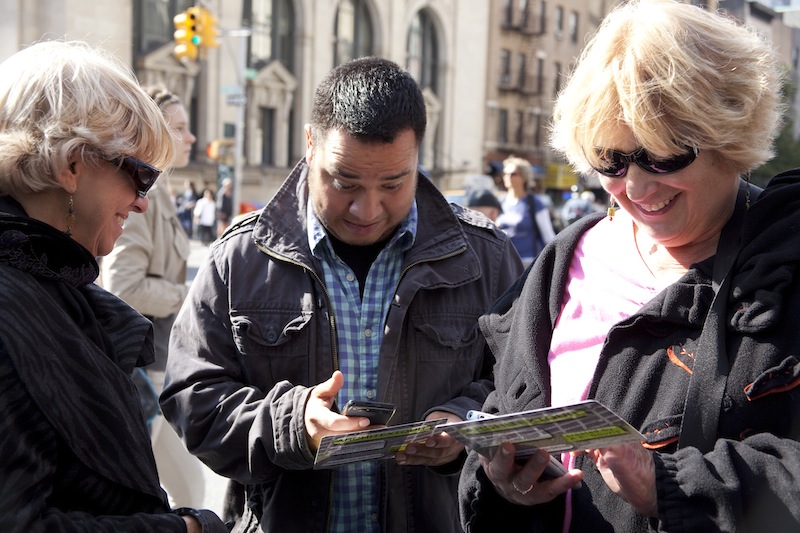 "Architextour." Photographer: Meredith Goncalves.
Had you worked in public space before?  How was this experience similar or different?
Yes, I have worked in public space before–previously, I had produced site-specific storytelling projects set in the Garment District and Wall Street neighborhoods of Manhattan. My experience designing Architextour, a text message walking tour of 14th Street, was both similar and different to these previous projects. I found that researching the history of the neighborhood, crafting a larger narrative that would help us understand the space and walking around to test the project in multiple iterations to be the same process I used in my other tours.
But unlike these earlier projects, which involved audio and print media, I had developed Architextour as an interactive text messaging tour that required the participants to text numbers that they found on the buildings. So the tour was different from my past ones in two separate ways. First, I had to write the scripts using a text messaging format (short bursts of information that are no more than 160 characters), which I found really shaped the narrative in a specific way. Secondly, the design of the tour forced me to pay different–and very close–attention to the sites along 14th Street, since I had to include only historical buildings or sites that had numbers other than their address prominently displayed on them.
How did you adapt your work specifically to 14th Street?
I adapted Architextour to 14th Street by focusing on its geography to tell the story of the neighborhood's history and its role in New York City's development. Specifically, I found that 14th Street, a long wide crosstown street, literally formed a geographical and cultural dividing line between New York City's uptown and downtown worlds. This feature helped me shape the narrative so that the physical experience of the tour–walking west to east along 14th Street, visiting sites that symbolized these two distinct cultures–helped demonstrate how the area functioned as a borderland.
Was there one memorable moment?  
My most memorable moment happened during the second afternoon I led Architextour. When you design a walking tour, you spend a great deal of energy imagining the user experience and testing for all the possible ways people might participate. But once the tour is in place, there are always ways that people interact that you can never anticipate. This happened when a family showed up—a couple with their 12-year-old son—and proceeded to do the entire tour together, with the father receiving the texts and the mother reading them out loud to their child. This made it an educational experience for the boy, and a great opportunity for the family to spend time together–something I was so excited to see!
The greatest surprise?
I would say my greatest surprise in developing Architextour was to find out how hungry people are to learn about the history of New York City. One woman came up to me halfway through the tour to compliment me on my research and rave about what she had learned so far. Specifically, she was excited to read that the HSBC bank building on 80 8th Avenue also housed the radical literary press New Directions, since she only lived three blocks away! Additionally, a friend of mine who had taken the tour texted me days later while she was walking in the area past the New York Film Academy building (on 16th and Union Square East)—she was pleased to remember that it used to be the former headquarters of Tammany Hall, the notorious Democratic political machine that dominated New York City from the late 1700s until the 1960s.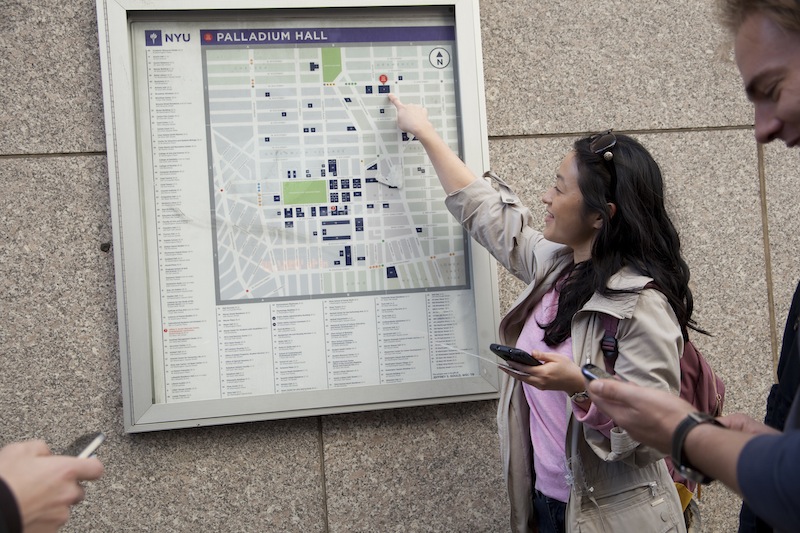 "Architextour." Photographer: Meredith Goncalves.
Architextour was intended as a self-guided walking tour but as part of AiOP's participation in openhousenewyork, you were present to lead a couple of tours that weekend.  What was your experience of the interactions you had?  Would it change or influence how you might design the tour in the future?
Great question! I would say that leading Architextour was a very positive experience for me—I got to meet many of the participants, answer their questions and get their feedback about the tour—so I found it very enjoyable and useful. I think that my presence did also make the tour more comfortable for the participants, for better or for worse, since I was there at the beginning and end to explain the goal of the tour, answer any questions and troubleshoot any tech problems. Also, on a logistical level, the fact that I led the tour at a specific time meant that people were more likely to show up and complete it.
Given how well my interactions with the participants turned out, I think I would make a few minor changes to Architextour in the future. I do think a self-guided tour is convenient, and often forces people to interact more closely, so I don't think I would change the basic design of the project. But I would definitely plan to schedule more days when I would lead the tour, as a way to encourage people to come and meet with me. I would also add a note in the instructions encouraging people to take the tour with their friends and family, since that seemed to definitely enhance their experience.
Do you have an association between number and place to add to our numerologies?
Years played a big part in Architextour, since many of the numbers the participants had to discover on the buildings or sites were dates memorializing some important event from the past. Throughout my research, the number that stuck out the most to me is the year 1783, the date listed on the statue of George Washington in Union Square Park. This is the year that George Washington drove out the British from New York City after they were defeated in the American Revolution. The statue supposedly marks the spot where George Washington, on horseback, gestured to them to leave. (That spot was also the northern border of New York City at that time.) To me, that site in 1783 actually marks not only the symbolic beginning of New York City as an independent metropolis but also the first time of many that people gathered together in Union Square Park (or what was there before then) to express themselves publicly.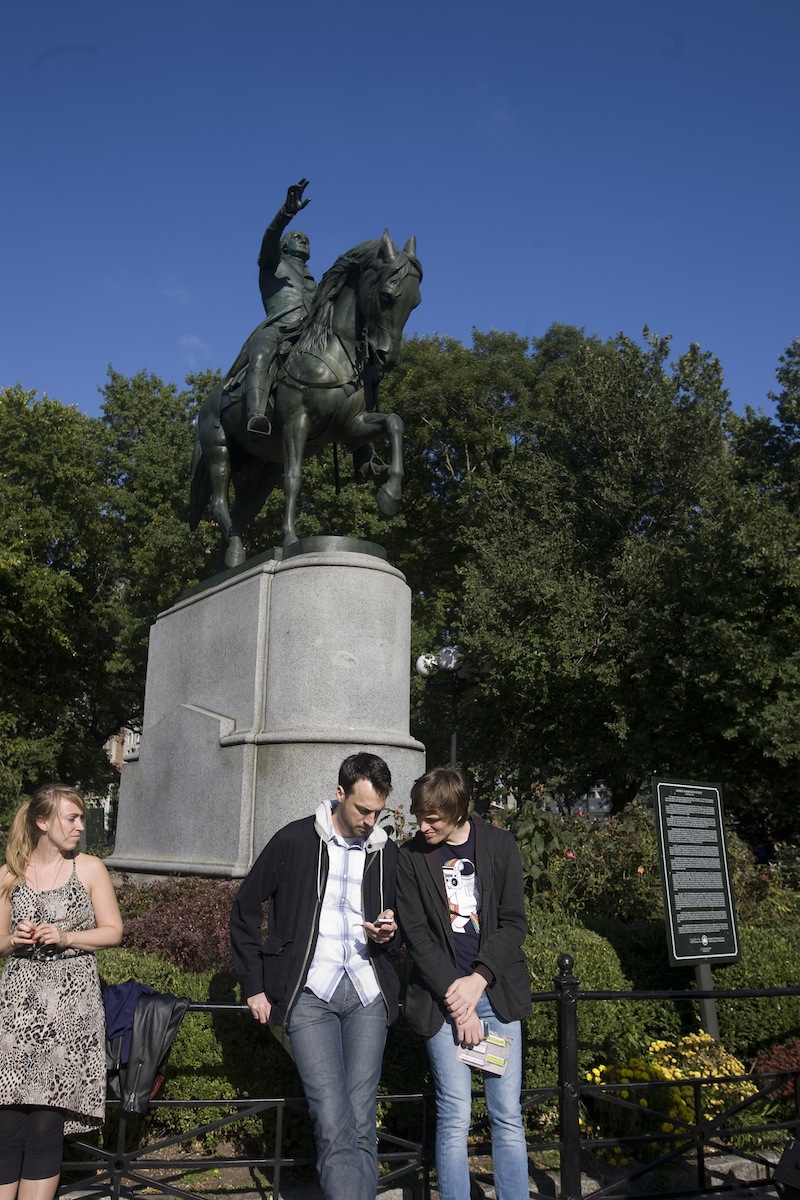 "Architextour." Photographer: Meredith Goncalves.
Anything else you'd like to add?
Designing Architextour was a great experience – I learned a lot myself and was excited that so many participants enjoyed the project! I would love to do this again, perhaps further east along 14th Street, or elsewhere around New York City.