By Matthew Morowitz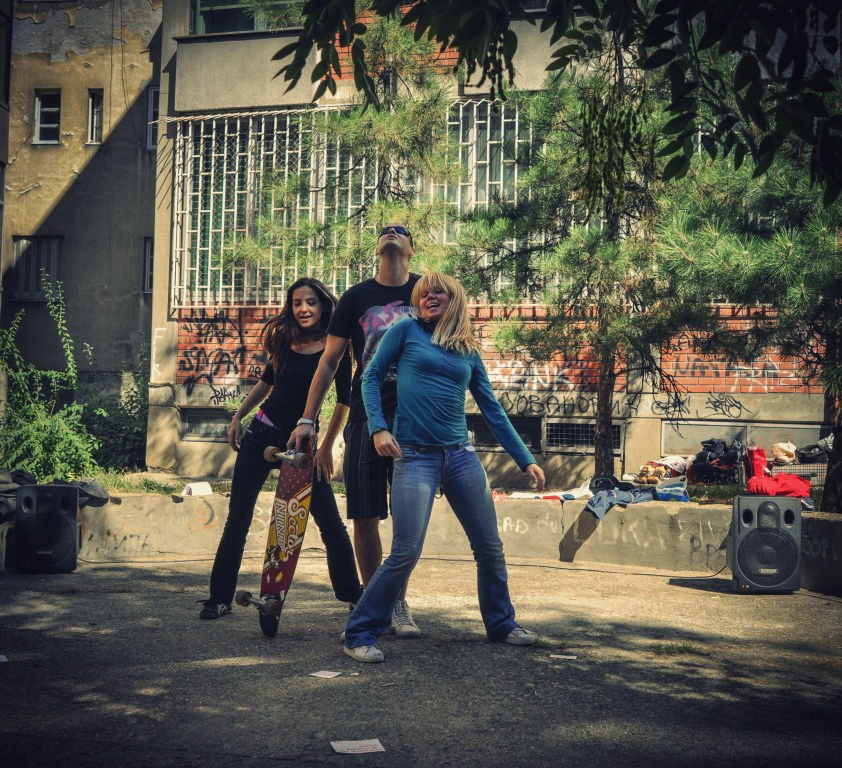 Image from Everywhere is a Home. Curator: Christina Kruise. Photographer: Milan Tesla
Hearing the title "performance researcher," one might think of an individual who spends their time buried in books or taking notes as part of an audience.  With both a BA in Theater Arts and Urban Studies from the University of Pittsburgh and a Master's in International Performance Research (MAIPR) from the University of Arts of Belgrade and the University of Warwick, performance researcher Christina Kruise might seem on paper like just that. Yet, the work that she has been doing with her ongoing performance-as-research project "Unlisted," as well as her position as member and co-founder of Brooklyn-based performance collective Yinzerspielen, shatters any preconceptions that Kruise is a bookish bystander.  Recently, AiOP was able to speak with Kruise via Skype while she was taking care of some work in Belgrade.
Belgrade
"Unlisted" was first conceived in 2011 as part of a cultural management course at the University of Arts of Belgrade, and is described as "a site-specific performance series that collides the perspectives of locals and newcomers, (per)forming a lens through which to (re)view cities. The project combines research, art, and the urban environment."  Kruise developed "Unlisted" in collaboration with four other individuals in the MAIPR program, Julie DeMoyer (Belgium), Ana Letunić (Croatia), Monika Ponjavić (Bosnia & Herzegovina), and Maria Tsachouridou (Greece).  The idea was to look at unused public space through performance and, as part of the class, present the project in front of a jury.  The project was presented and one of the members of the jury, a woman representing the Belgrade International Theater Festival (BITEF) was impressed by "Unlisted" and asked the students if they would like to present it as part of BITEF's side program, an opportunity the collaborators immediately jumped on.
Twice in a Lifetime trailer, from the 2012 fundraising campaign. Video courtesy of Ana Letunić, Christina Kruise, Monika Ponjavić, and Cory Tamler
The project was first performed in September of 2012, after Kruise and her cohorts received money to perform their works through grants and other crowdsourcing fundraisers.  By this point Julie and Maria were no longer part of the project, having moved on to other work elsewhere, and "Unlisted: Twice in a Lifetime" was curated by Kruise, Ana, and Monika.  Cory Tamler, who is another member/co-founder on Yinzerspielen, was also in Belgrade at this time, having received a CEC Artslink Projects Grant to work as a playwright and director on Kruise's part of the project.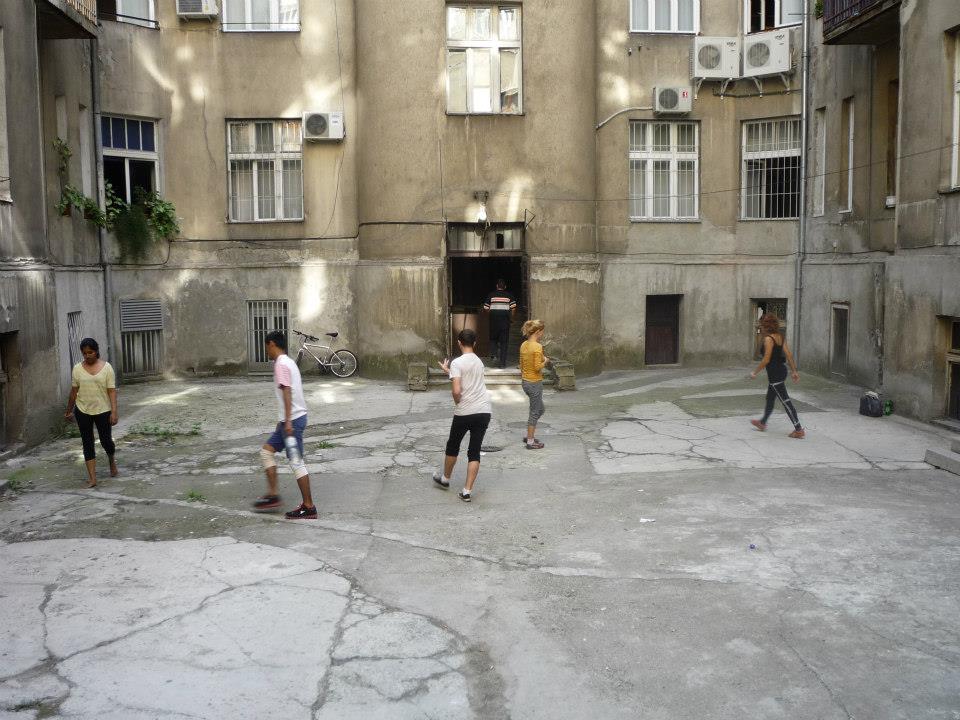 Image from SingularPlural rehearsals. Curator: Monika Ponjavić. Photo by: Monika Ponjavić.
For their BITEF performances, Kruise, Monika, and Ana each produced project in three different spaces and setups, with each of them experiencing different outcomes to their explorations:
"In the space I had chosen—an underused courtyard—Cory worked with Tanja Šljivar, a Bosnian playwright and dramaturg living in Belgrade, and two Serbian actresses, Milica Stefanović and Tijana Kondić.  Our performance was very much based off of found materials.  We conducted a lot of interviews and we built the performance off of the situations we encountered while doing them.  Monika, on the other hand, was interested in exploring the relationship between bodies and architecture and worked with dancers.  She had 5 or 6 dancer, all of them coming from different dance and cultural backgrounds.  The only thing they all had in common was that they were all dancers.  She wanted to see how they would respond to a given space with their various styles of dance.  And then Ana, her piece was also devised but it was more traditional in that they had a script that they were working with that Dino Pešut, a playwright from Croatia that she invited to come here [Belgrade], wrote.  Their performance was more site-specific in the sense that it could have been performed in any abandoned space, whereas mine was a little more site-responsive; we couldn't do the show that we did in our space anywhere else, it could only be done in the Knjeginje Zorke courtyard.  Everything was very different and we all had different outcomes."
Everywhere is a Home: Part 1, video footage from the performance. Video courtesy of BITEF
Pittsburgh
Currently the next installment of "Unlisted," titled "Unlisted: Second Steel," is being developed through Yinzerspielen in Pittsburgh with help from their fiscal sponsor New Sun Rising.  When asked about the origins of Yinzerspielen, which was founded by Kruise, Tamler, and Patrick Berger, who all have strong ties to Pittsburgh, Kruise had this to say about the collective:
"Yinzerspielen was one of the first projects that Cory and I worked on together in Pittsburgh, where we went to college; it was a German-American collaboration that we called "Yinzerspielen." We ended up just kind of assuming the project name as the name for our collective.  It's a pretty good representation of the three of us I think, [it's] fun, sounds kind of serious, but it's a little quirky."
In Pittsburgh, "Unlisted" is going to focus on the concept of revitalization.  So far, decisions are still being made as to what medium the performances in each space will be performed, but the curators all agree that they want a strong focus on spaces that have been slighted by revitalization within the city more than benefited from it.  Unlike the Belgrade project, which had three curators, "Second Steel" will feature three teams of two curators. Each team will have a curator local to Pittsburgh and a curator from somewhere outside of Pittsburgh; and, in this case, outside of the United States. Monika and Ana will both be working on "Second Steel," where they will be joined by Carolina Falcão (Brazil), and Pittsburgh curators Mikana Maeda, Alexandra Oliver, and Gavin White.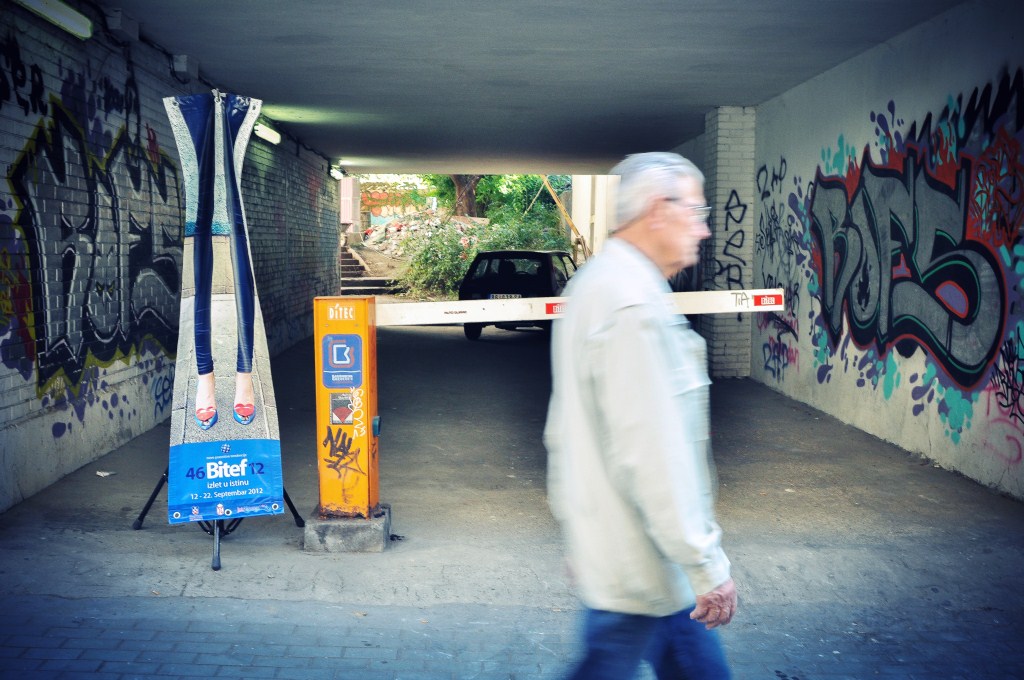 Image from Everywhere is a Home. Curator: Christina Kruise. Photographer: Milan Tesla
"The three neighborhoods we'll be working in in Pittsburgh each have a unique relationship to revitalization. The similarities and differences within those relationships are really what the "Second Steel" conversation will focus on: in this neighborhood revitalization looks like 'x', but in this neighborhood it looks like 'y'. We want to see what it looks like from all of these perspectives."
As for the logistics of carrying out the project, Kruise and the rest of Yinzerspielen have found that protocol in Pittsburgh is different that what they had experienced in Belgrade:
"In Pittsburgh, it's also a little different because there's a lot more structure in a way; you have to have certain permits for things, you have to rent equipment.  Whereas in Belgrade there was a lot more of a barter system going on, you could be a little more chaotic and fly by the seat of your pants, which is a little stressful but also quite nice.  I knew if I needed something I just had to run to the market.  In Pittsburgh there are a few more steps in terms of the project's construction."
Dialogues
Public space, how it is used, and how it functions in specific cultural contexts are the major ideas that not only came out of "Unlisted," but are also the points of conversation that help move the project further and into different localities.
"I think the dialogue depends partially on the performance; I know in Belgrade we had after my performance in particular we had a very long conversation on public space, why a lot of it is so neglected and if it is possible to change that.  I think the performance works to kind of create an awareness between the individual and the space of the performance, and I think the subject matter of a performance guides that conversation even further to something a little more specific."
Wasted Youth: excerpt, video footage from the performance.  Video courtesy of Cory Tamler
While Kruise had already assumed the relationships between the public, performance and space would be different between Europe and the United States, these differences only became more apparent as Yinzerspielen began work on bringing the project to Pittsburgh:
"I think, in the United States our relationship with performance and public performance is very different from Europe, and I think it's because in Europe there are public squares and pedestrian streets, and we don't really have that in the United States. There's also a long history of street performances in Europe. There were all sorts of public promenades that were connected to the church, and various festivals.  In the United States, we're used to space being a little more segregated. In general, I think we tend to perform the public within the private."
When asked to explain further she began to recount a recent conversation she had with a member of the organization Theatrum Mundi:
"I was just having a conversation with someone from Theatrum Mundi, an organization doing similar things as "Unlisted,"… [and] we were talking about how in the United States, when we're talking about public spaces and planning for public spaces we're focused on efficiency, on how to move people and things through space in the most efficient way.  I think that's another big difference in terms of how we use public space and how it is used in Europe; in Europe, public space is very communal, it is where you go to talk with you neighbor and share gossip, to learn about what is going on around you, it is a place of leisure and enjoyment. It's like that in Belgrade. If you go to the big fort that's there, there are old men and women dancing to folk music played by someone on an accordion, or there are men playing bocci.  It's a very leisurely and social place.  In the United States, it's not really like that. I think we use public space more as a place for meeting in order to go somewhere else than as a place for spending time.  We're always going elsewhere in the States."
However, even with these marked differences in mind between how Europe and the United States views space, Kruise stressed that this project is not about going in with preconceived expectations and ideas, but to perform and learn to see what comes out of the experience:
"Space is always connected to people, and something that we don't want to do is to go into a space and be like the totalitarian rulers and say, 'this is what this is, this is what this is not, this is what this should or shouldn't be.' It's very much about learning about the space, seeing what it has to tell you and being open to anything that comes out of that.  We're very much about the process and seeing what we can gather from it. A very large part of "Unlisted" is focused on just being open."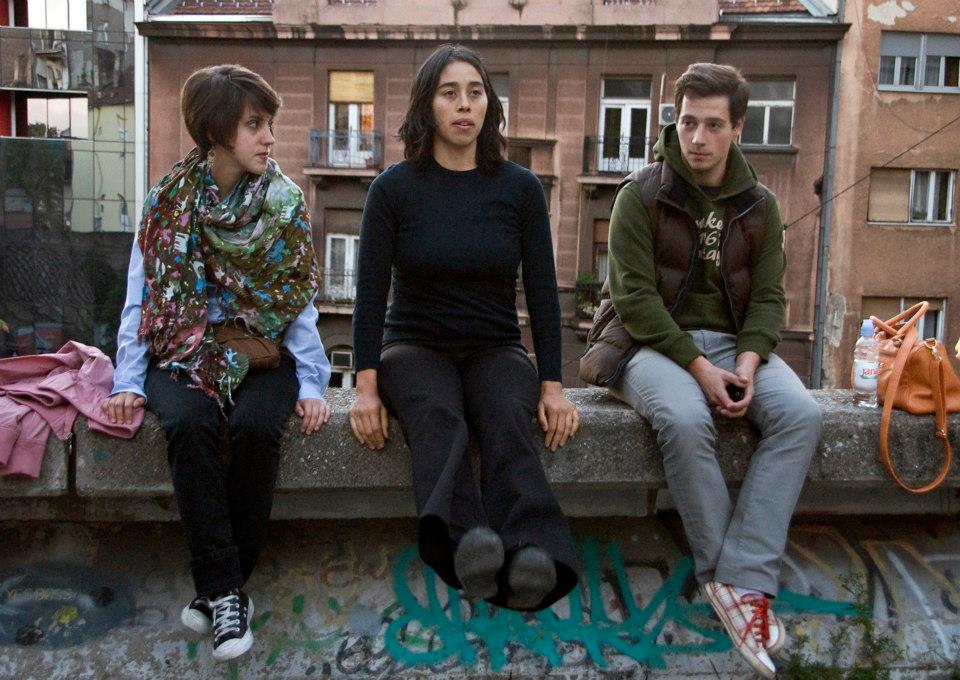 Image from Wasted Youth. Curator: Ana Letunić. Photographer unknown.
In order to do so, Kruise and her team strives to bring on board as many artists as possible, both local and visiting, in order to get more diverse perspectives in "Unlisted's" other focus, that of performance-as-research:
"The roles of the newcomer and the local are very important to "Unlisted". Having multiple perspectives from which to look at a theme or an issue has always been a big part of the project.  "Unlisted" is very much about research, about using performance as a form of research, about having a specific research question or questions, and using a performance methodology to explore them."
Future
"The way that "Unlisted" was developed, we created it with the intention that it could move from one location to another.  Now that we're actually testing that out, we're finding that what's difficult about the model is that, in order for that movement to happen, we need to find partner organizations in other cities who are interested in working with us, which is what Yinzerspielen is doing in Pittsburgh…I think for the project to move forward there would have to be a similar relationship elsewhere. For example, if "Unlisted" were approached by a potential partner organization that said, 'hey, this is a really interesting project, would you be interested in working with us here and doing it?' That is something we're interested in. It's something that we would absolutely like to do in any city anywhere because we think there is a lot of value in being able to put cities like Belgrade and Pittsburgh up against one another in order to say, 'This is what this looked like here, what does it look like in Pittsburgh? This is what we experienced in Pittsburgh, how is that different from what we experienced in Belgrade? What can we maybe learn from this?'"
"Unlisted: Second Steel" is set to premier in Pittsburgh this September beginning the next phase in the "Unlisted" project.  While the dialogues between Pittsburgh and Belgrade will be interesting to examine, one of the goals of the project is not just what it will bring to the cities that host it, but also what people will become connected as a result of the experience:
"There is the goal that this project will move and that each time we move we'll [develop] a bigger pull of international artists, because that is one of the big things with this project, to bridge emerging artists from one place with emerging artists from another."
Be sure to check out both the project and Yinzerspielen's websites.  Also, contact Christina Kruise (christina@yinzerspielen.org), Cory Tamler (cory@yinzerspielen.org), and/or Patrick Berger (patrick@yinzerspielen.org) to learn more about "Unlisted" and how to connect with the project to possibly bring it to your city.