By Matthew Morowitz
In our first feature, we looked at the Freedom Harvest Collective, its formation, and the need for their #RISEOFTHEDANDELIONS event.  Our second one focused on the specific works presented by the members of the Collective, as well as the pieces they found to be the most memorable at the event.  For our third and final feature in this series, we will be addressing the dialogues that were created by this event and the future of the Freedom Harvest Collective and #RISEOFTHEDANDELIONS.
"The dandelion is now seen through a different light due to this event."- Jermond Davis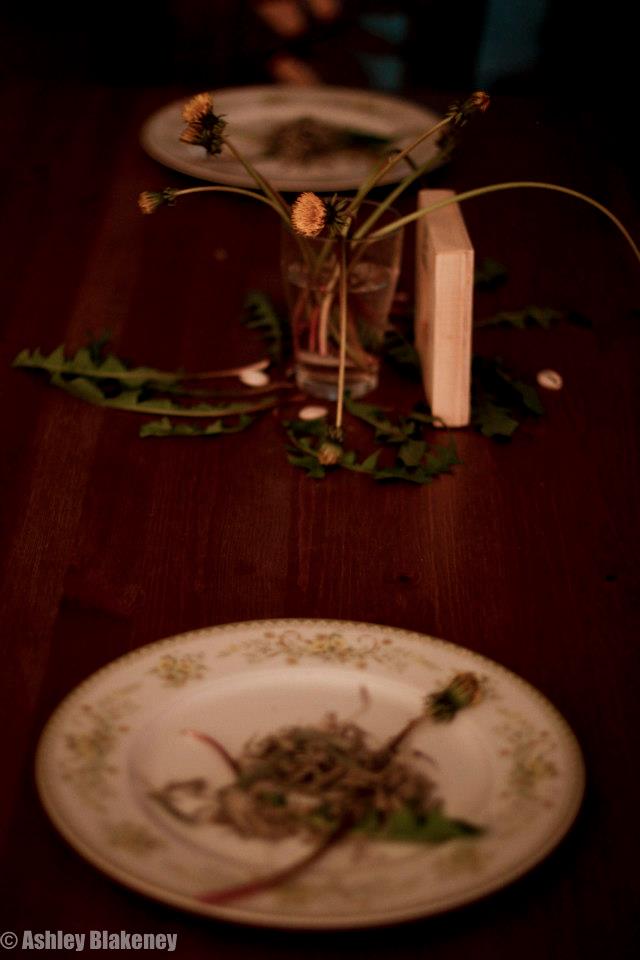 Table set with plates of dandelion greens and vases of flowers as part of installation speaking to impacts of incarceration and state violence on the family.  Photo courtesy of Ashley Blakeney.
The #RISEOFTHEDANDELIONS event was created with the original intent of using art to create a space of resilience and reclamation for communities facing oppression from the Prison Industrial Complex.  The general consensus of the Collective was that this event helped create this kind of dialogue, but also brought more to the table.  According to Patrisse:
"A lot of different types of dialogue I think; a lot of people came to me after the event, it was really powerful and really grateful and people were really impacted by how the art that came out of the event space because I think because we were talking about abolition, we were talking about incarceration, people were giving speeches, people were on panels, just to have an event full of art that was about inspiring our community and that was kind of leading with inspiration and resilience versus leading with 'we're living in terrible times and oh no! Everybody run!' This was about let's actually build, we're going to have to make a new world, this new world is going to have to come from us.  A lot of people really felt ready for a new world and a lot of people felt ready to take this conversation around the criminalization of black and brown people in particular, and the criminalization of our communities and of our history.  I think people felt really impacted that we named that as part of this conversation, there is a very specific target when talking about the prison industrial complex and to kind of highlight that and actually be in conversation about it is super huge."
Gonji also reflected these sentiments while affirming the need to rise up against the corrupt prison industrial complex:
"Much of the dialogue around the PIC has been centered on inmates as downtrodden and the sheriffs as pigs. That night shifted the conversation to focus on the resilience of Black and Brown people, both who are locked up and who have loved ones behind bars. We talked about the strength of our communities, our ancestors who have our backs, and our commitment to free the US 2.7 million and shut down the Twin Towers. That night had us stretching our imaginations in a hopeful way that made a world without jails possible and necessary."
Jermond's feelings were similar to Gonji's, but he also found the event was important for solidifying the symbol of the dandelion as a rallying image for the movement:
"The dialogues this event created, from my perspective, was consciousness on the PIC (prison industrial complex). The dandelion (weed) expressing metaphorically, oppression of people of color, but how we rise stronger and multiply."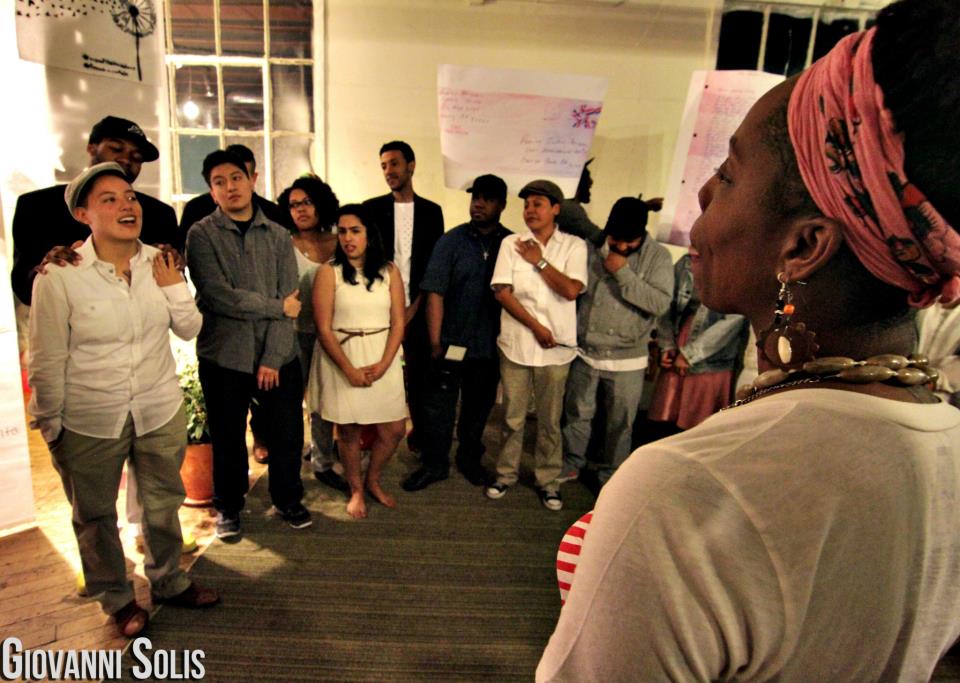 Artist share-outs with audience on process and intentions of their art for #RISEOFTHEDANDELIONS.  Photo courtesy of Giovanni Solis.
However, despite all the talk of resilience and resistance, another dialogue that was reiterated during this event was the original message that jail violence is tied to state violence and the oppression of Black and Brown communities.  For Jasmine, this event helped really hit home to the participants what this kind of violence looks like and how it impacts communities, families, and individuals:
"This event through the different performances and installations brought to our audience/community what does state violence look like, feel like? What is violence? How do we define violence? Is it only physical? How about poverty, lack of healthy food, [a] mis-education system that continues to be tied to prisons and criminalization, absence of health care, lack of public transportation, unemployment, police terror, lack of housing, criminalization of homeless. State violence is all of these things."
Jasmine in turn found that this event helped spread the message that jail violence and state violence is a multi-faceted issue and these many factors need to be taken into consideration when looking at the subject:
"In dialogues around state violence and mass incarceration, it is necessary to acknowledge all the other factors and that these factors contribute to the "crimes of survival" that lead to our peoples' being incarcerated. Because we live in a culture of policing, it was important for us to open a dialogue about how we each are affected and impacted. How we can be accountable to each other is also another part of the conversation."
As for Shruti, the biggest question that came out of the event was not whether it had succeeded, as she believes it created a space for healing, but how would the Collective be able to keep the momentum that came out of the day going:
"I think we really created a sort of opening, like a 'freedom portal,' on that day." Shruti Remarked.  "None of us really knew what to expect, but with all of the different pieces coming together it really created this opening for folks to heal and shift.  I think it's really powerful when people can come into a space not just to deconstruct something but also the way with [planting] the seed of something new, something that's growing.  I feel like that's what happened, we had this almost emotional opening where people were healing and afterwards it was sort of like 'how do we maintain this consistent space for people to come to who really need to engage and there is so much healing that needs to happen.' How do we sort of provide more of that space?  As a collective I think we were sort of like 'wow, we created that and now we really have to think about how we don't just leave our people hanging, how we really support that in that long term way.'"
Patrisse also felt that this event really helped address some of the questions and conversations that sometimes get left out of discussions on violence and oppression.  For her, #RISEOFTHEDANDELIONS helped set the groundwork for the necessary and often overlooked dialogue on moving forward from the impacts of state and prison violence:
"I've been doing this work now, just the work around social justice issues for many years, the last decade, but what had been missing for me and a lot of the work that I've done was just this real candid conversation about the impacts of the prison industrial complex has had on my own livelihood and my community's livelihood.  How do we talk about those impacts and how do we actually say, what's the vision? How do we see something more than just the impacts as well? Identify those impacts, be clear about them, and then what? What do we do now? What is the move forward? I think that's part of this conversation for me."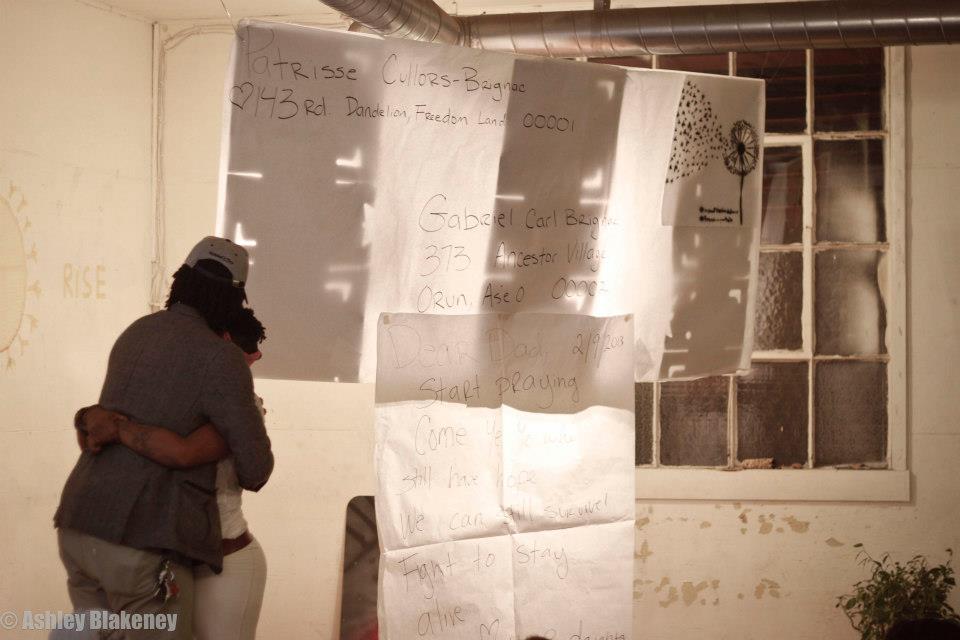 Real8 and Patrisse Cullors sharing an embrace after #RISEOFTHEDANDELIONS.  Photo courtesy of Ashley Blakeney.
In order to move these conversations forward, Patrisse and the others are looking to obtain nonprofit status and combine the "Coalition to End Sheriff Violence in L.A. County Jails" and the "Freedom Harvest Collective" into the larger "Dignity and Power Now."  The hope is to keep the conversations going, keep up the production of art related to the message, but also provide support and the impetus for healing and transformation to the current and formerly incarcerated, their families, and their communities:
"I think that part of our conversation, the Coalition to End Sheriff Violence in L.A. County Jails is a broad coalition but we've decided to get nonprofit status.  The larger nonprofit we're going to have, it's called "Dignity and Power Now" and our goal for this nonprofit is to both have kind of the 'what are we changing in our policy?' but also "how do we develop and massify our work and bring it down to both L.A. county?' and 'how do we make it an international movement of art work?' and 'how do we make sure that folks who are directly impacted [by] state violence, the prison industrial complex, are leading the art work?' and also developing the art work and, in this case, the rise of the dandelions.  So many of us have been impacted by prison industrial complex state violence, some of us were formerly incarcerated, so that's a really important development for us.  And then we have a whole piece around radical reentry, where we really want to experiment with the idea that 'ok someone gets out and what are all the resources that they are going to need beyond just finding someone a job?'  Because the reality is if you've been impacted by state violence that means you are dealing with a whole lot of trauma so what's the actual kind of wrap around care and support that someone needs, including their family members, to build their capacities so they can be the fully endowed human being that they deserve to be?  For us, it's both how do we transform the community that person came from and also how do we transform the individual from that community as well."
"We will continue to bring disruption to the hallucinated reality that is pressed against us and create art with a purpose; art to heal, to free and art that speaks to the necessity of prison abolition."- Jasmine Wade
When asked what the future held for the #RISEOFTHEDANDELIONS, there was a unanimous agreement amongst the members of the Collective that this event will be repeated, though in variations on the original, and that they would surely participate again.  "We have hopes of taking this show on tour to create a freedom portal wherever we go." Remarked Gonji. "I would feel honored to participate in an event like this, and hope that it will happen soon."
"Yes, I will definitely participate in an event like this again. #RISEOFTHEDANDELIONS was Freedom Harvest Collective's debut event." Jasmine enthusiastically declared. "We are loving, living and creating in the legacy of those that came before us, with clear intentions to challenge state violence and liberate the minds, bodies and spirits of our peoples and communities."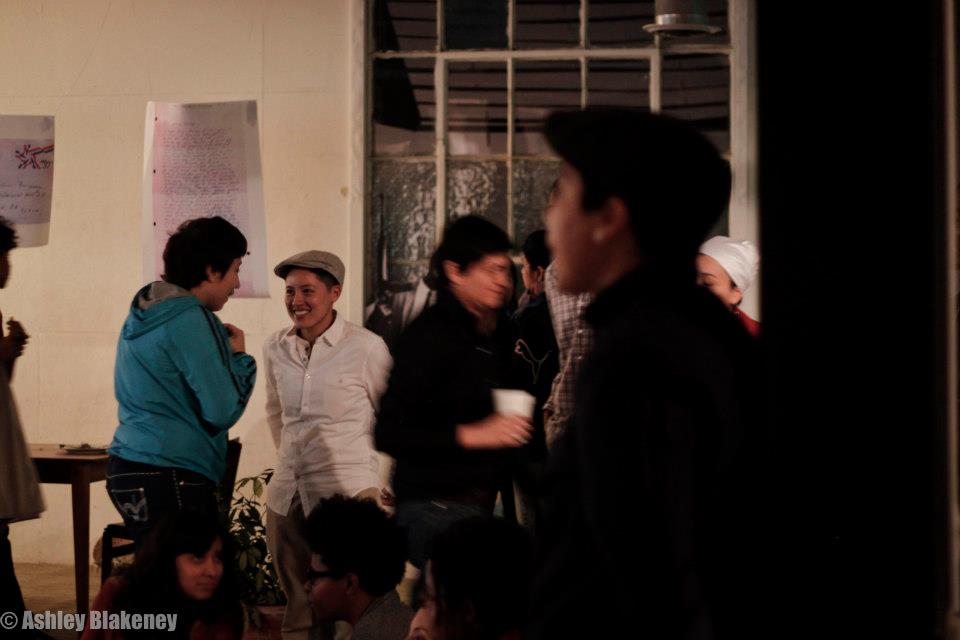 Rey Fukuda Salinas and many others holding conversations after #RISEOFTHEDANDELIONS.  Photo courtesy of Ashley Blakeney.
Jermond felt the same way:
"I'm always open to repeating this event in various areas to share with the world #freedomharvest. I'm most definitely open to repeating it again."
As for how the Collective is looking to repeat this event, Patrisse was able to offer up some specific examples of how the work from this event has continued and plans that she has been pursuing:
"We plan on reinstalling the [performance] in front of the jails probably in the fall [of 2013]; parts of it have already been happening, I've done "Pushing The Envelope" a few times, Mark Anthony has done 'The Crop' a lot now, we've shown the mashup a couple times.  Different pieces of it have been spread across the county, but I think the full installation will bring back up in the fall and then we want to tour it, do an L.A. County tour similar to what I do with "Stained;" kind of put it on a year and a half track tour and then develop new work.  We want to meet with local community groups and artist collectives, also we want to meet with community groups and artist collectives across the country and encourage them to develop their own #RISEOFTHEDANDELION piece and share with them our own thoughts on the process and have them do a community show and then install it in front of their jails."
Shruti also mentioned the possibility that #RISEOFTHEDANDELIONS might also be brought to and adapted by different college and school groups as well:
"We have talked about doing a tour in the fall [of 2013] to different colleges and school spaces.  If there are schools out there who want to bring our project out we definitely are looking for different outlets."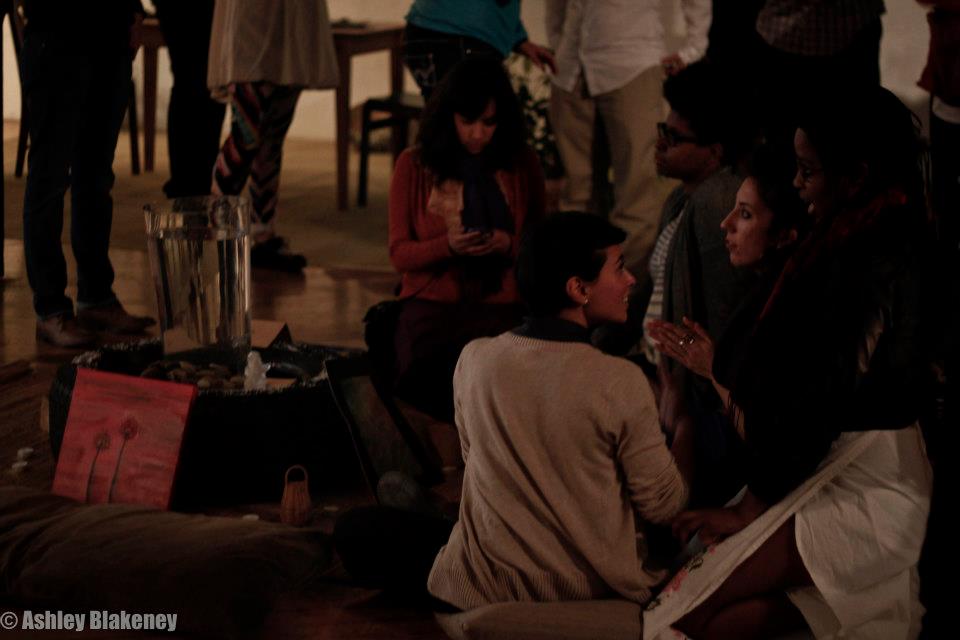 Community and audience members gathered around center installation, which included a large vase of water, candles, dandelion images and cushions for seating .  Photo courtesy pf Ashley Blakeney.
Patrisse hopes to also bring this event to other jail violence groups and has even started conversations with a couple that exist in other parts of California:
"We've talked to a few groups across the state in San Diego and Santa Cruz.  Those have been really fruitful conversations; I think that we need to follow up with them.  Folks are so bogged down with the work that we're doing that having initial conversations with those groups and folks have been really excited about the work we're doing here in L.A. and how we've been able to move folks forward."
Ultimately, this is an event that is dependent upon its volunteers and anyone else who wants to get involved, and it will need this community support in order to continue into the future.
"It was an event where there was so much connection between people happening throughout the whole process, through the event and afterwards to we have this whole collective and community that didn't exist before but that exists now." Shruti reflected.  "We're all supporting each other for all of our stuff and that feels really important for continuing to fight what we're up against here.  A lot of the stuff that we're doing, the heart of the work really comes from members and volunteers.  It definitely helps to have a large community to be supported in."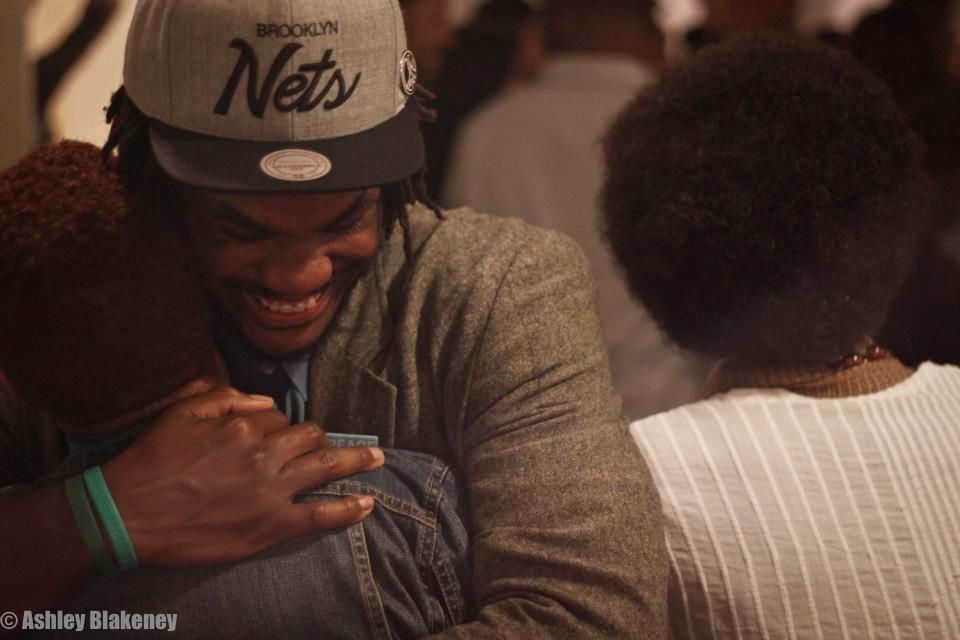 Trey Breazell and Damon Turner (Real8) sharing an embrace after #RISEOFTHEDANDELIONS.  Photo courtesy of Ashley Blakeney.
#RISEOFTHEDANDELIONS was an amazing event that brought people together to find strength, healing, and help change some of the dialogue surrounding the issue of jail violence.  The event would not have been possible without the artists and volunteers that contributed their time and created works inspired by the cause and the mission.  The Freedom Harvest Collective has compiled a list below of these artists' names, the names of the works they contributed/were a part of, and brief descriptions of the works.  To learn more about the Coalition to End Sheriff Violence in L.A. Country Jails, be sure to visit their website, like them on Facebook, and follow the DIGNITYANDPOWER WordPress.  Also join in and follow the conversation on Twitter @PowerDignity.
Artists and works that were part of the #RISEOFTHEDANDELIONS event:
Eden Jeffries: Mash-up "Rise of the Dandelions"
Mark-Anthony Johnson: Poet "The Crop"
Patrisse Cullors: " Pushing the Envelope"
Damon Turner: Poet
Jas Wade: Installation
Rey Fukuda and Jermond "Set" Davis: Dandelion Song
Three Breazell-Olivas: dance/performance artist
"Dinner for One" to Frank Ocean's "Crack Rock"
Di Flores: Poet
RHIPS: Poet "Ghetto Geology (Where I'm From)"
D. Edwin King: visual artist, "Rise of the Dandelion"
Ana Ruth Castillo: visual artist, "The Cosmic Womb II"
Shruti Purkayastha, Haewon Asfaw, Gonji Lee, Almas Haider: performance, "Seeds Spreading"