By Matthew Morowitz
"Lawrence Graham-Brown" photo courtesy of Daniel Talonia.
other.explicit.bodies is part of Dance New Amsterdam's (DNA) LateNite series, a triannual event that is presented as a late evening venue and was created to give voice to artists working in performance art, experimental theater, and burlesque. The title of this year's triannual is taken from that of the curator Jaamil Olawale Kosoko's performance of the same name; the event will take place over two nights, 10 pm on January 11th and 12th, and will be:
"Presenting artists who deploy highly erotic performative strategies while also incorporating materials of dissidence and unrecognizability to construct work that elisticates the boundaries of race and gender, Jaamil Kosoko has assembled two eclectic evenings of underground cross-genre performance. Though many of these artists appear to use conventional, contemporary methods to create 'meaning' and/or points-of-entry in their performative language, they remain deeply concerned with experimentation that takes creative detours from convention by using personal content, references and/or structural procedures.  Each artist, singularly, embodies 'disordering' effects in their work, resulting in a uniquely dynamic platform that encourages further discussion and creative analysis."
Separated into two groups, Program A, presenting on the first night, features work by Lawrence Graham-Brown, Kate Watson-Wallace, Jaamil Olawale Kosoko, Marjani Forte, Saul Ulerio, and Rebecca Patek, while Program B, which will run the following evening, will again be featuring Mr. Graham-Brown, along with Holly Bass, Megan Bridge, devynn emory, Jasmine Hearn, and Jen Rosenblit.  Although we weren't able to interview all of the artists in this triannual, Jaamil was able to give us some insight into their works and overall processes:
These are all pieces that are highly crafted; these are artists, who are working in an interdisciplinary manner, they have fluid processes and movement and dance, while also venturing into visual art and performance art, maybe spoken word or music.  These artists are all really playing the cusp, riding the cusp of performance, really pushing themselves to this new edge.  The work itself may not be new, I don't know if new is even possible anymore in the twenty-first century, in America, but I do know for each of these artists, they're really scratching at the surface of something new to them.  I think that it's a really exciting time to witness what they're up to, they're younger, under forty, and asking some really pivotal questions about the current circumstance of performance and who they are as performers in that larger discourse.  I think it's a really exciting time to see what they're up to, both individually and as an entire platform to see all of these pieces together.  It's a great opportunity to see a lot of work by a lot of different perspectives in a concentrated amount of time. 
Included below are some questions that Art in Odd Places asked to the curator, Jaamil Olawale Kosoko, as well as to one of the artists, Lawrence Graham-Brown, who was also featured in AiOP's 2011 festival: Ritual.  Tickets for the event are available either online or at the venue and cost $17 for the general public, $12 for members or if ordered in advance, and $14 for students and seniors.
Jaamil responds to a few questions …
AiOP: How did you come to this year's theme for the triannual? 
Jaamil: With many of the projects I curate, it starts with a more personal artistic question that I have.  I actually made a piece called other.explicit.body, which is a solo that I'll be showing the first night in Program A, and so really just thinking about some of those same themes that I was approaching with that solo work, I wanted to venture out and see what other artists were thinking about in regards to the same concepts and questions.  I began to locate myself in a larger discourse and community of artists who were grappling some of the same creative issues.  From there, I just started and there were a number of artists who had already been on my mind and wanted to work with in this capacity, but then there were some others that jumped out at me, Lawrence Graham-Brown really being one those, an artist who I followed for a while but actually had never seen live until quite recently, so this was a perfect opportunity to work with him and a couple other artists who I had been following but had not been able to really program, so that's really how the concept came about.
AiOP: What concepts will you be exploring in your performance?  How does it relate to the theme?
Jaamil: Quite explicitly I am calling the work other.explicit.body and I'm calling it that because I am dealing pretty directly with issues of black male sexuality and themes that really deal very straightforwardly with concepts of the body and the way it's seen and what it communicates on a larger spectrum.  I'm really thinking about visual art and the relationship between two-dimensional work and there are a number of artists that I'm always in conversation with, either creatively or scholastically, and certain artists like Hank Willis Thomas and Kehinde Wiley, those were the two that really set the foreground of this particular creative process.  Those two artists really inspired much of the visual component of the work.  There are a number of books that are stacked up to my waist as part of the visual component, and I literally read the title of each book as a sort of testament of the amount of reading and research that I'm doing, but also that I'm doing as a representative of this culture, this race.  I mention everything from [Who's Afraid of] Post-Blackness?: What It Means to Be Black Now by Touré, Zadie Smith, Last Night on Earth by Bill T. Jones, and basically the piece unfolds.  I've really been interested in combining a deep interest and love of the visual arts and merging that with live performance and really trying to figure out a way that these two worlds can exist and coexist.
AiOP: Does your performance directly relate to any of the other artists' performances?  Was there any collaboration between you and any other artists in the show?
Jaamil: Not directly, there were no collaborations directly for this work.  I've worked in some capacity with many of the artists, I have a very intimate relationship with a lot of their work either through live performance or having followed them online, their video work, their visual work, I have a deep relationship with each and every one of them.  Kate Watson-Wallace, who's presenting in Program A, she is actually my creative partner, we co-direct a company called Anonymous Bodies Art Collective, which is based in Philadelphia and I do have a direct relationship with her as a collaborator.  Holly Bass I've worked with, we just premiered a work together called "Double Consciousness" that we showed in DC at a venue called Dance Place.  I've worked for dance for one of the artists, devynn emory, on a number of projects, devynn, who is actually a genderqueer artist.  I have a relationship with all of the artists in some way.
AiOP: How did you determine who was going to be featured in Program A verses Program B?
Jaamil: That was more of a very intuitive, organic process: it had to do with people's schedules, when they were traveling, when they were in town, but also there is a narrative being told and I really wanted to try to balance the level of estrogen and testosterone to a certain degree.  I am always aware of racial demographics, gender demographics, whenever I see a work and so it was really important to me to try to balance these various perspectives, while also stringing them together in a way that creates an abstract narrative.  While all of the artists are dealing with similar subject matter, and really approaching these concepts from different perspectives, and together when one looks at this entire evening, or two evenings, there is a kind of narrative that begins to unfold and present itself.  Ideally, it's one that will create more questions.  I certainly don't pretend to have all the answers, and I don't know if the artists necessarily have the answers, but I do think they're able to ask questions in a way that is provocative and really personal and really begin to create a discourse, a conversation essentially between what they're putting forth and what the audience is seeing.  Ideally, there will be some conversations that happen after the show and people will linger, which is why I am really excited and happy to be chatting with you because I really do think the act of creating art and curating is a discourse, is a conversation.  The more that we can have around this kind of work, which is not necessarily easy, a lot of the questions that these artists are approaching are quite difficult, they're hard to wrap your brain around.  It takes maybe seeing the work more that once even to really get a good hold on it.
AiOP: How have your own personal experiences impacted your work?  Are you drawing on any particular ideas, experiences, or events?
Jaamil: I always make work from not only an historical lens, but also an autobiographical one.  I'm really interested in reimagining the present time, putting forth circumstances, mixing satirical content with history and really forming a commentary on what's happening now, on things that I see happening in society.  In a way that certainly is another line that an audience member can carry through watching other.explicit.body, this understanding that each artist in his or her or their own way is in a deep conversation with their history, whether it be a black history or American history or queer history or whatever, each artist in their own way is really sort of pulling into the discourse what's come before them.  We all do it in a different way or an intricate way.  Rebecca Patek is using comedy and feminism in a really interesting hybrid, performance arty way.  Holly Bass is using some comedy, while also pulling from the Hottentot Venus and making a commentary on the video vixen and how the black female body is portrayed today.  Again Lawrence, he's dealing with bridging male sexuality, queer sexuality, in a performance art.  devynn puts forth this idea of trans history and performance, with a deep technical aesthetic that's layered on the work and highly crafted.  Jen Rosenblit is also someone who's really intricate, again rising out of a more queer perspective, is making work that really encompasses ideas of dissonance and unrecognizability and really using that as a material for what not to be afraid of, not to fear what is not understood, how can you use what is unrecognizable as an actual material in the work to enliven it and tweak the audience's interests in a new way?  Marjani, she is a former member of the dance troupe Urban Bush Women but she's really pulling forth this Africanist, Afro-Futurism but portraying the black female body as complex, as strong, as delicate, as fierce, a very fierce solo that she's putting forth.  All the artists are really intriguing and they're asking really important, exciting questions and really presenting their work in a way that will open the discourse and the conversation, not necessarily saying this is what it is, but asking what is this?  Why is this?  How is this?  And possibly offering a possible alternative.
AiOP: What kinds of discourses and dialogues are you hoping to create from this triannual show? From your personal performance?
Jaamil: One question that I really hope this platform opens has to do with the transgendered body and the role that it's playing currently and what it means to be making performance in a body that is differently gendered than bodies have historically been categorized, and what kinds of stories, narratives, and anti-narratives are coming off of these kinds of bodies.  Opening up a discourse for sexuality and performance, and eroticism, again there is in a very underground way we've seen various artists really approach some of these issues that still other artists and the general public look away from issues of direct sexual contact, especially when it comes off of a body of color, then even more directly when it is a black male body.  I feel that it's easy to write it off as lewd or irresponsible or un-crafted, and again this kind of question in this particular situation is following a deep history of the feminist movement, we've seen from the 1960s to the present day the white female body really owning itself in performance art as a form to be reckoned with, so much now that we're sort of used to seeing that body displayed, almost but not completely, it's more common now.  Whereas, the black body, there still seems to be some hidden truth and secrets that have yet to be fully realized and understood; this kind of discourse is starting to surface for me while creating this evening.  Circling back to Lawrence, he's the one who is really fearlessly approaching some of these themes in his work, in a way perhaps even filling a gap in the performance world that really is bridging queer identity, black identity, male identity, male sexuality, spirituality, really folding all of these themes into performance and inserting it into the canon, or at least trying to.  I think that there is a lot of room for that kind of work because it doesn't make its way to the main stage, it deserves to and probably should, it seems very taboo still for whatever reason.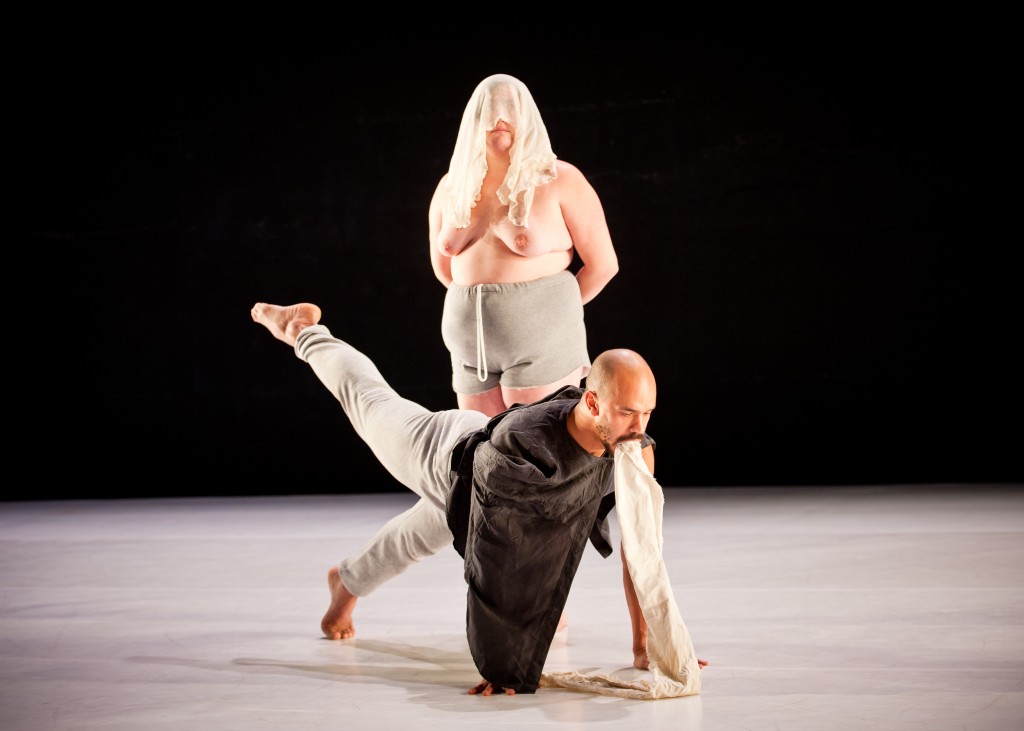 "Jen Rosenblit with Addys Gonzalez" photo courtesy of Ian Douglas.
Lawrence responds to few questions …
AiOP: How did you come to this year's theme for the triannual? How have your own personal experiences impacted your work?  Are you drawing on any particular ideas, experiences, or events for this event?
Lawrence: Ah the Idea for "Acute Case of Black Fever" came from an invitation by two collectors late summer 2012 to tour their collections separately. One a Black female who has a vast collection of religious icons and images of Christ but after scrutinizing her collection, I noticed a missing gap of the "Black Jesus" so I asked her why? And she looked at me with a look that suggested that topic was not opened for discussion. Then another collector who is a White male showed me his collection of gay art in his duplex here in Manhattan with at least over eight hundred fascinating objects, furniture, china, cutlery, paintings, sculptures, curios, etc. of the male physique in various stages of sex. With no visible image of a Black male, though that never bothered me. I would not really expect to see a Black Jesus in his house either (smile) and if I did, I would be quite surprised unless it happens to be an Ethiopian Icon. Anyhow after viewing his collection for a few hours he told me that the artist work I was admiring, was a great friend of his and on one occasion he asked him why he never took a picture of a Black male and he said the artist told him; "you see, I am the only White boy you know with a really bad case of White fever" so coupled with these experiences, the idea for the performance "Acute Case of Black Fever (a reaffirmation of Black Love)" was born.
AiOP: What concepts will you be exploring in your performance?  How does it relate to the theme?  What kinds of discourses and dialogues are you hoping to create from this triannual show?
Lawrence: Well as for concepts in my work I deal explicitly with themes of Black male sex/sexuality, notions of beauty, desire, public display of Black male affection, cleansing, nurturing, consumerism et al. and at the foreground asking a larger question about the Black male body in the public domain, if there still remains the question that the Black nude male body must still be controlled or dismembered. You see Matthew, the Black male penis/ass still creates this physical anxiety for whatever reason. From sagging pants to wearing hoodies and coming from my experience as a Jamaican, where I am still ostracized and considered to be corrupting the society among other things. The sort of work I am doing cannot be done properly without beginning from an honest place and nudity happens to be one of them. Liberation, cleansing, using my body as a canvas, using my assistants as extensions of my other selves are all just apart of a larger narrative of this heavy load I bare while bringing all of this into public health discussions and consciousness.
AiOP: What are your feelings about this event?
Lawrence: Well this is a dynamic event, Dance New Amsterdam partnering with (APAP) Association for Performance Artist Professionals, conference with over three thousand or so presenters being on hand for this weekend in New York, and DNA giving us this chance to showcase our work is so awesome. I am so honored to have been invited by the curator Jaamil Olawale Kosoko to present my work and to open both nights and set the tone for the event. This is a great honor! I am so delighted and grateful to them both and I intend to give it incredible justice!
AiOP: Does your performance directly relate to any of the other artists' performances?  Was there any collaboration between you and any other artists in the show?
Lawrence: No this body of work is independent of all the other performances in the triennial event. I am using my construct Ras-pan-Afro-Homo-Sapien. I do not know what the other performers are doing. Though as a collective, we are having similar discourses by way of different sensibilities in some sort of way. Though I think that Jaamil would like a more open ended approach. No I have never collaborated with any of the performers in this show before, in fact I have never met any of them before even though I have seen their work and I respect it greatly.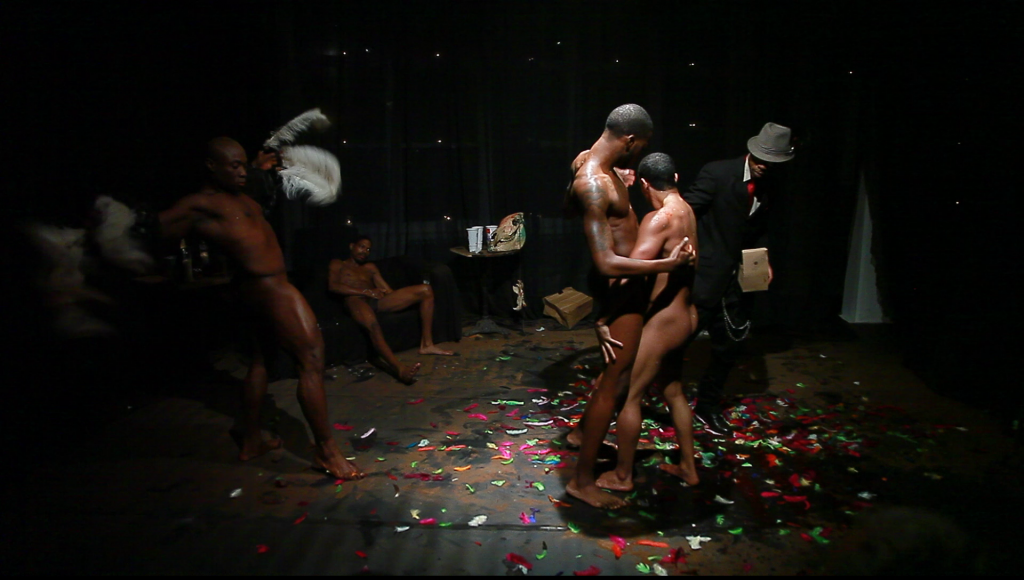 "Bare Backin N da Bronx" Oct 2012, photo courtesy of Daniel Talonia.
AiOP: Will your performance in Program A differ from the one in Program B?
Lawrence: Yes the performance in Program A will have some differences.  I may fall into a trance while performing on Friday night and so it may be different on Saturday so who knows what may happen after all this is experimental theater. Though the performance is somewhat structured but there is a large experimental component to it. Program B will elaborate into the idea of the fever and explorations.
AiOP: Jaamil mentioned you have an installation that will be up the week of the performance, can you talk a little about that?
Lawrence: My installation the "altar" will have my skull bikini, which will include a lion skull, a bear skull and my usual Zebra skull, a decoy, feathers all hung upside down as a cross with my red cock candle and my yagi uda sculpture assemblage with the African wooden cock, lion tooth, bear claw and dread locks called the "Intra-sex Transducer".  Also I have my dear friend Mr. Leon Dozier New Jersey NPC Muscle Beach 2012 middleweight Champion helping me both nights. I anticipate a performance to remember.