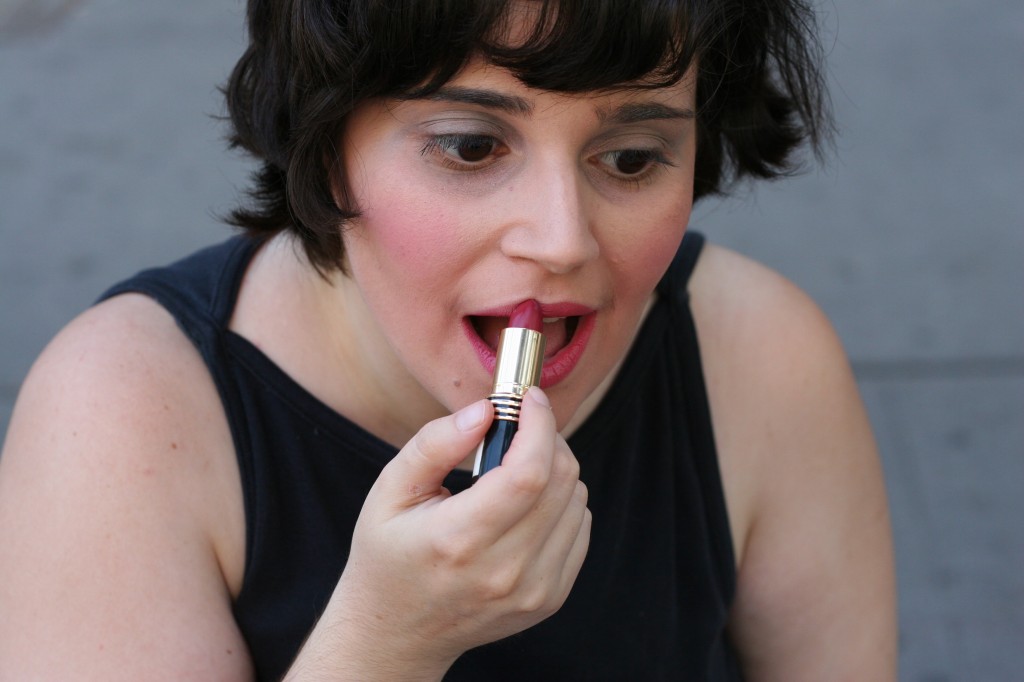 Photos courtesy of Faith Holland
by Bryanne Leeming
The history of cosmetics dates back more than 6,000 years. There are records from ancient Greece, China, Victorian England (Queen Elizabeth's white 'mask of youth'), and even in the Bible. In modern society, makeup has become a daily ritual that many strive to perfect. Artist Faith Holland challenges this ritual using her art, encouraging onlookers to step back and think about the routines we repeat every day. Watching her project, "Everyday Makeup" forces viewers to acknowledge the amount of time spent pampering and to really question why. After all, these masks we create for ourselves are only taken off at the end of the day! Faith Holland is a current student at the School of Visual Arts pursuing an MFA in Photography, Video, and Related Media. The Art in Odd Places 2012 MODEL Festival is her first live performance piece. In her performance, she applies one weeks-worth of makeup in one sitting, each layer adding more to the distortion of her natural self. Here's our interview with Faith Holland:
AiOP: How would you describe your work?
Faith Holland: My work takes on a fairly wide swath of issues and forms related to some core issues of feminism, beauty, the Internet, and appropriation. I work in photography, video, performance, and some other projects I'm working on now branch into animated GIFs and web-based works.
AiOP: What interests you most about performance art?
FH: I think what draws me most to public performance is a kind of direct art–there's no gallery system to go through and feedback from the audience is immediate. There is no middleman between you and your audience (which also makes it nerve-wracking!).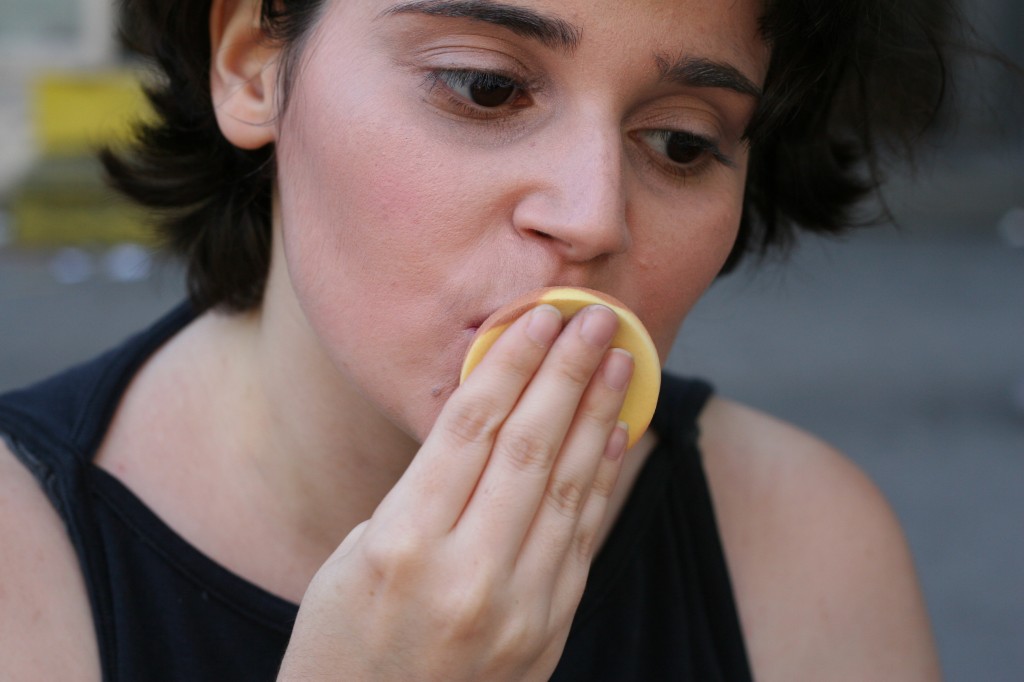 AiOP: What are some of the underlying themes of your project?
FH: "Everyday Makeup" is trying to get at the money-time dynamic of personal appearance. The project proposes the power of the cosmetics industry (among other 'personal appearance' industries) to compel us to buy products and use our time to alleviate the self-esteem problems that the industry itself creates within us. This commercial impetus affects our most personal, quotidian habits. These private activities are returned to the public realm through this performance so that this everyday activity can be looked at in a new way.
AiOP: How does your project fit in with this year's theme: MODEL?
FH: The project very literally looks at one definition of modeling–making oneself look like something else. Makeup suggests a venue for self-expression and looking your best, but instead tends to conform.
AiOP: How did your project come together? What was your inspiration?
FH: This performance is part of a suite of works looking at technologies changing appearance. The beauty/technology theme began with Improving, Non-Stop, a science fiction video in which I retouch my own face and then wear the image as a mask in my everyday life, and Retouch, Reform, Refit, where still images of that mask depict each layer of the file and each pixel of my face that was changed. In my research for that project, I came across a how-to makeup video series at the New York Public Library, Professional Make-up Tips for Caucasian Women, for Asian Women, and for Black Women. This was astonishing to me, and I ended up using these videos to make a three-channel video piece called Make-up Tips in which each woman's face is transformed, but the video only shows the 'down' moments when their face is not being manipulated. Despite their transformation into their 'best selves,' the women look uncomfortable and melancholy. This led me to thinking about makeup itself as a technology that changes appearances–I went from the most fantastical to the most realistic.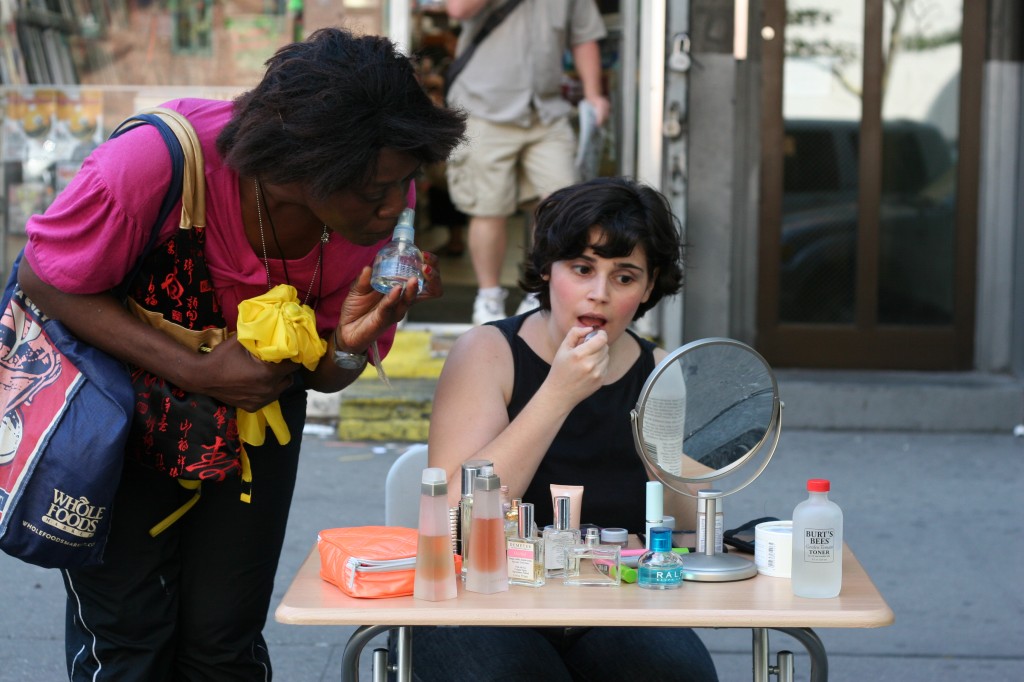 AiOP: What are some of the more challenging aspects of your project?
FH: The piece is something of an endurance piece–I put on seven layers of makeup consecutively, which is incredibly uncomfortable. But it's this perverse usage that opens up looking at makeup, this banal feature of our everyday lives, in a new way.
AiOP: Who are some of your favorite artists?
FH: Carolee Schneemann, Lynn Hershman Leeson, Valie Export, and Sarah Lucas are all artists I've been thinking about a lot while making my recent work.
AiOP: Any upcoming events/exhibitions?
FH: I will be speaking about my current work via Skype at an Internet Feminism symposium at Arcadia Missa (London) on November 17th.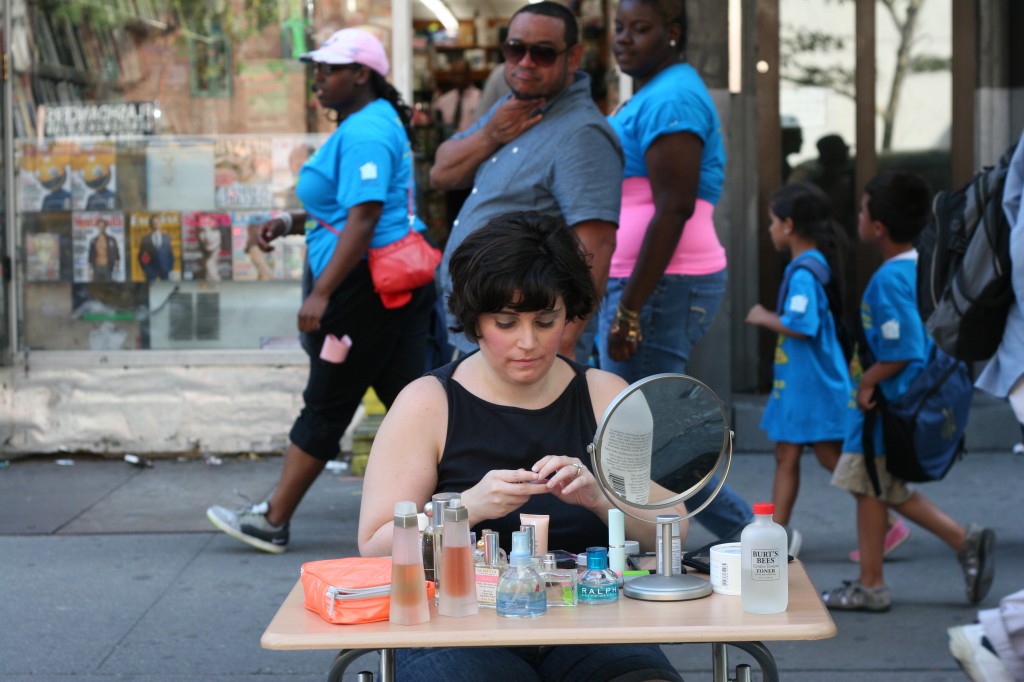 To see "Everyday Makeup" on 14th Street as part of Art in Odd Places, check out Faith Holland's remaining performance times here.