By Matthew Morowitz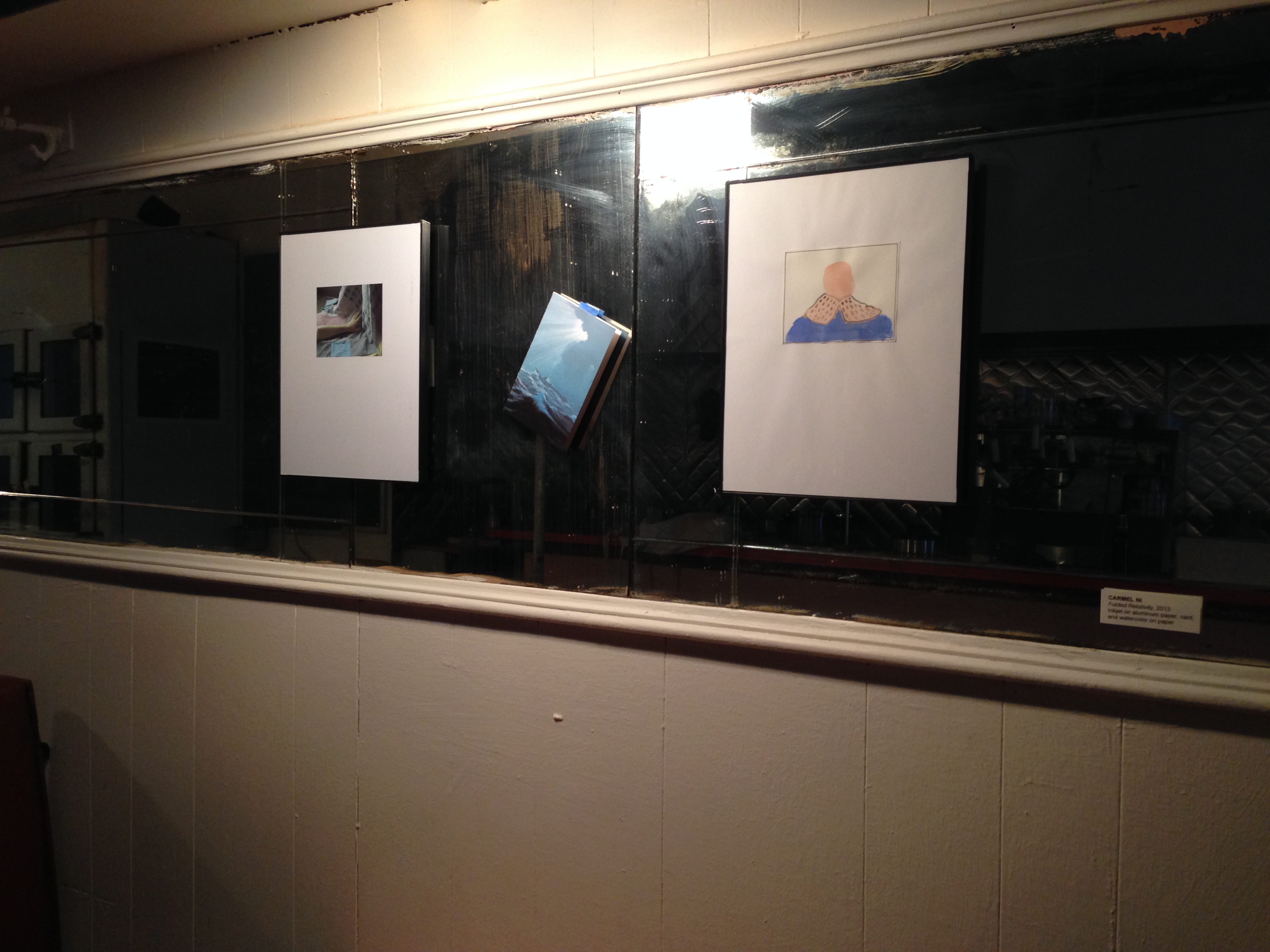 Exhibition view of Carmel Ni's "Folded Relativity," 2013. Photo courtesy of Kaitlyn A. Kramer.
In the late hours of January 24th, 2014, I was heading back to my friend's place in Greenpoint, Brooklyn, when on the way he became interested in music and activity that he had noticed coming out of what looked like an abandoned corner store on Nassau Street.  After inquiring what was going on, my friend and I stepped inside what we were told to be an art show.  Though a cold night outside, as soon as we entered we were immediately hit with the heat from the mass of bodies milling about in what turned out to be a diner space (I was told later that the space used to be the best diner in Greenpoint before the health department shut it down; it now serves as a social club and event space).  On the wall space above the booths there were artworks (drawings, paintings, prints, poems, etc.), as well as in the corners of the room.  Above the kitchen area was a projection screen, though by the time I arrived any multimedia was already finished.  Intrigued I inquired more about the event and was introduced to one of the curators, Kaitlyn A. Kramer, and after we chatted agreed to sit down and discuss this show further.
One week later I met Kaitlyn in a French restaurant in Long Island City to talk about the show.  A small girl with long hair, turtle shell glasses, and lots of black clothing, Kaitlyn at first appearance seemed like she would be the sullen and introverted type.  Yet as soon as she started talking I found her very warm and personable.  Originally from California and exhibiting that relaxed and casual demeanor one finds in west coast natives, Kaitlyn and I chatted about her life (she moved to NYC on a whim), her plans (she is currently finishing a Master's Degree in writing at the School of Visual Arts), but most of all her involvement with the show.
Called "Blueologies," the show was focused on the color blue and was organized by her and her creative partner, Spencer Gauthier (who is the brother of AiOP 2014 curator Dylan Gauthier).  "We had been wanting to curate a show together for a while," recalled Kaitlyn.  "We attended undergrad in Los Angeles together at UCLA together and a lot of our friends were in the art department.  He had curated several shows featuring their work and many of them were interested in being exhibited with us in NYC."
Blue
Originally, Kaitlyn and Spencer did not have a specific theme in mind when they decided to do a show together.
"We originally took a strange approach of having this range of artists and attempting to see a common strain in their work and developing a theme that way, I don't know if it's that uncommon."
However, this strategy proved to be a bit of a fruitless effort as "it produced these really vague concepts.
Instead of finding inspiration for the theme from the works and artists, Kaitlyn was eventually able to discover it through her own personal explorations she was undertaking at the time.
"I had been reading a lot about the color blue, which was sort of incidental and kind of clouding my judgment on how I saw things, so I just kind of thought, 'you know, what if everyone gave us work that correlated with this idea of blue? What if we sort of solicited work for the show through this concept rather than looking at individual bodies of work and choosing pieces hoping to eventually find a theme there?'"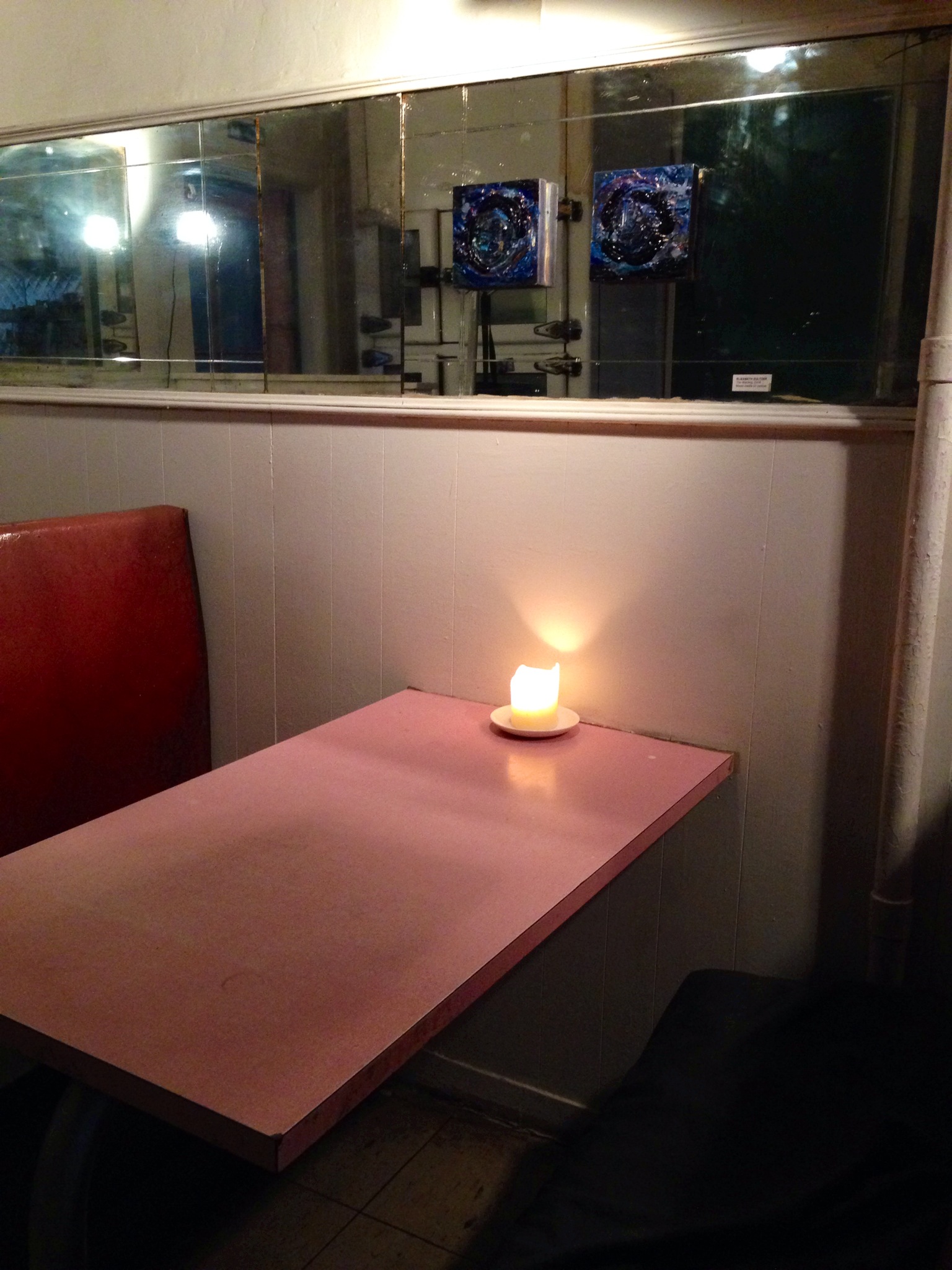 Exhibition view of Elizabeth Sultzer's "The Wanting," 2014. Photo courtesy of Kaitlyn A. Kramer.
Proposed almost tongue and cheek, Kaitlyn and Spencer were shocked to discover overwhelming support for this idea.
"We kind of laughed about it and then when I posed the idea-I think I reached out to about ten artists–they all kind of responded really positively, really intrigued, sort of 'tell me more, give me these reading, why?' because it is a very broad and sort of mysterious idea–this notion of just blue."
"Blueologies" was born from a personal pursuit, a semi-serious suggestion, and the conversations going on between Kaitlyn and Spencer.
"That's really what came about, I was reading Maggie Nelson's book length poem 'Bluets,' I was reading Goethe's Theory of Colors, William Gass wrote a book about blue.  It spawned from my own personal interests and then we developed the feel for the rest of the show around conversations we were having together, Spencer's input was necessary in shaping my initial wonderment into something feasible."
Yet, I was curious why Kaitlyn, like so many artists, writers, and other creatives, was so attracted to the color blue.  When I proposed this question to her, I was surprised to find how the color the color just kept coming back to her, in spite of her own confession about not liking color in general.
"What I found interesting was so many people, out of all of the colors, write specifically about blue.  Within writing, blue really stands out; especially the Maggie Nelson text, which really resonated with me.  It brings together all of these outside sources of other philosophers and theorists, artists who contemplate blue, so that kind of became a point of reference. It was like one thing lead to another in a natural progression; I like the color, but I don't particularly like color that much, but I saw it as something that has more emotional, psychological, physical, almost human ties than a color like green or red.  I guess when you get down to the primary colors they are really natural and present, but blue just stood out, it kept coming back to me."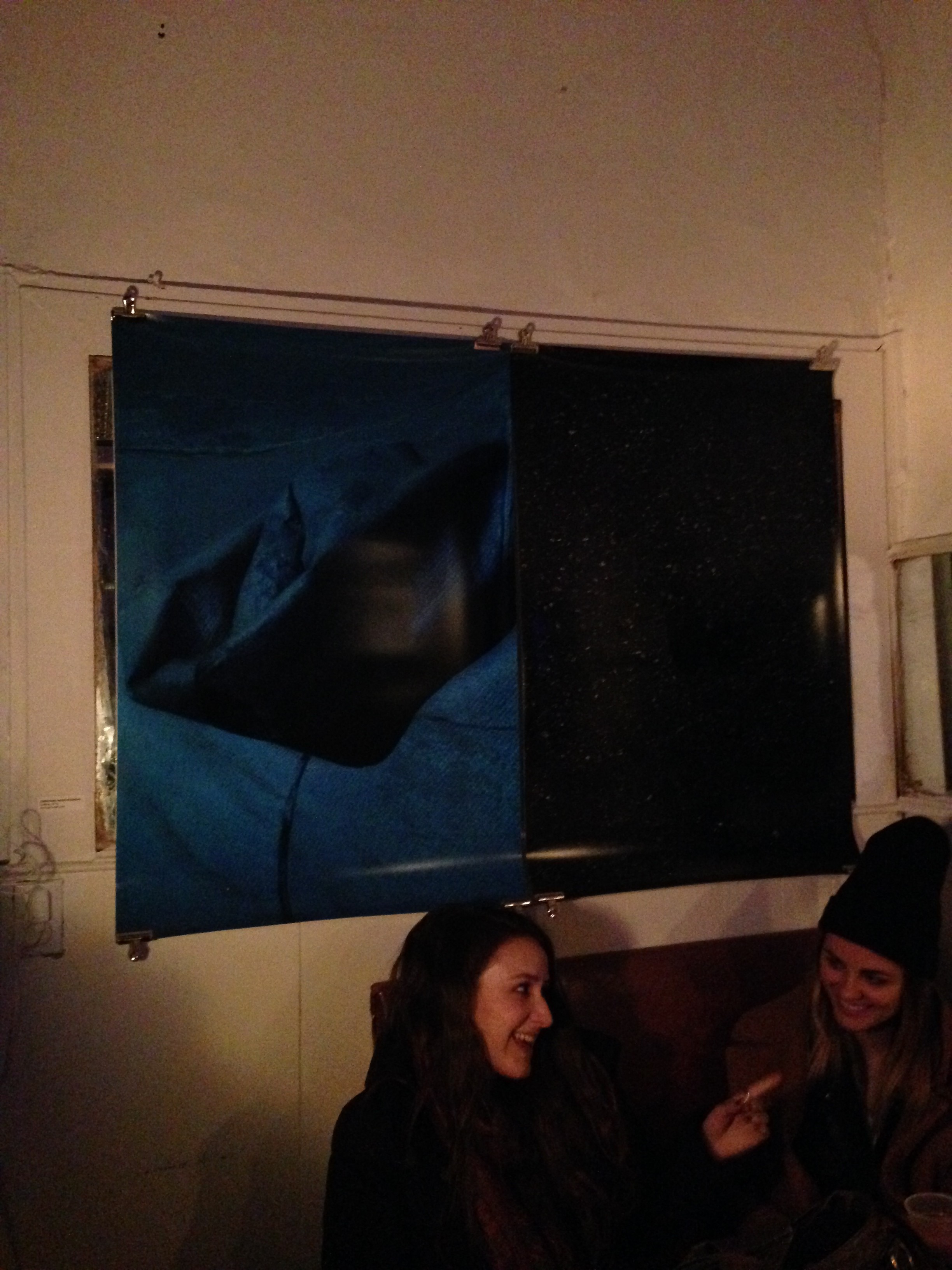 Exhibition view of Christine Haroutounian's "Untitled (No Sigh)," 2013. Photo courtesy of Kaitlyn A. Kramer.
Another factor for Kaitlyn was also blue's visual appeal; she drew on her own experiences with the color grey as a way of highlighting how some colors function better on a physical level than others that may be more interesting conceptually.
"I collaborated with designer Michelle Lin for the Los Angeles based publication 'Young Cloud,' which gives writers and designers the freedom to work together to produce an object whose form and content are in a mutual dialogue.  I wrote a piece about grey, not necessarily the color but more the concept of grey.  I think within the visual arts it made more sense to pursue blue as a retinal experience."
The Show
"A lot of the work surprised me I think because I think several of the artists took the idea really personally, almost nostalgically."  These are the words Kaitlyn had used to describe her overall sense of the show.
"For example," Kaitlyn recalled.  "Carmel Ni's piece, it felt very intimate to me.  The pastel colors and carefully considered lines in the drawing, the photograph of a relaxed arm resting atop a quilt, and the postcard mediating between the two works convey this unspoken yet overwhelmingly present emotional and personal connection to the artist. This work, and other pieces like it, really interested me."
"Blueologies" as it turned out faithfully stuck to the theme.  Kaitlyn was surprised; although she had put this theme out in the call for proposals, she was also sure that some artists were going to take liberties around what actually constituted "blue."
"I didn't have any specific expectations about the work. I considered the possibility that some artists would not specifically use blue as a color, or might challenge it by contributing a work that was maybe green. I was mostly intrigued with how the artists would interpret the pieces individually and how these works would speak to each other."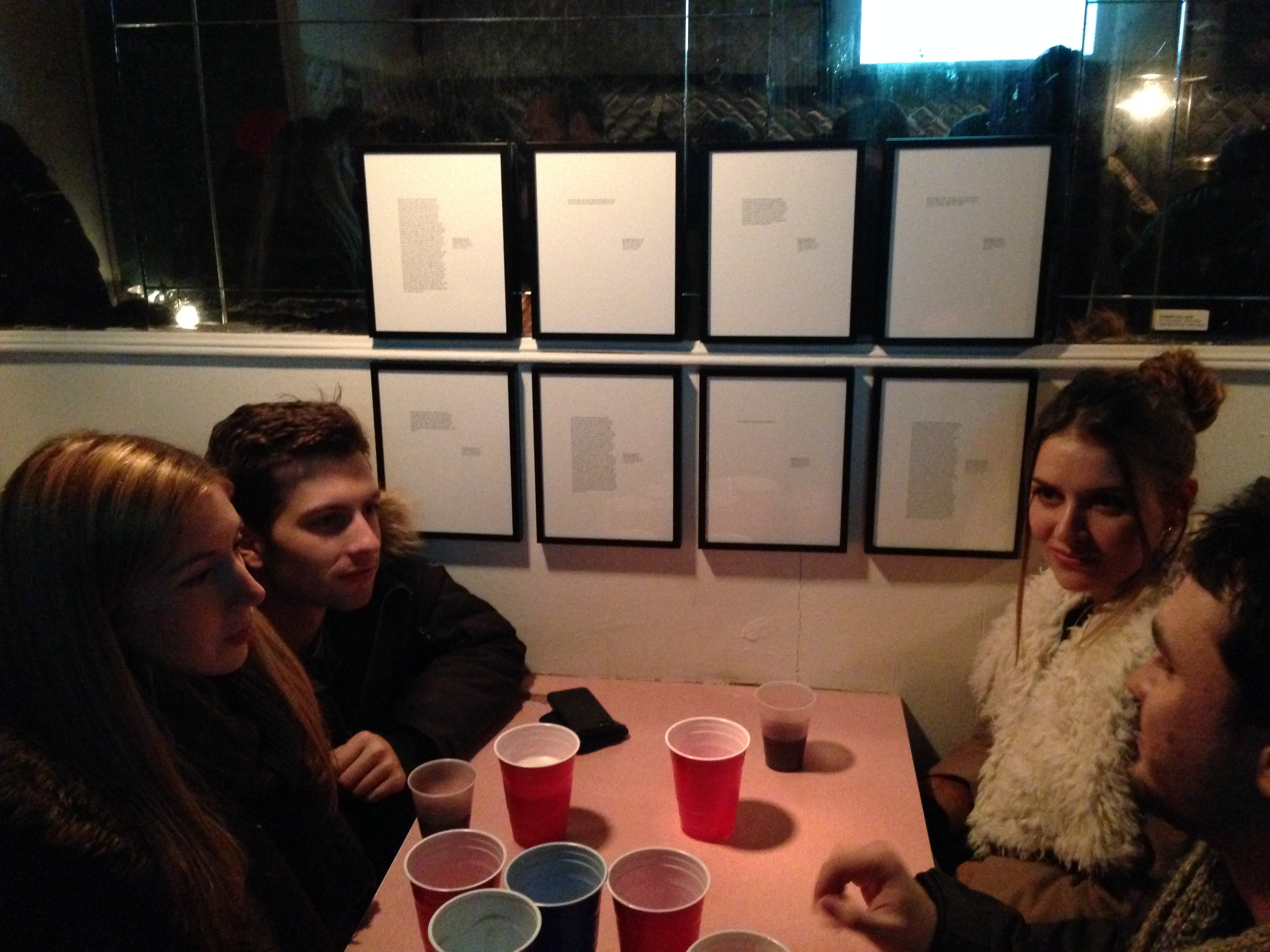 Exhibition view of Hannes Wallace's "On Translation, Blue," 2014.  Photo courtesy of Kaitlyn A. Kramer.
What really stuck out to Kaitlyn was not the kinds of works that were represented ("We had photography, drawing, installation work, there was a video piece, the performance elements.  It surprised me in a really pleasing way.  I was very pleased with everything."), but mainly the strong concepts that surrounded them.  For example, Hannes Wallace's project, which combined color, software, and text, was a powerful new look at the ways of using technology to marry visual information with the written word.
"Hannes Wallace's produced eight poems through a script they wrote using an architectural program that would use Goethe's Theory of Colors to decode a digital representation of a painting containing various shades of blue. That piece, aesthetically I thought it was beautiful; conceptually it was above and beyond what I could have hoped for. As a writer and a curator it was something that I really cared about and responded to."
Venue
The choice of space for this show was a unique one in itself as well.  As previously mentioned, the space used to be a diner but now serves as a social club and event space for artists, writers, and other conceptually focused professionals.  The space is run by Dylan Gauthier and part of the reason why this space was chosen was the result of this family connection.
"So the health department shut the space down a few years ago, and I believe the male owner passed away, but the female owner, she still lives in the building, she rents it out to Dylan and he runs a social club out of the space and uses it for events.  The social club has a membership that funds the space.  They have readings, lectures, and get-togethers to talk about potential concepts over chef-prepared meals."
However, the appeal of putting this show on in a diner space, as opposed to a traditional gallery or even warehouse setting, was something else that really stuck out Kaitlyn.
"I didn't want to use a traditional space; I'm not fond of the white cube. I didn't want the work to be thrown onto three white walls. I've gone to some openings in Chelsea lately and that experience doesn't work for me anymore, it's just not what I look for in an art going experience.. Spencer and I were also really interested in the show being a one-night venture that kind of had this mystery to it."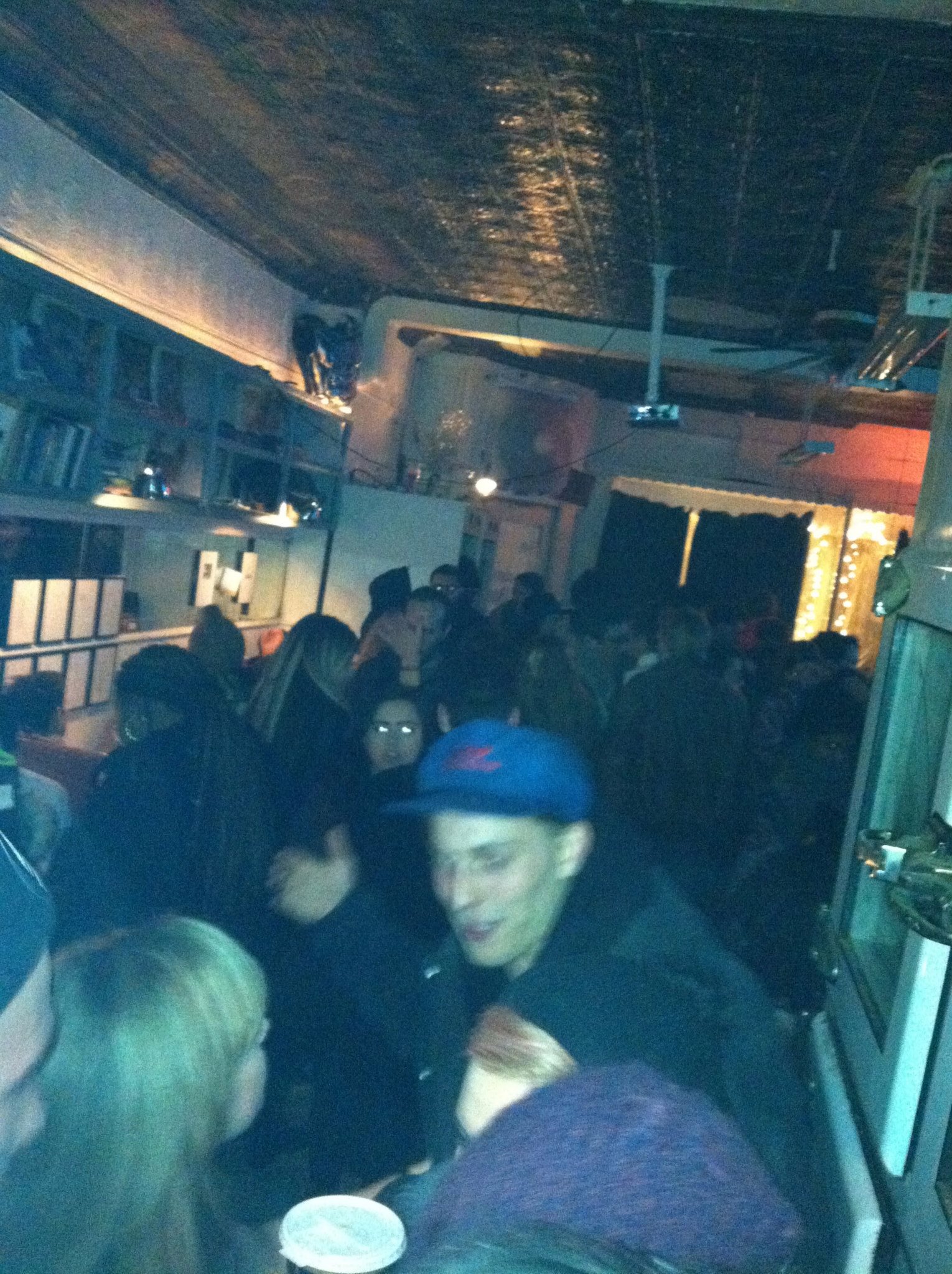 Attendees at Blueologies inside the Luncheonette.  Photo courtesy of Dylan Gauthier.
The intimacy the space would provide for viewing these works helped solve a logistical problem raised by the works.  Many of these works were not very large in scale; having them arranged around the old diner booths would force people to engage with each piece as its own moment within the confines of these seating spaces.
"Once we saw the venue, it just clicked for the theme of the show, I thought the work really needed that space, especially because a lot the work ended up being of smaller size and I thought that it would be really interesting for the pieces to have their own particular viewing moments within the booths.  The experience of seeing the work became a site-specific situation; it would be very difficult for me to go back to having a show that existed on blank walls."
Another factor that was taken into consideration with this show was the social component.  Though the show took place on a Friday night, and by the time I arrived everyone was milling about, listening to music, drinking, and talking, Kaitlyn stressed that while the atmosphere became more relaxed towards the end, the point was not that this event was a party.
"I knew that it was going to be a social event just with the whole concept of it being on a Friday night, and we had a DJ perform (Leo Emerald), who had written some original music for the show as well.  I had no idea that so many people were going to come, it actually surprised me. Regardless of attendance, I wanted people to talk about the peculiarities of the work, that it wasn't a solo show, it wasn't just a recent works show, that it had more of an elusive theme to be uncovered in talking about it over the works themselves.  That was something I really wanted, I didn't want it to simply be an opening party. I hope we were able to walk the line between providing an environment for people to gather and talk about the art critically and simply enjoy their surroundings."
Much to her relief, Kaitlyn saw that for the most part the people in attendance were engaging with the works and the space, curious about what was going on and how everything related, as opposed to ignoring the art for a chance to shoot the breeze.
"From what I saw it seemed that people were really engaging with the pieces and really curious, even if it was just being curious about the space or questioning the idea 'is this an art exhibit, it's in a diner? What is the function of the work on the walls compared to the position that you're encountering the work?' You were almost forced to be in the space of the work to even see it because the tables physically distance you from the work.
Performance
While I was not present for this part of the show, Kaitlyn informed me that there was a performative aspect that was important to exploring the concepts and ideas surrounding the theme.  The performance, which involved a panel led by an actor portraying a Sotheby's art advisor, focused on the valuation of art, more specifically "blue art," and what kinds of criteria would be used to accomplish this.
"Spencer really came up with the performance, and I thought it was a perfect complement to the art and the space. We wanted it to be this out of place lecture and panel on purchasing blue artwork.  Kind of an absurd idea, that in this diner we're going to have this Sotheby's art advisor and this professor (also an actor), talk about what it is to buy blue artworks or what the value of certain blue art works were."
The performance occupied this dual space between parody and criticism; initially conceived as an absurdist satire, Kaitlyn and Spencer found humor in the idea of having a professional from the art market come in to give a lecture on valuing art according to a specific color.  Yet, the reality of the commercial art market is that elements in works, such as the color blue, can actually affect the value, price, and appeal to the potential buyer.  Thus, this performance became an interesting way to address this contradiction.
"It was just kind of a silly notion of having this panel about what decisions art collectors should be executing in a room that had probably no art collectors in it, and it was in a diner on a Friday night at 10pm via Skype. That was an element that people were responding to and it kind of gave the attendees insight into the history of blue in art and kind of the absurdity of looking at just one particular color when considering the value of an artwork.  It really is an absurd idea, like asking 'what's the blue in this?' It is a weird criteria for valuing art, but then on the flipside when you're actually connecting with a work the blue can really mean something. I guess the back and forth was what was strangely provocative and relevant."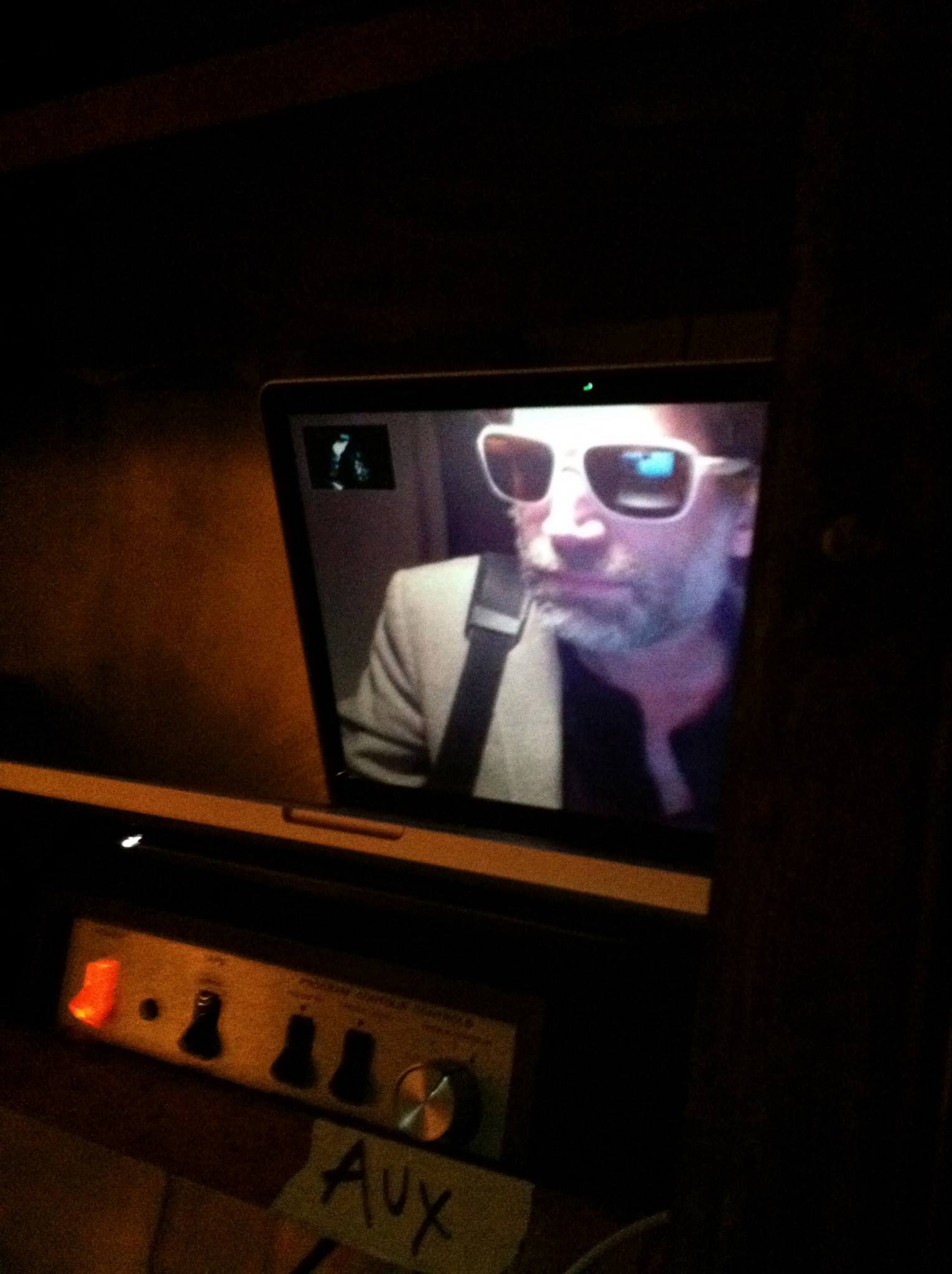 Performance of 'Sotheby's art adviser' Mark Oberhoff on Skype.  Photo courtesy of Dylan Gauthier.
After my discussion with Kaitlyn was over, it became apparent to me that what I experienced at that show was only the tip of the iceberg compared to what actually went down over the course of the evening.  However, our conversation did leave me very impressed; I was surprised how such a simple theme was able to draw out though provoking concepts, critical dialogues, and a new exploration space and interaction.  Yet, it is not just this theme that lead to this success, but also Kaitlyn and Spencer's ability to bring in and think about how the different elements of the show were able to communicate with each other in creating the overall experience.  When asked whether this show would be part of a series or just a one time event, Kaitlyn informed me that a series focusing on different colors is a possibility that is not completely off the table, but she is more motivated to work more closely with some of the specific artists that were featured as opposed to continuing with new or related themes.
"For right now, I'm a little tired of color [laughs], especially blue.  I'm not sick of it, I'm just a little tired of dealing it, but I could see maybe red would be an interesting theme for a show, maybe I'll do a primary color series eventually, but for right now I think I would want to take a different approach to curation that didn't rest so heavily on theme. Spencer and I will definitely be planning shows for the summer."
It will be interesting to see what these two have planned next, but according to Kaitlyn one thing is for certain.
"I'm actually thinking I want to do a series of exhibitions at the Luncheonette, whether or not they are based on a color. I'm not done with that space."