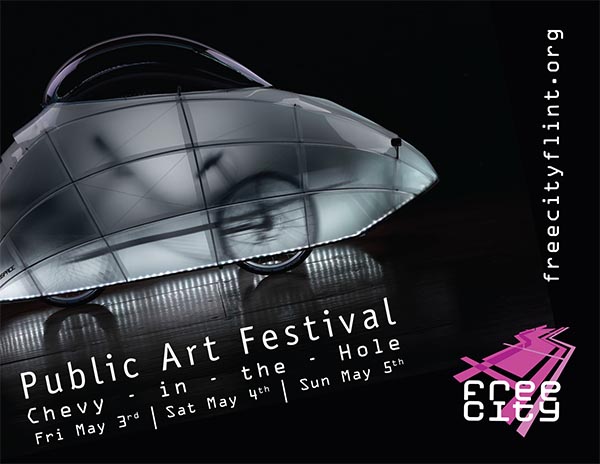 Free city poster.  Image courtesy of Jerome Chou.
The end of this week starts the Free City Public Art Festival: Reclaim | Transform in Flint, Michigan.  Recently, Stephen Zacks, the executive director of the Flint Public Art Project, contacted Art in Odd Places with this to say about the upcoming event:
From May 3-5, Flint Public Art Project is installing more than 80 works from around the country and the region to transform the site into an active part of the city. Dozens of local and regional artists are joined by visiting artists from Ann Arbor, Baltimore, Berlin, Belfast, Buffalo, Chicago, Cincinnati, Lansing, Lodz, Los Angeles, New York, and Pittsburgh to transform the former Chevrolet site into a spectacular landscape of light and sound.
This massive urban interventionist public art festival includes work by NY-based architecture office NAO (thenao.net), Boston-based architect Jae K. Kim (http://www.counter-design.com), an inflatable shelter by Ann Arbor-based artist Michael Flynn modeled after Anish Kapoor's Cloud Gate in Chicago, an installation by Ann Arbor-based architect Catie Newell of Alibi Studio, a piece by NY-based architects Matthias Neumann and Natalia Roumelioti, an installation by Flint-based architect Freeman Greer, along with a wide range of art and performance works.
The festival will include many artists from the Detroit alternative space scene, including Jon Brumit, curator of public engagement at Museum of Contemporary Art Detroit; Hard Core Detroit, a Detroit break dance crew founded by Haleem Rasul specializing in a Detroit style of footwork known as the Jit; The Hinterlands, a Detroit-based company dedicated to exploring the art of performance through ecstatic play and explosive training; Spaceband Detroit, which uses a variety of homemade, toy, percussion, wind and electronic instruments; Maya Stovall, founder of Finite Studios, an art space/collective in Detroit's McDougall Hunt neighborhood housed in a re-purposed bank; and Tzarinas of the Plane, a Detroit-based performance group specializing in dead operas, visual extravaganzas, dream walking, compulsive exaggerations and primal reenactments.
The project is one of dozens of programs Flint Public Art Project has produced in the past year with support from a 2012 ArtPlace grant.
Some more information about some of these projects is below and more images are available at freecityflint.org.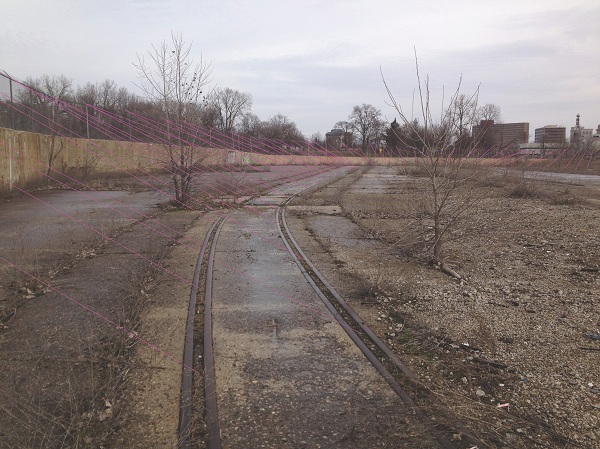 Trellis.  Image courtesy of NAO.
NAO Trellis
New York-based architecture office NAO (thenao.net) constructs a temporary network of colored ropes that will reinterpret the site into a temporary and festive environment to use and play. The geometry of this network is made by connecting the top of the wire fence stretching along the river to the unused freight rail tracks in the field. This network will create a slanted, oblique and porous surface along the fence and the rail. Rather than masking both as oppressive remains of industrial era the network will tied them, and integrate them, into an extraordinary new festival space.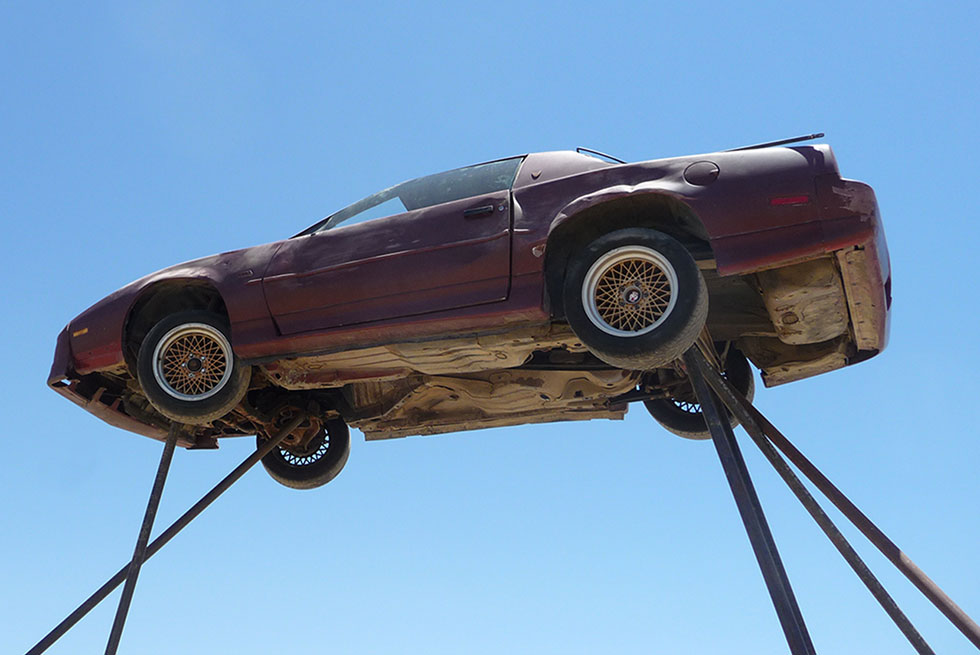 We Build Excitement, 2012, production still. Image courtesy of Jesse Sugarmann.
We Build Excitement
A temporary monument to GM's discontinued Pontiac Motor Division, produced by artist Jesse Sugarmann. For the Free City Festival, the project takes the form of an ersatz Pontiac dealership at which sculptural and dance performances occur.
Cloud.  Image courtesy of Jae Kim.
Cloud
Boston-based architect Jae Kim produces a floating installation that creates a complex geometric form using everyday materials, including nylon wire and hundreds of plastic straws.
Groundscape
This light installation by architect and artist Catie Newell and students from University of Michigan integrates bio-plastics and a cloth substrate that pulses and fades in response its environment. Groundscape traces the remnants of the railroad tracks, playfully responding to the myriad textures and embedded traces of previous activity throughout the site.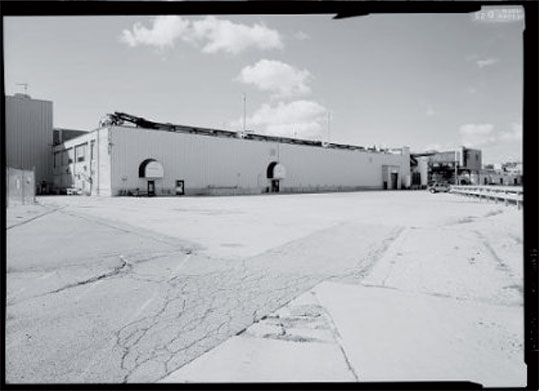 Postcard Futures.  Image courtesy of Jet Lowe.
Postcard Futures
In 1968 photographer Jet Lowe shot "Delphi Flint West, 300 Chevrolet Avenue" in Flint, as part of his work to record significant, often threatened American industrial sites. Architects Natalia Roumelioti and Matthias Neumann invite the public to attempt to identify and reenact the photographer's vantage point and to share their own photograph of that view to a dedicated Flickr account.
Recovering History
Photographer Farrah Karapetian reimagines abandoned billboards as a sculptural structure to house images made with students at the federal vocational training program Flint/Genesee Job Corps performing their trades. The work honors both the efforts these youth are making to improve their lives as well as the rebuilding of Flint.
Chevy Plants
Flint-based architect Freeman Greer marks the site with reused tires arranged in the form of a Chevrolet logo, planted with switchgrass and sunflo