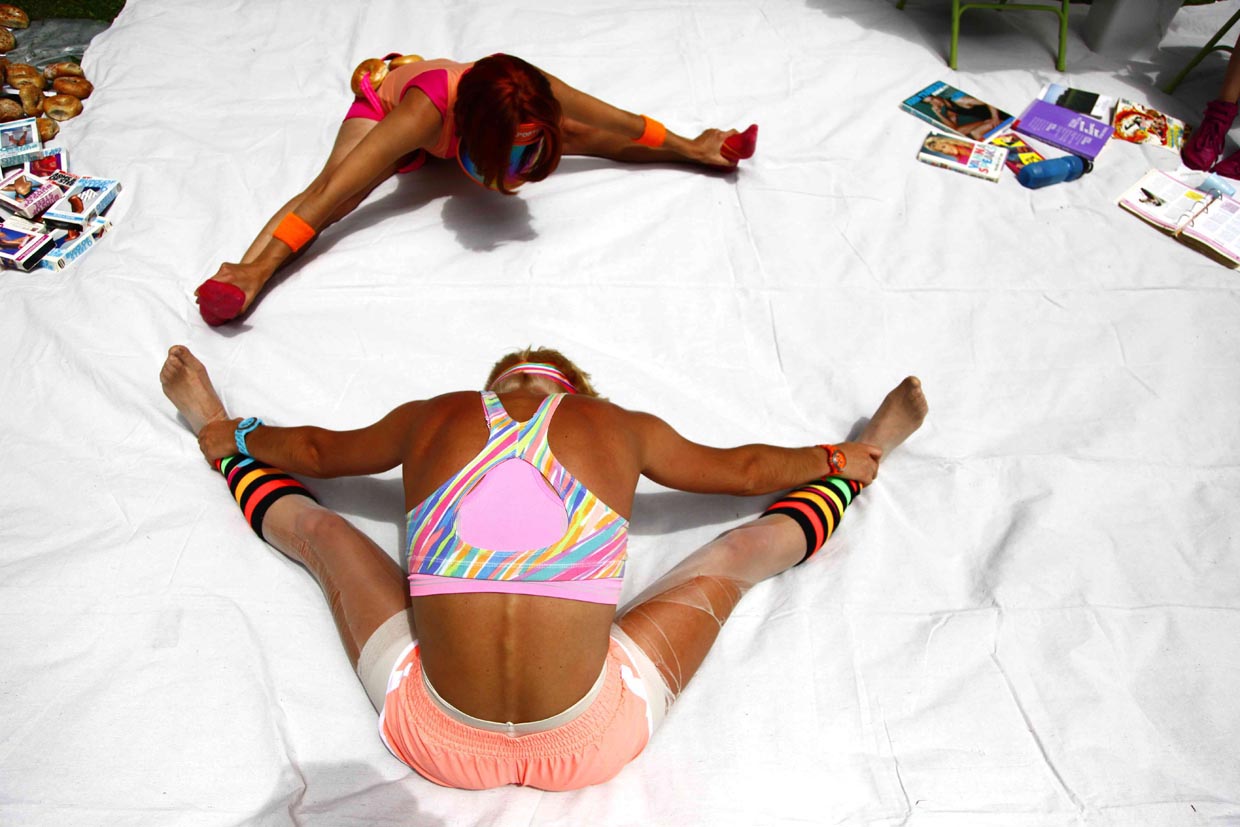 This year's Art in Odd Places festival gathers 30-odd artists along 14th Street for spontaneous works of visual and performance art. The only constraint is the theme – NUMBER.
Go! Push Pop joins us this year to interpret how numbers shape our lives. We caught up with this exciting queer art collective to learn more about their project and experience performing on 14th Street this week.
Can you tell us a little bit about yourself and the kinds of work that you do?
The Push Pops are a radical, transnational queer feminist art collective. Under the mantle of 'Embodied Feminism,' we employ the female body – that which is bound to a cross-cultural language of desire, signification and power – in tactical, ideological strategy. The Push Pops utilize gesture, exclamation and popular idiom to embody a new and discursive physicality. Go! Push Pops is groundbreaking work marrying traditional notions of performance art to an embodied Feminist pedagogy that emphasizes praxis over the dusty language of ideology. It's expansive lunar medicine geared toward mind-body intelligence and highlights the queer body as seer, healer and transcendental trickster figure. It adopts a bubble gum pop aesthetic while maintaining the rawness of Fine Art performance, spirit of transnational culture jamming and healing aspects of neo-shamanic ritual. Not only does our collectivity challenge the dog-eat-dog commercial artist market, it brings art into the public sphere and explodes dominant conceptions concerning gender, class, race and nationality through a highly accessible LIVE *spectacle* with rapid appeal. Currently, our format is we collaborate with a third guest artist for each project. This has been a valuable form of community building and a lesson in the true nature of creativity – being receptive, open and fluid we explore the nature of flow as a spiritual principle and avoid "gatekeeping" our practice to MFA-clad members only. This ad hoc tactic has become a way of keeping the Push Pop material fluid and dynamic as well as building an expansive network of artists we work with.
What attracted you to this year's AiOP festival?
We have always been a big fan of AiOP and (to be honest) performed "guerilla style" on our own during the festival in 2011 a piece called Rainbagladybow. We had a great time and have been trying to get officially involved ever since. A number of our friends have performed for AiOP and went on to really launch amazing careers afterward. As a festival it's quite unique and so accessible… a great sort of laboratory for artists to experiment with live performance, public practice and interactive installation.
How are you interpreting the theme number?
Our piece is called "500,000" which refers to the number of women sexually assaulted within the ranks of the U.S. Military. Inspired by Kirby Dick's award-winning documentary Invisible War, Go! Push Pops is taking the U.S. Military's longstanding war against women to task from the inside out. Dressed in the likeness of gender-bending officers with our collaborator Megan Welch, we will lead a funeral processional along 14th street protesting in our embodied feminist idiom the U.S. Military's longstanding sexually motivated violence against women and gender non-conformant bodies. Along the way we will perform short monologues characterizing survivors of sexual assault.
What excites you about the prospect of presenting this work?
This is a new direction for us. It's probably our most didactic and feminist – kind of exactly what we avoided in the beginning. We didn't want to toe the traditional feminist line alienating men and talking about only the hard stuff like rape. But unfortunately, as women, it's an issue that's pretty deep and personal. Now that we've carved out a unique voice we feel equipped to talk about anything. The film inspiring the work was really groundbreaking and we want to catalyze on that energy and this general shift happening right now towards the feminine/lunar energy.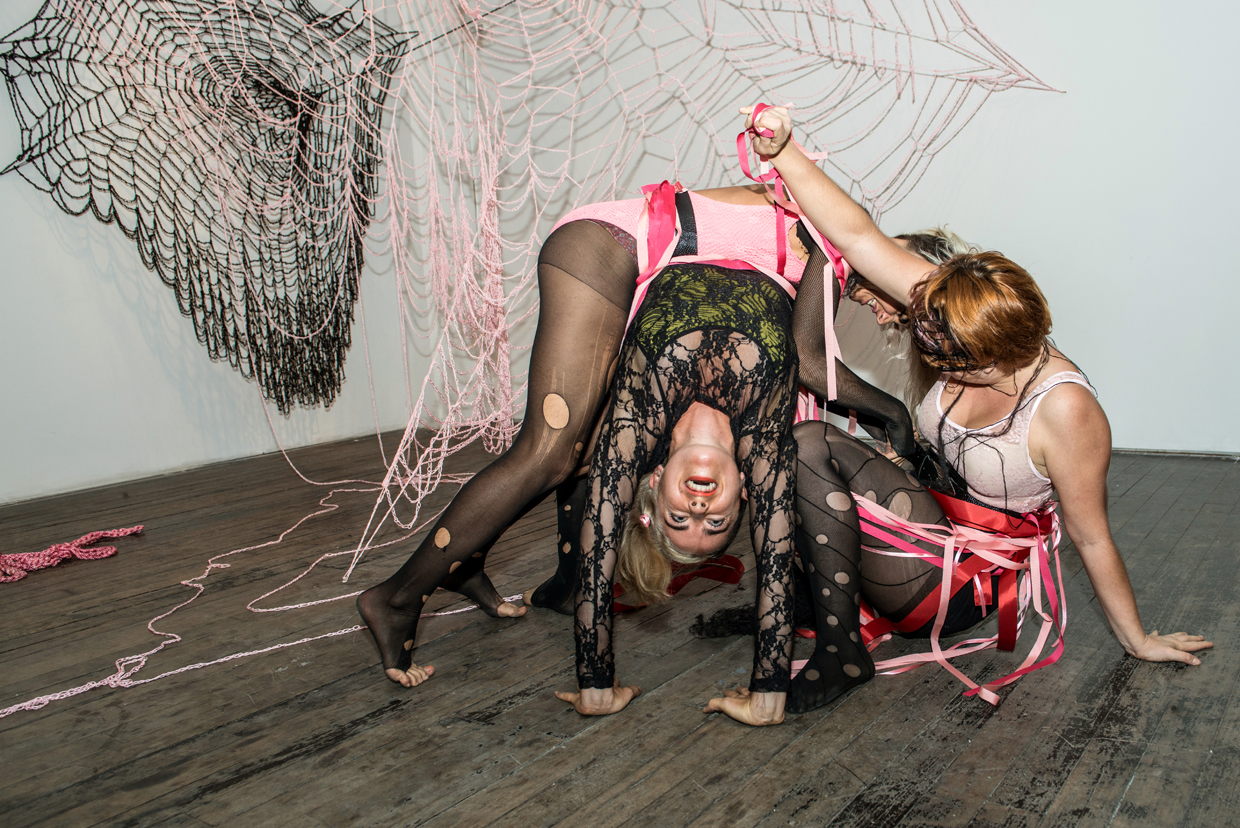 How has adapting your work to 14th street affected your process?
We took a walk along 14th street recently with our collaborator Megan to get a feel for the territory. We're going to incorporate some of the existing landscape like the colonial statues in Union Square and the Salvation Army near 6th Avenue. We're excited to be back in this area because it's exactly where the Push Pops did some of our earliest work.
Have you come to learn anything new about 14th street while formulating your work?
That the street signs are a lot higher than we thought.
Don't miss 500,00: October 19   4:00 – 7:00 pm. Location here.