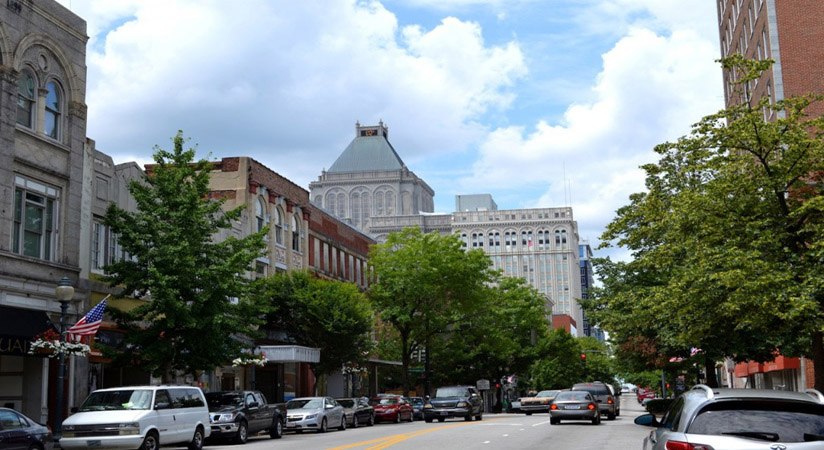 The first ever installment of Art in Odd Places in Greensboro includes 36 creative works by more than 40 local and national artists. Projects include music, sound, and dance performances, site-specific installations, video projections, book art, painting, sculpture, and cross-disciplinary work, all of which will be happening along Elm Street in Downtown Greensboro from 6-9pm, Friday, November 1 and 12noon-9pm, Saturday, November 2.
Working with AiOP founder, Ed Woodham,the co-curators of AiOP/Greensboro, Xandra Eden, Curator of Exhibitions at the Weatherspoon Art Museum, and Sheryl Oring, Assistant Professor of Art at The University of North Carolina at Greensboro, invited artists to submit proposals dealing with this year's AiOP theme of NUMBER. About one third of the artists hail from the Greensboro area, while the rest are traveling from throughout North Carolina and as far away as Oregon, Colorado, Minnesota and New York to create their projects.
The artists explore the myriad ways that numbers are part of our daily lives: they invite you to dance in 4/4 time; explore strange obsessions with particular numbers; invite you to a game of hopscotch; revisit numbers that are central to Greensboro's past; re-imagine the street through novel forms of wayfinding; and invite you to experience a symphony of sound produced by cellphones.
The Greensboro edition of AiOP is presented through the support of the 2013 Southeastern College Art Conference and the Art Department and Weatherspoon Art Museum at UNCG, in collaboration with Downtown Greensboro, Inc. and Elsewhere Collaborative. A special thanks to Lee Mortensen, interim executive director of Downtown Greensboro, Inc., for collaboration assistance and identifying multiple AiOP downtown site location logistics and opportunities; and City of Greensboro Special Events operations Josh Sherrick for help interpreting city code regulations during the planning process.
NUMBER
Numbers are shape shifters. Disciplined yet volatile, precise yet electric, singular yet collective, iconic yet generic, transparent yet slippery, cool yet momentous, restrictive yet buoyant. Transforming continually, they populate our daily life, clicking, ticking, cajoling, chastising, pressing and promising. How can artists respond to the numerologies of our time? In proposing Number as the theme for Art in Odd Places this year, I invited artists to transform this seemingly
bloodless technology of representation into an active zone of experience. AiOP's own embedded numerical reference played no small part here: its invitation to scout the urban landscape for the thrill in the extra, the leftover, the odd.
On Manhattan's grid, for five years, Art in Odd Places has mined the particular quirks and crannies of the 14th Street thoroughfare. As the festival moves beyond this home stretch, I am delighted that other artists will join us to ensure that more odd places are never made even.
— Radhika Subramaniam
About Art in Odd Places
Art in Odd Places (AiOP) presents visual and performance art in public spaces. Active in New York City since 2005, AiOP aims to stretch the boundaries communication in the public realm by presenting artworks in all disciplines outside the confines of traditional public space regulations. The project in Greensboro continues AiOP's work to locate apertures in public space policies, and to inspire the popular imagination for new possibilities and engagement with civic space. AiOP is a project of GOH Productions.
Founded and directed by New York artist Ed Woodham, AiOP is an arts project exploring creative interventions in public space. AiOP's 2013 thematic concept of NUMBER is conceived by AiOP NYC curator Radhika Subramaniam. In 2013, AiOP explores NUMBER at The New Museum's IDEAS CITY, New York; and eventsin Warringah & Manly, Australia; the annual NYC event on 14th Street; and in Greensboro.
People:
AiOP Founder and Director:
Ed Woodham
Initiating Curator:
Radhika Subramaniam
Greensboro Curators:
Xandra Eden and Sheryl Oring Program Coordinator: Harriet Hoover
Curatorial Assistants:
Sam Fahnrich, Michaelle Lopez, Eddie Mendoza, Jacob Moncla, Stacy Bloom Rexrode, and Alexis Rodriguez
Volunteers:
Nicole Du Bois, Corey Dzenko, Mel Jovin, Dianna Loughlin, Marie Neal, Jessica Almy Pagán, Steisha Pintado, Matthew Posey, Morganne Radziewicz, Sara Reynolds, Briana Salcedo, Kyle Tyner, and Lu Xu
About SECAC
SECAC (Southeastern College Art Conference) is a non-profit organization that promotes the study and practice of the visual arts in higher education on a national basis. SECAC facilitates cooperation and fosters on-going dialog about pertinent creative, scholarly and educational issues among teachers and administrators in universities, colleges, community colleges, professional art schools, and museums; and among independent artists and scholars. Membership includes individuals and institutions from the original group of southeastern states that founded the conference: Alabama, Arkansas, Florida, Georgia, Kentucky, Louisiana, Mississippi, North Carolina, South Carolina, Tennesssee, Virginia, and West Virginia. Over the decades, however, SECAC has grown to include individual and institutional members from across the United States, becoming the second largest national organization of its kind. SECAC is an affiliated organization of the national College Art Association and participates in its annual conferences.
To learn more visit www.secollegeart.org or email secac@secollegeart.org.
About the Art Department at UNCG
The mission of the UNCG Art Department is founded on three passionately held principles:
First, that the exploration of ideas through the visual arts is both necessary and culturally valuable;
Second, that an understanding of visual communications within contemporary society is critical for an informed world view, and;
Third, that an appreciation and knowledge of art history, past and present, is essential to both young scholars and developing artist.
In the Art department, committed faculty, who actively exhibit and publish nationally and internationally model the high standards we hold our students to in the visual arts, art history, and art education. Our students individually challenge, explore and push the boundaries of their given field, whether it be establishing an independent vision or perspective in the studio, exploring new facets of art history or developing their own voices as art educators. Through this diversity, our program offers students a strong, self-motivated course of study where majors have meaningful contact with faculty across disciplines, methodologies and practices.
To learn more visit www.uncg.edu/art or email e_kane@uncg.edu
About the Weatherspoon Art Museum at UNCG
The Weatherspoon Art Museum at the University of North Carolina at Greensboro acquires, preserves, and interprets modern and contemporary art for the benefit of its multiple audiences, including university, community, regional, and beyond. Through these activities, the museum recognizes its paramount role of public service, and enriches the lives of diverse individuals by fostering an informed appreciation and understanding of the visual arts and their relationship to the world in which we live.
To learn more visit weatherspoon.uncg.edu or email weatherspoon@uncg.edu