By Matthew Morowitz
In this series, "Guerilla Academia," Art in Odd Places will be highlighting different organizations and individuals who are offering innovative and engaging art education opportunities outside of the traditional venues of the university and the museum.
NURTUREart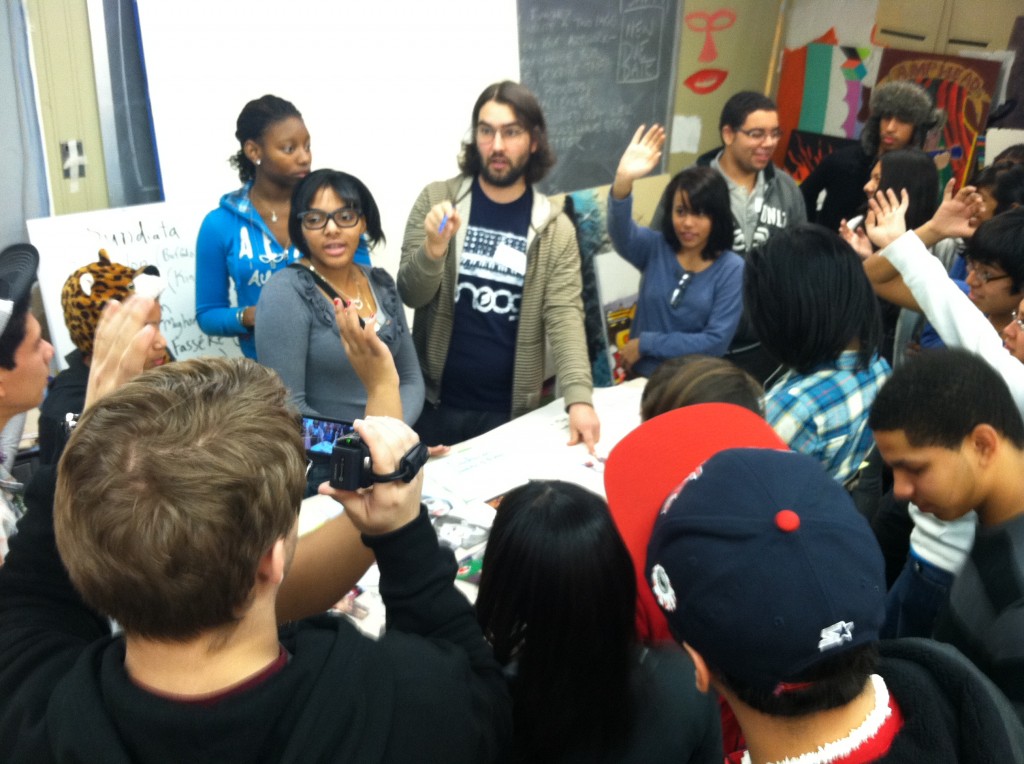 Students from Grand Street Campus High School collaborated with Cooper Holoweski on creating books for children in Mali, Africa.  Photo courtesy of NURTUREart.
NURTUREart is a nonprofit dedicated to nurturing new contemporary art by providing resources for emerging artists, curators, and public school students, as well as exhibition opportunities.  NURTUREart also runs education outreach programs that connect practicing artists and curators with students and teachers, helping to expose students not only to the world of contemporary art, but also teaching valuable life skills and critical thinking to the underserved youth of NYC.  Below are some questions providing more information on NURTUREart's educational outreach opportunities and contact information for those who are interested in getting involved with their programming.
How does NURTUREart go about making educational opportunities in the arts?
NURTUREart's Education Program seeks to connect artists/ curators with students and teachers. Most of our programs are through a partnership with a public school, and at every school the programs vary greatly based on the specific needs and interests of the school and their students. After identifying those needs, we create a program and hire artists and curators to work with us.
Right now we work with 3 Brooklyn public schools (PS 147 of Bushwick, IS 136 Charles O Dewey Middle School of Sunset Park and SS 71 Juan Morel Campos of Williamsburg) and also partner with another non-profit organization, buildOn, through which we work at Grand Street Campus HS in East Williamsburg as well as high schools in Manhattan and the Bronx.
You could also consider our Muse Fuse program part of our education programming. Muse Fuse is a monthly lecture series held at our gallery, with different speakers from all areas of the art world — critics, curators, gallerists, lawyers, etc. Attendees are encouraged to bring snacks and news to share. It is open to all and free, a great way for artists to network and exchange ideas.
How was the concept of NURTUREart created?
NURTUREart began in 1997 as an artist registry. Our founder, George Robinson, had a collection of slides from emerging artists which he used to put together pop-up shows in any available spaces he could find. He wanted to provide opportunities to emerging artists and curators, which is still our mission today, except our registry is online instead of on a bookshelf. The gallery and exhibition program came next, our first space was on Keap Street. The education program was founded later by an artist and a teacher who were both interested in connecting the flourishing arts community with schools, where there is always a need for more art.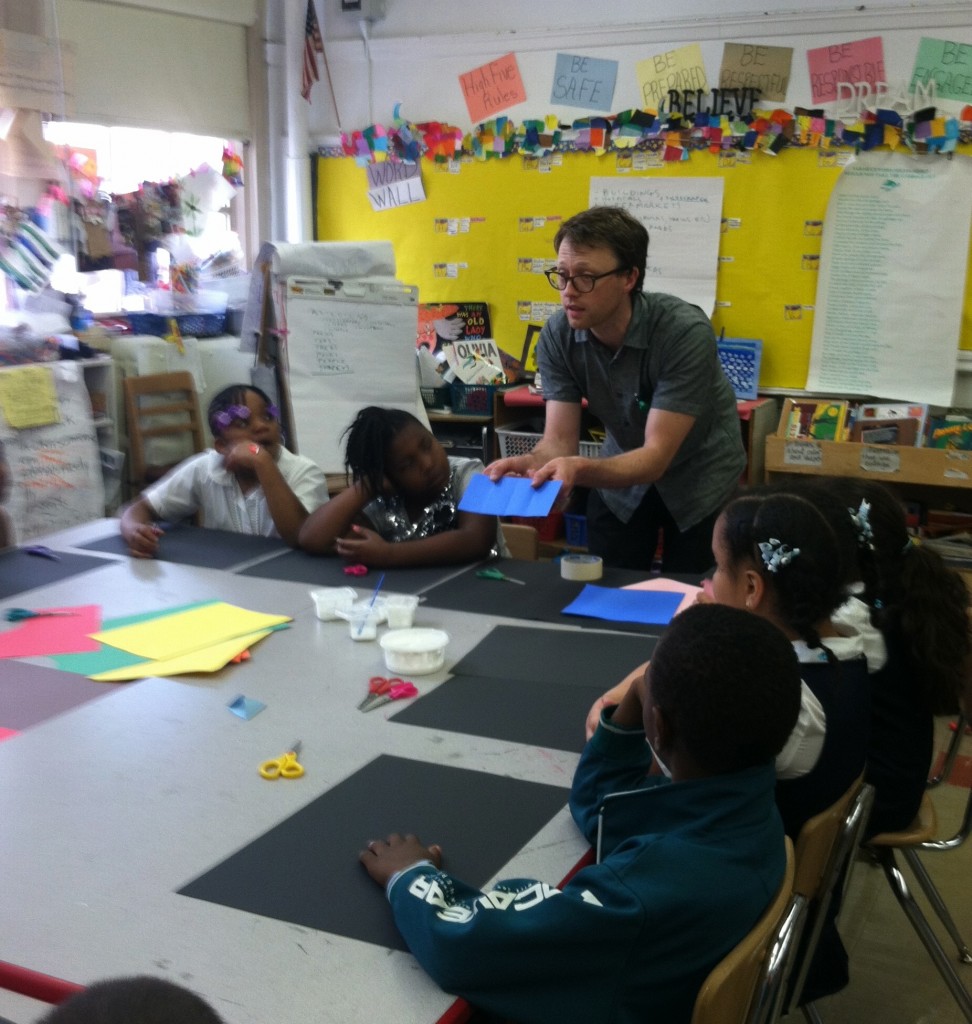 Jeff deGolier leads a paper sculpture project with 2nd grade students at PS 147.  Photo courtesy of NURTUREart.
What need do you hope your program will fulfill?
Our programs provide art experiences to public school students of all ages, sometimes the only art education they are exposed to. We cover lessons from the NYC Blueprint for Teaching and Learning in the Arts, which includes art history, art-making, curating, discussing art, and critiquing art. We also use art to help teach other curriculum areas, for example, our "Literacy Through Art" program uses art in the English classroom to help ESL students.
Aside from our academic goals, and possibly more important, our programs use art to inspire confidence, innovation, problem solving, teamwork & perseverance. This growth in students is hard to assess, but I see it every year. Artists and students can learn a lot from each other.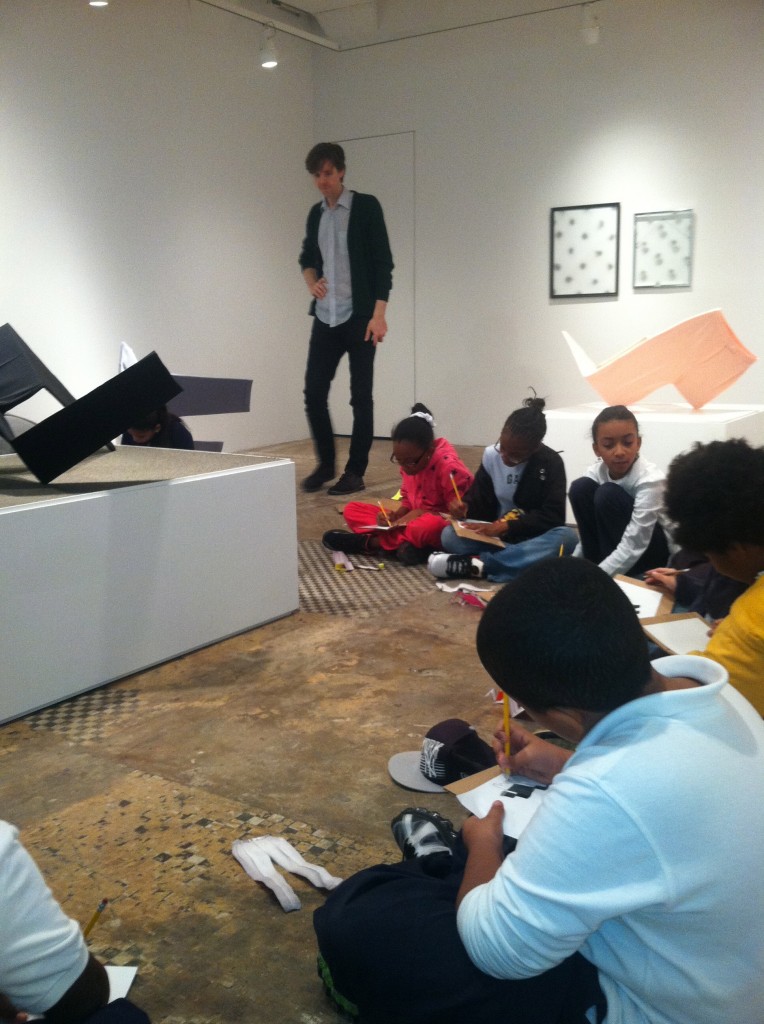 Students from PS 147 visit NURTUREart Gallery for a workshop with Scott Lawrence, during his solo exhibition "Monochrome".  Photo courtesy of NURTUREart.
How can people go about signing up for them?
If you are interested in getting involved with the Education Program, you can email me at molly@nurtureart.org
Muse Fuse is held one Wednesday per month, 7-9PM, at our gallery at 56 Bogart Street. Visit our website for more details.