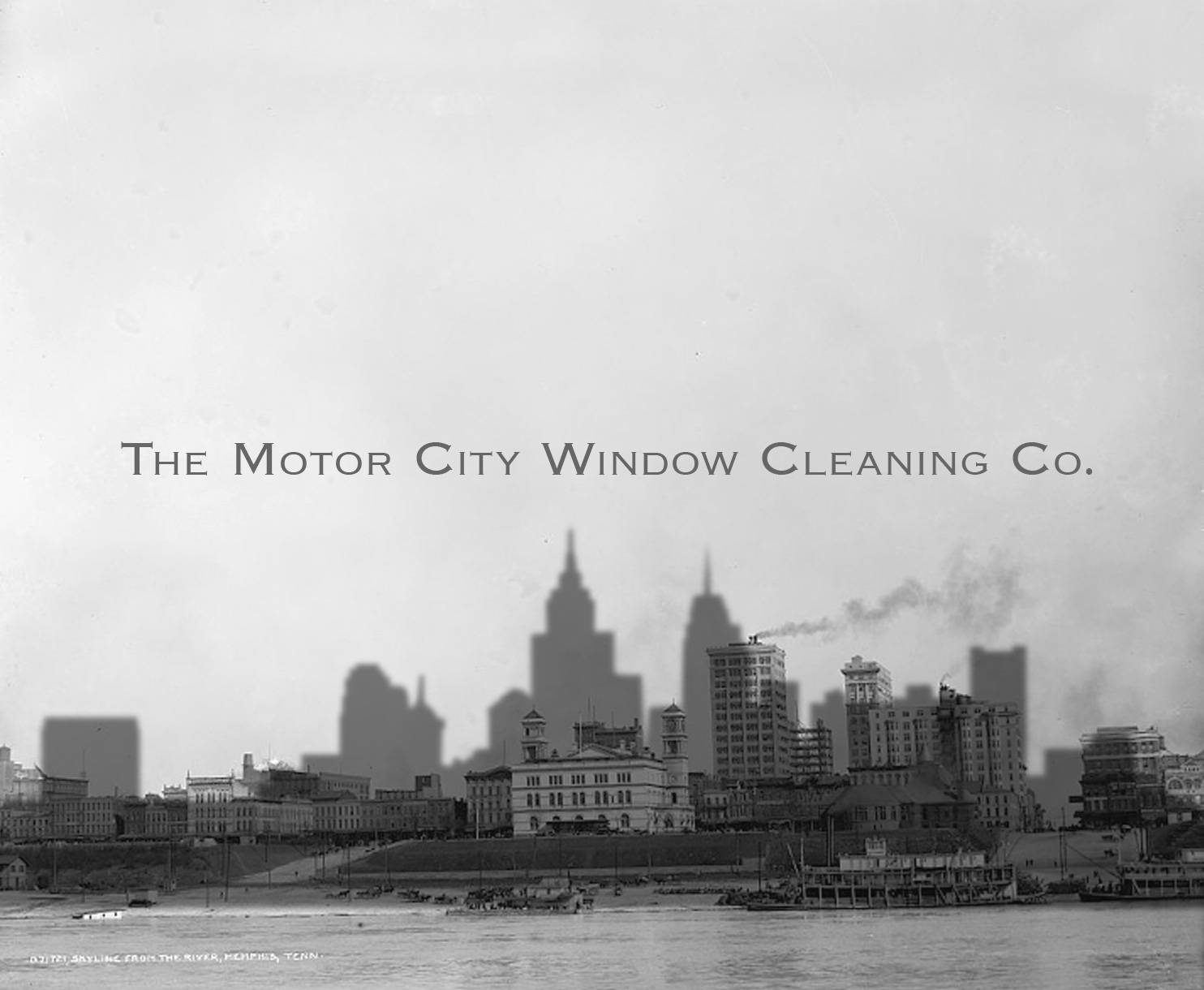 The Motor City Window Cleaning Co. combines a tale of two cities with an artist's own unwinding family history. Artist Laura Napier joins us to discuss the project and the family secret to washing windows (Video below).
Tell us about yourself. Where are you from and what's your connection to Detroit? 
My great-grandparents came to Detroit from Poland in the early 20th century, and both my parents grew up in the Detroit area, but migrated west with their families to Arizona and California in the sixties. I was born in California, but have lived in New York City for almost twenty years. That is a lot of migration over four generations! I have been in Poland, but have never gone to Detroit. So it is a mystery to me.
 What inspired the Motor City Window Cleaning Co. project? Why bring your grandfather's window washing company to Memphis?
Only recently have I seen a family tree. It reaches back to the Ferenc family farm in Poland. The Motor City Window Cleaning Co. is part of that story, and it has been fun to call up relatives and ask them what they recall about it. Everyone in the family still knows the secret to washing windows is to just use a lot of water, and to have good squeegees, shammies, and maybe a little ammonia. Now you know the secret, too.
I was invited to do a project for the exhibition Memphis Social, curated by Beautiful Fields in May, at many places across the city. On a scouting trip to Memphis I was struck by the names of businesses on signs, like Arnold Hearing Aid, or Easy-Way (a vegetable store). It seemed apt to add Motor City to that list as a kind of absurdity, and also, window washing is a great envelope for social activity.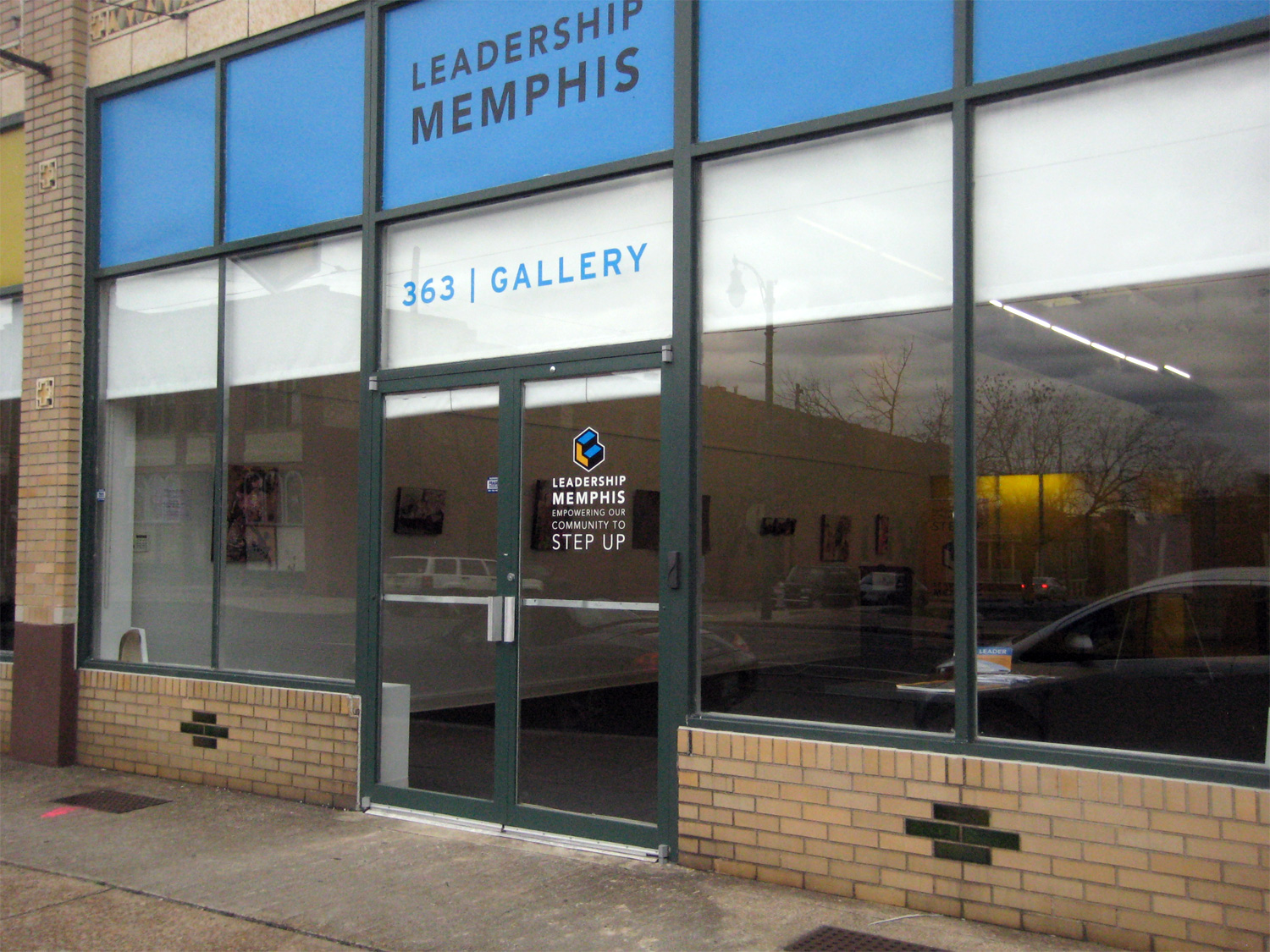 One of many storefronts on South Main, one of the areas included in the Memphis Social exhibition
Have you discovered any interesting comparisons between Memphis and Detroit? Have you discovered anything interesting about your family's history by exploring the history of these two cities?
There have been some interesting coincidences. While searching the Library of Congress for a photo in the public domain of the Memphis skyline, I found one circa 1900 – 1910 inscribed with "Detroit Publishing Co.". And when I went to Memphis, I immediately met and spent some time with an artist originally from Detroit, Mary Jo Karimnia. Then there are the Memphis and Detroit Tigers.
Both cities were high on industry at one time (cars, cotton) but now are in economic decline, as one friend put it recently, they are both "busted". Both cities saw tragic events during the civil rights movement, with Detroit forever changed by the 1967 riot, and Memphis with Dr. King's assassination during the Sanitation Strike in 1968.
As far as I know, my family does not have any history with Memphis. It turns out that my father did see the smoke rising from downtown during the riots in Detroit; he was interning at Ford at the time. I knew that my family's migration west reflected greater patterns of white flight, but didn't know that he was still in Detroit at that time.
What themes or ideas do you typically toy with in your work? Do you find certain ideas easier to express than others?
Lately I am very interested in social groups, especially ones organized inside sites of former communities — where people lived or worked together. Usually these projects begin with primary and secondary source research.
In 2011 I staged Channel, an encounter group following an hour-long script of associative texts related to former Synanon and Baladullah alternative communities at the original site in semi-ruin in the California Sierras, which is now an art space called The Hatchery.
In 2012, the social project Activity Committee, created in collaboration with Carmen Julia Hernandez, invited artists to resurrect historically documented social committees with existing communities of workers, students, seniors, exhibition goers, and neighbors in and around the Andrew Freedman Home, a formerly grand private retirement home in the South Bronx now owned by the Mid-Bronx Senior Citizens Council.
I am also traveling to Flint, Michigan in late April for an early project with the Flint Public Art Project's Free City festival. Happy Valley will be a special performance of The Flint Male Chorus, directly descended from the company era Chevrolet-Flint Male Chorus of the Chevrolet Manufacturing Division, and the Flint City Wide Choir, an interdenominational group from more than 50 churches across Flint. Both are performing outdoors at the Flint-Chevy site where factories once stood.
Due to their nature, these projects are complex. I am slowly working through the book Artificial Hells: Participatory Art and the Politics of Spectatorship, Claire Bishop, Verso, 2012 right now, because it posits a rich history of and theoretical framework around  this kind of work, from 1917 until today. While in graduate school, I was always struck by the nature of inclusion and exclusion, being in the know or not, in Ei Arakawa's work staged in our small community during our studies. Being the organizer of my own projects, I am usually in the know, but this tension between knowing and unwitting participation is always present.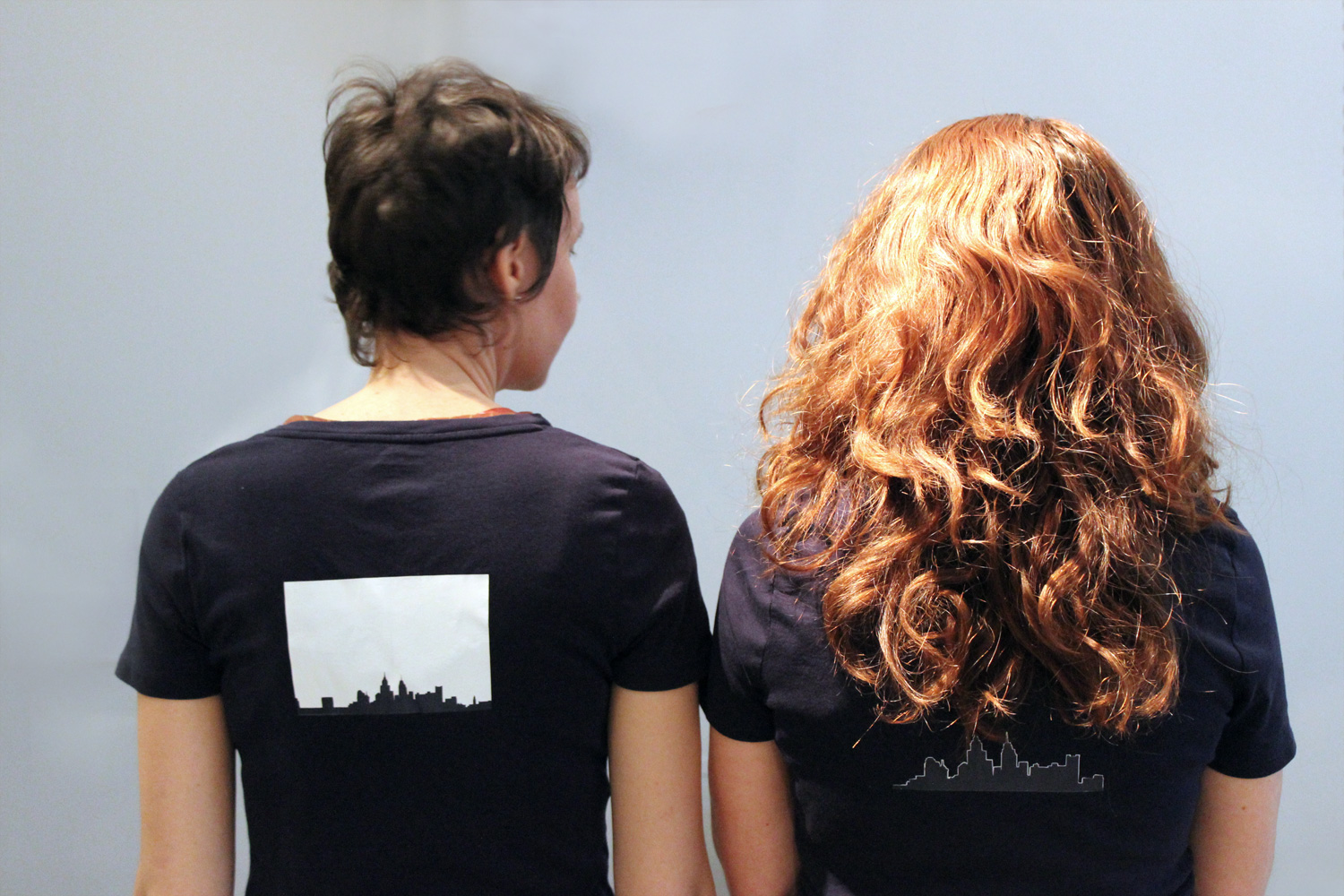 T-shirt prototypes in development for The Motor City Window Cleaning Co.
Many of your projects rely on participation. Why is participation an important element to incorporate in your work?
Recently I went on a walk to Houdini's grave in Queens organized by Erin Sickler with a few other women artists, and the conversation at one point centered around what personal problems we were all trying to work out through our artwork. One person, who is a very good organizer of people, says she is super disorganized in her work space; another, a painter, will never be able to pin down what her paintings are supposed to do and be, so she is doomed to paint over and over again. It all sounded pretty productive to me. Living and working as an artist from day to day can be very lonely at times. It is a big reward to see the aha moment, when someone experiencing or embodying a project lights up with excitement; also, participants in my work usually know better than me what is going on, and have great ideas that I would never think of on my own.
Are you trying to evoke any particular emotions with this project or are you working through any particular emotions yourself with this project?
To be honest, the audience in Memphis, local residents of Memphis, gallery goers, passersby, and other artists who are part of the exhibition, when they encounter it may not know that The Motor City Window Cleaning Co. is an art project. Many of my projects rely on something unexpected, a surprise for the audience.
If anything, the research into this project so far has made me feel much more grounded as a person and as an artist, as I find out more about the personal and professional histories of my extended family. Understanding the themes and threads that have run through everyone in the family as a group has changed my thinking on my personal history as an individual.
Do you see a connection between the work you do as an artist and the work your grandfather did as a blue-collar window washer? What labor injustices do artists face today and how can they solve them?
There is definitely irony in raising funds through USA Projects to support what should be a for-profit business; art takes the profit right out. That said, every business needs startup capital, and art is no different.
Also, my opportunities personally as an artist are more blue collar, maybe because of where I came from. So it is funny to embrace that.
My grandfather's clients were mostly furniture stores and the like along Michigan Avenue, and he never raised his prices after gaining a client, this is over years and years. When he sold his business circa 1964, the next guy was able to double prices overnight. My grandfather had been afraid to lose his clients if he raised his rates, and many artists are suffering from the same conundrum, afraid to lose their clients or opportunities. Often fee rates are handed to them from institutions and there is little leeway for negotiation. And those fees have remained frozen in time as the cost of living has shot up here in New York City. We should learn a lesson from the next guy.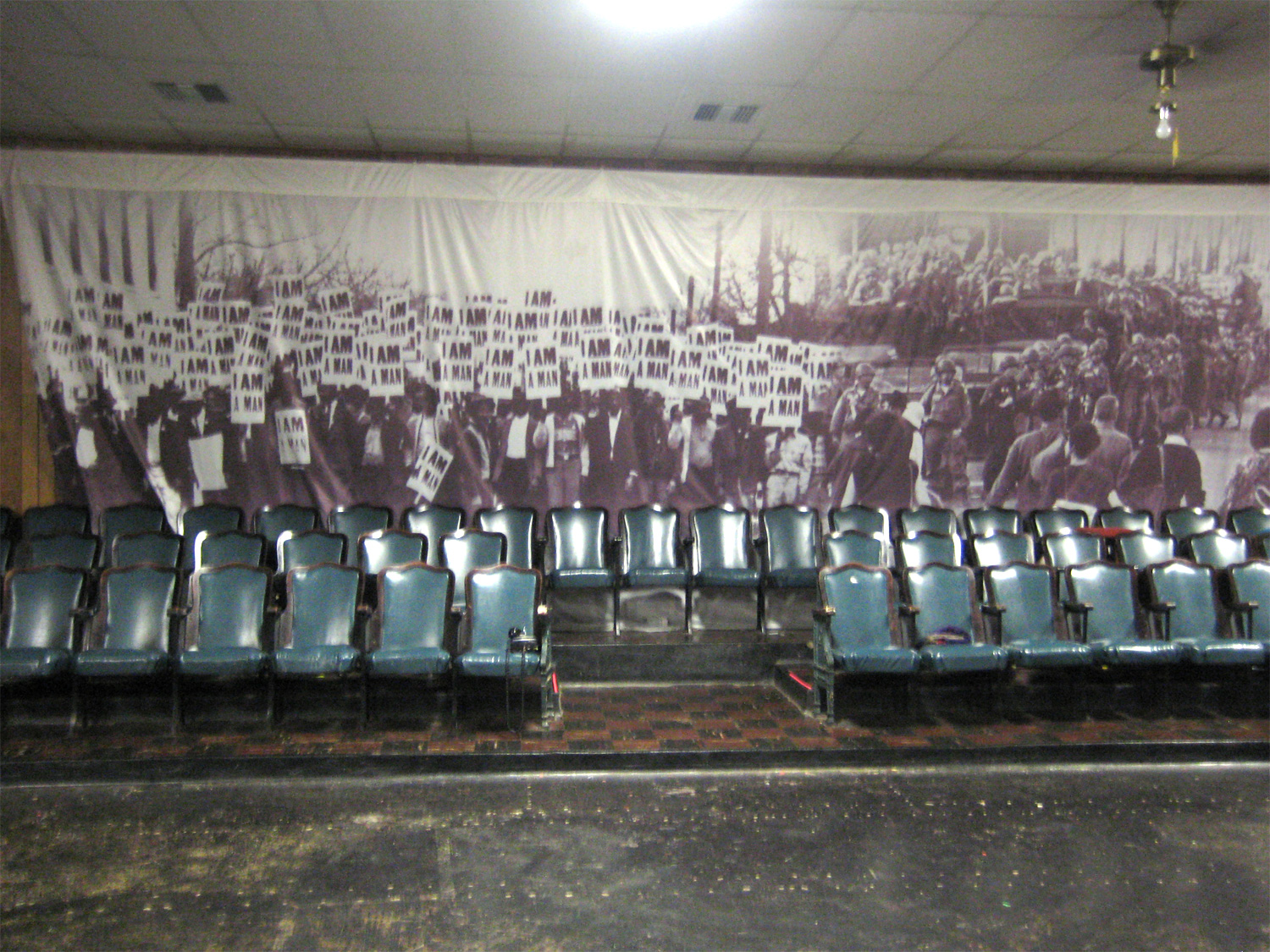 Caritas Village is a community center in a former Masonic Temple; famous images of the Memphis Sanitation Strike by photographer Ernest C. Withers are on permanent display. Incidentally, Withers was a paid FBI informant.
Anything else you want to add?
My grandfather supported everyone through the Motor City Window Cleaning Co., although according to my aunt he could've worked his way up in the office at GM. Instead, he worked as a night watchman at Fisher Body while starting up the window washing business.
Being the oldest, he dropped out of school around sixteen to support his mother and his younger siblings, and before then as a schoolboy he helped his mother at her job, cleaning offices early in the morning before school started. His father before him also washed windows. About this, a relative who researched much of the family tree wrote tactfully, "Before he made it home, Walter  [my great-grandfather] would often leave most of his hard earned paychecks at the local bar."
My grandfather had an amazing retirement. I knew him as a very cheerful man in Arizona, who woke up early to feed the dog and wild birds and make breakfast, and who enjoyed playing cards, gardening, fishing, bowling, golf, and went on road trips in his giant Detroit built car to Reno, Nevada, where he and my grandmother played nickel slots.
He would insist on washing the windows in my mother's house when he visited us in California. He painted my room a bright shade of orange when I was a child and it affected me for life.