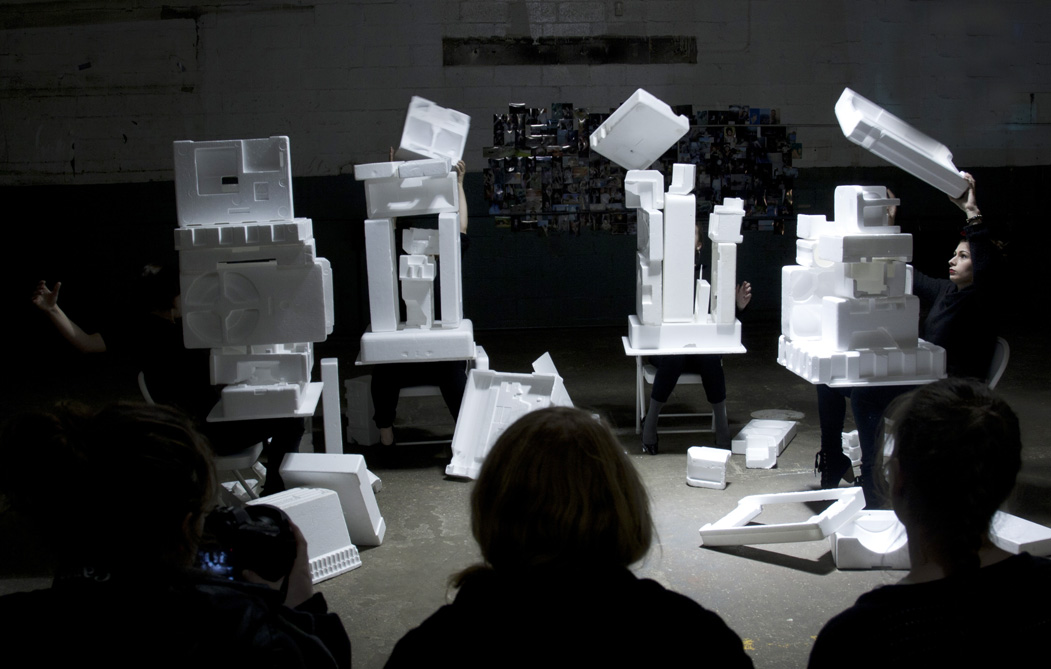 "Sustainability Studies" 2012, Performance, photo courtesy of Ryan Leitner
Lizzie Scott is a visual artist and performer and her Styrene pieces are featured in Art in Odd Places' 2012 festival MODEL. The work utilizes Styrofoam, and human interactions will be exploring "our trash and living with it" as well as "owning it, incorporating it into our life and our bodies."  Included below are some questions that the artist has answered via email about her work, her inspiration, and more information on "Styrene Lounge," as well as some photographs from past works.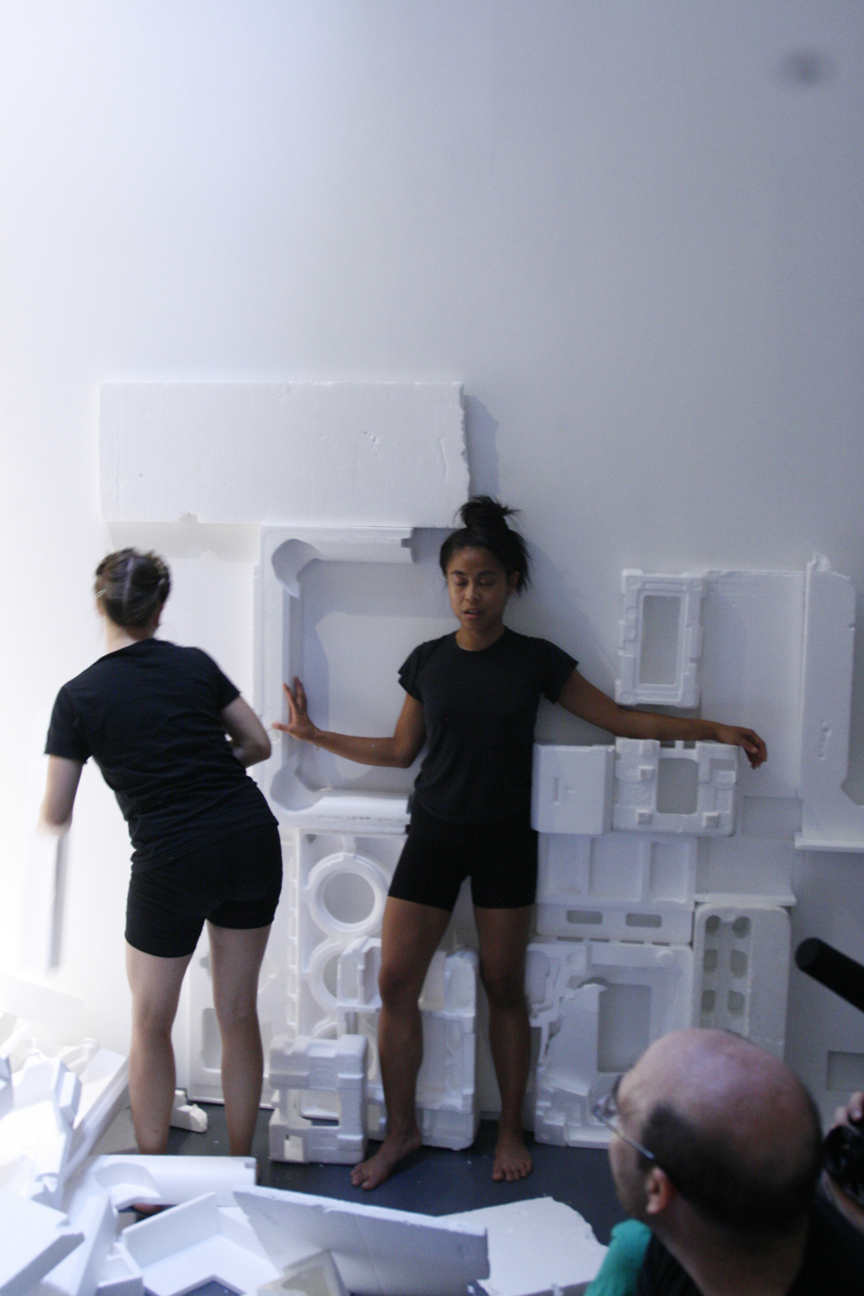 "Total Styrene: Breakdown" 2012, Performance
How would you describe your work?
My work looks at the materials of urban life – the things we see on the sidewalk, the hidden and unnoticed materials that punctuate and distinguish the NYC landscape. I'm interested in the way these things interact with our bodies as we move through space. "Styrene Lounge" begins with the massive amounts of Styrofoam that pile up in the trash on the sidewalks. But it's also inspired by park benches, by stoops — by our need for places to sit and rest as we walk through the streets.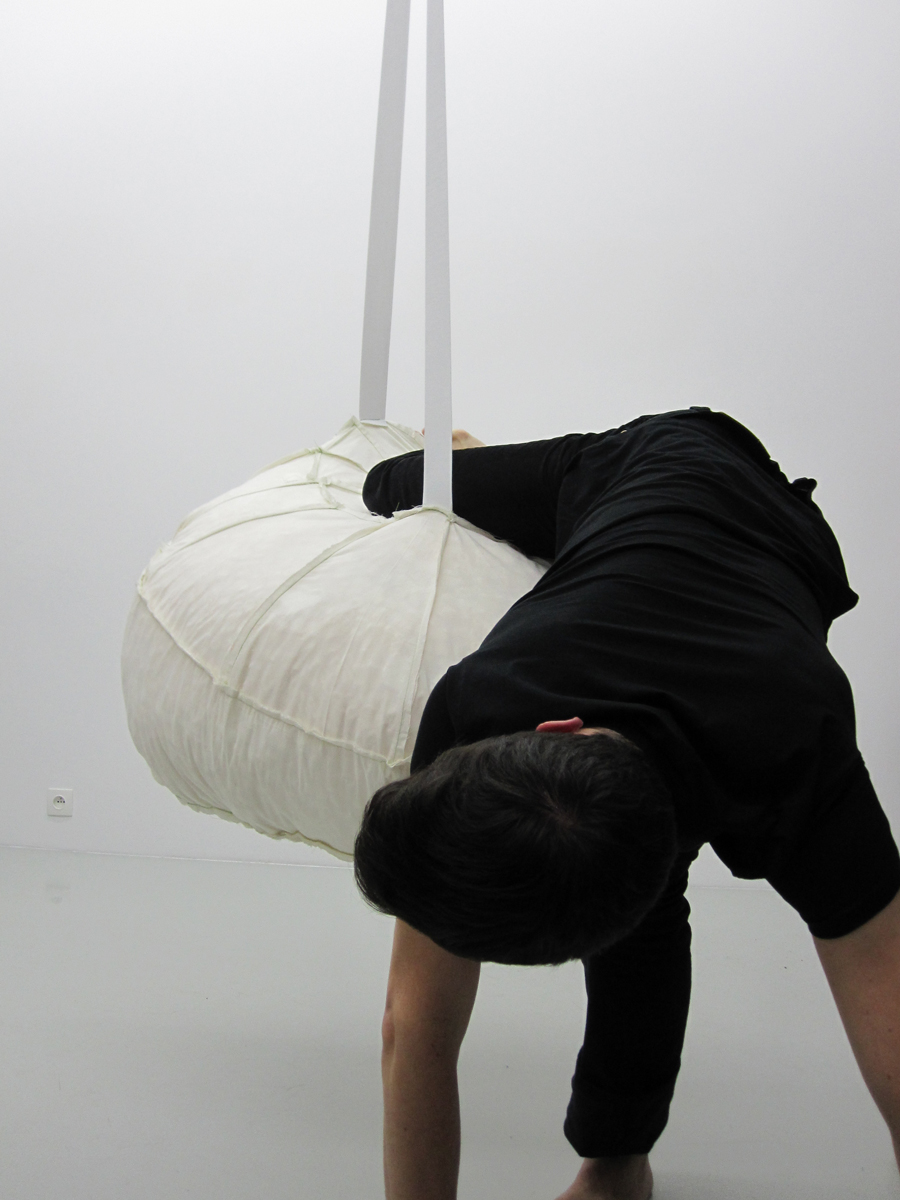 "Floating Island" 2010, Performance
Tell us a little bit about your background. Where are you from? When did you start pursuing public/performance art? 
I studied art in LA, and I think living there for the first time I was struck by how different our relationship to public space and the street and sidewalk was. It's an inaccurate cliché to say there's no public space or public culture in LA – but when I returned to New York I was newly aware of how much of our life here is spent on a crowded sidewalk. I think that awareness of how we move through space differently depending on where we are and where we live made me interested in making public performances and interactions.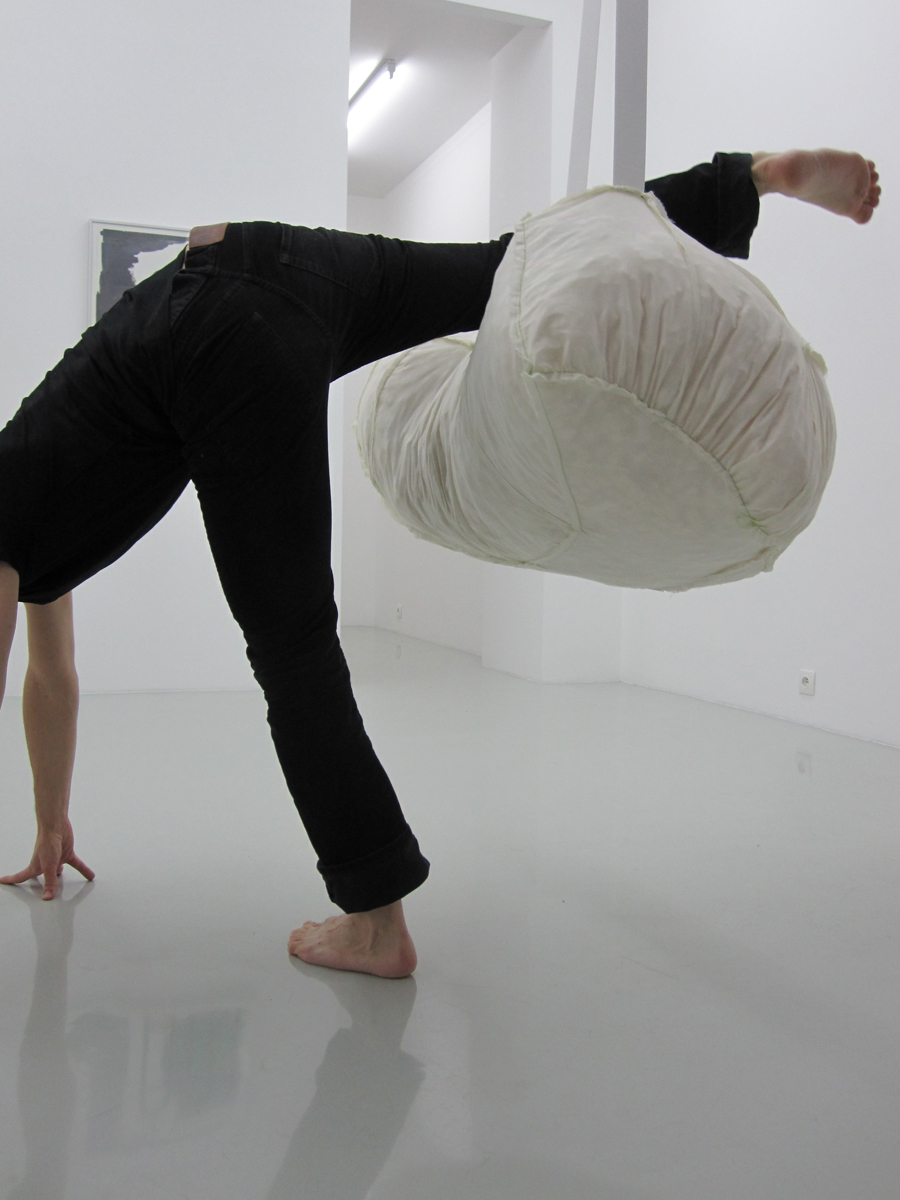 "Floating Island" 2010, Muslin, Styrofoam, elastic, thread, 105 x 39 x 24 inches
What interests you most about performance art?
What I love about performance art is that you don't know what it is or whether it's working until it happens, so in a way it's always an experiment. I also love working with people and bodies as a change from and in addition to making still objects. When you introduce the body, the preciousness of the art object really drops away. You get something visceral, something harder to contain or control.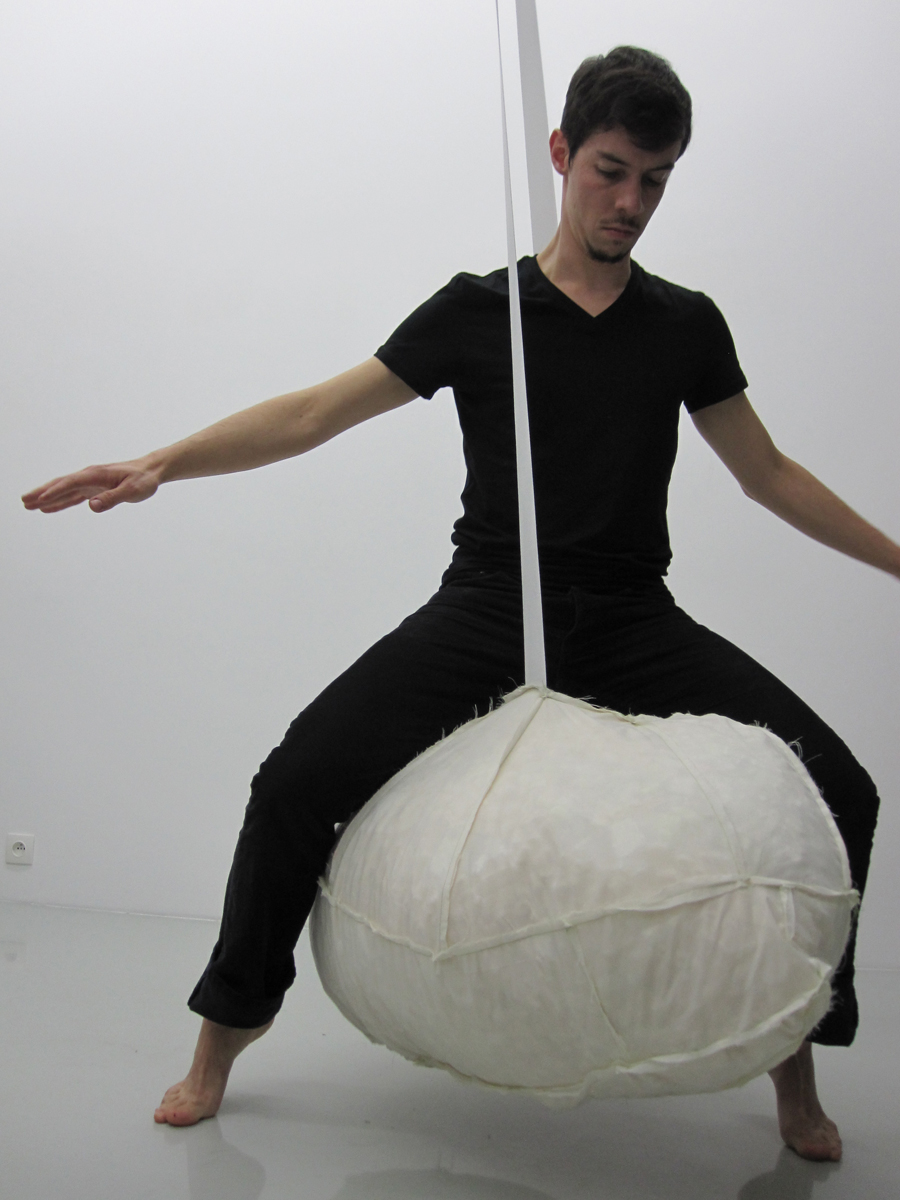 "Floating Island" 2010, Muslin, Styrofoam, elastic, thread, 105 x 39 x 24 inches
What are some of the underlying themes of your project?
I think this project is about taking our trash and living with it, owning it, incorporating it into our life and our bodies. It's also about the way we organize ourselves into small groups and cultures within the City. The way dog-walkers are one sub-group, fashionistas are another, people with children are another, birders are another. My piece proposes a sub-group of people who spend their days lounging around on huge Styrofoam bean-bag sculptures.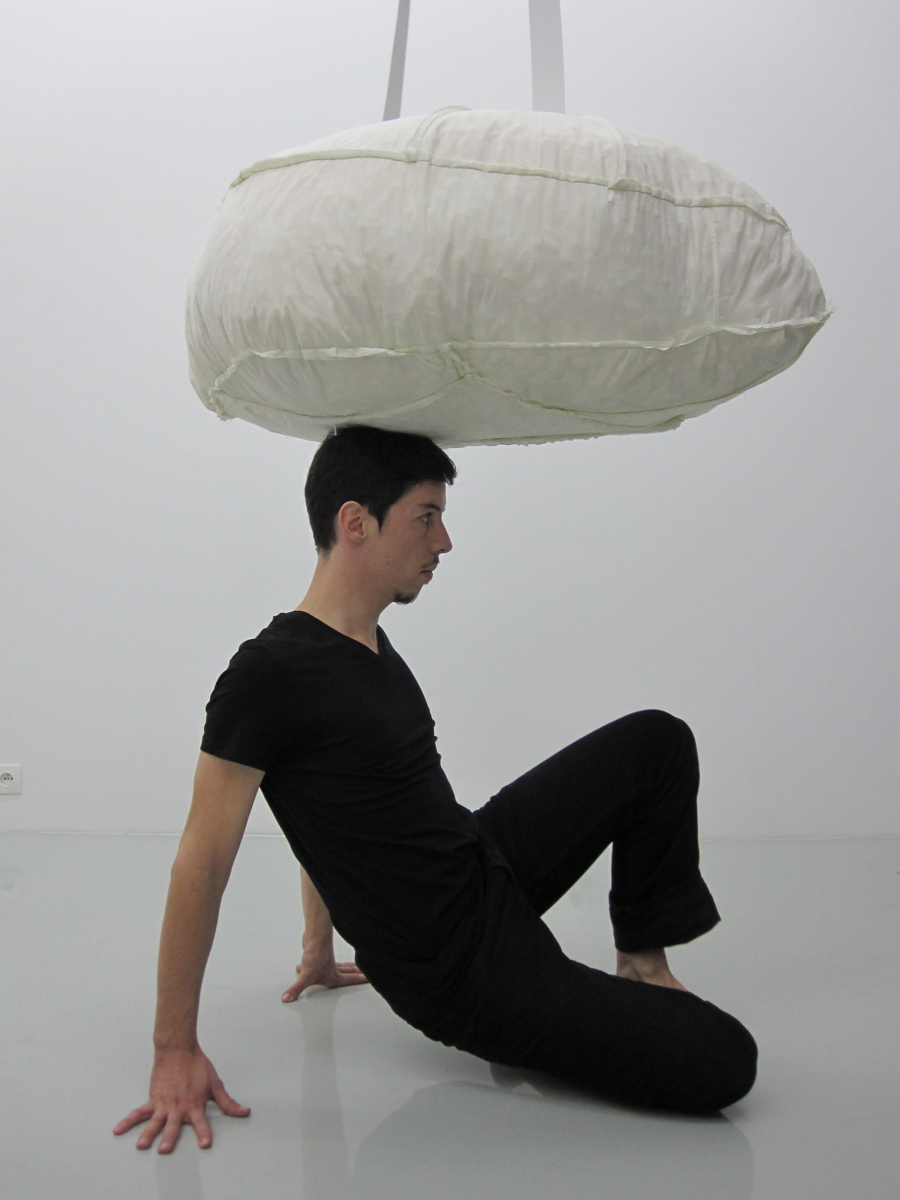 "Floating Island" 2010,Muslin, Styrofoam, elastic, thread, 105 x 39 x 24 inches
How does your project fit in with this year's theme: MODEL? 
My project takes place in pedestrian triangles, where I think people are very self-conscious as they sit at their little metal tables and drink their coffee. The performers are literally modeling these sculptures, which are a perverse design innovation in that they function as both clothing and furniture. I also think it's funny, because they make the body so bulky and clumsy, the opposite of the thin catwalker who comes to mind when I think "model".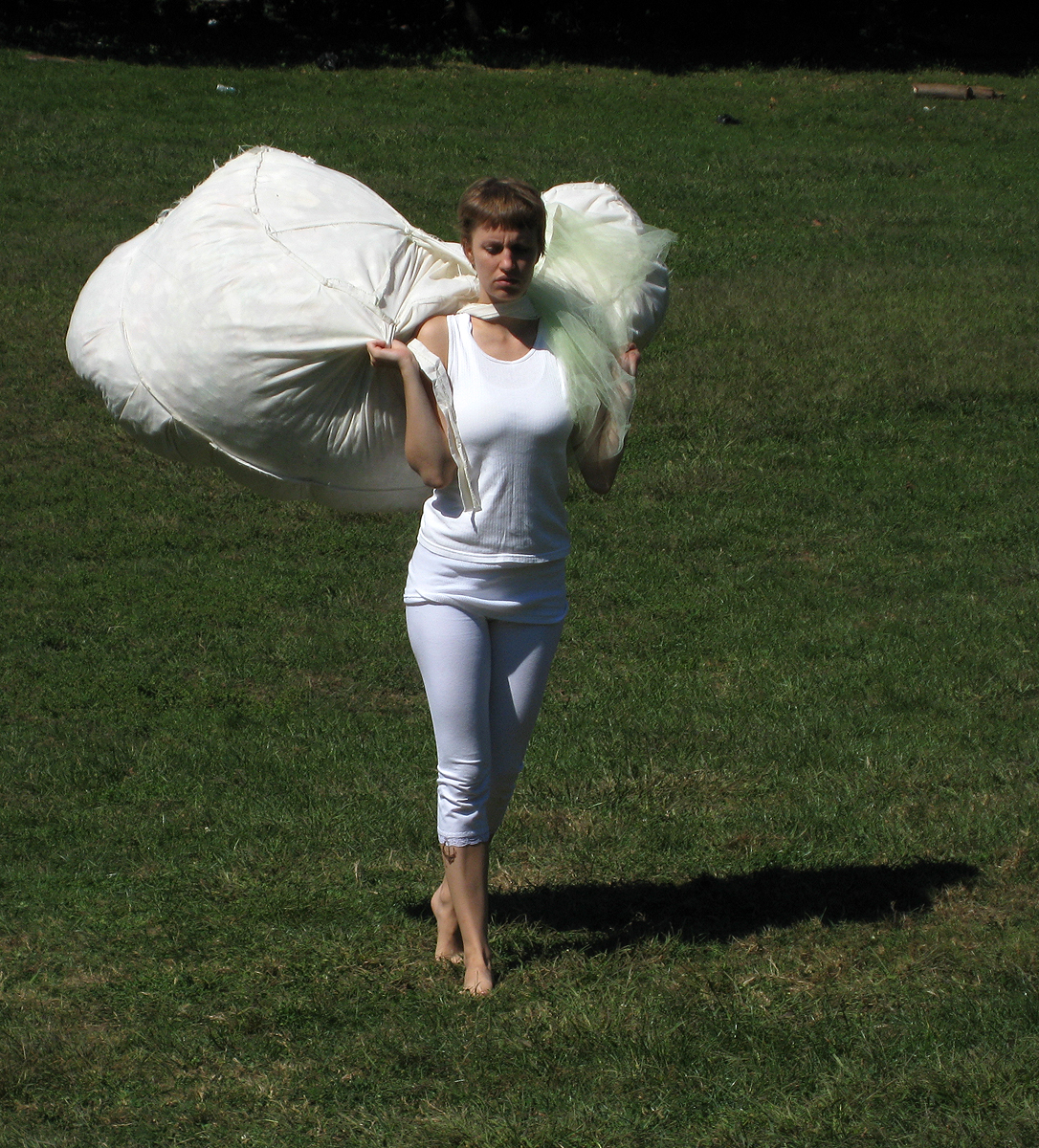 "Happening Sur l'Herbe" 2009, Performance
How did your project come together? What was your inspiration?
I've been working with these sculptures for a while, and had actually long wanted to see them in pedestrian triangles. AiOP seemed like the perfect time to try that out.
What are you hoping the audience gets out of your project?
I hope they find it interesting enough to remember it at the end of the day. I'd love it if anyone went home and made their packing peanuts into a couch or a ball gown.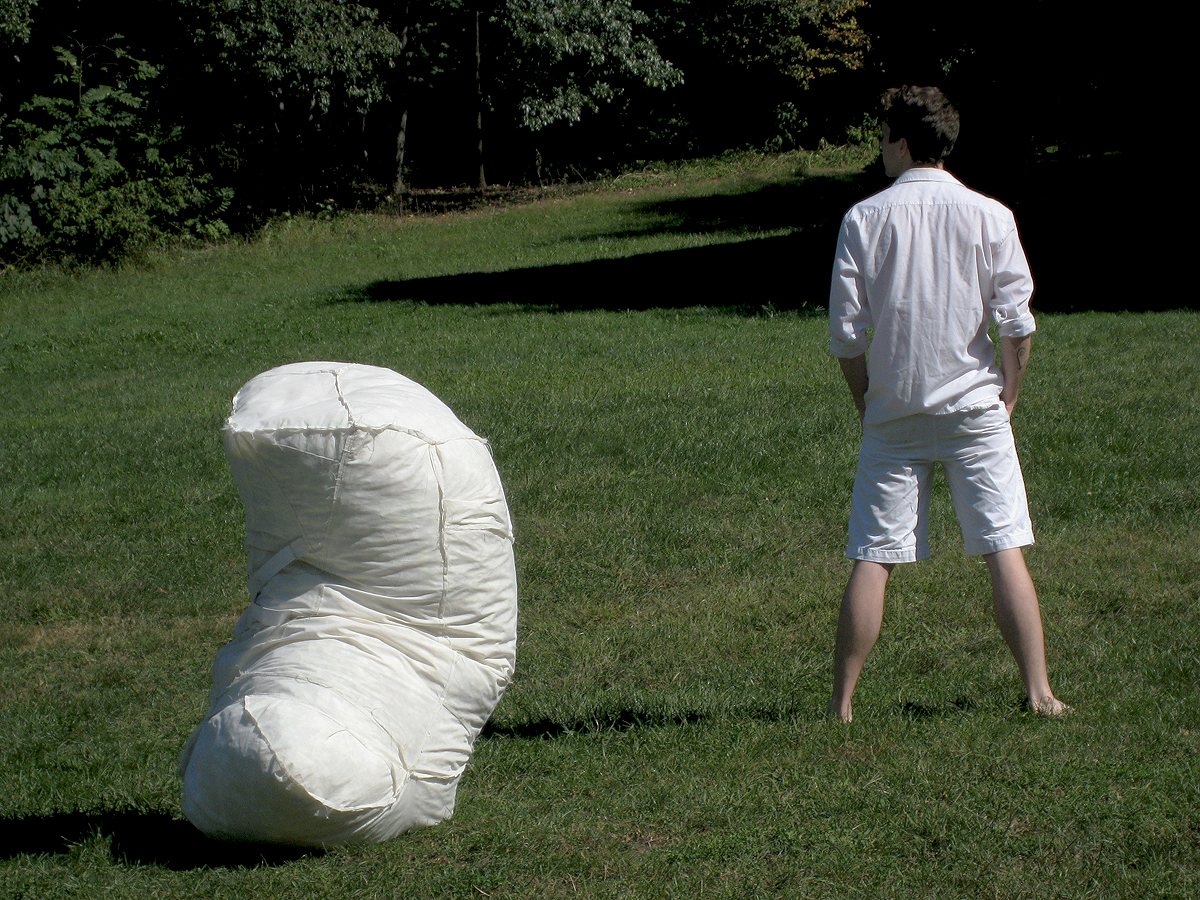 "Happening Sur l'Herbe" 2009, Performance
Who are some of your favorite artists?
I love everything by Helio Oiticica. Trisha Brown's performances Man Walking Down the Side of a Building and Wall Walking are amazing. And I feel very indebted to Atsuko Tanaka and Yayoi Kusama.
Any upcoming events/exhibitions?
I have a performance event this fall at Zurcher Studio, but we're still figuring out the exact date.