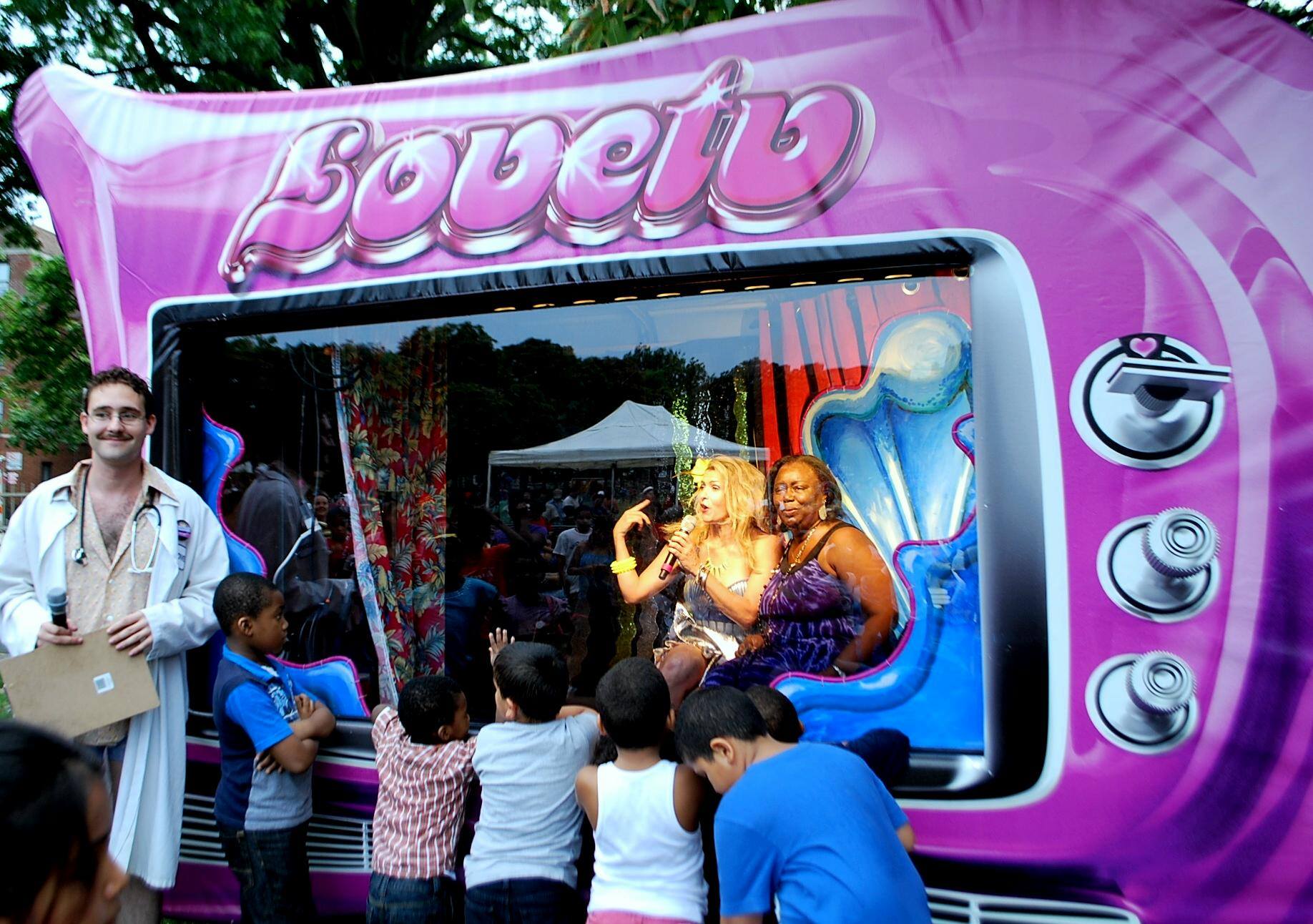 What happens when you pair the uniquely human connection that is love with all the glitz and glamor of a celebrity talk show?
Australian artist and citizen journalist Rebecca McIntosh decided to find out for herself with LOVE TV — a provocative exploration of public and private life.
With her hot pink mobile TV and Venus-inspired clam shell, McIntosh interviews people across the globe about one of our deepest social instincts, revealing the shared affections and affinities between us all.
Naturally, LOVE TV's dedication to an element of surprise caught AiOP's eye. Though public spaces are social spaces, we rarely have to answer to our social lives, much less love lives, in public spaces unprepared … with an audience no less!
McIntosh breaks this fourth wall and has a special way of plucking people of the streets and shucking any feelings of vulnerability.
All while styling herself as a hip Aphrodite.
LOVE TV recently traveled to New York City to collect love stories from the city that never sleeps. AiOP caught up with Aphrodite herself for a chat about LOVE TV's origins and recent adventures.
AiOP: So what inspired LOVE TV?
McIntosh: LOVE TV was birthed ten years ago in collaboration with photographer Sophie Howarth. We were experimenting with ancient goddess archetypes where I would become them, and then venture out into public spaces. Sophie would capture the interactions with the public space and my character.
Then one morning, I washed up on the beach in Bondi as Aphrodite and had to make my way across town to Kings Cross' (Sydney's Red light district) iconic fountain by midnight. I had to negotiate trains and buses etc. all with my large plastic clam –again, Sophie documenting it all.
But what was really interesting was what people were saying to me so I developed a small installation of a little tent with a camera at the window connected to a TV just outside. I presented LOVE TV at all the major art festivals throughout Australia as well as the iconic Scottish Edinburgh festival over the years. In the last three years, I have been working with Victoria Johnstone to develop this new large-scale public LOVE TV art event, which we are presenting in NYC.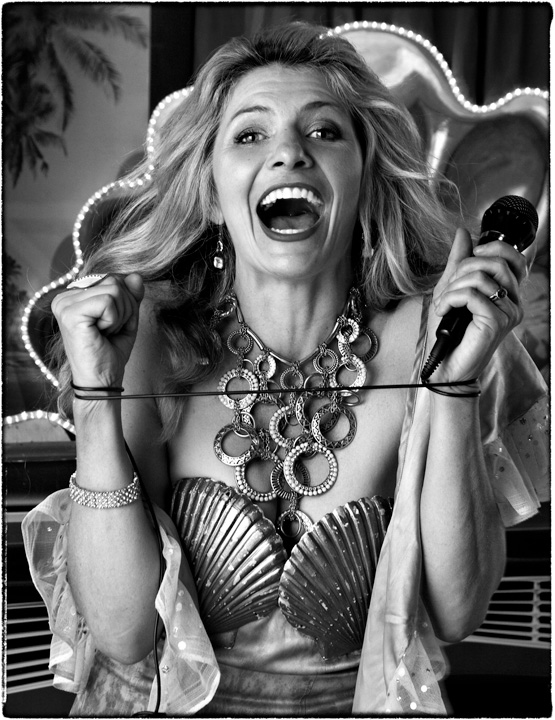 AiOP: How have your years as a citizen journalist helped LOVE TV evolve?
McIntosh: LOVE TV is the most private conversation in the most public space. Over the years, I have developed a keen intuitive sense of how to interact with my participants so they feel at ease and are willing to open up about their personal feelings and details. I think the most important skill as an interviewer is to be a good listener.
AiOP: Do you personally relate to the goddess Aphrodite?
McIntosh: Aphrodite is such fabulous character to be. She is sassy, passionate, articulate and most importantly, has a great sense of humor. This combination allows her to get away with things I would only dream of doing and saying. I think there is a little Aphrodite in all of us. After all, she is an archetype, and archetypes can be great teachers!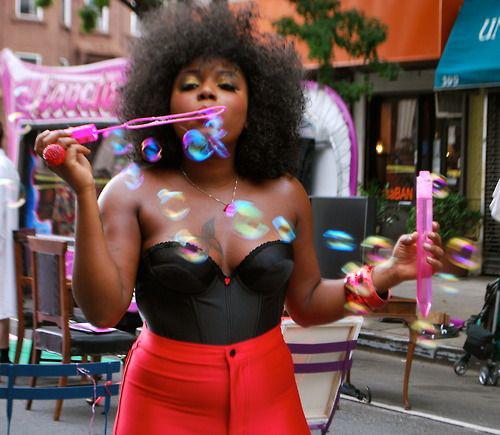 AiOP: You've interviewed people all over the globe. Have you found a universal truth regarding the nature of love? One that transcends cultural differences?
McIntosh: Absolutely. That's why the subject of love is such a great spring board as every human being has had an experience of it. It is truly our common ground. It is as big a part of our lives  as what we eat and drink. It's why we get out of bed in the morning. But what really interests me and what I am exploring is the extreme diversity of this notion.
AiOP: What brings LOVE TV to New York City?
McIntosh: We had been developing the LOVE TV model of engagement and presentation with Brisbane City Council and The Qld  State Theatre Company in Australia, and we wanted to take this model to the world. Through our research, we discovered the City of New York's Department of Transport Urban Art initiative. The curatorial vision of the DOT'S Urban Art initiative relies on partnerships with community organizations and artists to present site-responsive artwork within public spaces. They are world leaders in sustainable city living, and they have been a  great partner for our work.
AiOP: Why do you think people are so willing to talk about their love lives? It's quite personal and here they are doing it on TV!
McIntosh: It's cathartic. People feel liberated by sharing their heartfelt secrets with the world. The cultural concept of "television"  is what LOVE TV explores. It seems people feel more validated if they have said it in the box. It's a very powerful medium!
AiOP: How is LOVE TV broadcasted?
McIntosh: It is broadcasted online via our YouTube channel.
AiOP:  Why is it important for you to engage people in a conversation about love, a very intimate topic, in such a public way? What's been the response?
McIntosh: The response is always overwhelming as it's such  positive, life- affirming statement! People tell me everything, but as an audience, you also experience the tension between what we can and will reveal publicly, what is the nature of truth, and how it feels when the boundaries are crossed as to what some people call "too much information" given. Awkward, compelling –it can be very voyeuristic!
AiOP: What's next for LOVE TV? Do you think this could be a network show or does it work better on the street level?
McIntosh: I think the two could work together. The live event is needed to generate the content for broadcast. We want to take this concept to the world, capturing the stories of love across the globe.
AiOP: What are you hoping participants get out of their interviews with Aphrodite?
McIntosh: An opportunity to share their story about their community and what they love.
AiOP: Any heartwarming stories from interviews that you'd like to share? Any LOVE TV marriage proposals?
McIntosh: We nearly got a marriage proposal in Astoria Park!
Special thanks to LOVE TV for the photos and the interview. Keep in touch via Facebook and Twitter (@lovetvloves). Make sure to go check out LOVE TV for yourself at one of these upcoming events:
22, 23 August – Staten Island – St. George Ferry Terminal

24 August – Brighton Beach and Coney Island Boulevard, Brooklyn

25, 26 August – FringeNYC on Fourth – 2nd Ave & the Bowery, Manhattan