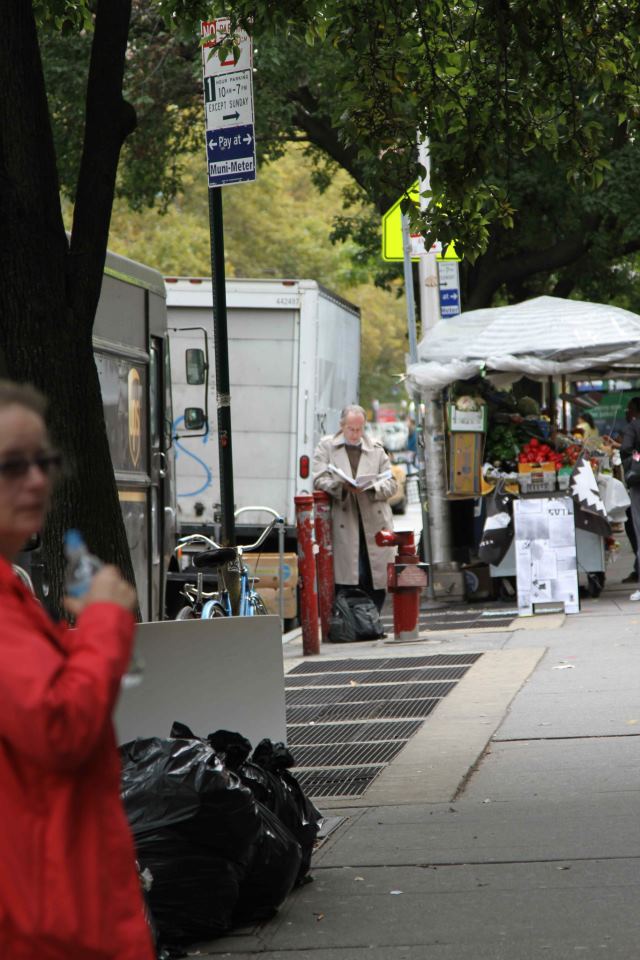 (Photo by Guy Robinson)
Poetry Overheard project description (AiOP MODEL 2012): Michael Howley grew up in the west of Ireland, an abiding presence in his poetry. He is indebted to many teachers, living and dead. His chapbook The Painter's Dream was published by Three Mile Harbor Press. He is working on a collection of poetic responses to the nineteenth century Japanese poet, Ryokan. 
If you were distracted by a cellphone conversation, chugging along with earbuds in, or simply lost in the cacophonous drone New York City, you might have missed Michael Howley reciting his poetry.
His performance, part of AiOP MODEL 2012, required listeners to overhear the poetry amidst a sea of diversions. Those who tuned in were treated to some lovely prose as well as a fascinating tale about some manuscripts — lost and found.
Howley recited his own work, but also the work of another, unknown poet. Walking along one day, Howley stumbled upon a wealth of poetic work being tossed out with the rubbish. Apparently, the poet behind the work had died and her New York City apartment was being cleaned out. Howley salvaged the poetry being thrown out on the curb and has been looking to get it published ever since.
Here's a poem from the manuscripts he found:
And here's some of Howley's own work: