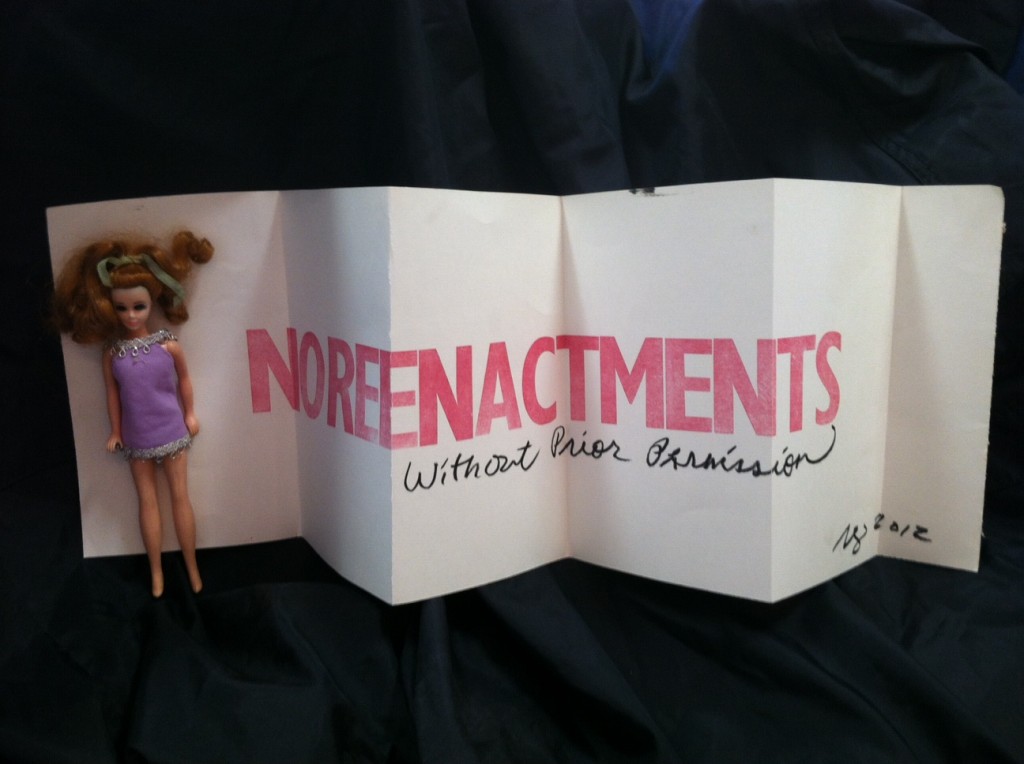 Photos courtesy of Rory Golden
Rory Golden wants to know about your romantic encounters and failed relationships.
Even if your memories of bad breakups past seem banal, Golden will inject high-drama into your dating disasters, re-imagining them as soap opera-esque vignettes. In his project "No Reenactments Without Prior Permission," Golden creates iPhone videos using tiny dolls as puppets and distributes them via email, text message, and social media.
Part of Art in Odd Places' 2012 festival: MODEL, "No Reenactments Without Prior Permission" requires public participation to create the video shorts. So don't forget to look for Rory Golden on 14th Street! You might find him strolling down the street singing love songs.
We caught up with Rory Golden to learn more about his  project.
AiOP: How would you describe your work?
Rory Golden: My work has been paintings, drawings, and artist books, with a recent expansion into video. The work is figurative, erotic, and expressionistic. I focused on violence for some time, looking at race and gender oppression. For example, I spent two-plus years working on a project about the violent murder of a black gay man in rural West Virginia  – moved to WV for six months to do ethnographic research, did a lot of reading, interviewing people, and so on.
Making that work, I grew a lot – and so did my abilities as an artist – but it was dark. Making work about love, forgiveness, relationships, and playing with toys, is a lot more fun but no less pointed towards making powerful work.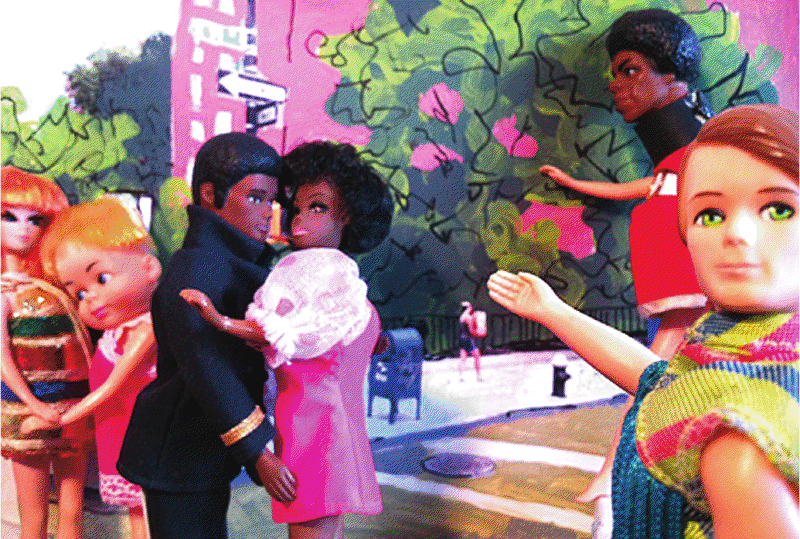 AiOP: Where are you from?

RG: I grew up in a small town in the Miami Valley of Ohio called New Carlisle (near Dayton and Springfield). My high school was surrounded by corn fields. Then, suddenly, all I wanted to do was draw. In 2006, I was fortunate to be selected for the Abbey Mural (public art) Workshop at the National Academy of Art, taught by Grace Graupe-Pillard. That was my first exposure to a lot of great minds in the public art realm. Since then, I have worked with community groups, in particular youth groups, on art projects, but my Art in Odd Places project is a new challenge for me because it involves performance, user-generated content for video, and a new pair of red New Balance shoes.
AiOP: What interests you most about public art/performance art?
RG: Finding a way to engage with people directly; bringing art to the people instead of the other way around. I think that is interesting and inspiring. I remember watching the recent Marina Abramovic (whom I think is genius and huge) documentary (which was awesome!) – and the one critique that surfaced in a movie review I read afterwards in Hyperallergic was that the piece was only available to those who could afford to pay the MoMA entry fee. Art in Odd Places flips that model in a really intriguing and, I hope, sustainable way. But AiOP has gravitas that street or guerilla art (which I love too) don't always garner.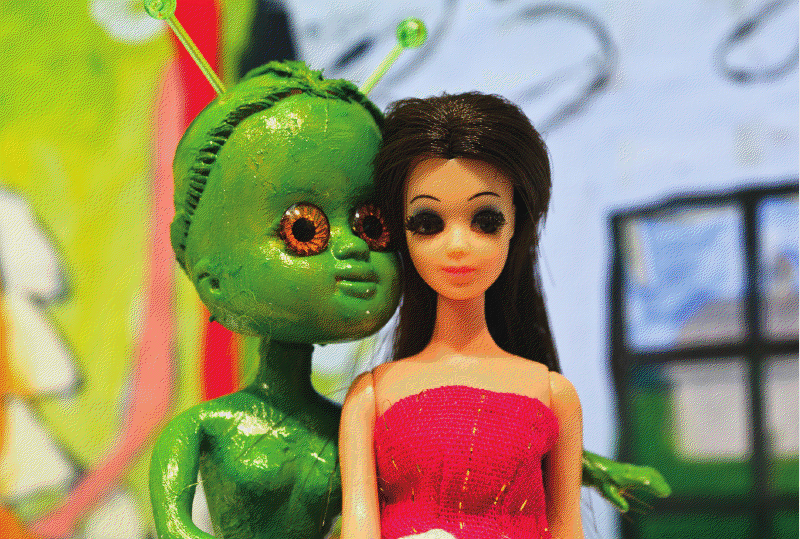 AiOP: What are you hoping the audience gets out of your project?
RG: No Reenactments without Prior Permission is intended to transform people's relationship to love – erasing the past, laughing over foibles, forgiving – and to demonstrate the power of performance art, technology, and being with people.
AiOP: What are some of the more challenging aspects of your project?
RG: I am doing ten 2-hour roving street performances, and I have no idea what that will be like or how it will land for people. I will go through a lot of emotional spaces with this …
Then, I am going somewhere to make movies in between. I need to find more actors! I need a set of decent lights! I need an iPhone 5 for faster uploading. I need to be more Twitter-like too.
Also, where are the free and open to the public restrooms on or near 14th Street? Ask me in a month and I will be able to tell you.
The part I love is that the mixed media works on paper I am making now will be film sets for the mini-movies. I get to keep painting and drawing and incorporating them as part of a new medium and then expand my audience with social media, like a true expansion of my art practice.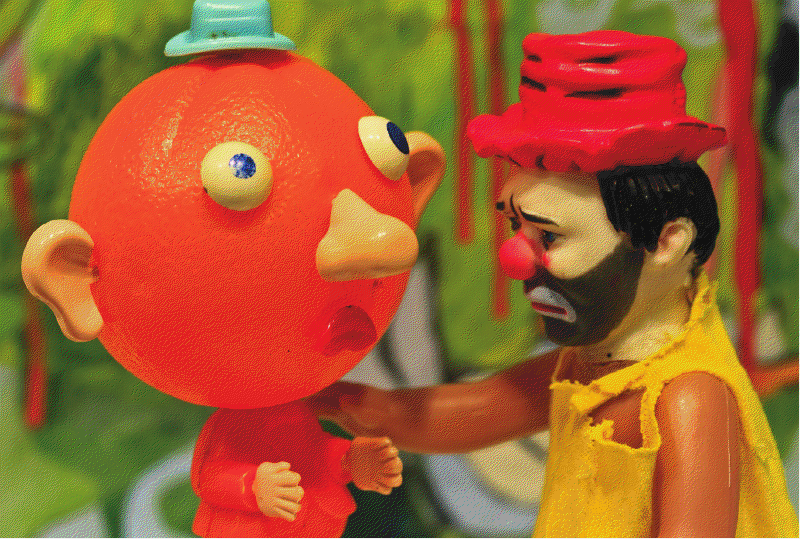 AiOP: Who are some of your favorite artists?
RG: Max Beckmann. Jean-Michel Basquiat. Beverly McIver. Michael Dixon. Susannah Mira. Nicolas Dumit Estevez. The latter are contemporaries and friends. They rock.
AiOP: Any upcoming events/exhibitions?
RG: I have a solo exhibition Pack up a Little Truck and Keep it on Push: Works on Paper 2008 Forward opening at Art for Change in East Harlem on Friday, October 12. Come to the party! 7 – 11pm. This is a non-profit, volunteer-run organization that I love. When they asked me to exhibit I cried. The people there are great human beings dedicated to making a better and more inclusive world through art and community. It's a truly incredible non-profit arts organization worthy of great support.
Wayne Northcross is curating, and we are publishing an essay he wrote about my work for the exhibition. Yes!
One last thing! Check out this radio interview with Rory Golden!