By Matthew Morowitz
For the past 20 years, Australian artists Susan Milne and Greg Stonehouse have been collaborators on public art projects and installations, creating large-scale works, architectural flourishes, and other curiosities for both external and internal spaces.  During the summer of 2012, these two had taken up a residency in NYC, where they were given the opportunity to work with artists through Anita Glesta, an artist who has done considerable projects in the public realm internationally and the developer and coordinator of the SVA program,  "Reconfiguring Site". When the program was postponed for the summer of 2012, Susan and Greg decided that they would like to come to NYC and engage in a private tutorial. Glesta then introduced Susan and Greg to multiple public art organizations and they were thrilled to have the opportunity to work with Art in Odd Places during their one-month residency/tutorial.   Through this they took part in the AiOP 'Strange Makings' workshop with Ed Woodham.  While Susan and Greg are seasoned artists in their areas of practice, the opportunity to be involved with and creating performance art was a new experience for the two.
Recently, Art in Odd Places was able to sit down with Susan and Greg and talk with them about their involvement with the Strange Makings workshop, their artistic practices, and what they have on their agenda for the future, including two festivals in Sydney that AiOP will be participating in August/September.
"Strange Makings 2012: Susan Milne and Greg Stonehouse" Video courtesy of Ed Woodham.
AiOP: How did you two first get together and start making art?
Susan: We shared a studio initially with a group of people and then we branched out into another studio by ourselves and we just started applying for jobs and it made more sense to [together] work on the projects because it's all so multitasked and just brainstorming ideas it made more sense to start working on things together.  We started actually a building works outside just for fun, we'd go to sites and we'd build stuff, and then we started doing exhibitions and installation work together and when we started applying for jobs it seemed natural to start doing public art work like that as well.
Greg: Combining authorship is not a very big issue once you get over the initial ego of 'what is mine and what is yours' and that the audience perception is still looking for that individual authorship within the work, once you get over that it's much more interesting.  With two people it's more dynamic, a little bit more critical, she and I disagree about things, which is a good thing.
Susan: Everybody thinks we never disagree but we disagree all the time [laughs].
Greg: No we don't!
Susan: And we like working with other people too, we like working with other artists but also other types of professionals.  I think both of us just enjoy the clarity.  If people really want to collaborate we'll often do so, but as you know like when working with a design team often it will have been put together by a client and are made to collaborate, and some of them enjoy that process and some of them don't so it's a bit hit and miss.
Greg: But I think in performance art it's not such a big deal because it really requires a collaborative effort, it's a given, unless it's an individual artist.  With public art, people pay a lot of lip service to collaboration, but in the end they really want to carve out their own piece of territory within the project.  A bit of ego is alright, you expect that with people, but sometimes it's so much that they'll be intractable on certain things when really it requires much more of a team effort and a bit of compromise.
AiOP: How did you first get involved with the summer 2012 "Strange Makings" workshop?
Susan: We applied for a course through Reconfiguring Site with Anita Glesta but the course was cancelled.  We really wanted to do this anyway so Anita offered us the opportunity to come to NY to experience an alternative one on one tutorial public art workshop. She introduced us to Ed [Woodham] with whom we worked one day per week and a couple of days with Anita. We were there for about five to six weeks in NYC and we met up with Ed one afternoon a week and developed our ideas.
Greg: Ed insisted that we do the Strange Makings rather than just research, he decided to throw us in the deep end, which culminated in us doing almost like a preface for the Model program in October.  We did a work on 14th street that was just predating the October program, so that was part of the Strange Makings but pre-Model.
Susan: It was quite different from our other works.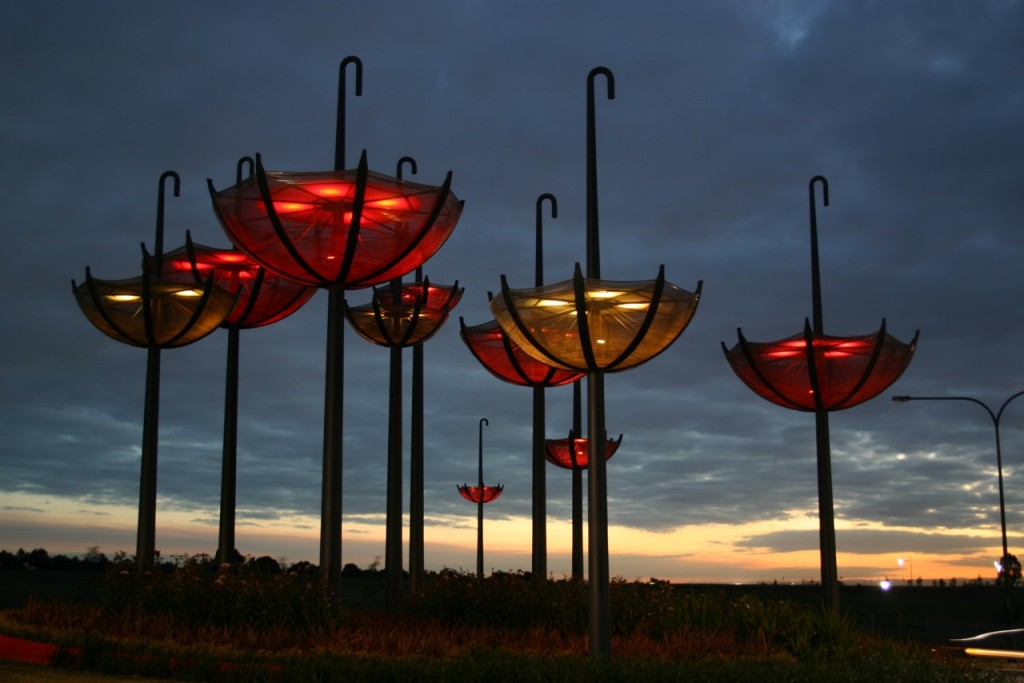 "Float" 2007-2008, photo courtesy of Milne & Stonehouse.
AiOP: What kind of work did you present at this workshop? 
Susan: We decided to focus on looking at the Model concept by looking at the perfect proportions and really how everybody has their perfect proportion.  The Da Vinci "Vitruvian Man" was sort of a really good way of expressing that, and also, for me anyway, actually creating the artwork as part of the performance seemed much more appealing than making a work in the workshop and bringing it out on site and then doing a performance.  I guess the performance was actually in the creation of the work, and there were a few other things that came along out of that that was quite interesting.  There were the tanning shops across the road and the makeup shops and, we didn't realize this until afterwards, but we'd done [the performance] right in front of a modeling agency [laughs].  There were other really nice things that came out of being on 14th street as well, but basically that was the approach we decided to take with it and…Greg was modeling as well, so we had the model in there [laughs], it was a lot of fun.
Greg: The audience, everyone has seen that particular drawing of Leonardo's as well so people get it, it's quite accessible.  When someone asks me about it they all knew the drawing so that really makes it quite interesting reconfigured and re-contextualized.  In the edited version [of the video], the tiny little snippet of the African-American guy saying 'it's artsy' he said a lot of really quite interesting stuff and he was suggesting how we could change the work, which was really quite interesting.  That was really new to us, the audience were savvy about performance on the street level, enjoyed it, celebrated it, and were quite happy to redirect it, interacting in a way.  My work was a bit different, where I was on a skateboard and outlining people's shoes, and I think that weirded people out a little bit to see someone skating along at their feet.  Mine was less successful I think but it was interesting.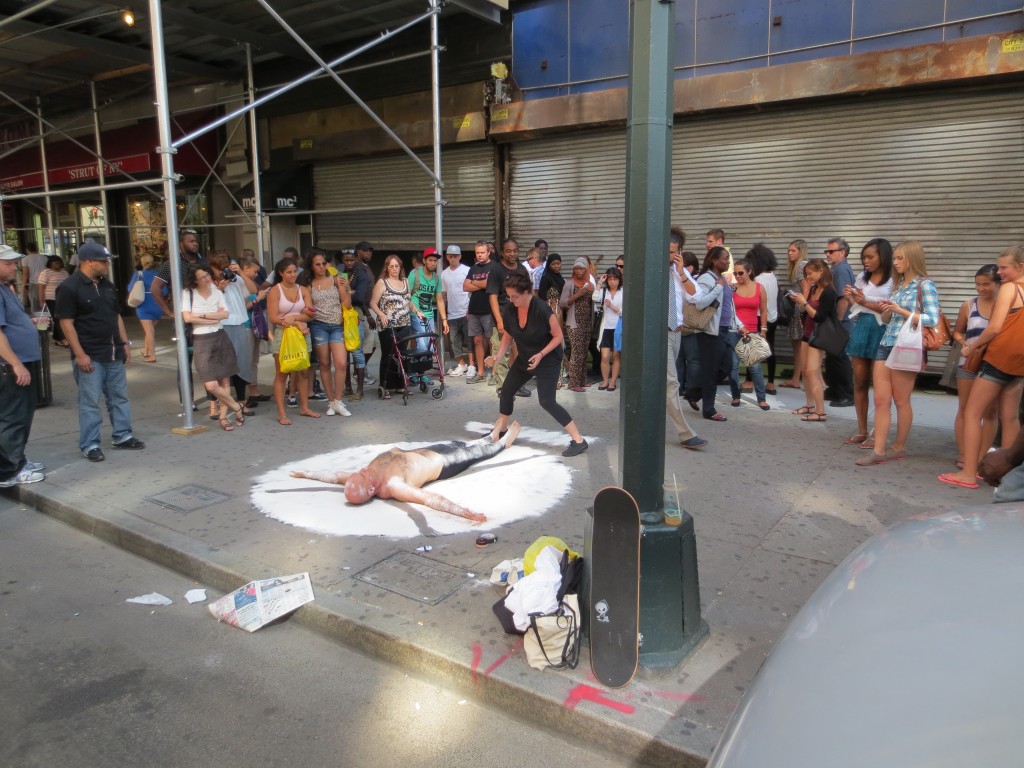 "Strange Makings 2012: Susan Milne and Greg Stonehouse" Photo courtesy of Anita Glesta.
Susan: It was successful in a different way.
Greg: It was intriguing with Susan's piece because I just closed my eyes and listened to the conversations of people for that half an hour.  It was kind of interesting to hear what people would say, I had one voice when my eyes were closed say (in a thick New York accent) 'what are they doing?' and the other voice said (again, New York accent) 'what do you reckon they're doing, it's New York everyone does everything here!' [laughs].  There is a real acceptance of difference in performance and theater here in NYC.
AiOP: How would you describe your public art practices?  Did the work you presented as part of this workshop match up with your normal practices?  How was it different?
Greg: Quite different to our normal practice, although our public art practice is very site specific, it thinks about the locality, it thinks about the stories, traditions, and histories of the site.  In that way it was similar in that we were thinking about the idea of Model and how it translates into a contemporary street fabric.   Probably our [normal] practice is different because it takes a long time for an idea to germinate into a public artwork, it might take up to a year, whereas a performance is very quick so it lives on in YouTube.  Our practice is a little different in terms of time, we think about the audience, but because often our works are permanent artworks then that places a different kind of echo onto the site.  It has a different impact, as it becomes part of the fabric for a lot longer.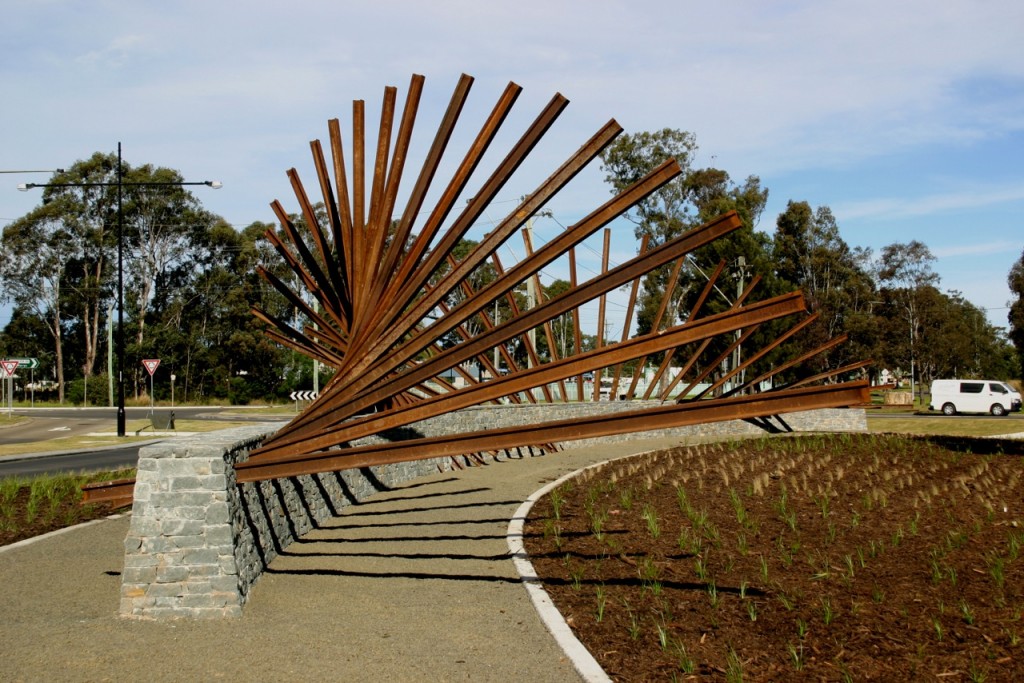 "Spine" 2007-2008, photo courtesy of Milne & Stonehouse.
Susan: I think it's important in terms of, not necessarily our practice, but public art to have all different experiences of art.  So from the ephemeral to the permanent, just because you're doing one art doesn't mean the other shouldn't exist.  It just means that layering up, which is really vital in terms of that sort of cultural layer between society, it's really important for site activation and awareness and that instant performance is art people see and the permanent is really the stuff people live with everyday and they see at different times and they pick up different things from different perspectives.  It's really important to have the two, but for us [performance] is an area we really want to develop within our practice because we've been doing so much permanent work we want to free ourselves and do more collaborative projects in different sites.
Greg: We used to do a lot of different kinds of works, but they didn't always have that performance element to them but we're kind of quite used to it and we've been a little bit typecast as public artists doing art in public places and we look back at our earlier work, which was using found objects and whatever we could use, it's kind of interesting that all the time people compartmentalize you as an artist and it's really important to jolt them out of that to see that you are much more adaptable and adaptive and responsive and spontaneous and not just 'this is my genre, this is the way that I work' and we would like to be a lot more fluid.
AiOP: How has this experience impacted your artistic practices?  Will you be pursuing any new directions as a result of participating with this workshop?
Susan: Well I think being asked to do the Dee Why and the Manly Arts Festival, they asked us to come up with an idea for those things and we chose to go forward with Ed's program, so that will be something that will be new here.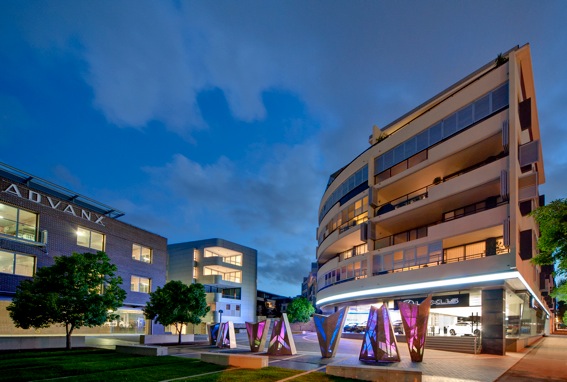 "Tread" 2009-20102, photo courtesy of Milne & Stonehouse.
Susan: It's all about timing I think, because if we had brought this to them a couple of years ago, it wouldn't have happened.  For us, in terms of our career, we're at a point where we've done a lot of work and we want to open our practice up a little bit more and expand and develop ideas and work a little bit more collaboratively with people and new sites.
Greg: I like the way Ed's programs, AiOP and Strange Makings, really starts to make people more flexible, stretch their idea of space, especially the public space.  The collective space [in Australia] is becoming more…Australia is a very large country with a small population, but the cities are becoming more dense and the idea here about collective space is really important.  It's a really dynamic way of responding, we like the way it has changed our practice and the way we think about things.  I like the fact that all of Susan's work [from the workshop] was just talcum powder and makeup, and paper, very simple materials; the simplicity of it was really refreshing.
AiOP: What kind of projects do you have coming up in the next year?  In the future?
Susan: Some major projects that we've done the concepts for so we've got some going in and a lot of the projects are happening out of western Sydney, that seems to be where most of the work happens in New South Wales because that's the main area of development that's going on.  We're doing an art work that is integrated into a bridge that's a really major work.  It's a pedestrian bridge and there is another work that mirrors the bridge artwork in another part of the site further down the water body.  They're two major works.
Greg: We've got three aluminum horses going in next week, they're giant, 5 meters tall, made out of aluminum, the folded plates.  One horse is rearing and the other two are walking and we worked with primary school students to come up with the patterns for the horse.  It's like a light box, a horse with a light box inside it, so that's pretty cool; the primary school kids are really quite excited by it.  [They're located] in a shopping center, of course, shopping centers sometimes have the money for public art.
Susan: We're doing an entry statement as well, which will be quite a beautiful artwork.  We've got quite a lot of projects, we've got our calendar planned about a year in advance with work, because most of the public works take anything from a year to two or three years to develop; getting the concepts and the money pinned down and then going in design development, which is all the structural details, which is where we're at with most projects right now.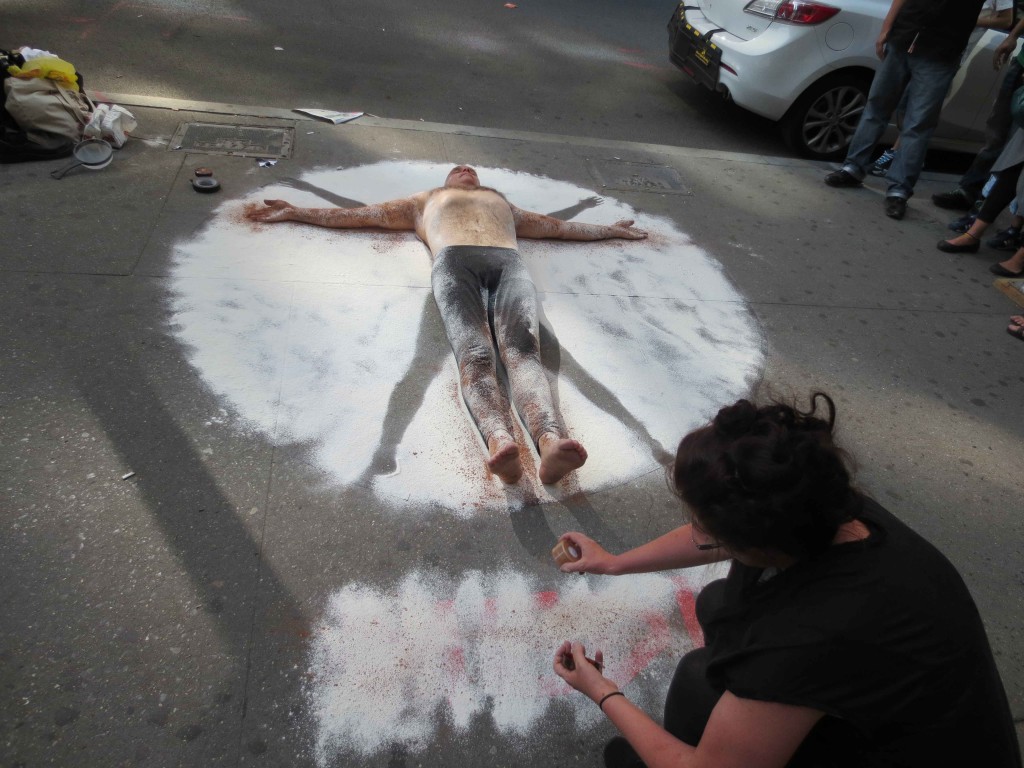 "Strange Makings 2012: Susan Milne and Greg Stonehouse" Photo courtesy of Anita Glesta.
Greg: And we're developing a glass and light work in a hospital, exploring the ideas of nerves.  It's [in] a rehabilitation hospital, and that's an interesting work I think, talking about how the nerves are the part of the body that collapses first and so we're doing an internal work of like a light chandelier that's imitating the nerves and that electrical impulse of the nerves using light.  That's quite an interesting one.
Susan: It actually happens in the brain so all your neurons and nerve endings connecting and how it goes into the brain.  That one is going to be probably pushing our boundaries a little bit because we have to find someone who can blow glass and in terms of the technology work it out a little bit further.  A lot of our work we try to push the boundaries with technology each time and that one definitely will.
Greg: We're using glass from Germany we met while we were in NYC, we met a representative from Meyer Glass in Munich and so we're really quite excited about their technology.  A lot of glass technology just uses digital images that they print onto the glass, but they don't last forever, they don't last that long outside, they start to fade after 10-20 years.  The German glass manufacturer uses a glazing onto glass.  We're really keen to use good technologies in our work and if we have to travel to Germany to do it we don't care.  And NYC has been using this German manufacturer for a lot of their subway public art.
Susan: When we've completed our residency in NYC at the end of this year, we'll work on developing work for a major exhibition.  That will be after Ed's program, if we're accepted, and we'll be working on something else with another person in NYC as well, Kendel, and we'll also do some research while we're there to develop new works.
Greg: While we were in Beijing we met a traditional Chinese calligraphy artist and we'd like to do a work with him, to put the traditional in the contemporary.  He's not very old, he's about 60, but [makes] beautiful calligraphy and it's such an interesting form of tradition to bring into a contemporary setting and to interact with it.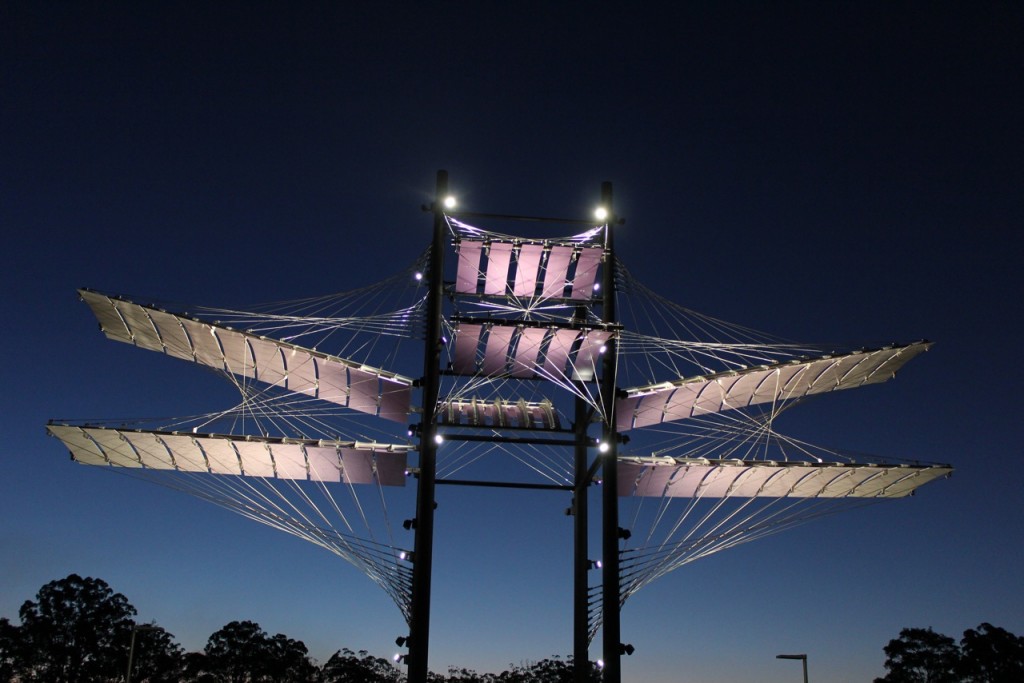 "Box Kite" 2012, photo courtesy of Milne & Stonehouse.
AiOP: Tell me about the upcoming festival in Australia that AiOP will be participating? 
Susan: We're just pinning that down at the moment, but it's with two local government councils in our area, so it's not running the CBD in Sydney but just on the outer edge.  Basically we'll run a similar but much smaller scale program, we're looking at about 30-100 artists and Ed will bring about three artists, hopefully the ones in mind will come on board, plus himself.  So with Ed's group and us, we'll put a call out to local artists to participate, up to about 30-100.
Greg: And we're doing this [theme] probably about numbers, connecting it with AiOP's 2013 festival Number, so it's going to be interesting going from Sydney, Australia with Number in September to Number in NYC in October.  It will be interesting to see the three American artists, if we can get them to Sydney, to see if they will do the same work and the different audience reaction to Ed's or the curator's notion of Number.  And these two sites for the festival are quite different, Manly came on board and it's the famous Manly seaside resort and it's got this long corso and I think that would be quite a dramatic setting for that kind of work.  The other place, Dee Why, I think could be more dynamic and they're quite excited, they've already committed to it and they're very keen.  I think they're thinking about a strip that runs from the beach back to the main road and they're talking about the activation of that.
Greg: We've shown them a couple of the more politically contentious or a little bit more visually contentious material and they're not frightened by that at all.  That's really good, they're conservative on one level but they're really quite excited about the potential and we showed the councilors, which normally we never get to see the councilors, the elected officials, you normally deal with the administrative council, but we showed the councilors and they were as excited and they said that they had a couple of representatives from council there and they turned to the representatives from council and said 'ok let's do it.'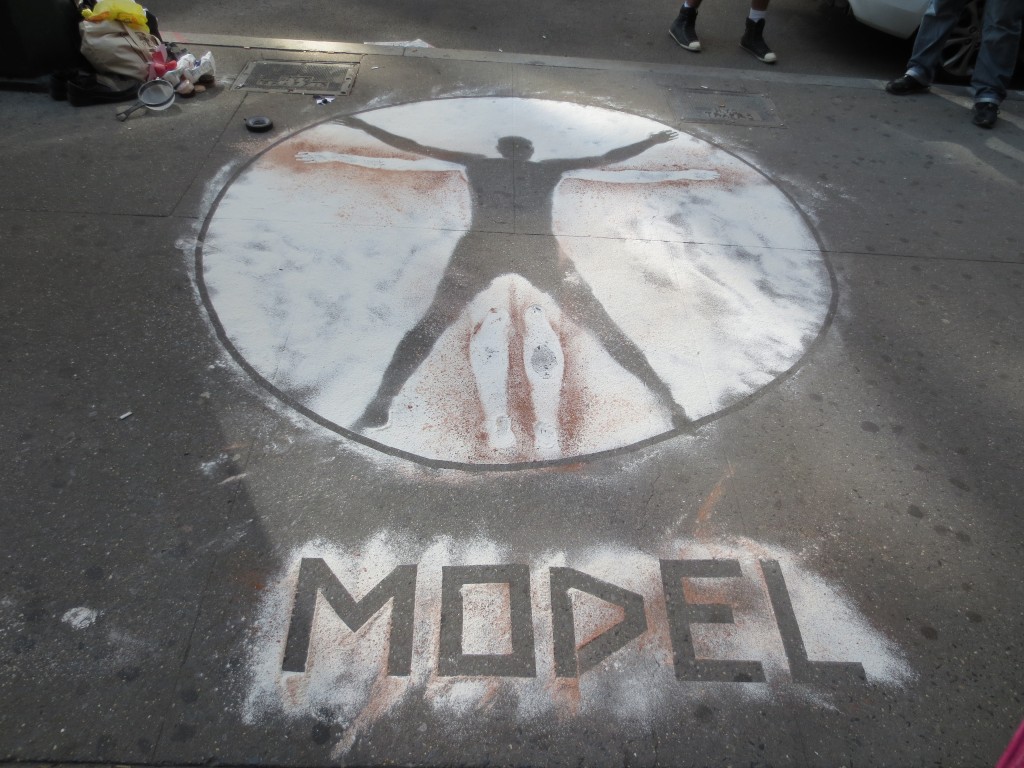 "Strange Makings 2012: Susan Milne and Greg Stonehouse" Photo courtesy of Anita Glesta.
Susan: We are doing a residency in NYC from October to December this year, so we are taking [the Australia] festival with Ed to his NYC festival in the beginning of October and we'll participate in that one as well.
Greg: We haven't been accepted yet.
Susan: Well how couldn't he accept us? [laughs]
Greg: I'm sure Ed has over a hundred artists and they don't realize that kind of mess curating [a festival].  Hopefully both of the areas will cooperate and we'll have our festival over the two sites on the same weekend.
Susan: [The festival] will be late August/beginning of September and we'll be working with the artists for three weeks.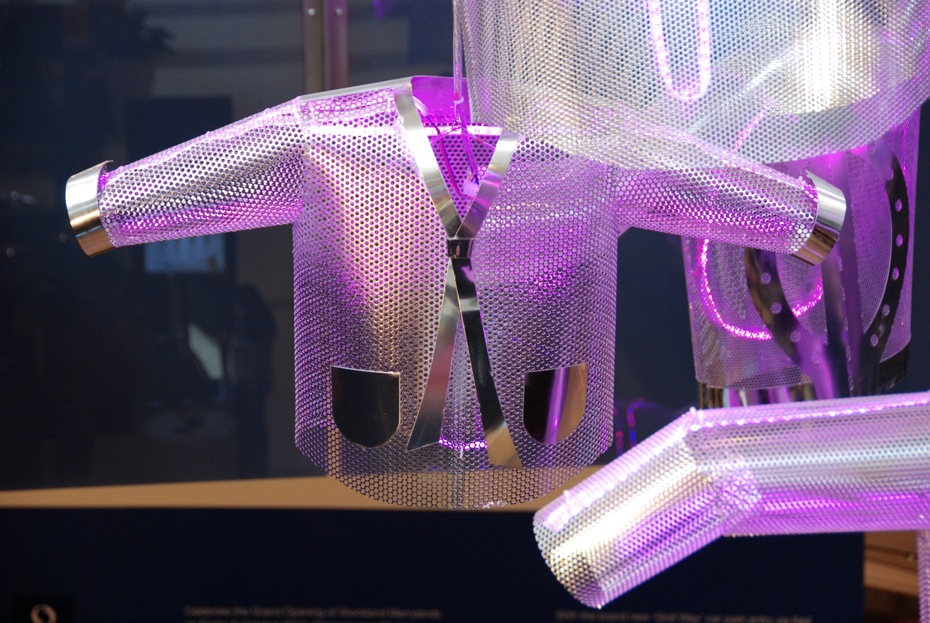 "Social Fabric" 2012, photo courtesy of Haline Ly.