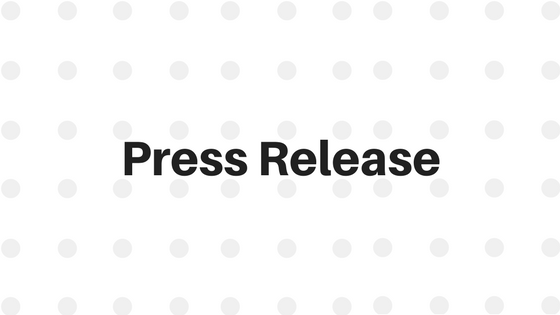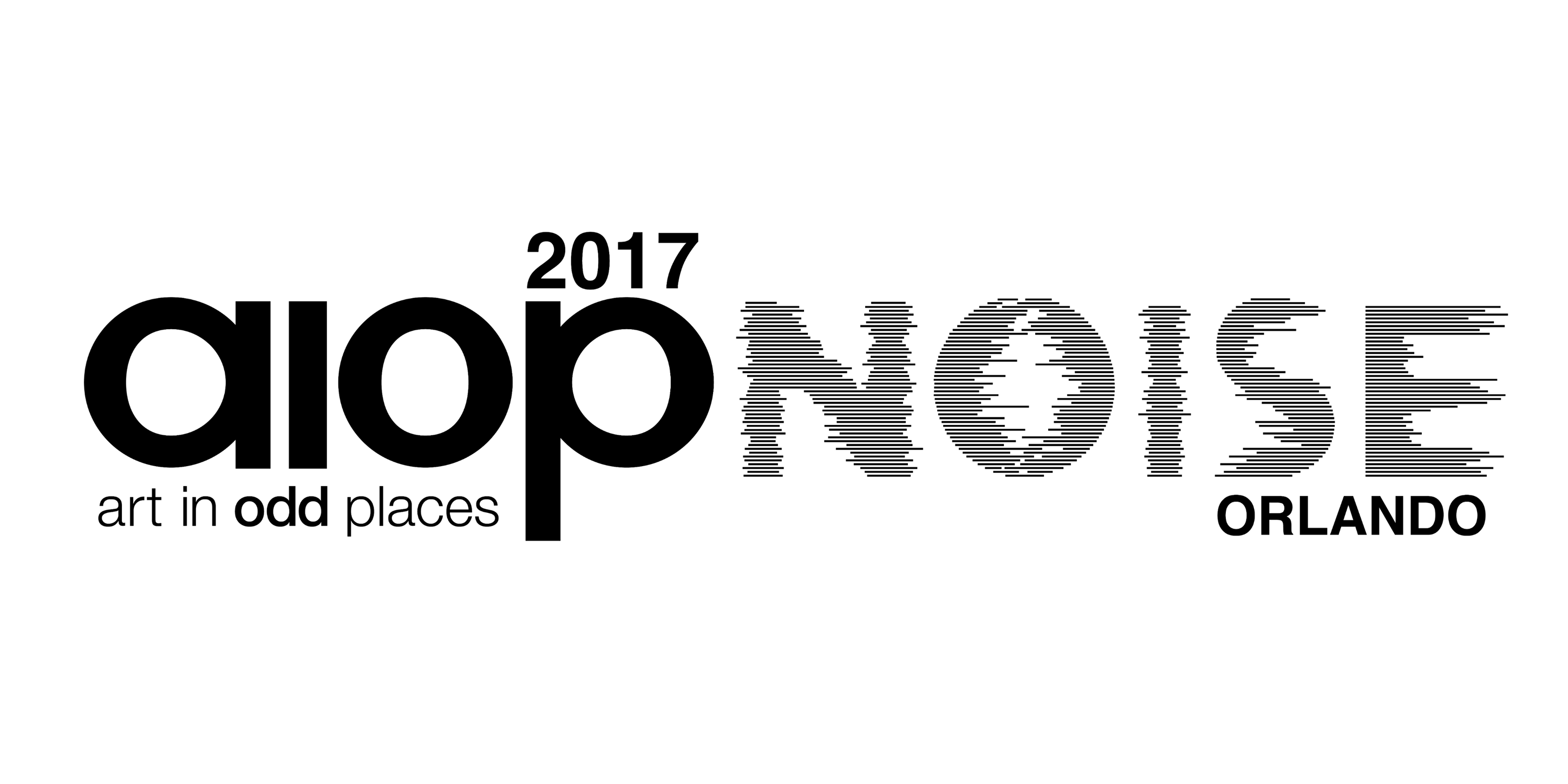 Media Contact: Michele Plant Kroupa, (407) 592-6667 mplant427@gmail.com
Global Public Art Festival Brings Visual and Performance Art – and NOISE –in Unexpected Public Spaces for Third Year
Art to be on display in downtown Orlando along Orange Ave.
ORLANDO, Fla. (September 19, 2017) – Art in Odd Places (AiOP), an international visual and performance public art festival, will return to downtown Orlando from November 10-12. Produced by the Downtown Arts District, the event will be experienced along Orange Avenue between Wall Street and South Street.
This year's theme encompasses any concepts within the realm of NOISE – "a sound, especially one that is loud or unpleasant or that causes disturbance," "irregular fluctuations that accompany a transmitted electrical signal but are not part of it and tend to obscure it," "talk
about or make known publicly." Defining noise reveals its unexpected complexity. A joyful noise marks success and a terrible noise leaves its mark. Noise reflects the dynamic, energetic character of Orlando.
"I attribute the success of AiOP Orlando over the past three years to our curatorial vision and one-word themes with multiple meanings," said Barbara Hartley, executive director of the Downtown Arts District. "The projects are memorable to visitors and sometimes offer an element of surprise. The biggest compliment for me is to hear people talking about the art and how it makes them feel and to hear the artists talk about their interactions with the public. Visiting artists enjoy being introduced to Orlando's creative community."
The third annual event will feature 34 art projects in a variety of disciplines from artists around the globe, including nine from Orlando, eight from Florida, and 17 from across the United States.
"Art in Odd Places interrupts the ordinary day with a variety of art disciplines in the public spaces of downtown Orlando", said Ed Woodham, AiOP founder and director. "It's an opportunity to see the city in a new light and experience art outside of traditional venues – engaging with regional artists and artists from different parts of the U.S. and world." AiOP 2017: NOISE/ORLANDO is hosted by the Downtown Arts District and co-curated by Rachel Simmons and Julian Chambliss; produced by AiOP Founder and Director Ed Woodham and Downtown Arts District Executive Director Barbara Hartley; with Website Designers + Developer Carey Estes; and Co-Curatorial Assistants Moriah Russo and Leah Sandler.
AiOP is free for anyone to attend. Exhibit times will be Nov. 10 from 12 – 8 p.m.; Nov. 11 from 12-8 p.m. and Nov. 12 from 12 – 4 p.m. Tours of the projects by the curators will also be available starting from City Arts Factory on Nov. 10 and 11 at noon, 3 p.m. and 6 p.m. and Nov. 12 at noon and 3 p.m.
FACT SHEET
WHO: The Projects and Artists
The Listening Project by The ELAR Institute – Logan Anderson (Winter Park, FL): Listening
Command Voices – Elizabeth A. Baker (St. Petersburg, FL): Structured improvisation
La Petite Eat – Katina Bitsicas (Columbia, MO): Video installation
Can You Hear The Dance? – Grace Brett (Clermont, FL): Dance interpretation
Brian and Ryan: Sound Collection Helmets – Brian Black, Ryan Bulis (Vista, CA): Performance
Soapbox Project – Aquanza Cadogan (Orlando, FL): Sound and storytelling
LISTEN – Lisa Cody-Rapport (Clermont, FL): Photo installation
remote interruptions – Emma Cotter (Brooklyn, NY): Dance installation
Phantom Home (Tinikling in the Tune of an Empty Room) – Anna Cruz (Winter Park, FL): Video installation
A Rupture: Constructed Histories – Aruni Dharmakirthi (Brooklyn, NY): Video installation
Radio Drift – Chantelle Dorsey (Tallahassee, FL): Musical performance and installation
On Tail's End Whipping – Rush Falknor (Chicago, IL): Sound installation
Protest Song – Adam Farcus (Jackson, MS): Sound installation
Drum Schtick – Brian Feldman (Washington D.C.): Drum installation
Mad Traffic! – Angela Ferraiolo (Bronxville, NY): Sound and interactive art installation
Empathy for the Figure – Julia Gladstone (Brooklyn, NY): Performance art
Don't Call Me Baby – Victoria Gordon (Orlando, FL): Mixed media
The ElectroAcoustic Sound Lorry (EASL) – Sean Hamilton (Tampa, FL): Mobile performing arts station
Sawing Surveillance – Toby Kaufmann-Buhler (Lafayette, IN): Sound, video and performance installation
Praying to Cars: Mindful Momentum – Rebekah Lane (Dade City, FL): Soundscape and projections
Foolish Bebop – Rebekah Lane (Dade City, FL), Kevin G. Becker (Winter Park, FL): Theatrical movement performance
Downtown Sound – Adam Lavigne, Justin Luper (Orlando, FL): Mural installation
The Paper Trail Project – Suzanne Oberholtzer (Orlando, FL): Visual installation
Induction Ensemble – Russell Parker (Orlando, FL): Interactive sound installation
Exchange – Linda Peer (Torrey, UT): Silent, roving performance
Terra Tumultum – Lisa Bulawsky (Vertigo Press) (St.Louis, MO ): Interactive installation
Porn Nail$ Mobile Salon – Rosemarie Romero (Miami Lakes, FL): Interactive installation and performance
Atomic Number Two – Anamaria Romero Acosta (Orlando, FL): Interactive installation
I Will Always Love You – Dan Rule (New Orleans, LA): Video installation
The Specular Highlights Institute – Lesley Silvia (Casselberry, FL): Visual installation
Culture Hustlers – Lucas Spivey (Beverly, MA): Visual and sound installation
Monument to Lost Data – David Staley (Columbus, OH): Sculpture
A Conversation About Trucks – Sidney Stretz (Greensboro, NC): Sound installation
Flexible Self Inside the Screen – Sarah Viviana Valdez, Matthew Moyer (Sarasota, FL; Orlando, FL): Performance
AiOP ORLANDO CURATORS:
Rachel Simmons lives and works in Winter Park, Florida. She holds an MFA from Louisiana State University. Since 2000 she has been actively involved in socially engaged art projects as an artist-educator at Rollins College. In 2009, she was given the Florida Campus Compact Service-Learning Faculty Award for the State of Florida. That same year, Rachel journeyed to Antarctica for the second time to make work about climate change and ecotourism. Most recently, she traveled across the desert landscapes of Namibia to research ecotourism in southwestern Africa. She often collaborates with scholars from other academic disciplines to create her mixed media work. Current collaborative projects include Future Bear with Julian Chambliss and The Aesthetics of Scale with Lee Lines.
Julian C. Chambliss is Professor of History and Coordinator of the Africa and African-American Studies Program at Rollins College. His interdisciplinary research and teaching explores comics, cities, and community in the United States. As a teacher-scholar concerned with these issues, he has worked on the environmental comic project Future Bear with Rachel Simmons and he has designed public history projects that trace community development, document diverse experience, and explore the cultural complexity in Central Florida. His curation projects include AfroFantastic: Black Imagination and Agency in the American Experience and Beyond the Color Line: Historical Narrative of Education and Enterprise in the Black Experience. He has been recognized for his community based work as recipient of the Cornell Distinguished Service Award recipient (2014-2015) and Florida Campus Compact Service Learning Faculty Award (2011).
AiOP ORLANDO LEADERSHIP:
Barbara Hartley, Executive Director of the Downtown Arts District, has served in her role for over 6 years. Prior to the Downtown Arts District, Hartley's background was in marketing and business development with UNITY Mobile, Knight, Orlando Magazine, MIX 105.1 and Clear Channel Outdoor. Hartley currently serves as a trustee of the American Advertising Federation of Orlando, and on the Leadership Advisory Board for Crummer School of Business at Rollins College, and she has served in leadership roles on various community boards. She received her M.B.A. from the Rollins College Crummer Graduate School of Business and holds a B.A. in marketing from Florida State University.
Ed Woodham has been active in community art, education, and civic interventions across media and culture for over thirty-five years. Responding to constriction of civil liberties, Woodham created the project Art in Odd Places presenting visual and performance art to reclaim public spaces in New York City and beyond. Woodham is a on the faculty of Wilson College's MFA program and teaches workshops in politically based public performances at NYU Hemispheric Institute for EMERGENYC and at School of Visual Arts in NYC for City as Site: Performance and Social Intervention. He was a 2013 Blade of Grass Fellow in Social Engagement. For 2016 he was commissioned to create a socially engaged work for Jamaica FLUX at The Jamaica Center for Arts and Learning in Queens, NY and was awarded a commission by The Gowanus Public Arts Initiative to create The Keepers, in his longtime neighborhood of Gowanus, Brooklyn. In 2016-17, he was an artist-in-residence at the Department of Art, Appalachian State University in Boone, NC and a 2017 resident at Hambidge Arts Center in Rabun Gap, Georgia. Currently he is an artist in residence at the Department of Art at University of Virginia, Charlottesville.
WHAT: Art in Odd Places 2017: NOISE/ORLANDO is the third annual festival featuring performances, interventions, installations, video, sound and more in public spaces. ALL EVENTS ARE FREE. For more information about AIOP's history and artists' project descriptions and schedules, visit the website: www.artinoddplaces.org/orlando-noise. More details about festival programming coming soon! #aiopnoise CLICK HERE for high resolution images of projects.
WHEN: Friday, November 10, 12 – 8 p.m. Saturday, November 11, 12 – 8 p.m.; Sunday, November 12, 12 – 4 p.m.
PANELS
ART IN PUBLIC SPACE
Conversation with Art in Odd Places 2017: NOISE Curators and Public Art Leaders
Thursday, November 9, 6 -7:30 p.m.
Upstairs at the Gallery on Avalon Island, 39 S. Magnolia Avenue at Pine Street
ARTISTS TALK
Conversation with Art in Odd Places 2017: NOISE artists
Thursday, November 9, 7:30-9 p.m.
Upstairs at the Gallery on Avalon Island, 39 S. Magnolia Avenue at Pine Street
TOURS
All tours begin outside of Gallery on Avalon Island, 39 S. Magnolia Avenue at Pine Street:
Friday, November 10
12 p.m., 3 p.m., 6 p.m.
Saturday, November 11
12 p.m., 3 p.m. (with curators), 6 p.m.
Sunday, November 12
12 p.m., 3 p.m. (with curators)
WHERE: Downtown Orlando: Orange Avenue from Wall Street to South Street
WHY: AiOP began as an action by a group of artists, led by Ed Woodham, to encourage local participation in the Cultural Olympiad of the 1996 Olympics in Atlanta, Ga. In 2005, after moving back to New York City, Woodham re-imagined AiOP as a response to the dwindling of public space and personal civil liberties – first in the Lower East Side and East Village and, since 2008, on 14th Street in Manhattan. AiOP has always been a grassroots project fueled by thegoodwill and inventiveness of it participants.
EVENT SPONSORS: Produced by Downtown Arts District, and sponsored by City of Orlando, Donna Dowless, Downtown Development Board Inc., Downtown Orlando Partnership, Culture Builds Florida, Orange County Arts & Cultural Alliance, Orchid Medical and United Arts of Central Florida.
MEDIA PARTNERS: Bright House Networks, Clear Channel Outdoor and Watermark
ABOUT THE DOWNTOWN ARTS DISTRICT:
The Downtown Arts District (DAD) is a dedicated nonprofit for advancing arts and economic development in the City of Orlando. Established in 2000, the Arts District represents and serves the arts community through signature programming and public art projects. The Arts District is the producer of the monthly 3rd Thursday Gallery Hop, the annual La Maschera themed arts celebration, and the award-winning network, OrlandoSlice.com. In addition, the Arts District is the parent company to CityArts Factory – downtown's largest collection of community art galleries, and the home of SAK Comedy Lab. It also manages the Gallery at Avalon Island. Visit www.orlandoslice.com for more information.